April 23rd, 2009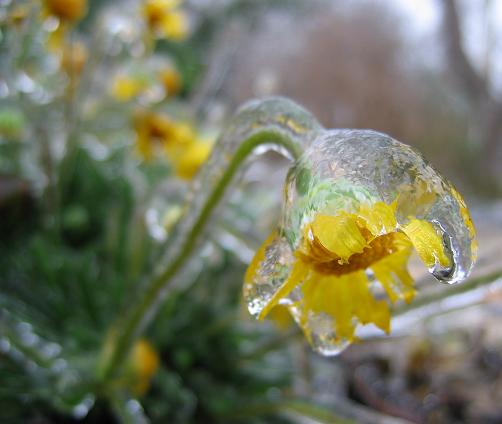 Hymenoxys, or four-nerve daisy (Tetraneuris scaposa )
When I started gardening in Austin, which was really when I started gardening, period, I nearly became a native-plant snob. I'd been converted, you see, by the Lady Bird Johnson Wildflower Center, which opened my eyes to the native beauty found in the scrubby hills and Blackland prairie surrounding Austin and convinced me of the value of going native in the garden. While my interests have since expanded into xeric plants from other regions of the world with climates similar to central Texas's, I still have a soft spot in my heart for regional natives.
That's why it wasn't hard to find a couple of photos of native Texas plants in a garden setting to submit for Gardening Gone Wild's first photo contest. I can't claim that they're recent photos (sorry, I've been crazy busy lately!), but they're two of my favorites.
My first submission is the tufty, little hymenoxys at top. The cheerful, yellow flowers bloom nearly all year long, which is how this one got encased in ice during a January 2007 ice storm. Although the ice did some damage in the garden, this tough native thawed out the next day with no harm done.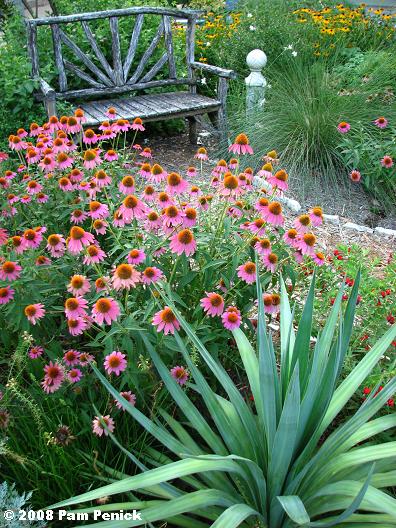 I used this photo in my six favorite plants post earlier this week, but it's impossible to resist reusing it as my second submission for GGW. There are six native Texas plants visible in this shot. Purple coneflower (Echinacea purpurea ) is the star, with the sun-ray shape of softleaf yucca (Yucca recurvifolia ) echoing the design of the garden bench. Behind the bench is shrubby white boneset, AKA white mistflower (Ageratina havanensis ), which blooms fragrantly in autumn. To the right of the bench, black-eyed Susan (Rudbeckia fulgida 'Goldsturm'), gaura (Gaura lindheimeri ), and Gulf muhly grass (Muhlenbergia capillaris ) round out the scene. If you could look more closely, you'd also find native groundcover pigeonberry (Rivina humilis ) in there.
Visit Gardening Gone Wild's comment section for links to beautiful photos of native plants from different regions all over the country. Perhaps it'll inspire you to plant a few more native plants in your own garden.
All material © 2006-2009 by Pam Penick for Digging. Unauthorized reproduction prohibited.