April 15th, 2014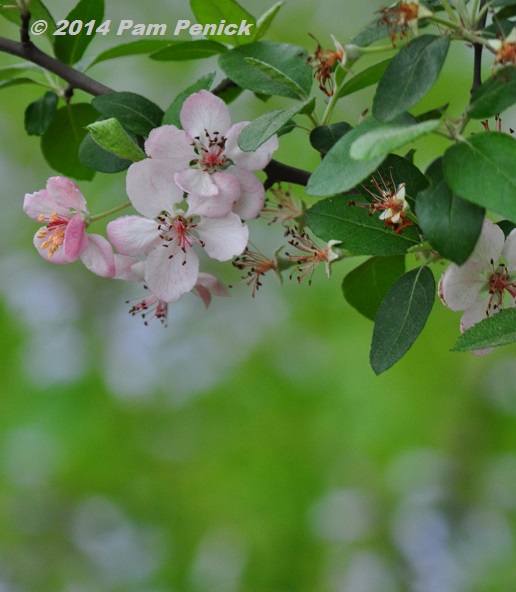 For Garden Bloggers Bloom Day let's go to the Lady Bird Johnson Wildflower Center here in Austin. I visited on Sunday with family who were in town, hoping to see some bluebonnets. We saw a lot more than that, including these beautiful pink flowers that resembled apple blossoms. Does anyone know what native Texas shrub or tree this might be? Update: It's a Texas crabapple, also known as Blanco crabapple (Malus ioensis var. texana). Thanks for the ID, Linda/Patchwork Garden and James Smith!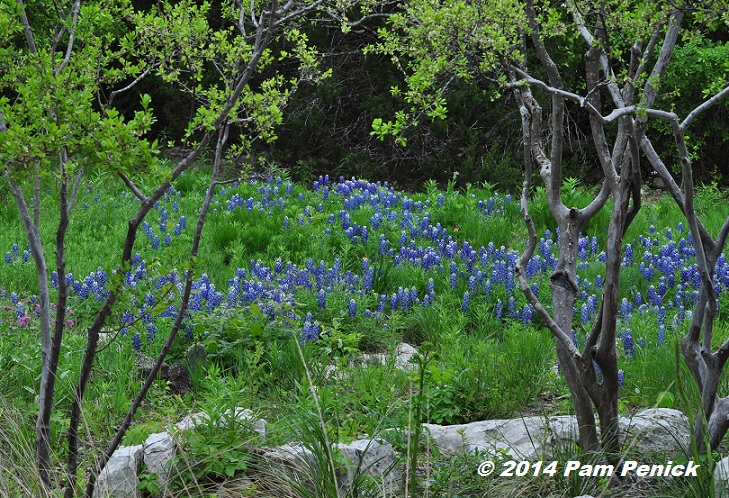 Texas bluebonnets spilled through grassy meadows like spring-fed streams.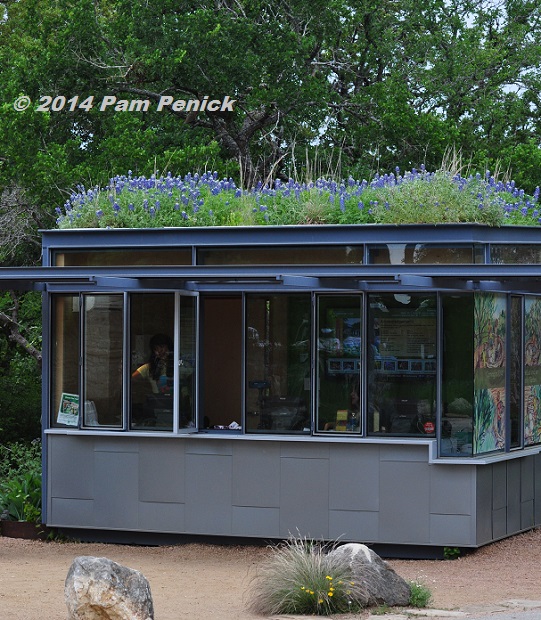 They also popped up in surprising places, like this green roof atop the admissions booth.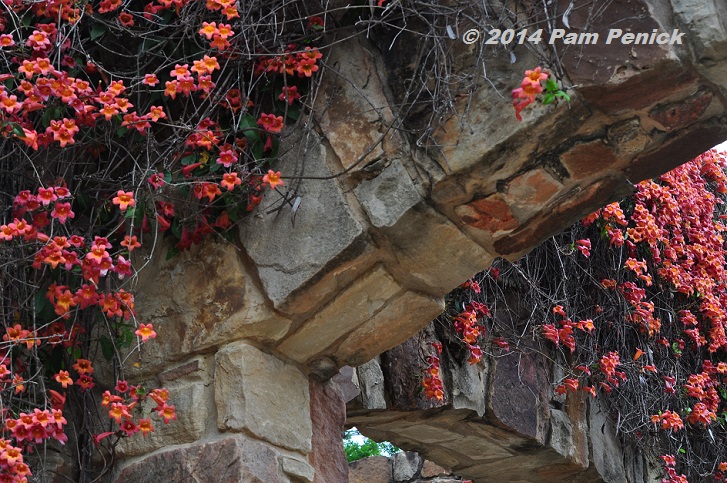 Swagged from the orange-toned stone walls in the entry garden, 'Tangerine Beauty' crossvine (Bignonia capreolata) added its orange trumpets.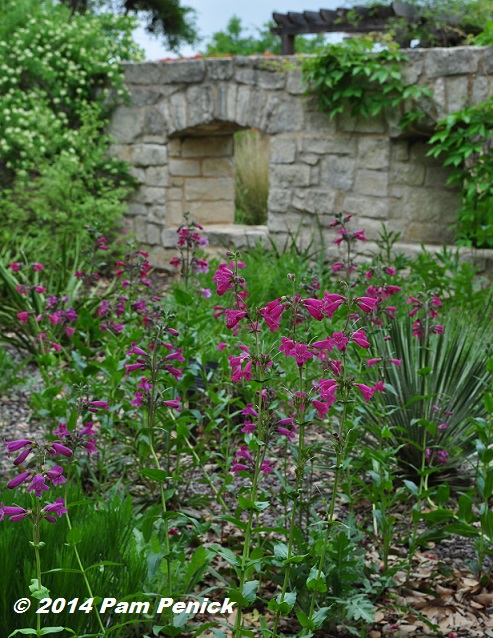 In the Hill Country Stream Garden, pink penstemon raised its cerise signal flags.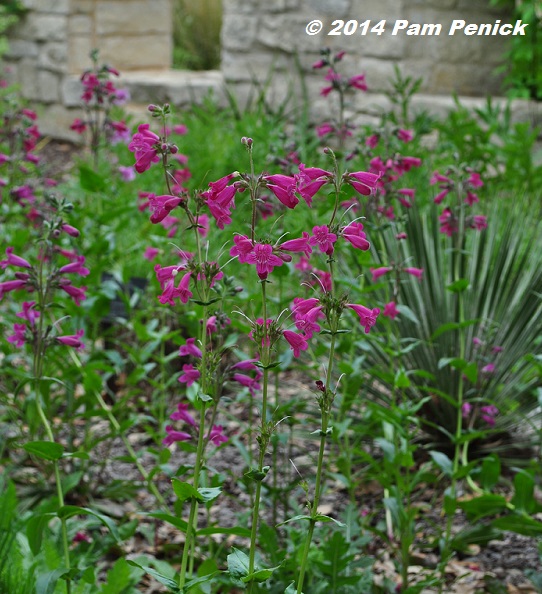 A closer look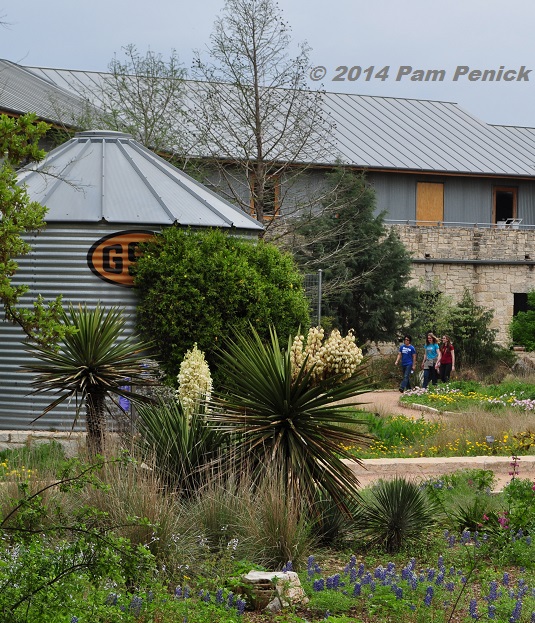 The yuccas were blooming too, sending spears adorned with creamy, bell-shaped flowers into the sky.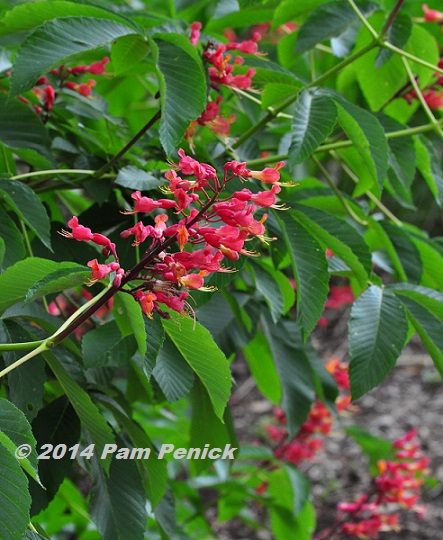 At the edge of a woodland garden, scarlet buckeye (Aesculus pavia) was putting on a big show.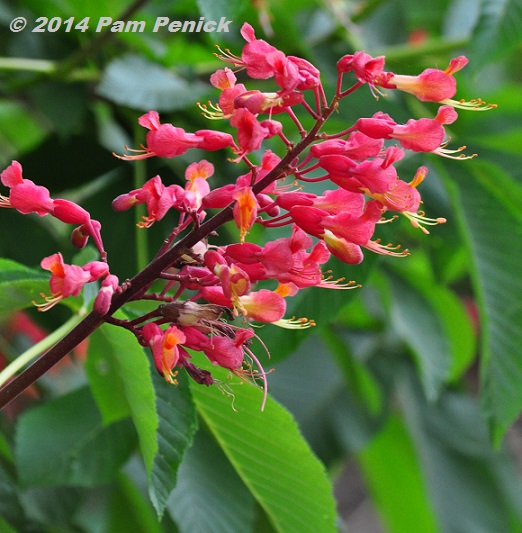 A closer look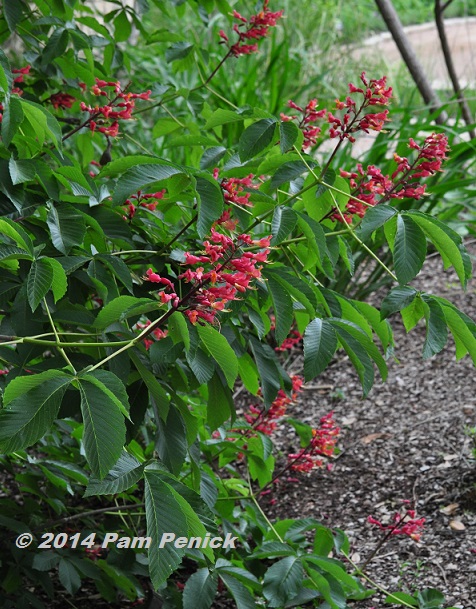 A wider shot is nice too.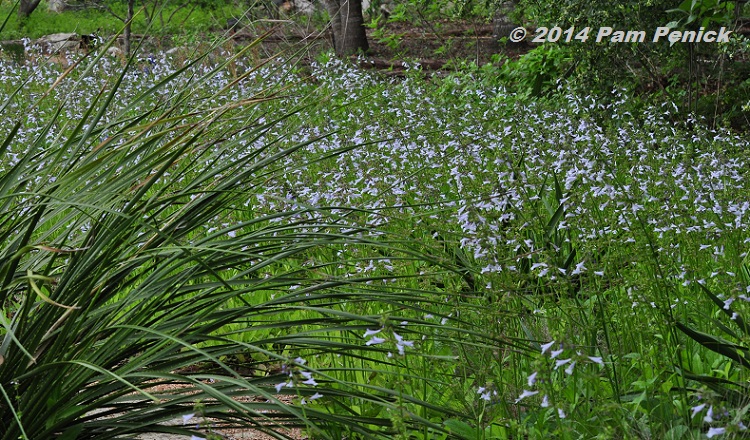 I missed the label for this swath of pale-blue salvia, but the delicate flowers showed up nicely en masse.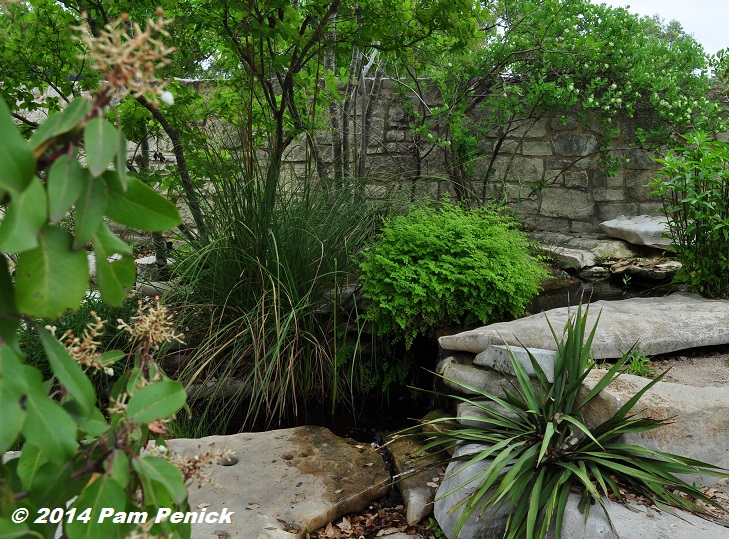 Another soft scene, with no flowers to speak of, but I did admire the mixed textures of grass, maidenhair fern, and yucca.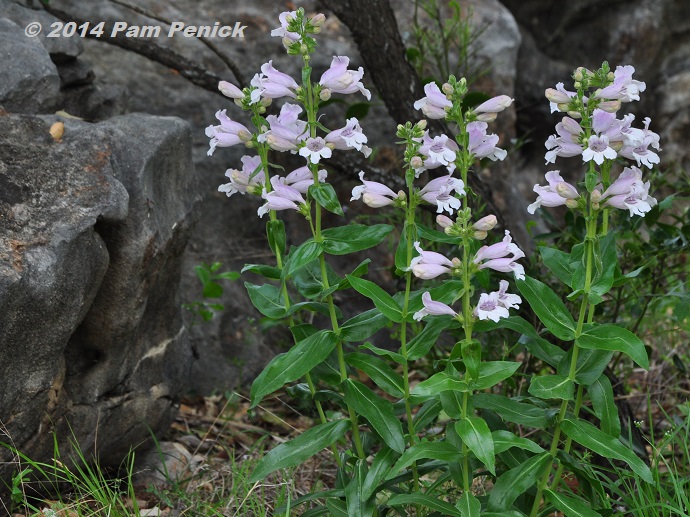 Wild foxglove's pale flowers (Penstemon cobaea) are held above glossy, green leaves.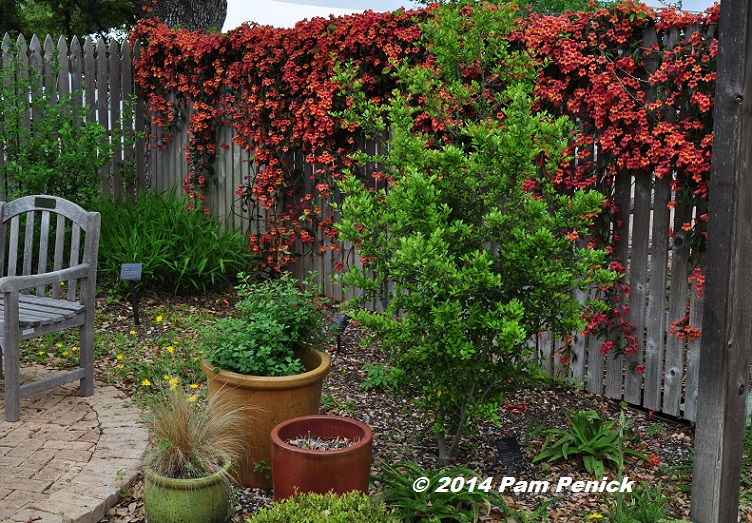 And another crossvine (Bignonia capreolata) drapes over a wooden fence in the Texas Mixed Border Homeowner Inspiration Garden.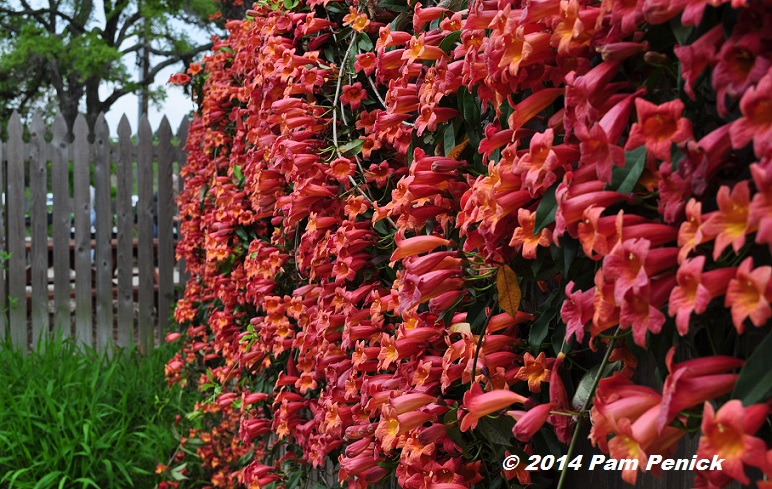 I love that rich color, and so do hummingbirds.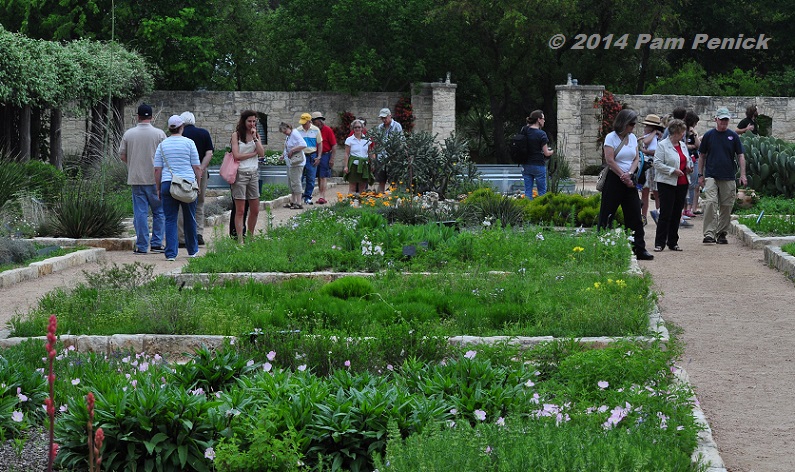 The Demonstration Garden was abloom with people, checking everything out…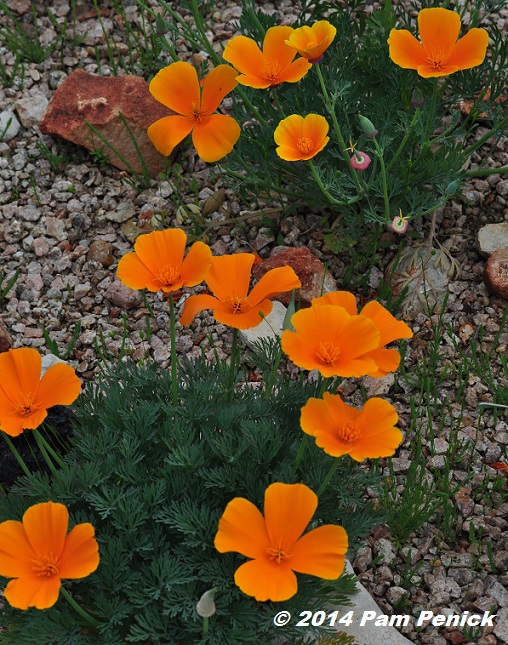 …like fiery orange California poppy.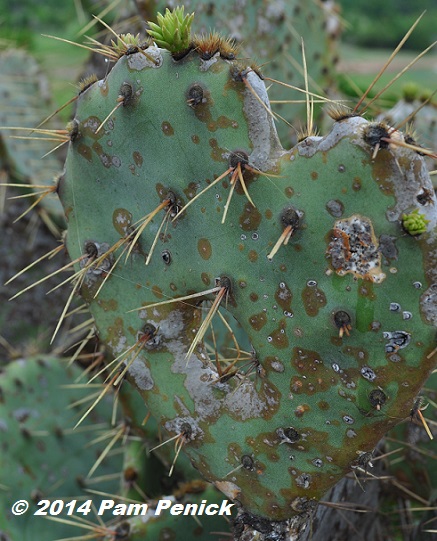 We climbed to the top of the observation tower, where I saw a green valentine in this bristly prickly pear pad.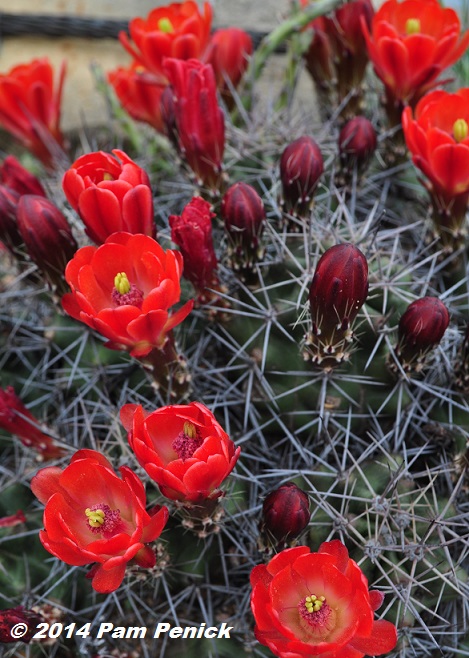 Glowing like coals in a banked fire were the extravagant blooms of claret cup cactus (Echinocereus triglochidiatus).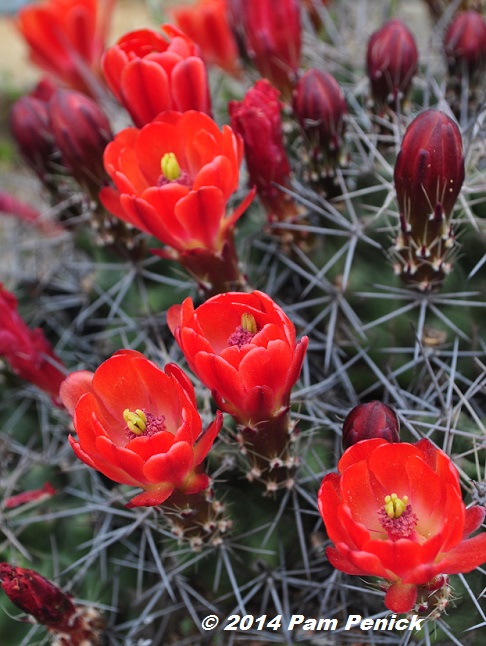 A closer look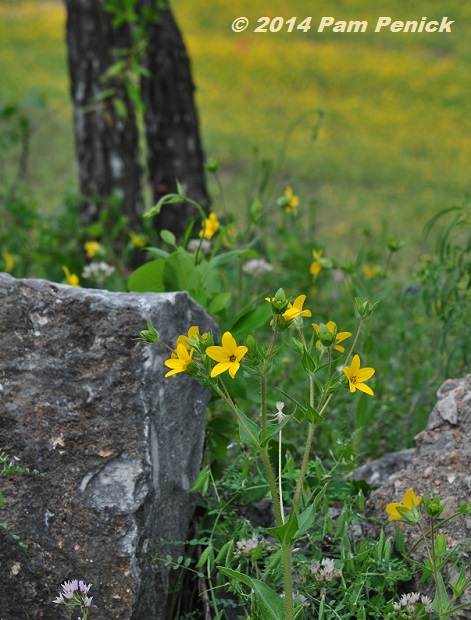 Finally it was time to head out. As we walked through the parking lot to our car, I spotted sunny yellow wildflowers at the edge of the lot…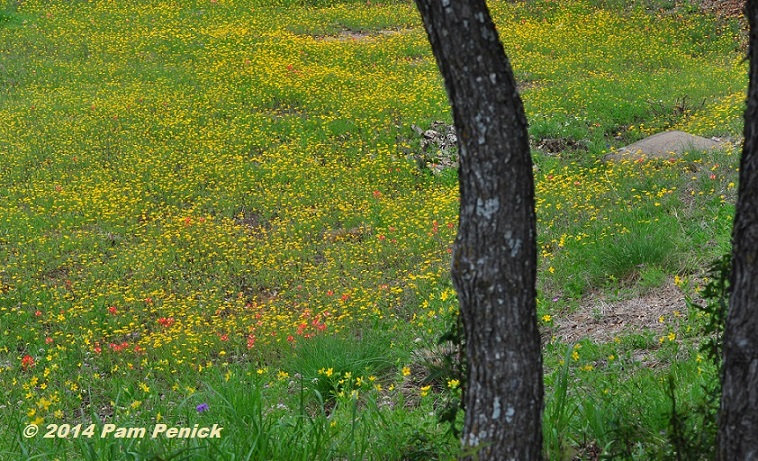 …and completely covering the ground in a water retention basin.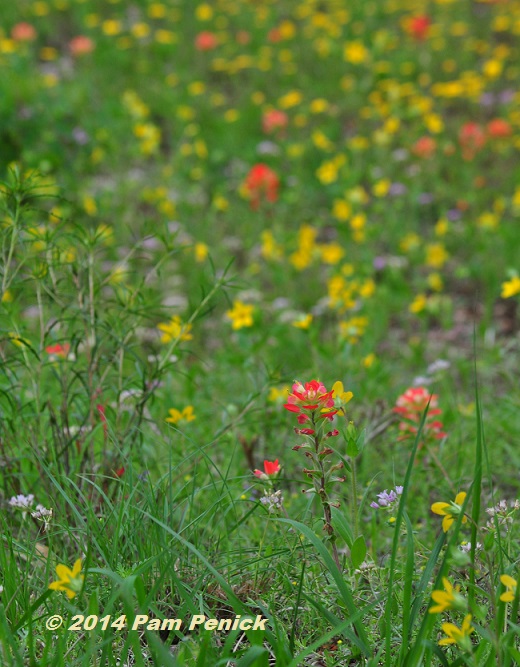 A few Indian paintbrush were scattered throughout as well.
What a beautiful spring scene! To see my paparazzi pics of the great horned owl nesting at the Wildflower Center, which I posted yesterday, click here.
I'm joining other bloggers for the Bloom Day meme with this post. Visit May Dreams Gardens to see what's blooming in other gardens around the world on this date. And don't forget to join me tomorrow for Foliage Follow-Up!
All material © 2006-2014 by Pam Penick for Digging. Unauthorized reproduction prohibited.
posted in
Bloom Day
,
Botanic/Public Gardens
,
Cactus
,
Green roofs
,
Rivers & creeks
,
Spring color
,
Texas natives
,
Trees
,
Vines
,
Walls
,
Wildflowers
,
Windows
,
Xeric plants
,
Yuccas