April 13th, 2014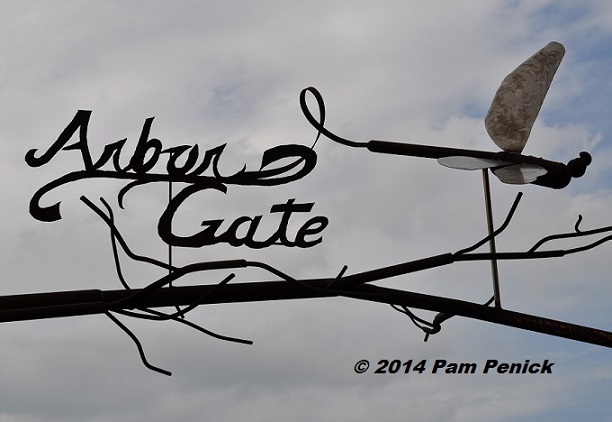 My sister, who lives in Houston, expressed amazement at how many gardens I managed to squeeze into my visit to her city a couple of weekends ago. It's true. I've shown you four Open Days tour gardens, plus four drive-by gardens that were pretty fabulous, plus a nursery visit to Thompson+Hanson, plus wildflowers in Brenham along the way. Whew!
But I have one more nursery visit to share with you, The Arbor Gate in far northwest Houston (Tomball, to be exact), a lively, customer-oriented, garden-art-packed destination nursery for Houston-area gardeners.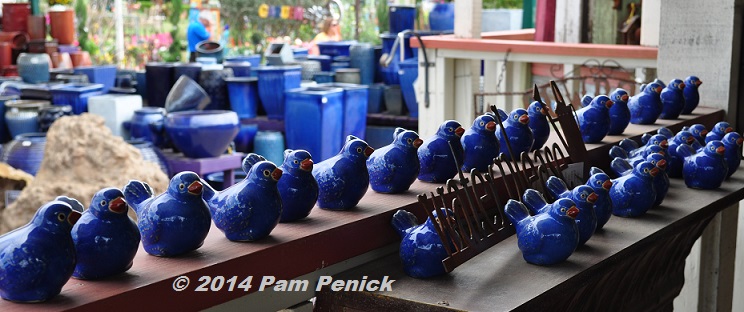 I was touring with my friend Diana of Sharing Nature's Garden, and we popped into the shop first just to say hi and make sure they were OK with us taking photos. I spotted this congregation of bluebirds on the porch rail. It was my first taste of the fun garden art placed whimsically and en masse throughout the nursery and display gardens.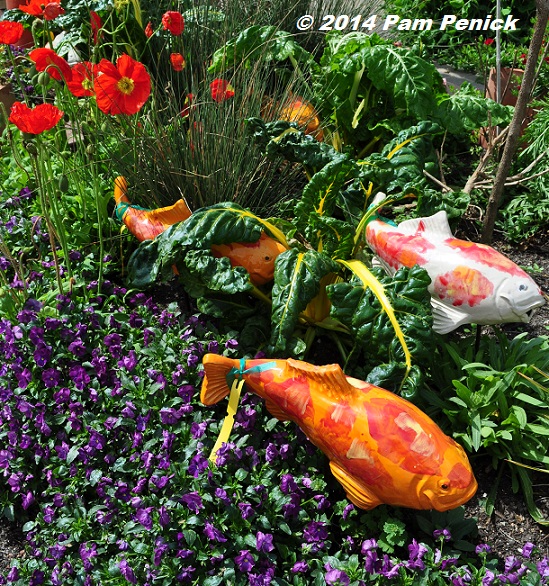 Like these ceramic koi splashing through the chard.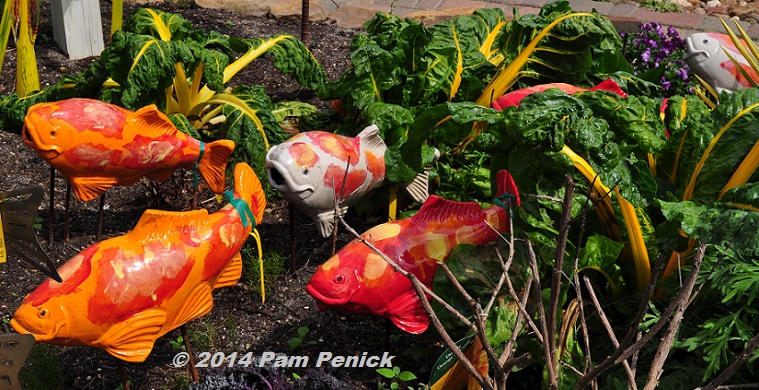 See how they color-coordinated the orange and red fish with the hot-colored stalks of the chard?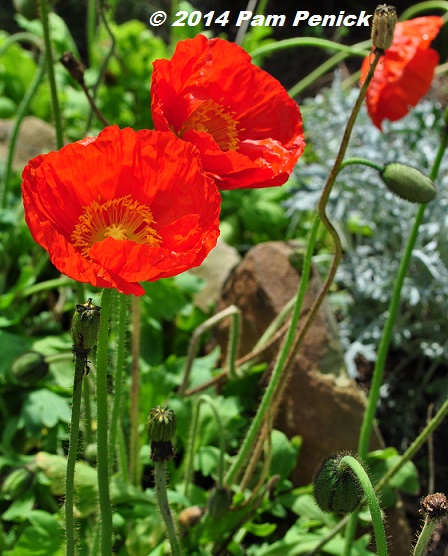 And the poppies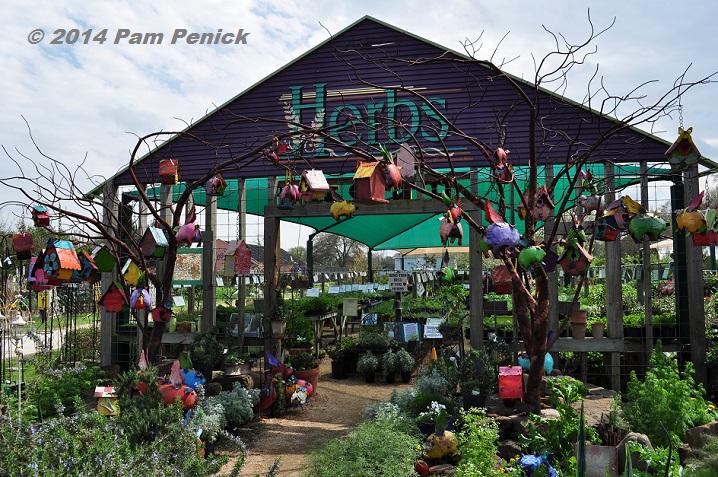 Painted metal birdhouses and flying pigs were hung from seemingly every tree and arbor.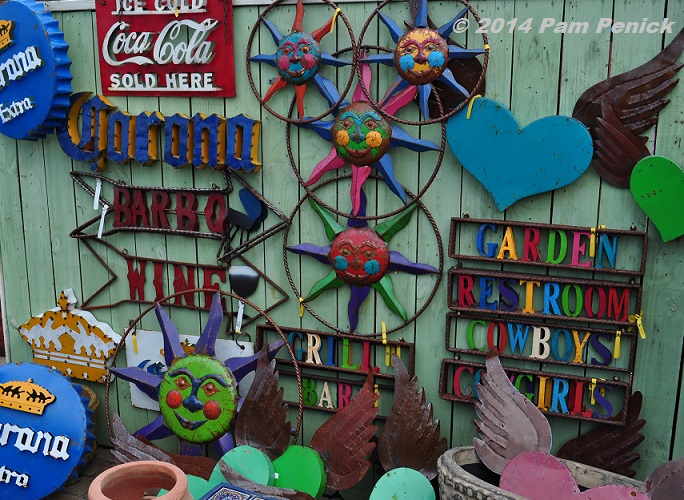 Signs, suns, and winged hearts galore decorated a painted fence.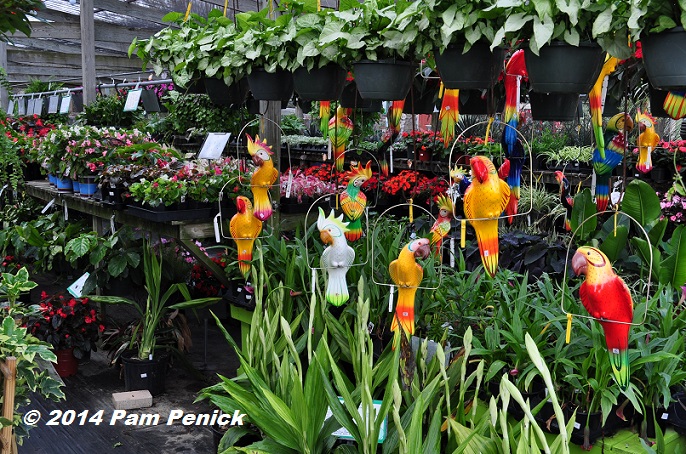 A whole flock of parrots and cockatoos festooned the nursery aisles.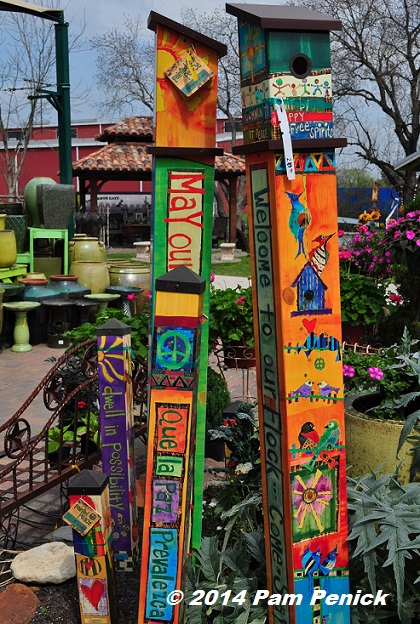 This is the place to go if you need to brighten your garden with art…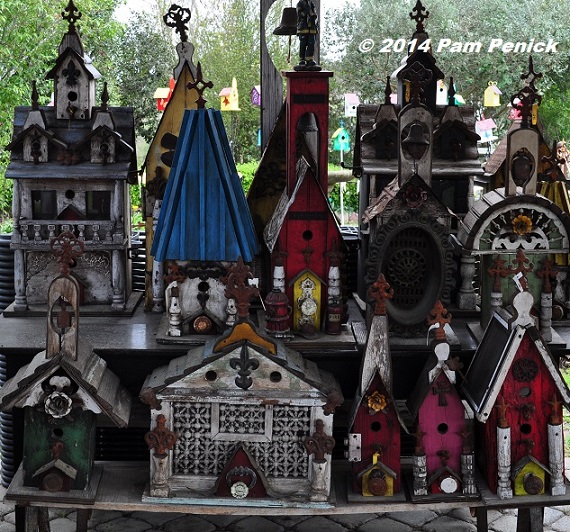 …or give a bird a home.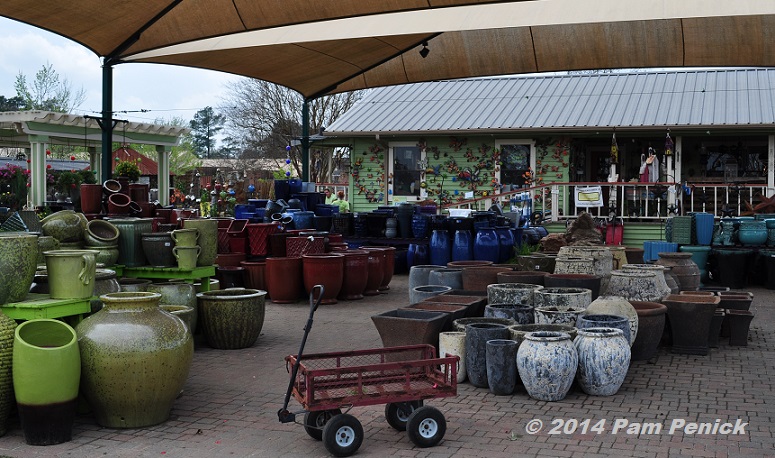 The pottery selection is nice too, with shade from the intense Texas sun.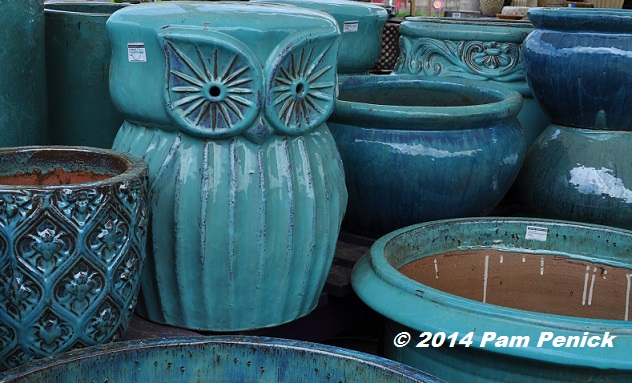 A ceramic owl stool amid the blue pots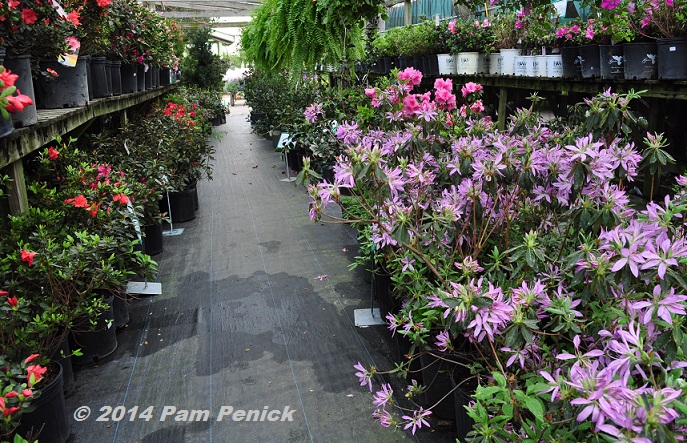 There were, of course, plenty of plants tucked among all the garden art, like these azaleas, which grow well in East Texas.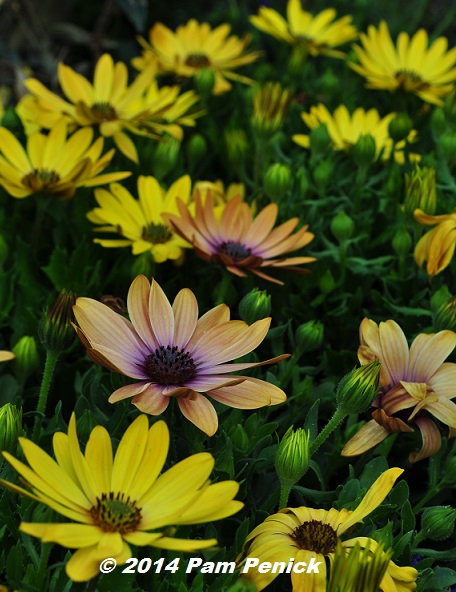 Plus lots of flowering perennials…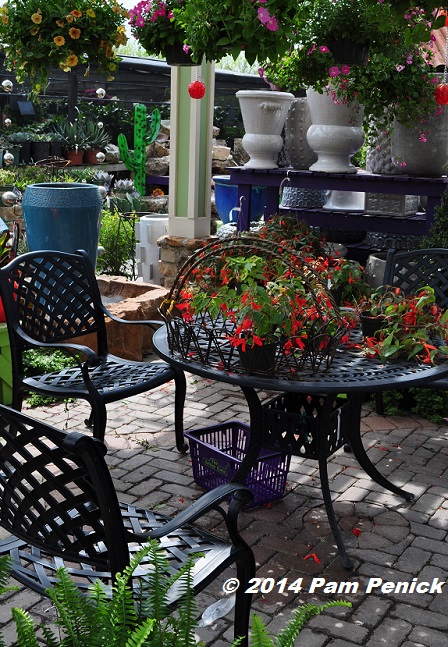 …and hanging baskets. The sales staff was helpful when needed, and Diana and I found a few new plants to bring home. Not azaleas though.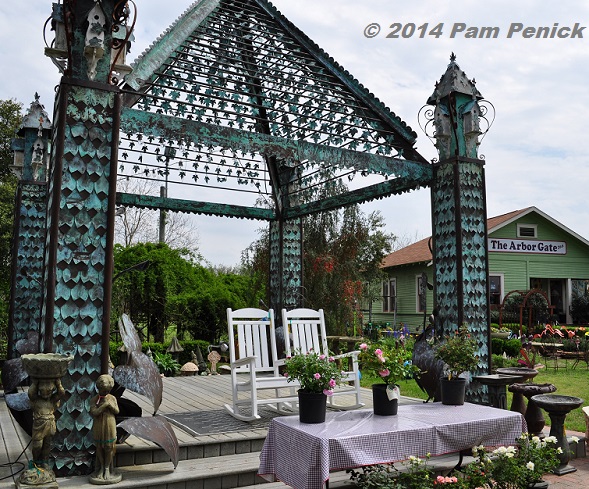 The Arbor Gate offers lots of talks, and I think this elaborate copper arbor is probably where speakers are set up.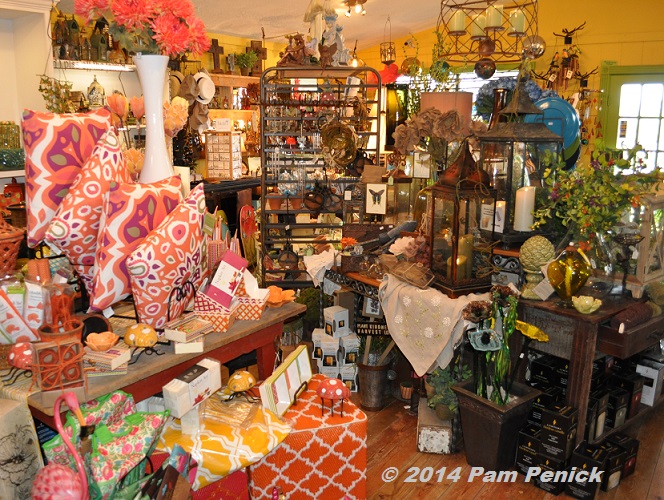 Two gift shops at opposite ends of the nursery offer housewares, books, and gifts of all kinds. The front shop, pictured here, is packed with home accessories and garden-related goodies.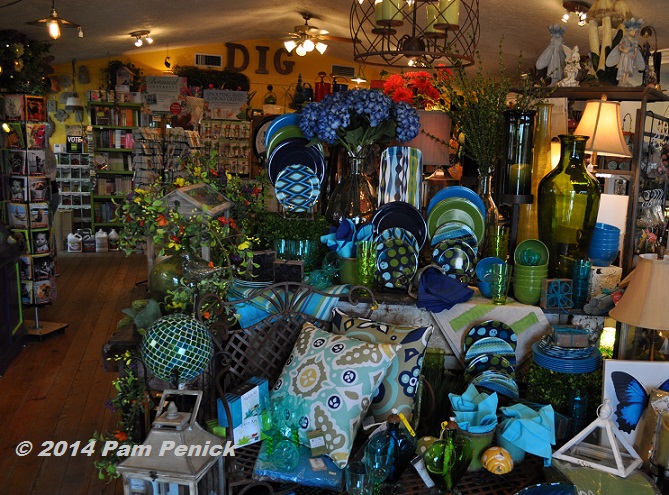 Even table settings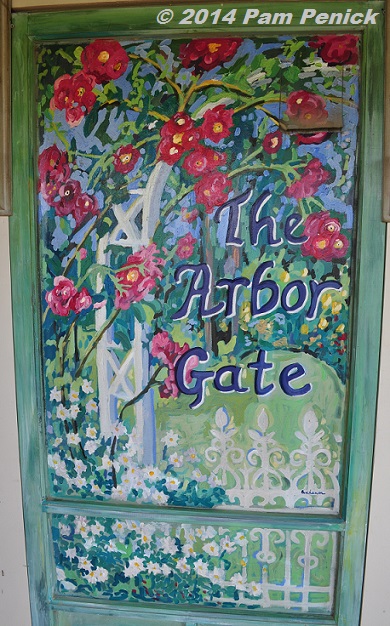 This was a fun stop on the way into Houston, requiring only a slight detour to the north as we drove in via Hwy. 290. So, would any of the garden art have tempted you? I loved those ceramic koi but resisted — this time anyway.
All material © 2006-2014 by Pam Penick for Digging. Unauthorized reproduction prohibited.
posted in
Annuals
,
Arbors
,
Birds
,
Containers
,
Decor
,
Doors
,
Dragonflies
,
Edibles
,
Fish
,
Flowers
,
Garden art
,
Garden structures
,
Nurseries & Shops
,
Seating
,
Travel