April 7th, 2014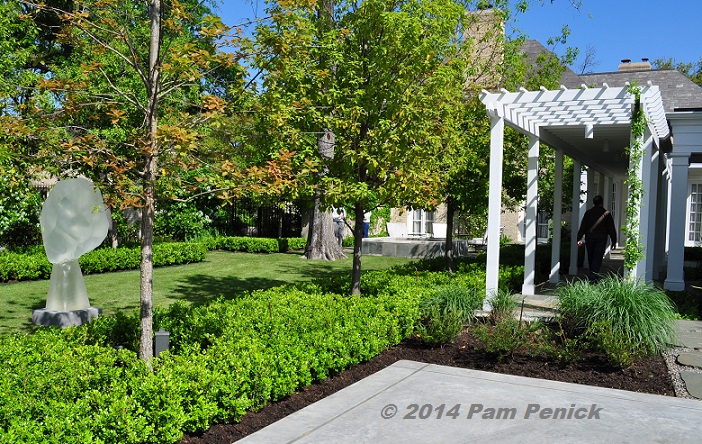 Houston has one of the earliest Garden Conservancy-sponsored Open Days tours in the country. This year it was held on March 29, after a cold, drawn-out winter (by Texas standards) that saw two 20-degree dips even in subtropical Houston. I wondered how Houston would pull off a garden tour so early, when gardens in Austin were still looking sleepy. But my friend and fellow blogger Diana and I hit the road anyway, 2.5 hours southeast to Houston, eager to kick off spring with a tour.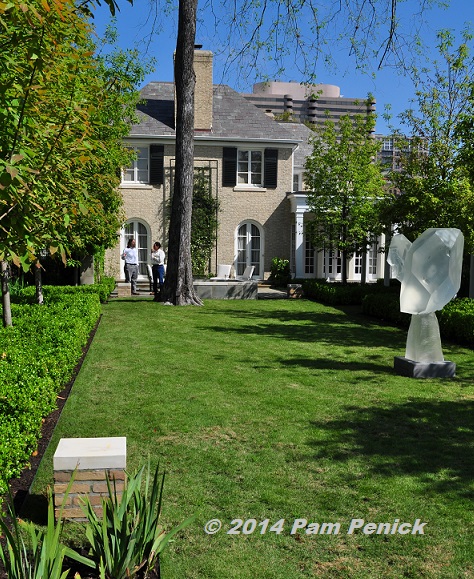 Six private gardens were on tour, and as on Houston's 2012 Open Days tour they were mostly estate-style, lawn-and-azalea gardens that would be particularly appealing to landscape architecture students because of their restrained plant palettes and emphasis on space and a seamless connection between house and garden. They were not gardeners' gardens.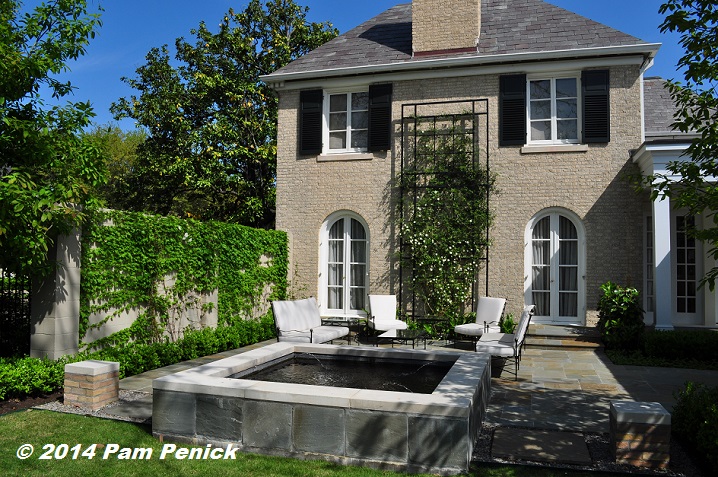 They were of course lovely spaces, with expansive terracing, tastefully planted borders, beautiful swimming pools, and expensive sculpture. While I enjoyed them, I still long to see more variety on a tour, though I appreciate the difficulty any organizer has in finding homeowner-gardeners willing to open their personal spaces to the ogling public. For that reason, I always applaud tour organizers — volunteers usually — for all their hard work and thank those willing to share their gardens.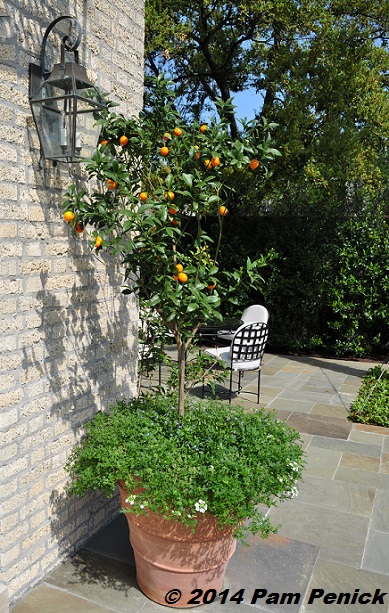 I plan to show four of the tour gardens this week, starting with this classic space in the posh Museum District.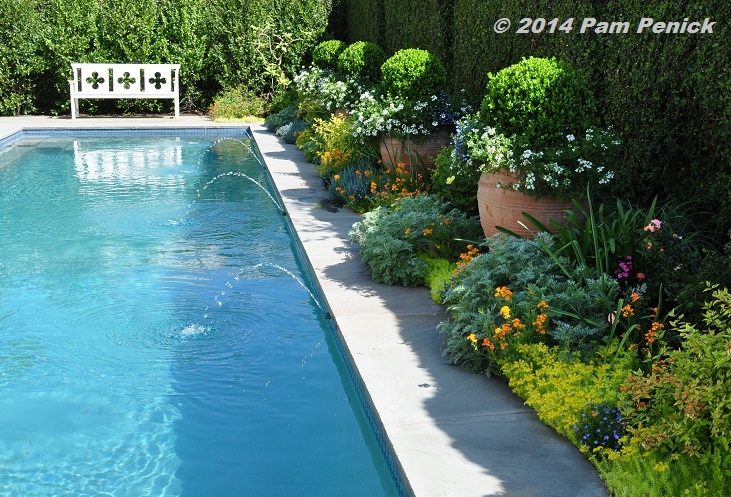 The boxwood and lawn of the entry court segues into a pool patio with a narrow border of potted boxwood and colorful annuals and perennials.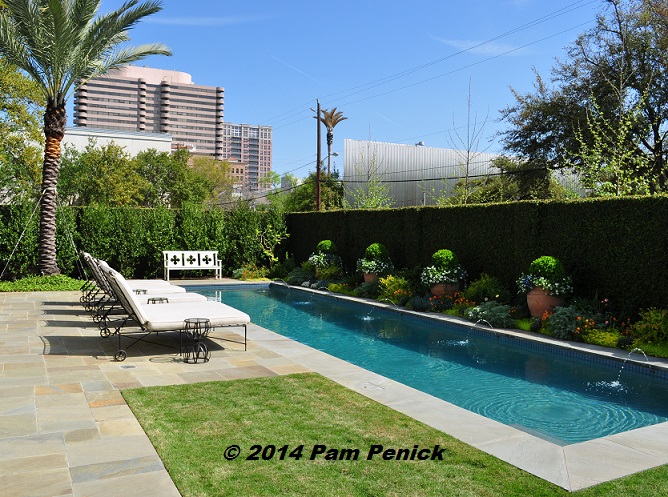 The flat, metal-sided building visible just over the fig ivy-covered wall is the Contemporary Arts Museum. What a location for art lovers!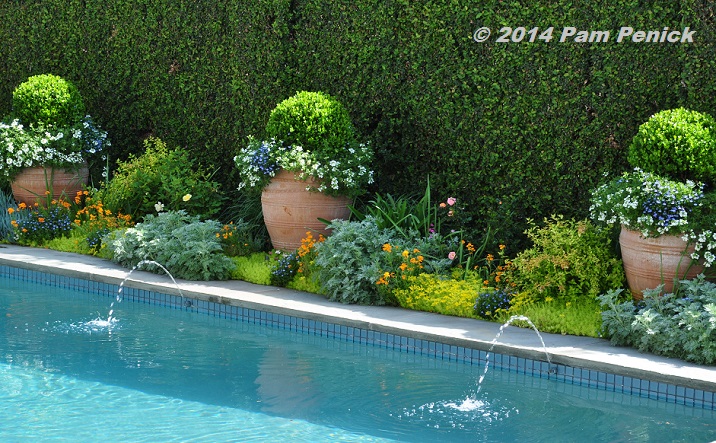 Clipped boxwood in terracotta pots are underplanted with annuals.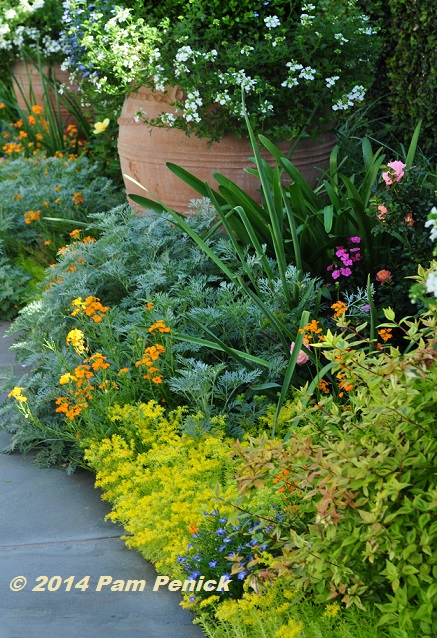 The border is planted with golden-hued sedum and 'Kaleidoscope' abelia (I think), offset by silvery 'Powis Castle' artemisia.
Up next: The strikingly contemporary West Lane Garden.
All material © 2006-2014 by Pam Penick for Digging. Unauthorized reproduction prohibited.
posted in
Annuals
,
Arbors
,
Containers
,
Edibles
,
Fountains
,
Garden tours 2014
,
Lawns
,
Patios & decks
,
Sculpture
,
Seating
,
Swimming pools
,
Travel
,
Trees
,
Trellis
,
Walls
,
Water features