April 5th, 2014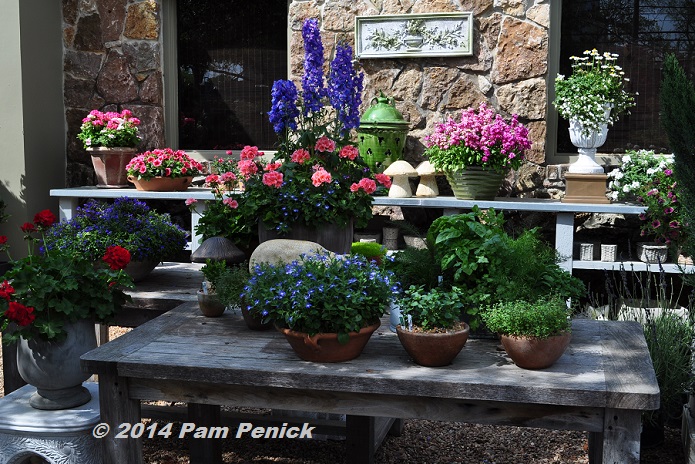 Can you travel to another city to see gardens without visiting a local nursery? Yes, but why in the world would you? While Diana and I were in Houston last Saturday for the Open Days tour (pics coming soon), we stopped for lunch at Tiny Boxwoods cafe, which is operated by and located on the beautiful grounds of boutique nursery and elegant garden shop Thompson+Hanson.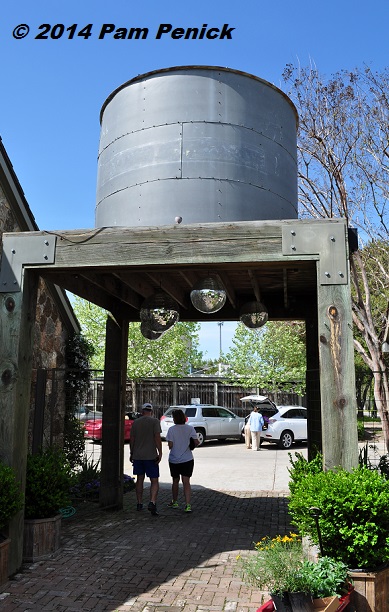 Thompson+Hanson's reminds me of now-closed Gardens in Austin. As with Gardens, T+H's primary business is a design-build landscape architecture firm (which, I was surprised to learn, has an office in Austin too). Their retail nursery, located on Alabama Street, invites you in through a massive arbor topped with what appears to be a rainwater-collection tank. It's playfully adorned with a collection of sparkly disco balls.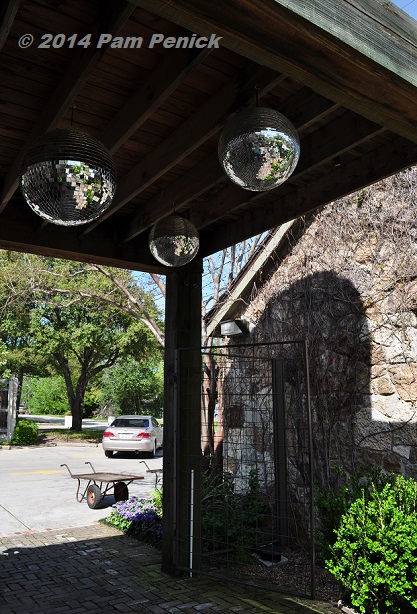 I'm a little infatuated by the idea of disco balls in the garden now.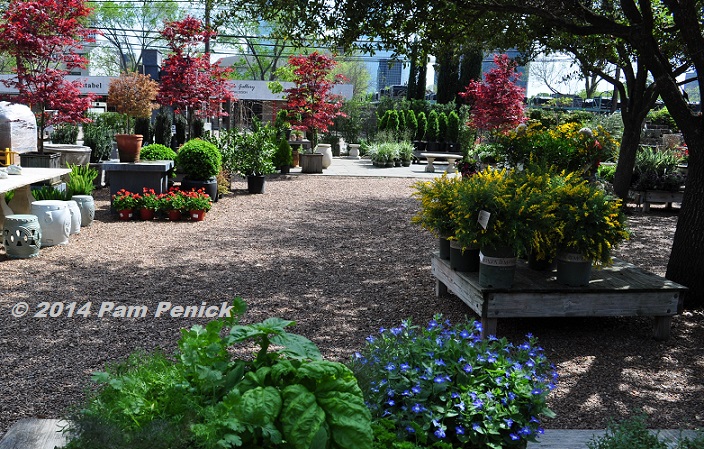 This is central Houston, mind you — land of urban infill, no zoning, and less parking, but look at the spaciousness of this nursery!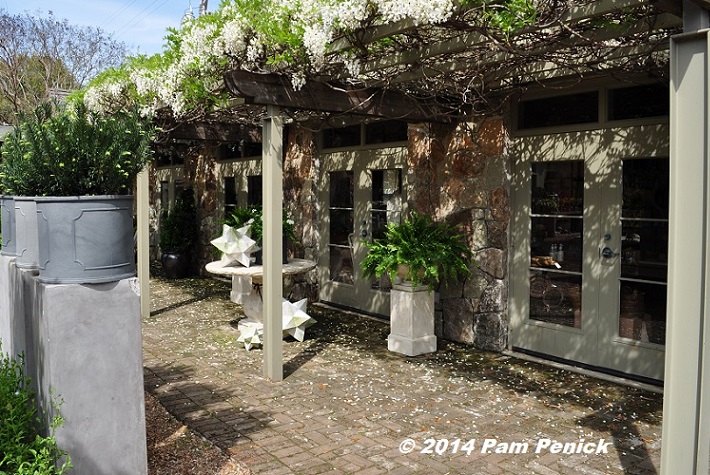 And the classic elegance of its structures and decor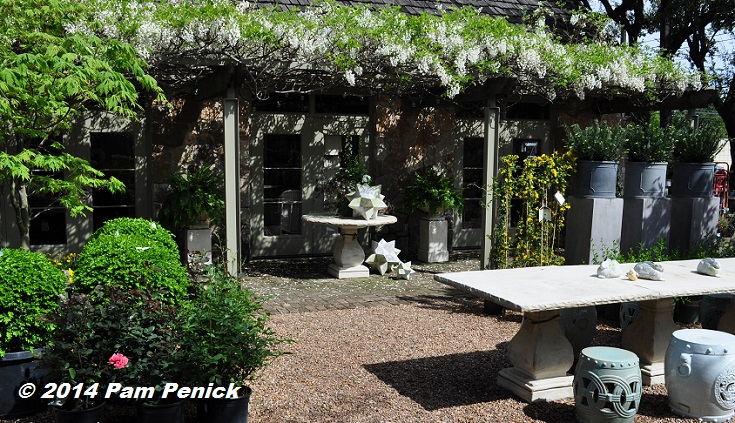 Perfuming the air, a white wisteria is carefully trained along an arbor by the garden shop's doors.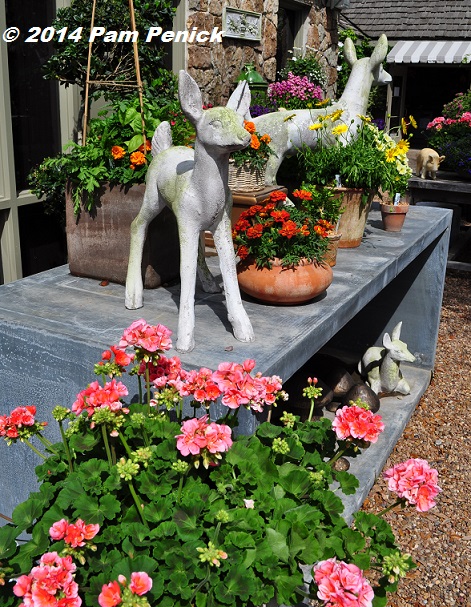 Elegant pots of flowering plants occupy tables set up throughout the nursery, along with classic or tastefully whimsical garden art and decor.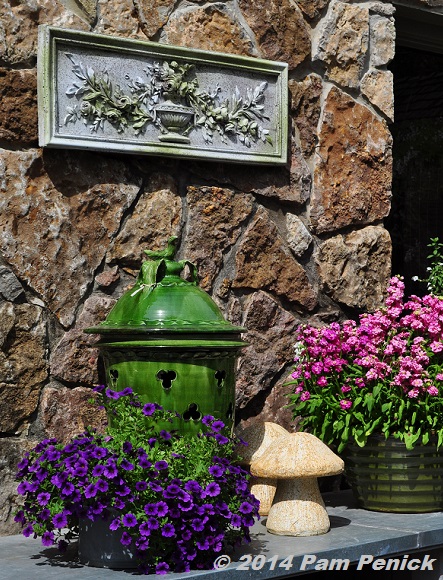 Everything is beautifully displayed.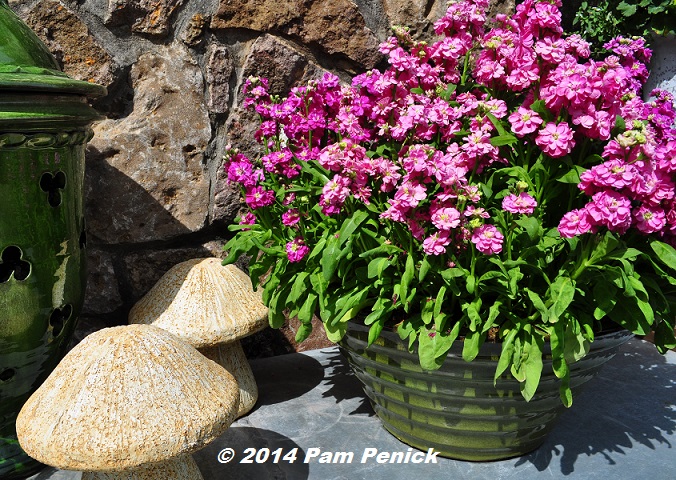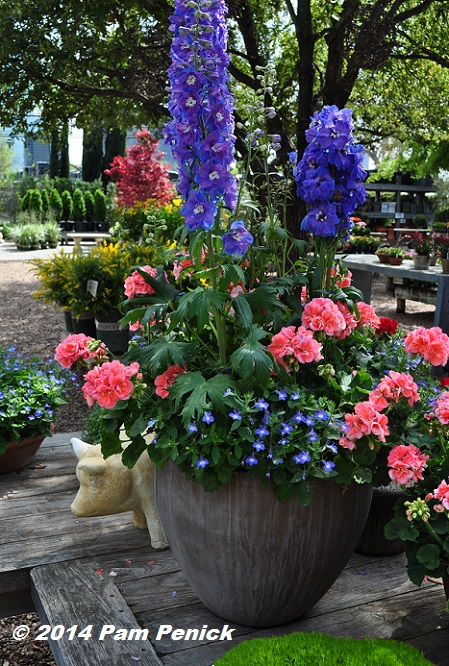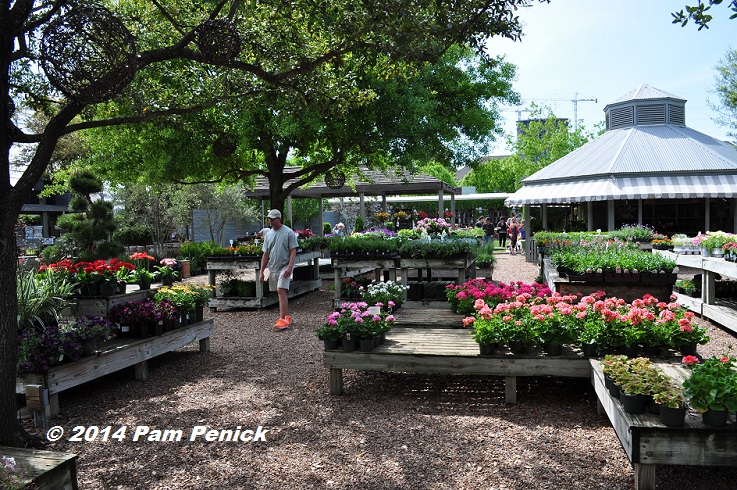 The nursery grounds feel surprisingly large for inner Houston, but with a limited selection of plants this is not a nursery for all your gardening needs. It's where you go to "freshen things up" or add a striking focal point or make your front porch the envy of the neighborhood.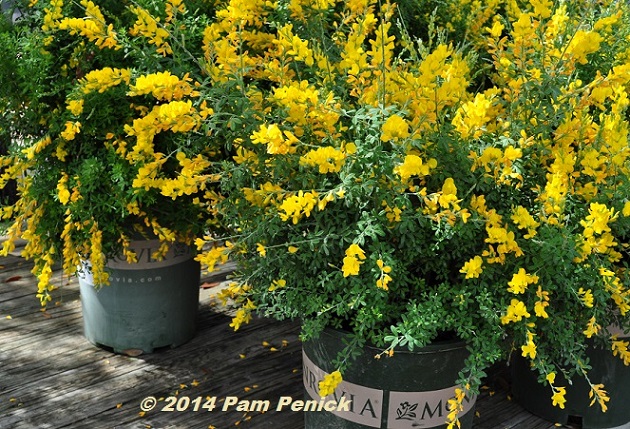 All the plants I saw were healthy and happy — not inexpensive, mind you, but well cared for and temptingly beautiful, like this flowering broom.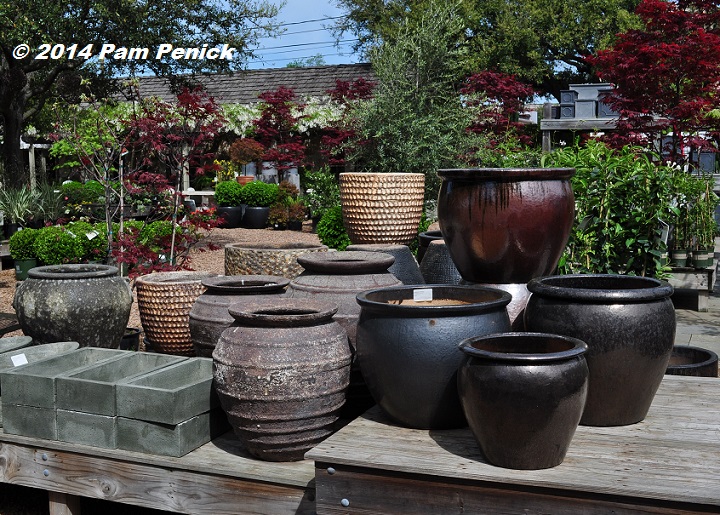 Their pot selection is simply stunning…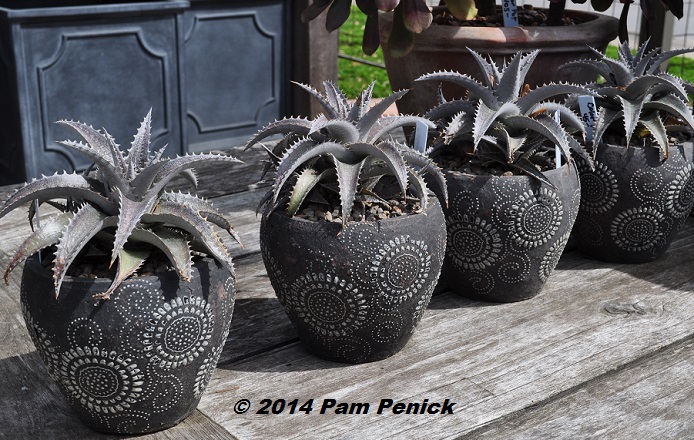 …with planted examples on display to purchase or just jump-start your own creativity.

There is even a small succulent table…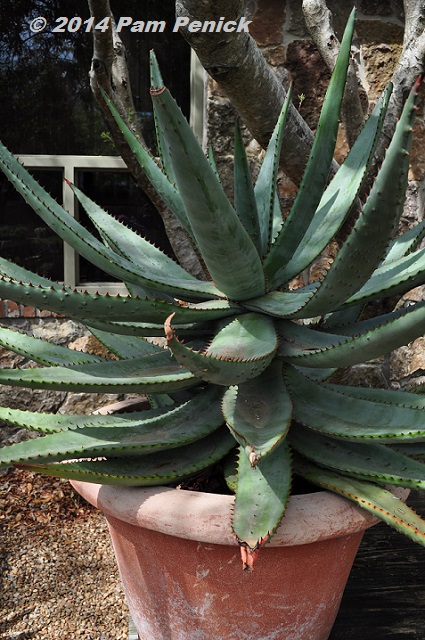 …and this striking potted aloe for sale.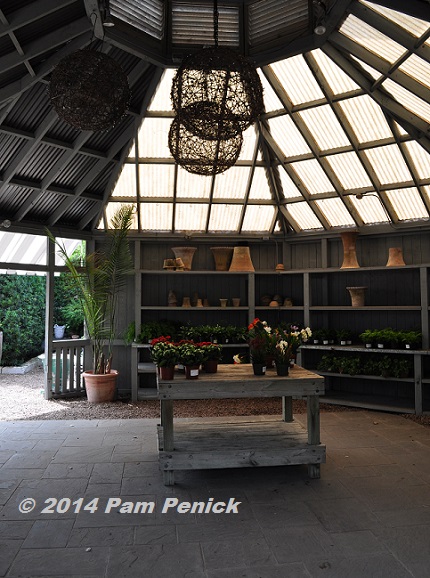 I'm not sure what this structure is for — maybe classes, maybe parties? The grounds are rentable for weddings and other events.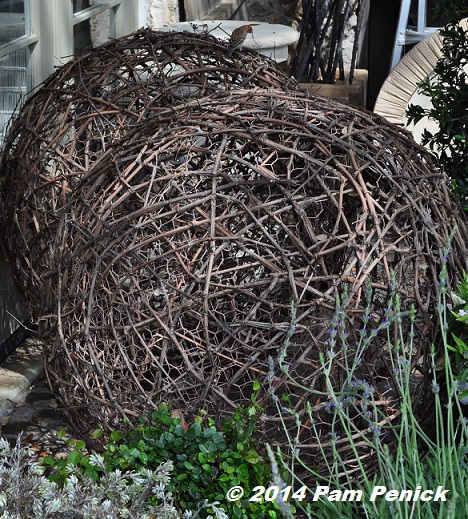 A gift from my sister, I have a couple of smaller grapevine balls like these.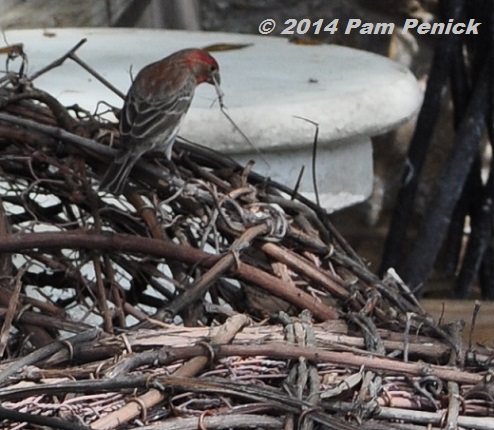 I noticed a nest-building house finch was treating them like a Home Depot.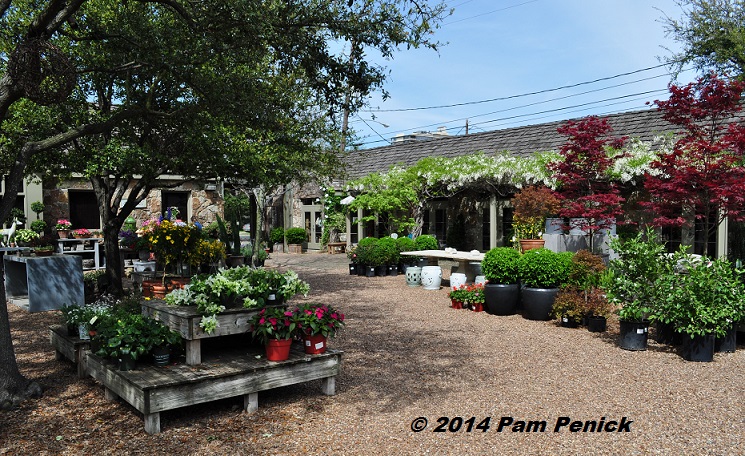 More nursery views, with burgundy-leaved Japanese maples standing out amid the fresh greens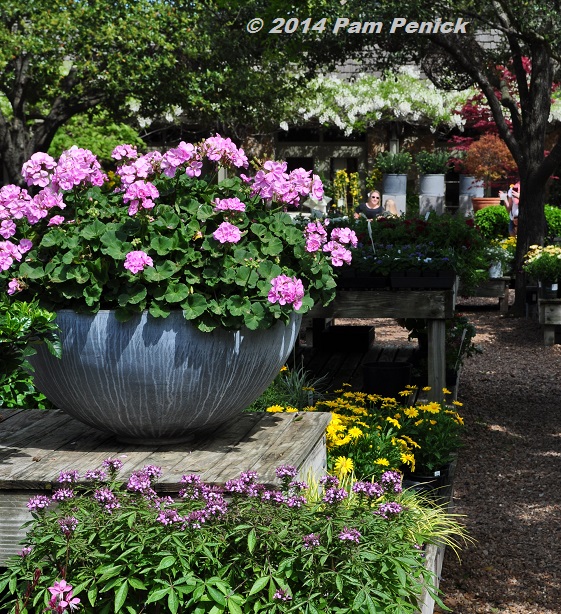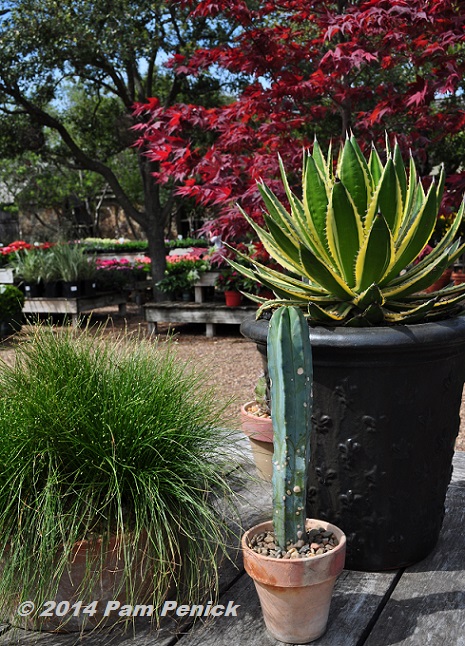 What a backdrop the Japanese maple makes for this Quadricolor agave.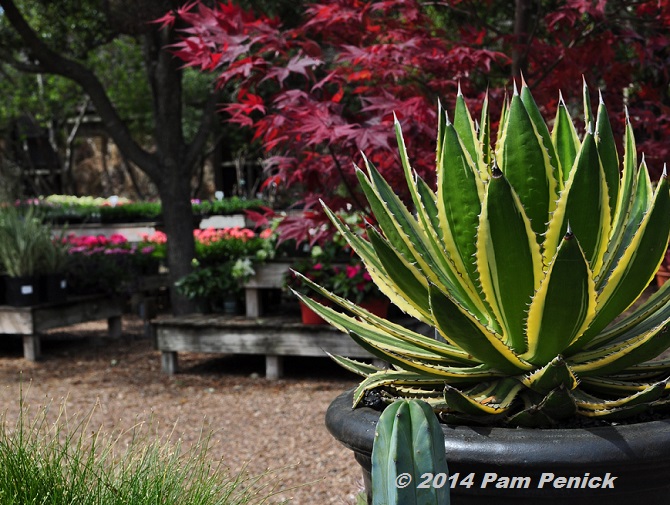 Yum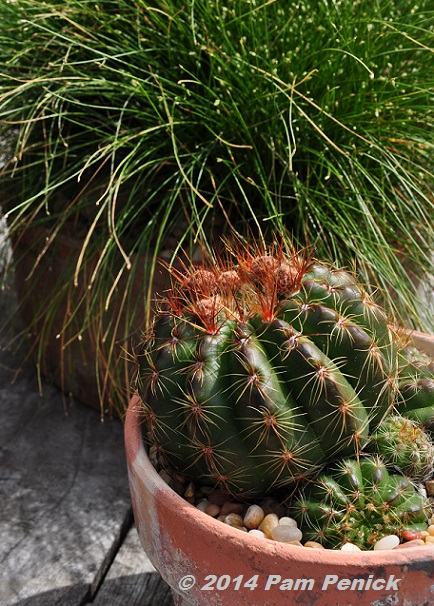 This orange-spined potted cactus is pretty cute too.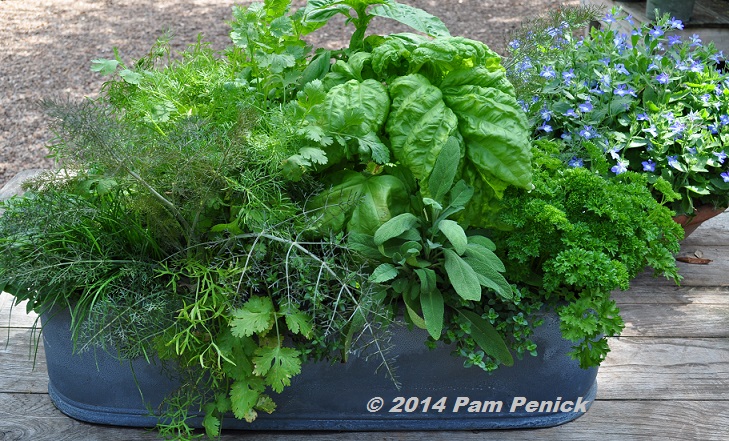 Potted herbs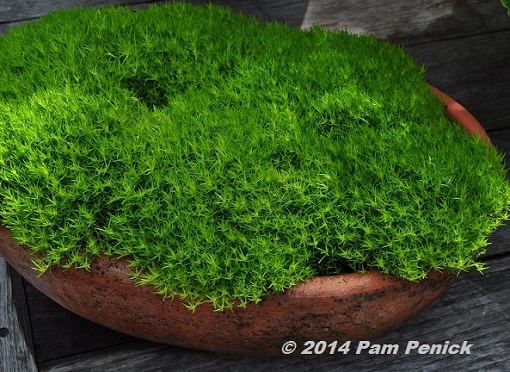 And potted, pettable moss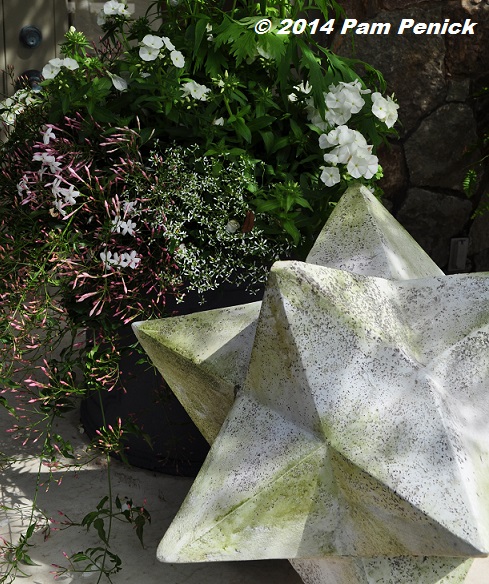 I was quite taken with this fiberglass, faux-concrete star but couldn't bring myself to splurge on it.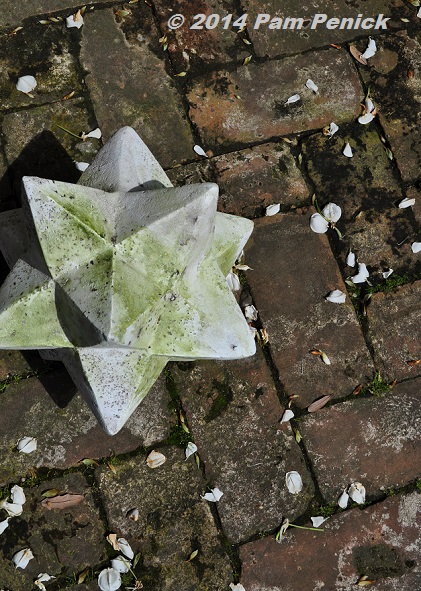 Three sizes included this small one on the brick terrace, artfully surrounded by fallen wisteria petals.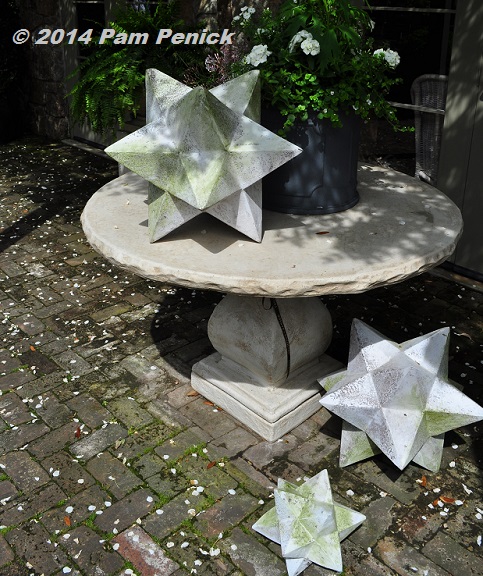 Perfect for the Sissinghurst-inspired white garden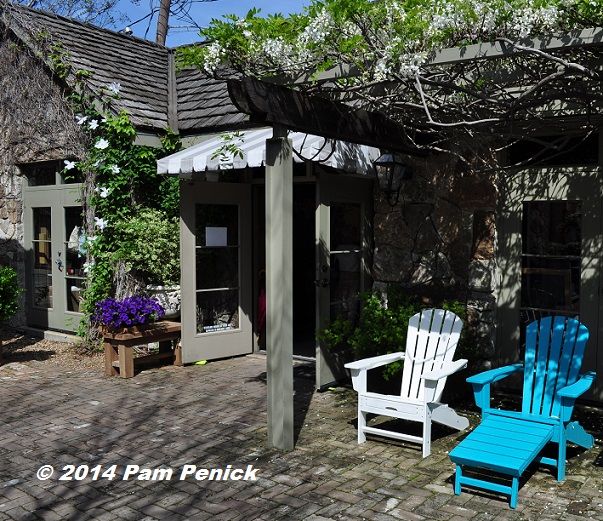 Adirondacks by the door invite lounging. Two women were sitting here with glasses of wine when I first walked by. Now that's the way to garden shop!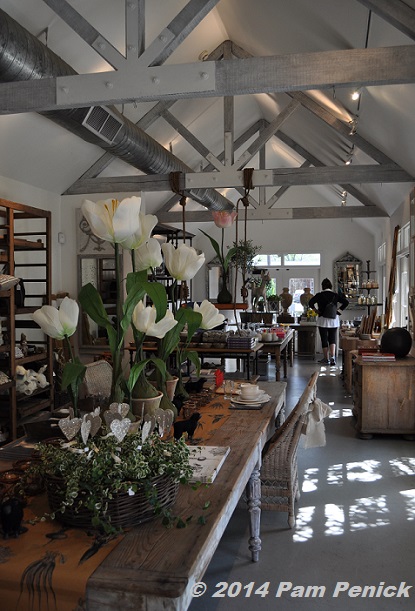 Inside, cool elegance and friendly salespeople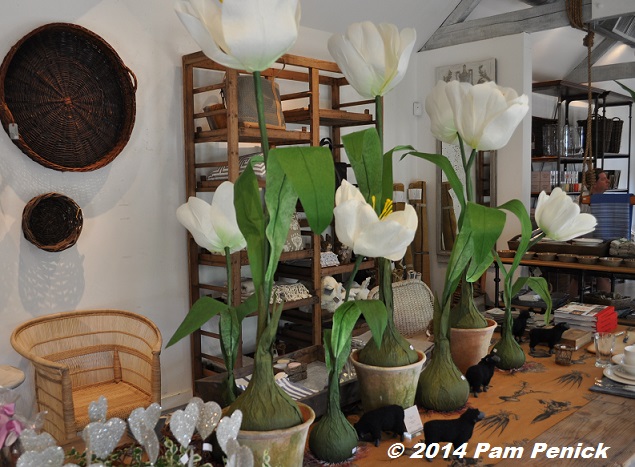 Table settings for garden parties…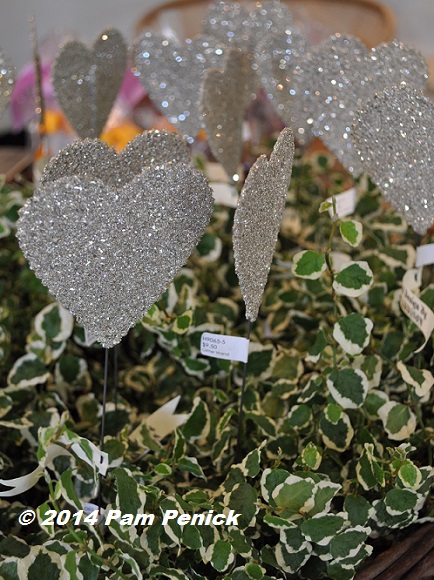 …playful decor…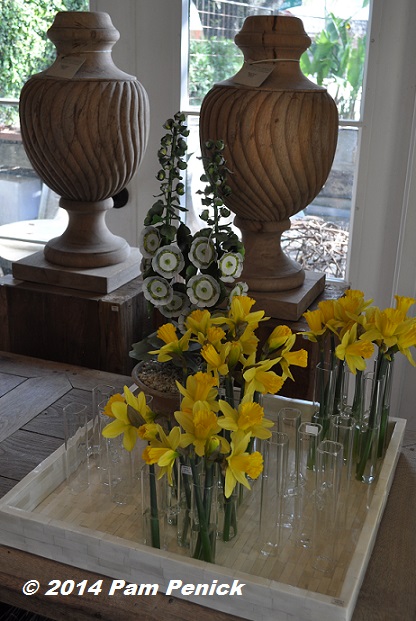 …timeless ornament…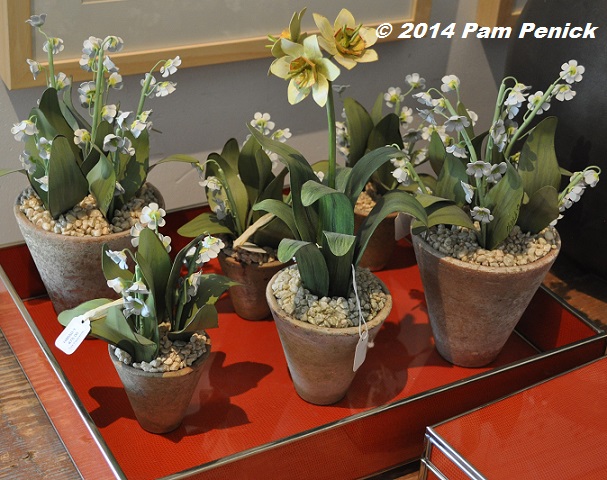 …and pretty faux flowers.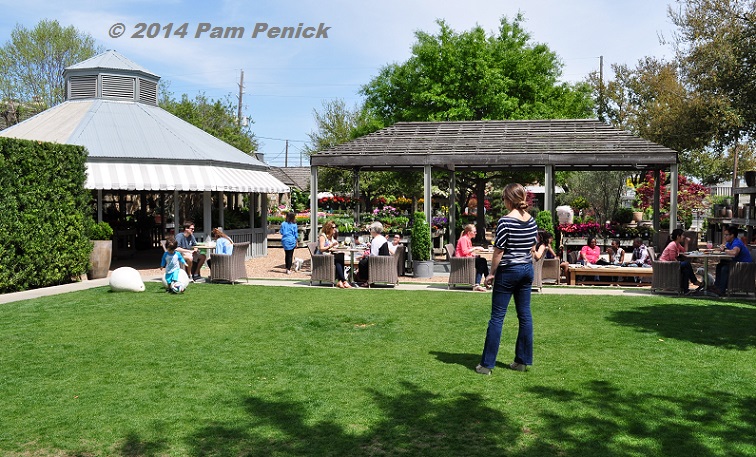 At the other end of the nursery from the garden shop, an inviting lawn surrounded by cafe seating had attracted casual Saturday brunchers, some with small children and smaller dogs, and a line stretched out the door for the upscale cafe Tiny Boxwoods.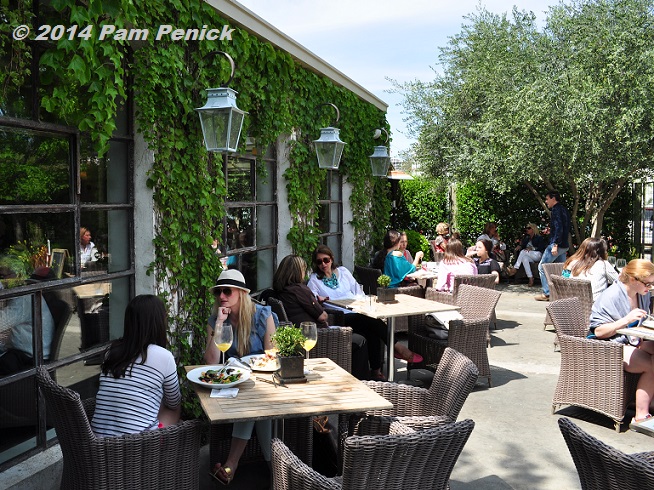 Diana and I dithered about it but then got in line. We envied the lucky loungers with their mimosas on the patio on this perfect day.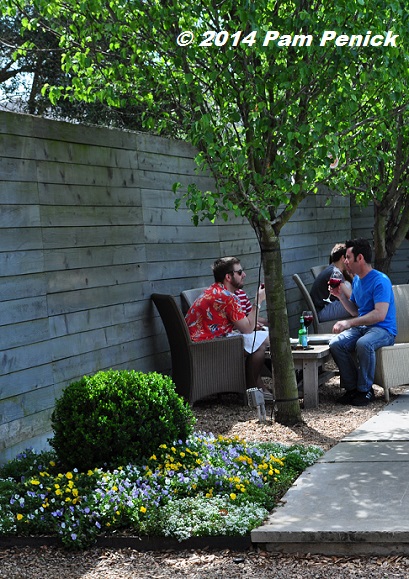 We feared no one would ever leave so that we could get a seat.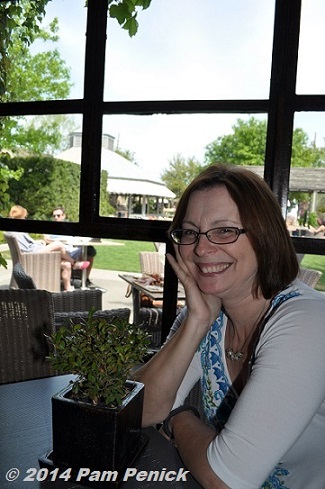 But at last we got through the line, ordered our salad and sandwich, and even found a table indoors by the window. Each table was set with a tiny boxwood, naturally.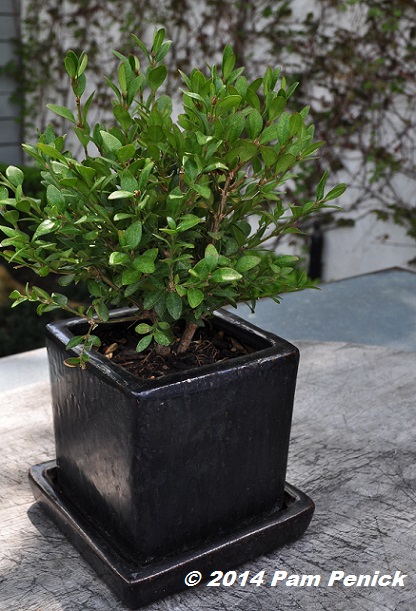 Lunch was delicious — totally worth the wait. Although I mostly window shopped, I enjoyed this place. It's an elegant fantasy, as the Open Days tour gardens were, but it's fun to dream. And you can enjoy a nice lunch on a beautiful terrace while you're at it.
All material © 2006-2014 by Pam Penick for Digging. Unauthorized reproduction prohibited.
posted in
Agaves
,
Aloes
,
Annuals
,
Arbors
,
Birds
,
Cactus
,
Containers
,
Decor
,
Dyckias
,
Edibles
,
Flowers
,
Garden art
,
Garden structures
,
Grasses
,
Lawns
,
Nurseries & Shops
,
Patios & decks
,
Sculpture
,
Seating
,
Succulents
,
Travel
,
Trees
,
Trellis
,
Vines