April 3rd, 2014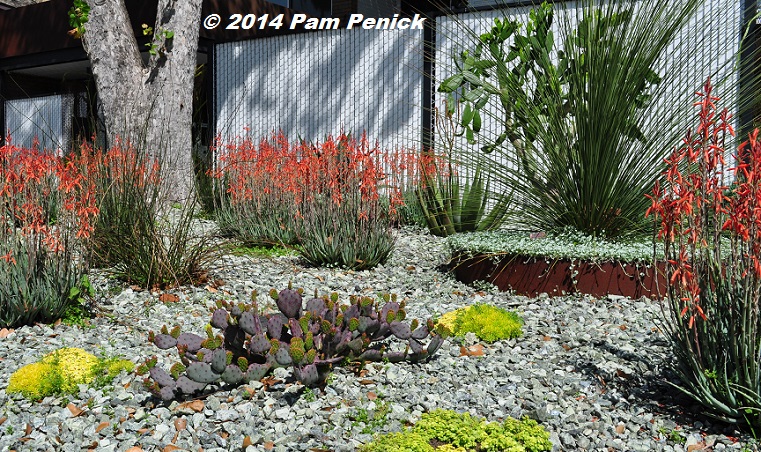 'Blue Elf' aloes, purple prickly pear, gold sedum, and smooth sotol and silver ponyfoot in the steel ring, with an Opuntia "tree" behind
I'm hearing from many of you how much you enjoy my Drive-By Gardens posts, and so I'm pleased to offer a third this week. (Click here for the first and second.)
My friend Diana gets credit for spotting this one. We were in Houston for the Open Days tour last Saturday and had just left an austere, nearly plantless garden — and were feeling a bit let down — when this swath of 'Blue Elf' aloes in bloom came into view on Banks Street. "Stop the car!" she said, and we leaped out with cameras in hand and began maniacally shooting the scene. We really are garden nuts.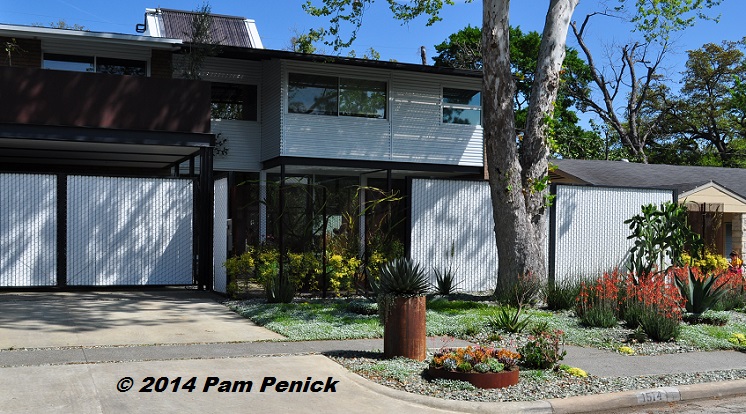 A wider view shows a modern home with a surprising dry garden out front (surprising for Old-South, azaleas-and-boxwood Houston) and a courtyard garden behind a tall steel-and-chain-link fence partially screened with privacy slats. Silver ponyfoot and sedums create a shimmering, groundcovering carpet atop the rock mulch.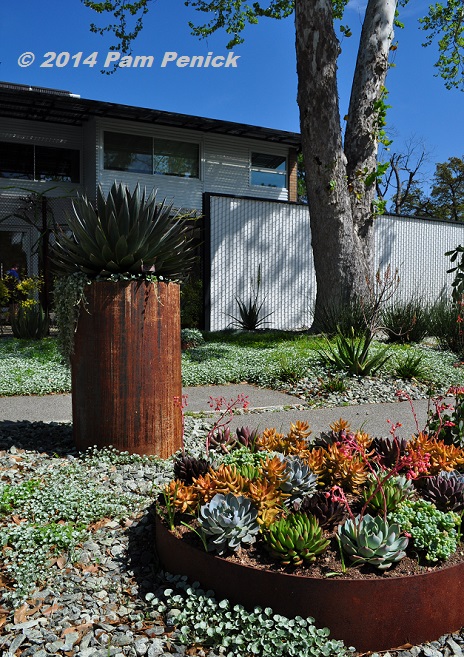 Steel pipe remnants hold a 'Blue Flame' agave and succulents. Be still, my heart!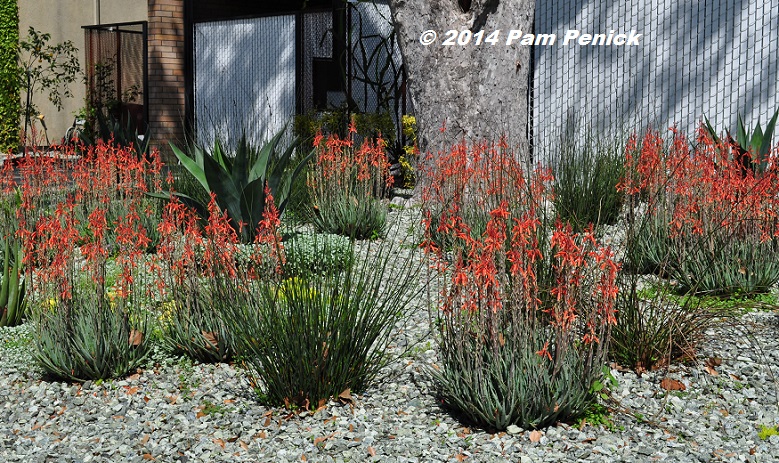 As we were exclaiming over the aloes and marveling over this Austinesque garden in Houston, a man on a bike cruised into the driveway, and I called out that we weren't stalkers but were just admiring his garden.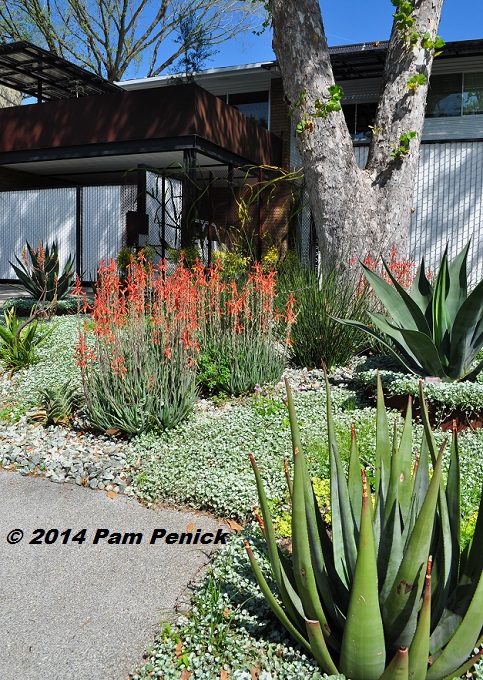 A moment later, a woman popped her head up over the steel half-wall of a rooftop patio (visible at top left) and called out, "Would you like to see the rest of the garden?"
Would we ever!
It turns out this is the garden of architect Karen Lantz. She designed and built the house, and her quest to use only American-made materials in its construction was featured in the New York Times in October 2012. (More information about her home can be found on the website of her firm, Lantz Full Circle.)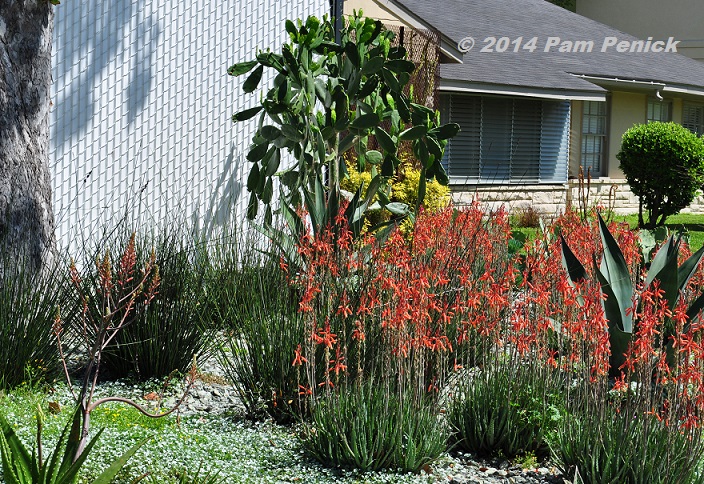 Karen also designed the garden and chose plants for the front yard that she'd never have to water. Out came the lawn and in went, after berming a layer of sandy soil over the Houston clay, aloes, prickly pear, agaves, sotols, cape rush, sedum, and silver ponyfoot. She found this Opuntia "tree" at Cactus King, which she suggested we visit. (Sadly, we ran out of time and didn't make it. Next time!)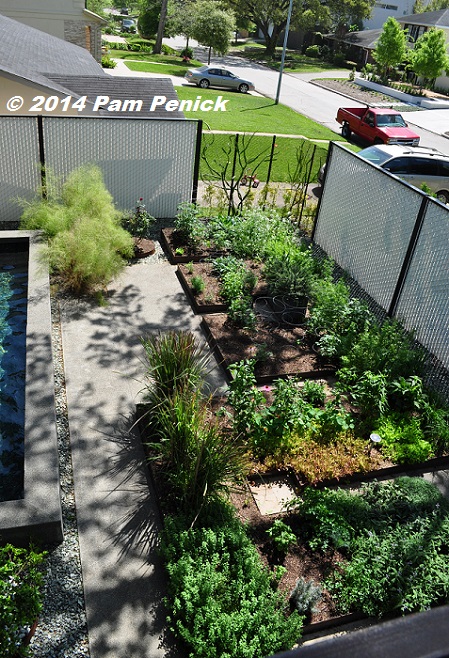 Inside the fence, Karen grows edibles in steel-edged raised beds (viewed here from the rooftop patio). This is where she's willing to water. Open fencing panels at the corner and near the entrance keep it neighbor-friendly and admit breezes and light.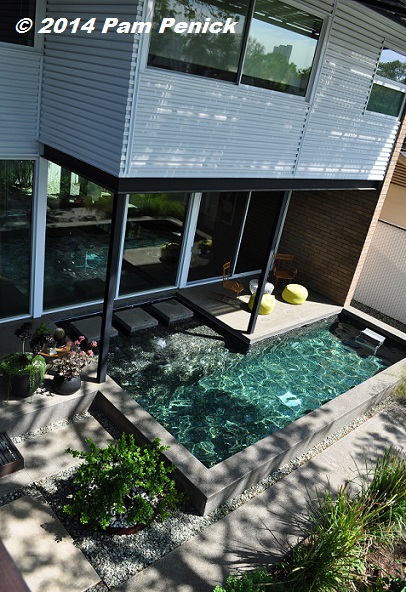 A current pool tucked right up against the house's expansive windows is both a place to exercise and stay cool in summer as well as a sparkling water feature to enjoy from the living room.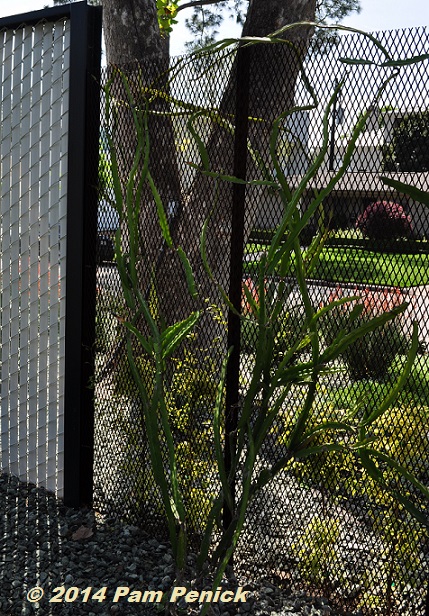 Trained up mesh fence panels is a plant I mistook for a euphorbia. Karen told us that it's a dragon fruit cactus, or pitaya, which is native not to the U.S. Southwest but the jungles of South America. It likes good drainage but, unlike most cacti, enjoys extra water and fertile soil. It fruits prolifically, she said.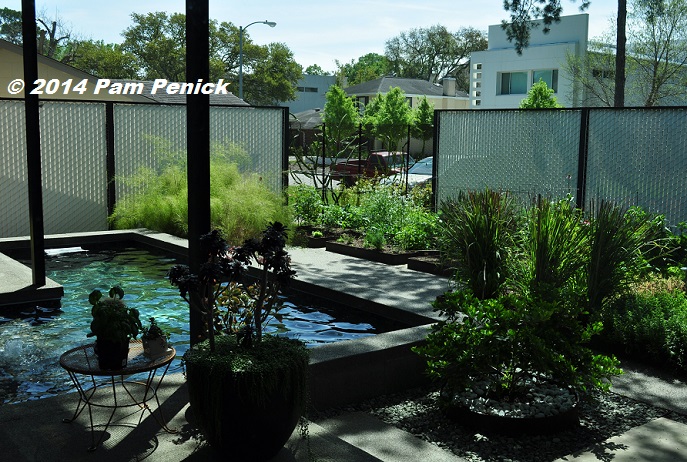 A view of the courtyard garden from inside the house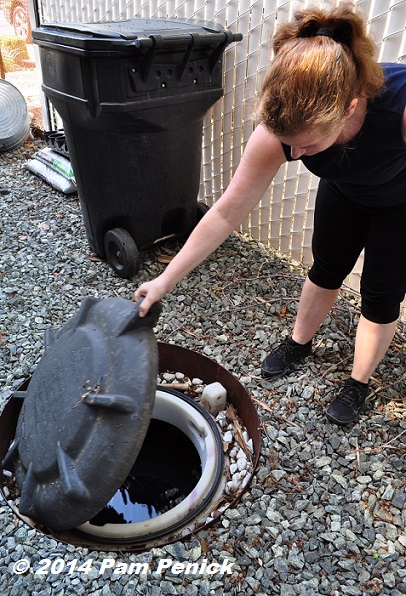 Karen worked hard to make her house as sustainable as possible. Aside from solar-panel roofing over the rooftop patio (like the ones at Austin City Hall, she noted), deep overhangs to shade the interior, and a lawnless, low-water garden, Karen installed an underground, 1400-gallon water-storage tank. Water feeds into the tank from gutters on the home, and a pump allows them to use the water as needed. Karen said during construction people couldn't understand her desire to collect rainwater in flood-prone Houston, where rainfall averages nearly 50 inches a year. She felt justified when the Texas drought intensified in 2011, affecting even Houston.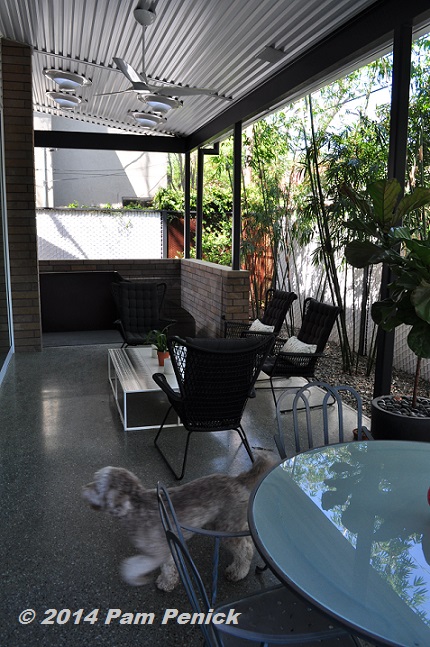 In back a covered porch offers contemporary-style seating and dining areas. Prancing Labradoodle Willy Wonka, possibly the cutest dog ever after Cosmo, kept us entertained throughout the tour.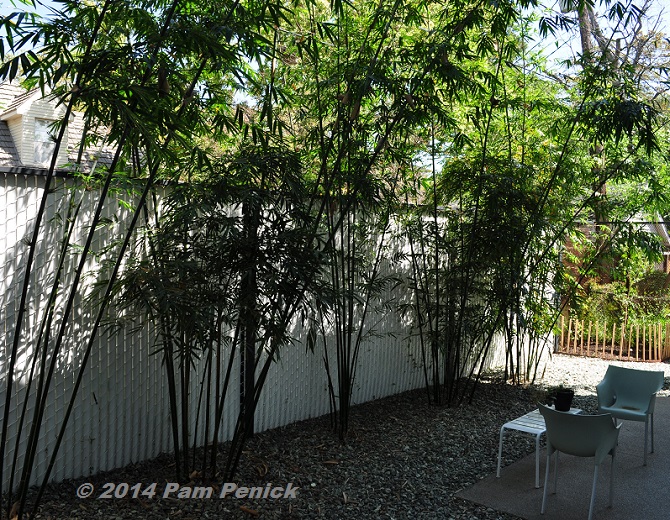 The back garden is small and Zen, with a bamboo screen and gravel flooring. Karen bought this clumping bamboo (I forget what kind) from Utility Research Garden in Austin.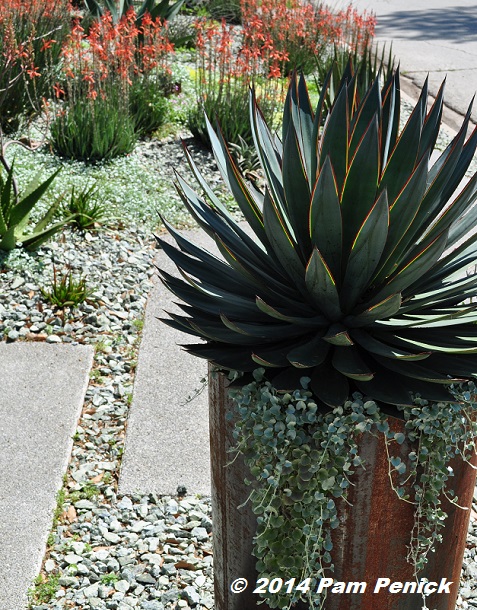 My sincere thanks to Karen for generously sharing her home and garden with us. I always learn so much from visiting other gardens, and this one was especially interesting in contrast with the traditional, estate-style gardens that we were seeing on tour that day (I'll be posting on those soon).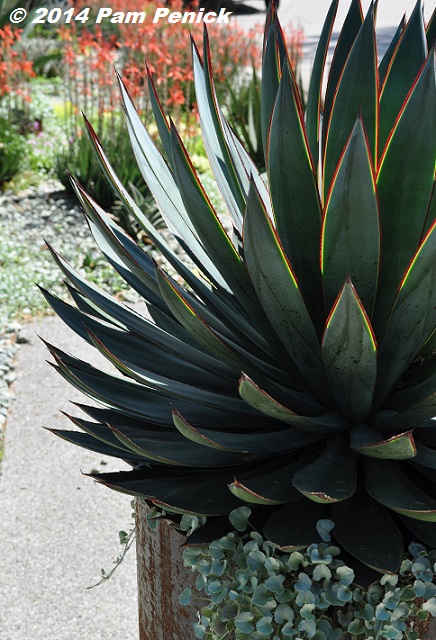 I hope you enjoyed this Drive-By that turned into a "come on in!" For my traveling companion's perspective on this garden, visit Sharing Nature's Garden.
All material © 2006-2014 by Pam Penick for Digging. Unauthorized reproduction prohibited.