April 21st, 2009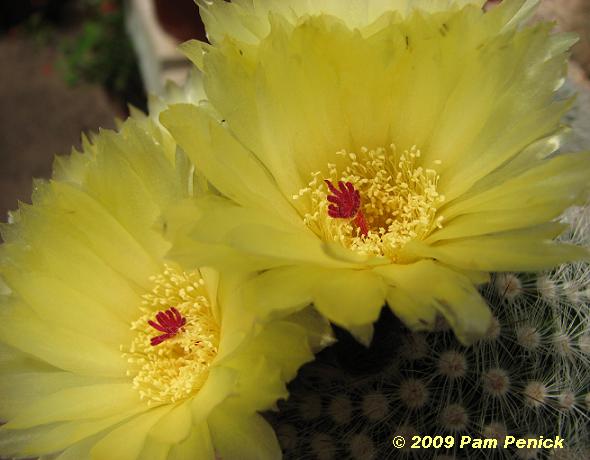 Before the roller derby, we spent part of a beautiful, sunny Sunday afternoon at Living Desert, a cactus nursery and gift shop out on Highway 71 West in Bee Cave. Living Desert is known for piles of colorful slag glass for sale in the back yard and a shop full of free-spirited, reclaimed-junk art works and creative cactus planters.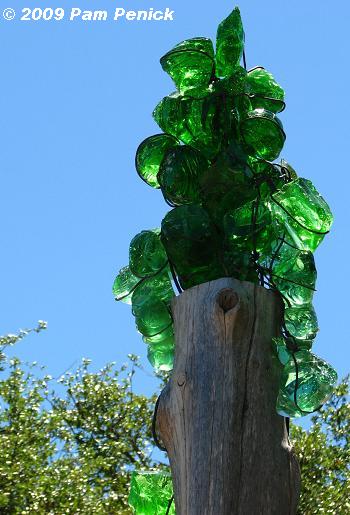 Darrell, Yvonna, and Jared Dunten run the place and make almost everything themselves, and their rustic, glass garden ornaments are particularly beautiful.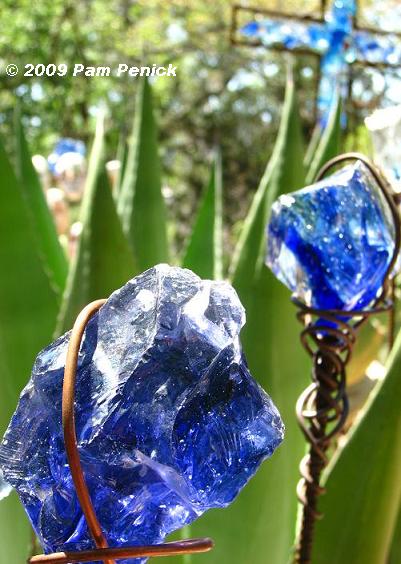 Here's another example.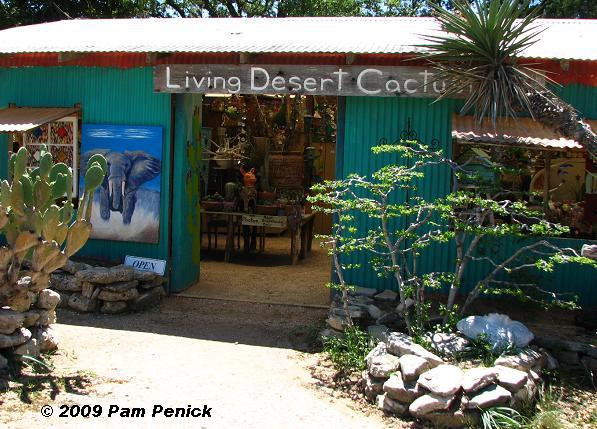 For thirty years, according to Darrell, they've rented the old house that is their store…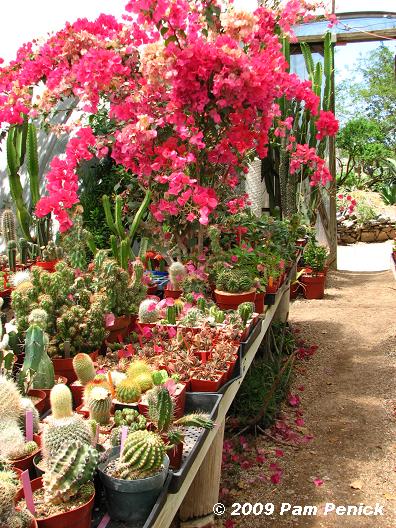 …and operated a cactus greenhouse in the back yard.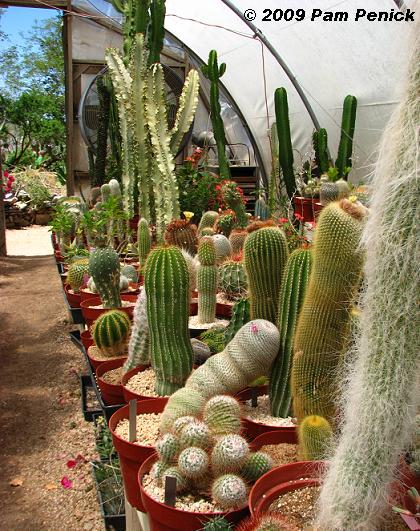 Another look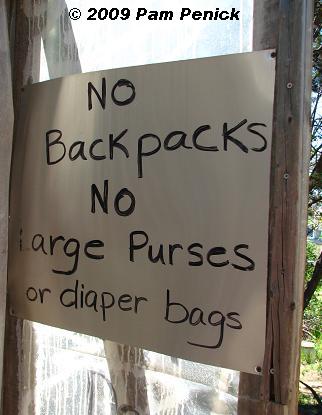 Obviously they've had some problems with cacti being shoplifted, as spiky as that is to imagine.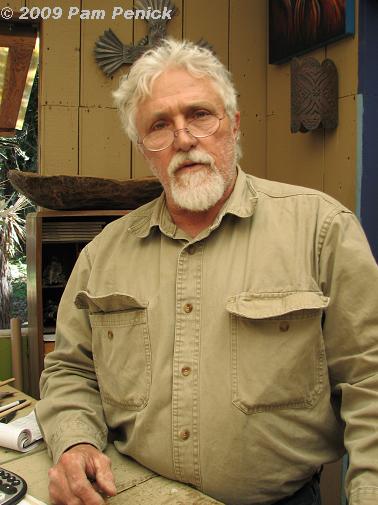 Times are a-changing, however, and rapid retail development along Highway 71 is encouraging the Duntens' landlady to sell, which is forcing them to move their operation 10 miles further west, Darrell told me, although he wasn't sure when that would occur.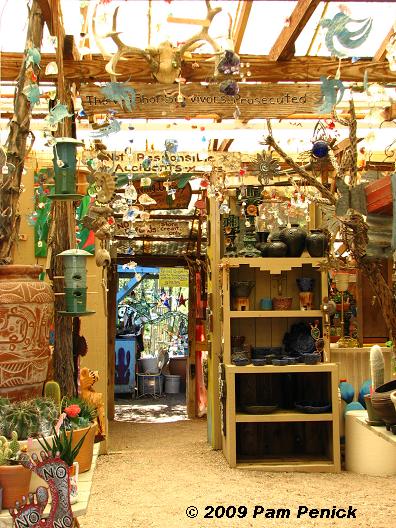 Until then, business continues as usual. In an effort to protect their artistic creations from being easily duplicated, the Duntens have posted "No Photos" signs in their shop. But when I asked Darrell if I could take a general photo of the interior and some exterior shots for my blog, he said no problem. I offered to link to his shop to help people find it, but he just laughed and shook his head. "No website," he said. They may be old-school regarding technology, but you can still find their address and phone number online with a quick search.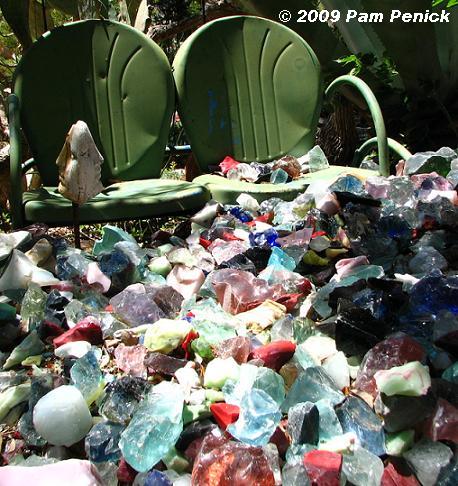 While my kids donned gloves to paw through the piles of glinting slag glass for a must-have treasure…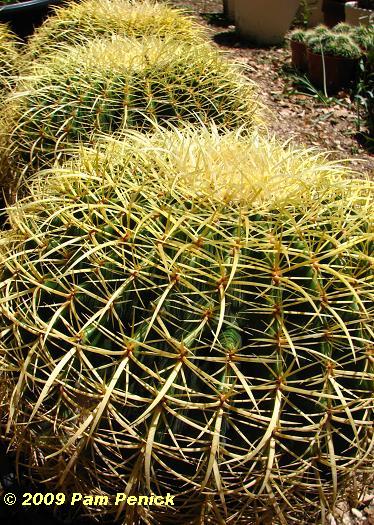 …I admired a line of potted golden barrel cacti…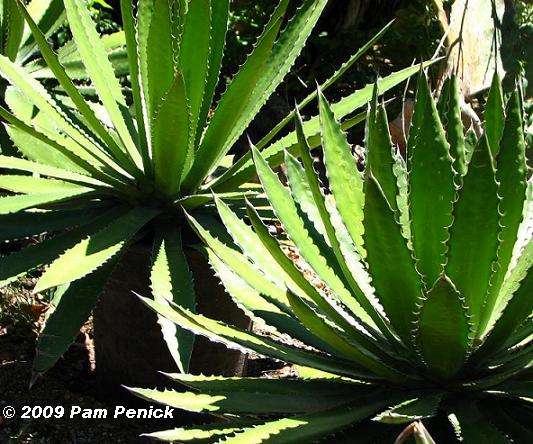 …and agaves.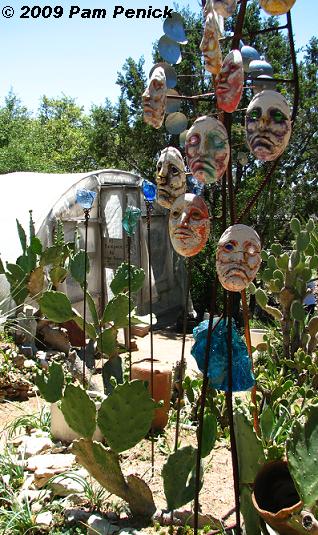 Glass-eyed faces attached to rebar make an intriguing garden ornament for those who like an audience when they work in the garden.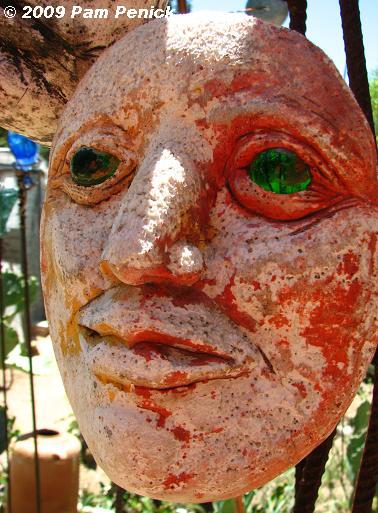 A close-up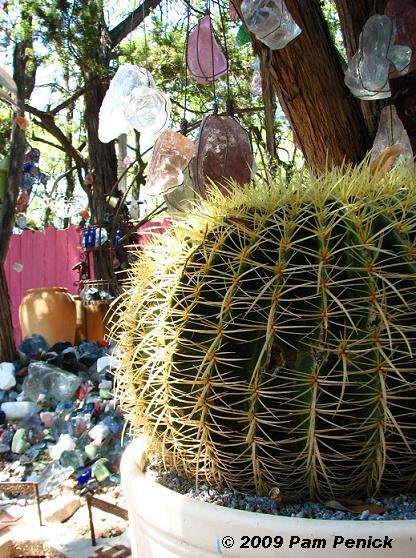 Living Desert reminds me of old Austin, of South Austin, with independent-minded, friendly proprietors and a sense of creative, earthy fun. I'm glad to know they're not folding up shop over the development issue but just moving west. Their unique creations and colorful, funky store will still be worth the drive.
Update: The store, renamed Living Desert Ranch, has moved to Spicewood and now has a website.
All material © 2006-2009 by Pam Penick for Digging. Unauthorized reproduction prohibited.