May 1st, 2007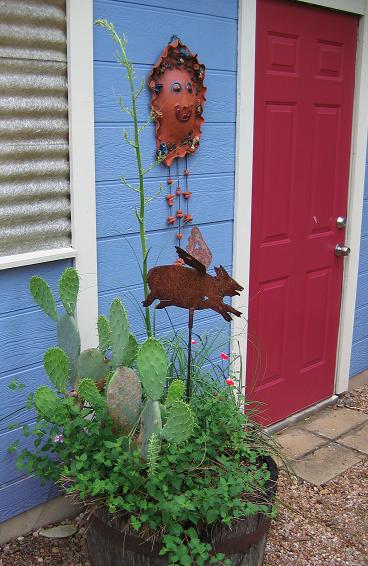 See the 5-ft. bloom stalk on this plant? It's not from the prickly pear you see in front, nor an agave, perhaps, hidden behind it. It's the inflorescence of a Nolina lindheimeriana that I'd thought was Nolina texana until now, although I had often wondered why the thin, bunching leaves grew differently on the two plants. Sometimes it takes a dramatic bloom stalk in your face before you sort out what your plants really are.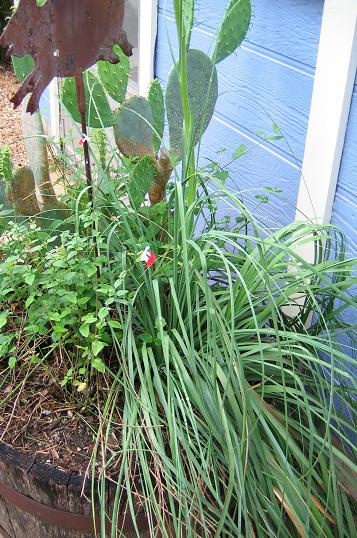 While both nolinas are evergreen, clumping, yucca-like plants, the Lindheimer nolina, above, grows taller and more fountain-like than the Texas nolina, which tends to sprawl. The leaves are wider too.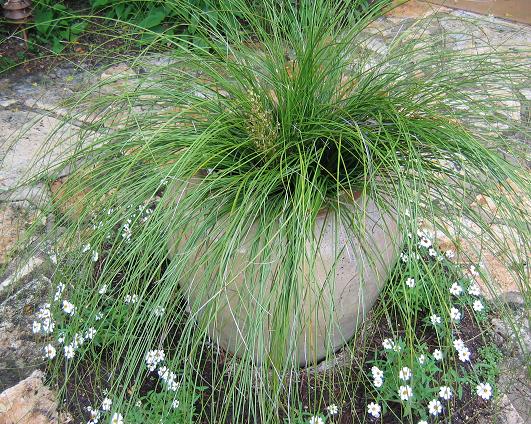 Texas nolina is more squat, and its bloom stalk is much shorter as well. And, as it turns out, they bloom at different times.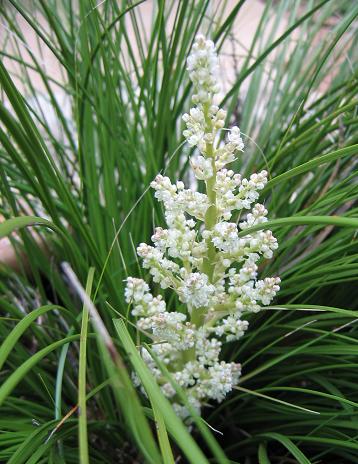 Texas nolina in bloom last March. The inflorescence nestles amid the leaves on a short stalk.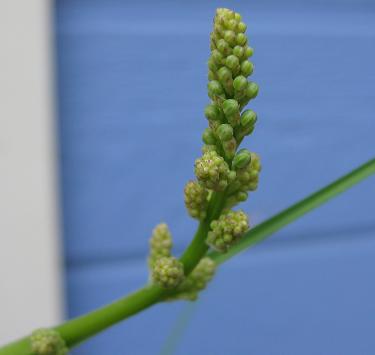 Meanwhile, on this May Day, the Lindheimer is pushing up that dramatic flower from a whiskey barrel planter in the back garden. This will be its first bloom since I planted it a couple of years ago. Here's a close-up of the buds.
Both nolinas have colorful nicknames. Lindheimer's nolina is known as devil's shoestring because of its sharp-edged leaves. Texas nolina is variously called sacahuista, bear grass, and basket grass. I read that Native Americans wove baskets from the leaves' fibers. I have no idea why it's called bear grass though.
I'm happy to have accidentally ended up with both species, and even happier that the tall one ended up in the back, where it won't obscure the view of the front door.