March 30th, 2014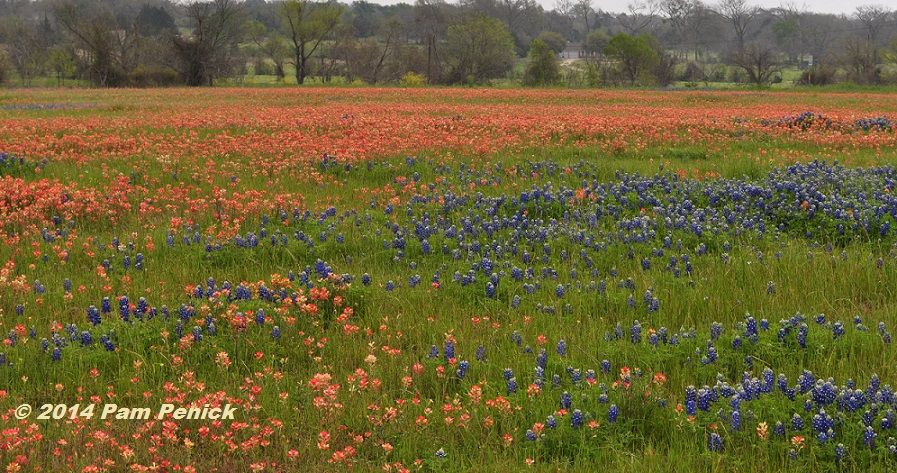 Indian paintbrush and Texas bluebonnets are coloring fields and roadsides between Austin and Houston salmon-red and blue. The paintbrush is spectacular this year, although plenty of bluebonnets are enticing fellow Texans out of their cars to plop babies, dogs, and themselves among the flowers for the annual bluebonnet photo-op.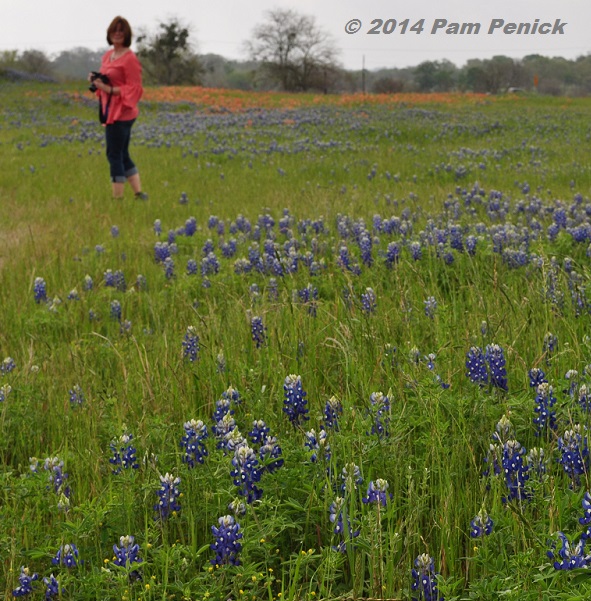 My friend Diana of Sharing Nature's Garden and I drove to Houston on Friday morning to spend two days touring gardens and visiting nurseries, After oohing and aahing over flowers along Highway 290, we stopped just north of Brenham, on FM 50 near the Antique Rose Emporium, to take these pictures in a field as colorful as a patchwork quilt.
Unfortunately a hazard of Texas wildflower photography — fire ants — got Diana as she was snapping a few photos of her own. The aggressive ants said hello via several painful bites to the feet before she could yank her sandals off to knock them away. So just to remind you, fellow wildflower admirers, when plopping your children down among the bluebonnets, look carefully and put your own foot there first. The ants will kindly let you know if they'd prefer you choose another spot.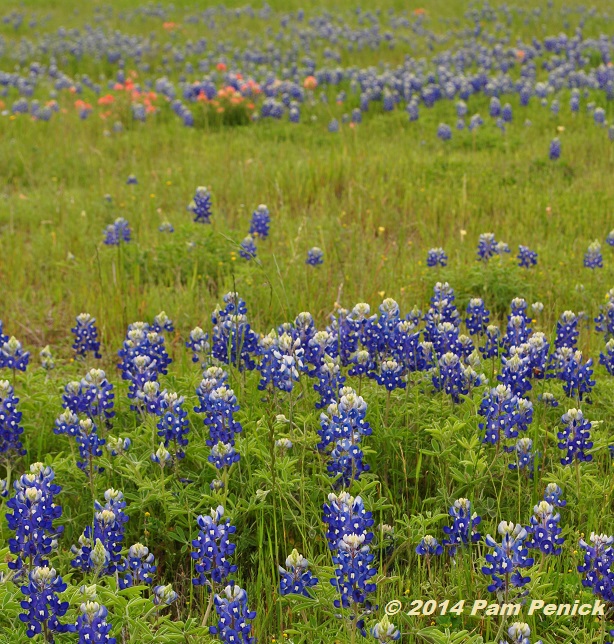 Beautiful blues

I had to get one picture with a pickup truck rattling by. This is Texas, after all.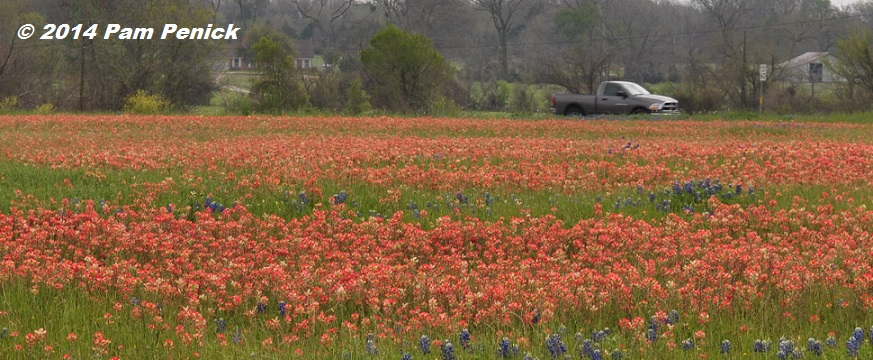 Maybe two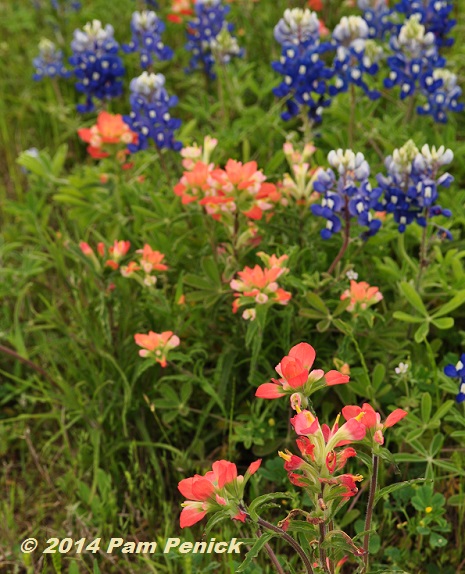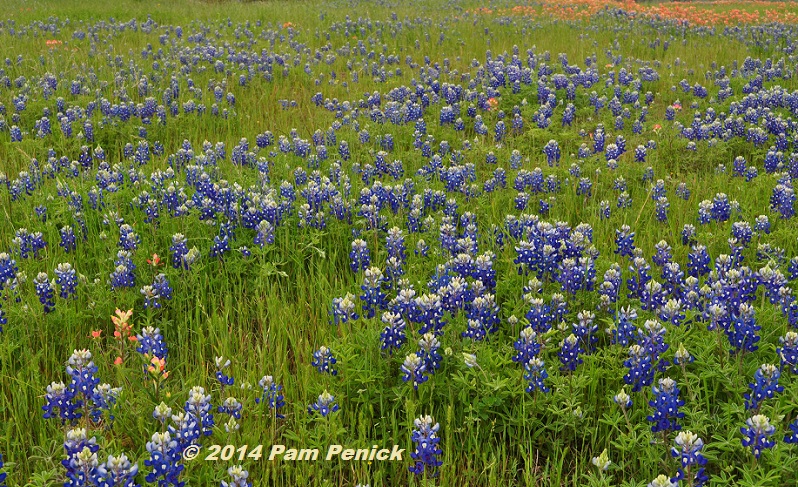 I'd heard reports that this would be a good year for our native wildflowers, thanks to winter rains and even the ice, all of which added necessary moisture to the soil. Austin roadsides are abloom with bluebonnets right now, and since the eastern half of Texas gets considerably more rain than the western half, I expected a pretty show. My advice to you is to go now to see full bloom east of Austin.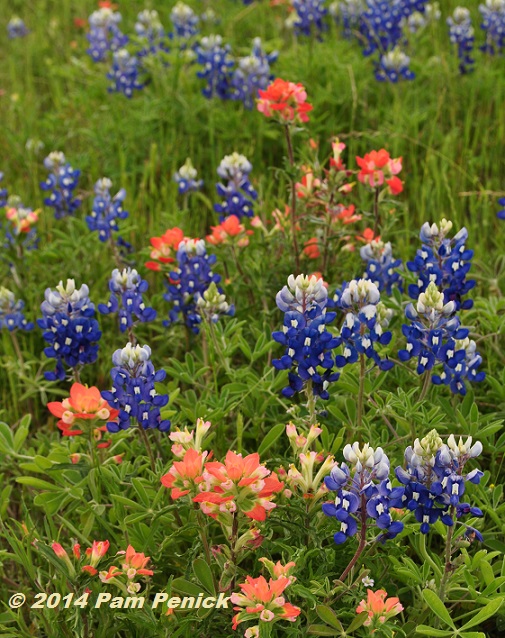 West of Austin, in the more rugged and arid Hill Country, the bluebonnet display may be disappointing this year, from reports I'm reading online. They just haven't gotten the fall and winter rains the bluebonnets need to germinate. I may still make a drive west in a few weeks, just to see.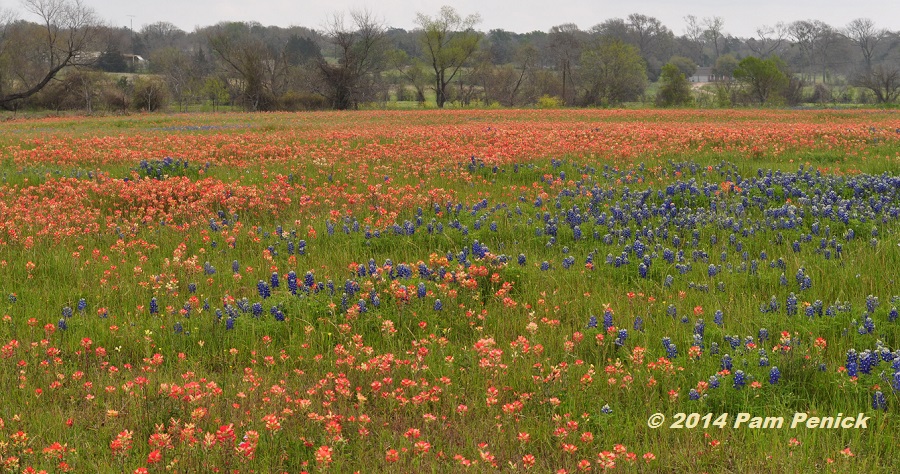 But for now, central-east Texas is happening. Go see it.
All material © 2006-2014 by Pam Penick for Digging. Unauthorized reproduction prohibited.