March 26th, 2014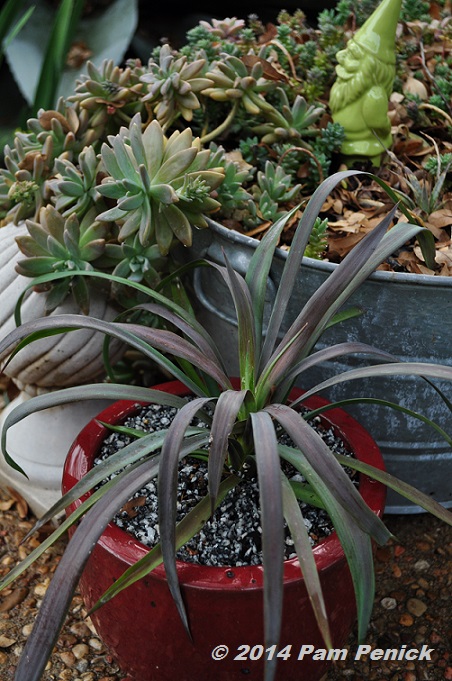 Like a faithful Labrador, this Yucca desmetiana 'Blue Boy' patiently sat for 8 months in its 4-inch nursery pot on a table in my back yard, waiting for its forever home. Well, maybe not forever, as this purple-tinged yucca can grow to 6 feet tall. But certainly a better temporary home than a flimsy, plastic nursery pot.
I bought it at the fabulous Annie's Annuals & Perennials during last summer's Garden Bloggers Fling in San Francisco, but not because I saw it and just had to have it. No, I bought it because I saw one of my favorite bloggers, Denise of A Growing Obsession, carrying one around and thought, "Oh, if Denise wants it, it must be good!" And I promptly hunted down one of my own, stuffed it in my suitcase for the flight home, and then basically ignored it. Poor thing. It does look quite nice now in this glazed, red pot, doesn't it?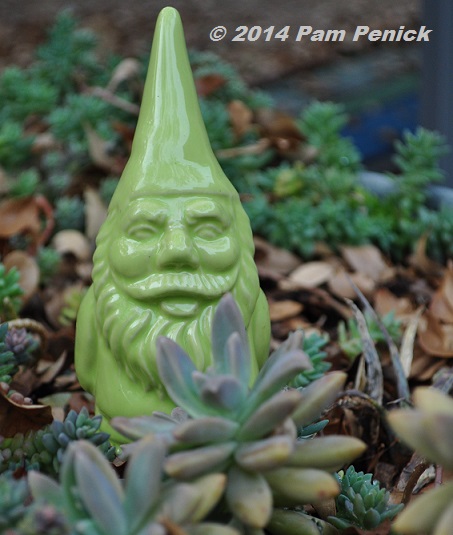 The gnome thinks so. Come to think of it, he's a California purchase too, from Potted garden shop in Los Angeles.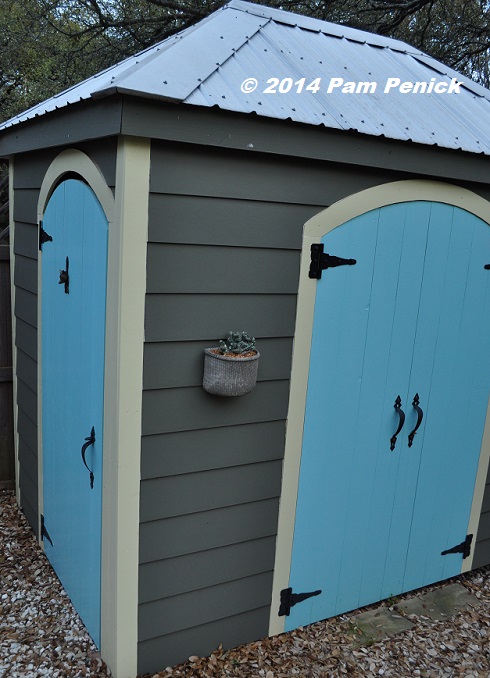 While I was potting, I finally got around to planting up this concrete wall planter I bought at local shop Mockingbird Domestics last fall.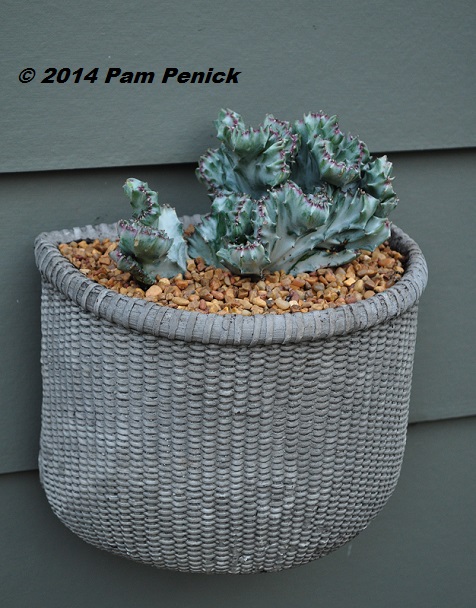 I put a crested euphorbia in it. I've never grown this plant before and hope it won't melt away in the summer.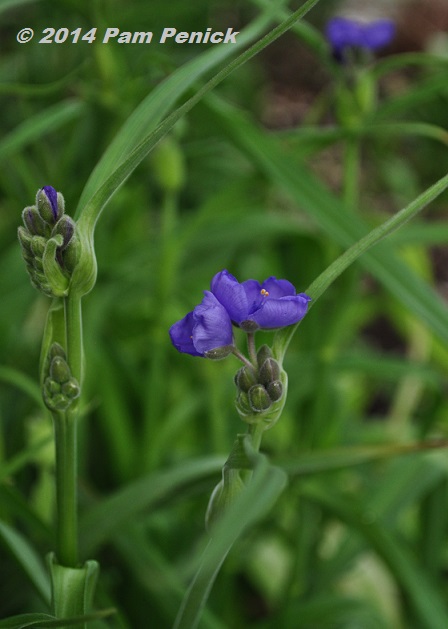 The spiderwort (Tradescantia occidentalis) is just starting to bloom, after being set back during our late ice storm. It's so nice to see a few flowers in the garden at last to herald spring's arrival.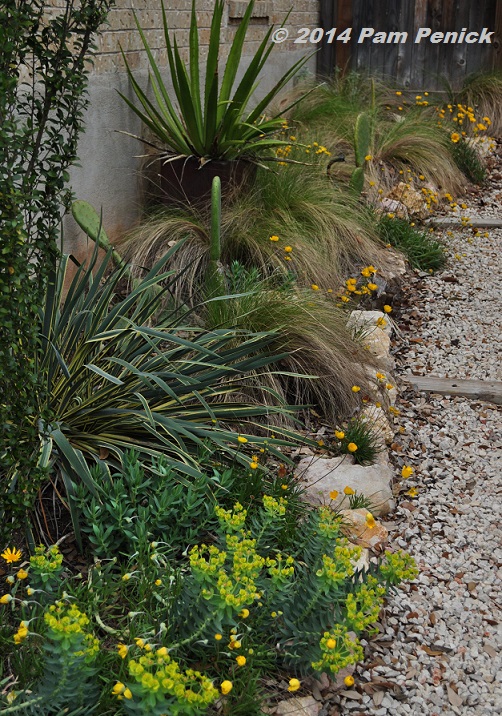 But the best flower show in my garden right now is in the skinny side garden, where the four-nerve daisies (Tetraneuris scaposa) are amped up by the yellows in the 'Bright Edge' yuccas, Mexican feathergrass, and gopher plants.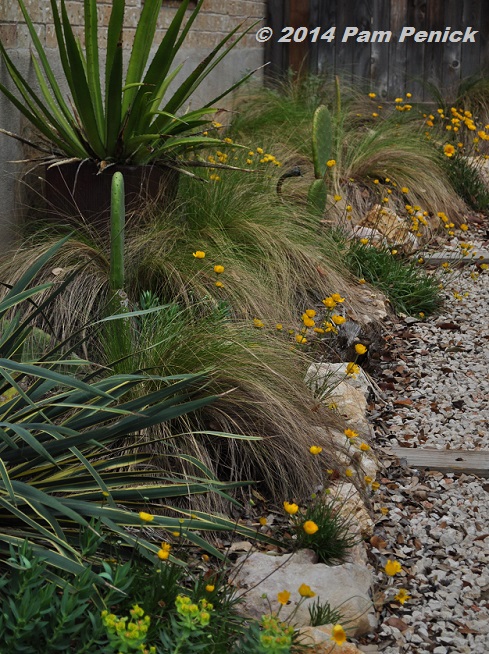 These cheery natives used to be in the front garden, but the deer found them tasty, so I transplanted them behind the fence, amid the rocks lining the hillside path.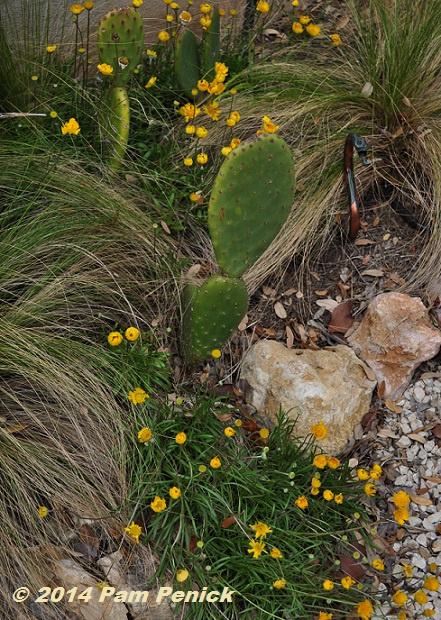 They thrive in the sun and reflected heat.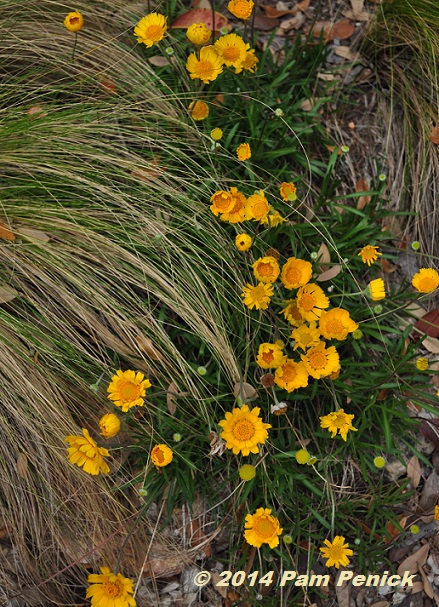 Little cups of sunshine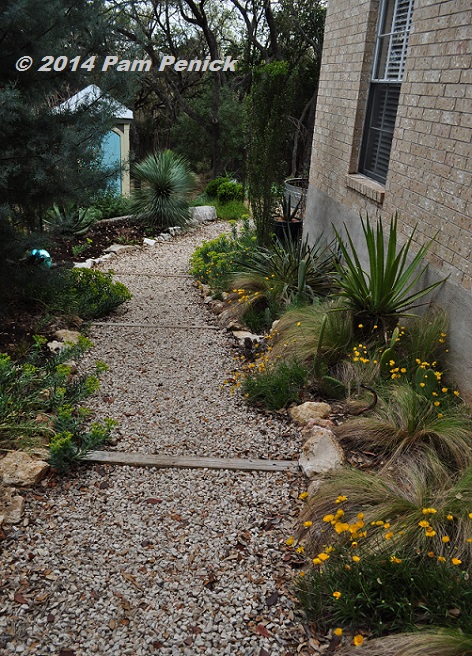 Although it may seem a throwaway space, it's always worth planting up the side yard.
All material © 2006-2014 by Pam Penick for Digging. Unauthorized reproduction prohibited.
posted in
2nd garden--2014
,
Cactus
,
Containers
,
Garden art
,
Grasses
,
Paths
,
Sheds
,
Spring color
,
Succulents
,
Texas natives
,
Xeric plants
,
Yuccas