March 6th, 2014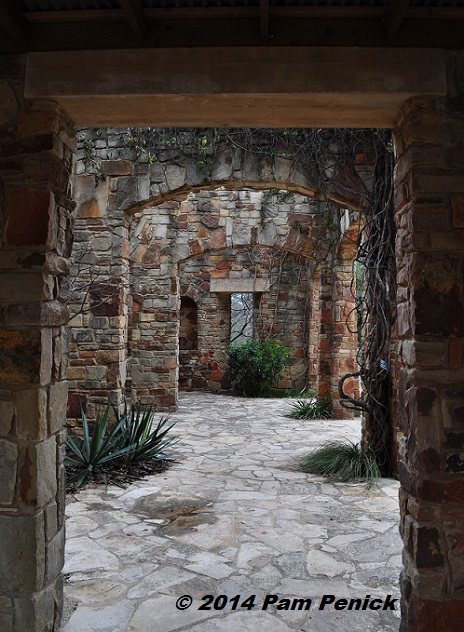 I visited the Lady Bird Johnson Wildflower Center yesterday for a media preview of the new children's garden that will be opening in May (more to come soon), and I made a quick tour of the main gardens before heading out. All was quiet and still on this chilly, overcast Thursday afternoon, and I had the gardens nearly to myself. The hush extended even to the plants, which were dormant or freshly cut back and awaiting spring's warmth. The architecture of the place always fascinates me.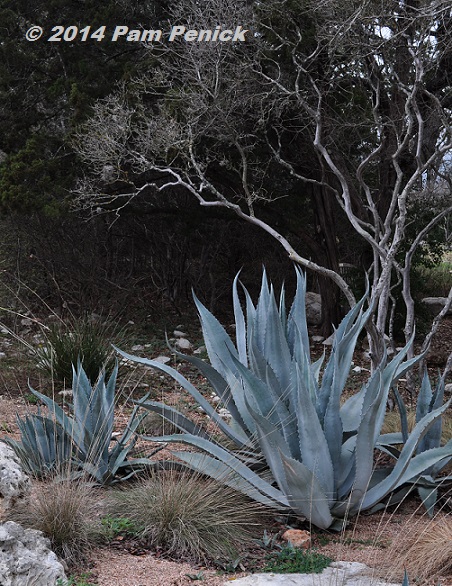 The architecture of certain plants is equally stunning. Pictured here, at the garden's entry, is a ghostly, sinuous combo of Agave americana and Texas persimmon (Diospyros texana). Seep muhly (Muhlenbergia reverchonii), perhaps, still holds winter-bleached seedheads aloft.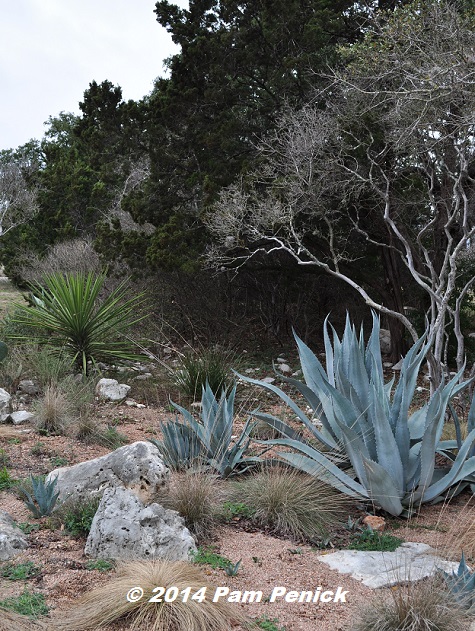 A wider view reveals the inky-green cedar trees (junipers, actually) that contribute to Austin's evergreen wildscapes.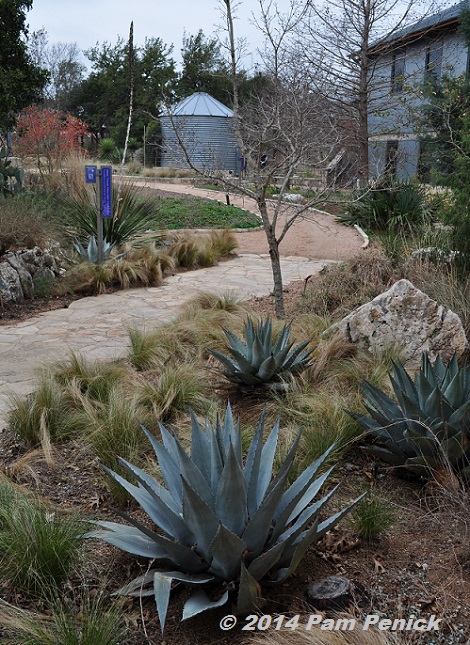 Limestone and decomposed-granite paths lead through winter-cleaned gardens where spiky Harvard agave (Agave havardiana) and softening Mexican feathergrass (Nassella tenuissima) offer contrasting textures.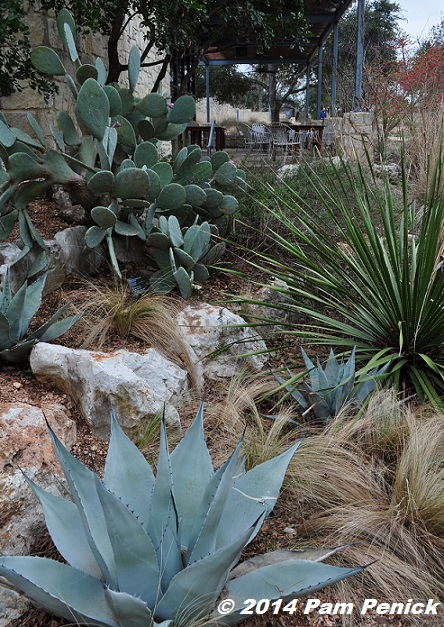 This xeric garden is tucked amid boulders behind the center's iconic, spiraling cistern-tower. On warmer days, the cafe seating visible just beyond will be filled with visitors enjoying the views.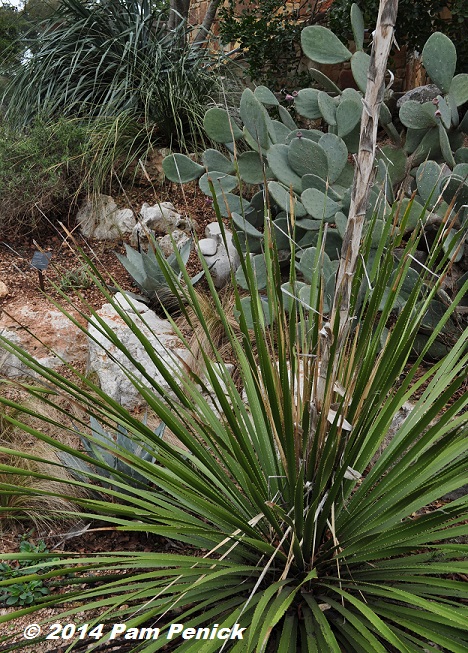 But I enjoy these late-winter views quite as much as the spring wildflower displays the garden is known for.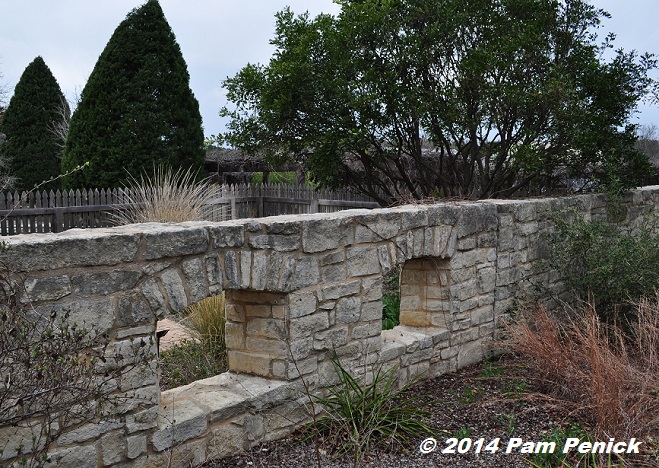 Low limestone walls with peek-a-boo window openings surround the demonstration gardens at the heart of the Wildflower Center.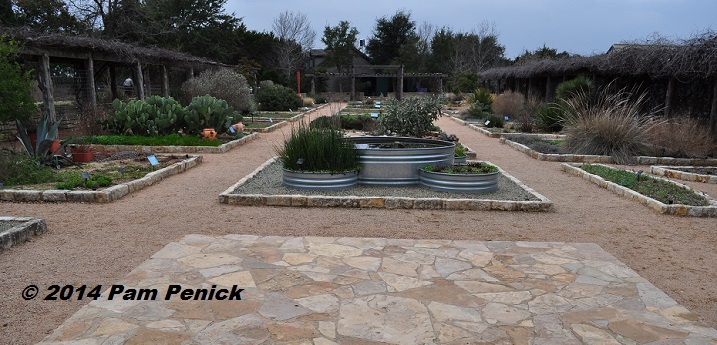 During the media tour I learned that an overhaul of the demonstration gardens is being considered for a future phase of work at the rapidly growing Wildflower Center. I am glad to hear it. I've long thought this part of the garden could do with a refresh. The conglomeration of little, square beds lacks cohesiveness and a wow factor. Since the Wildflower Center already has quite a few naturalistic gardens, I'd like to see this area transformed into something more daring — a garden to knock the socks off visitors unused to seeing native plants used creatively in a non-naturalistic fashion. Senior director Damon Waitt told us that Christine Ten Eyck, a visionary Austin landscape architect who specializes in native plants, has submitted preliminary drawings for this area. I hope I won't have to wait too many years to see what this becomes.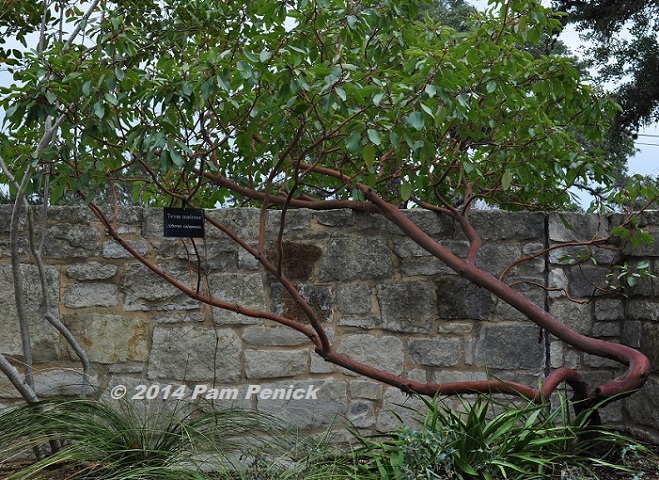 Moving on, I admired the smooth, mahogany trunk and limbs of this Texas madrone (Arbutus xalapensis) leaning nonchalantly on a low wall.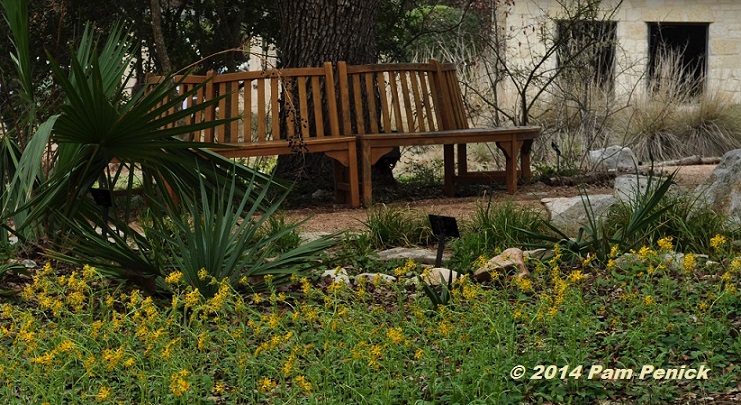 Nearby, golden groundsel (Packera obovata) brightened the woodland floor like a pool of sunshine.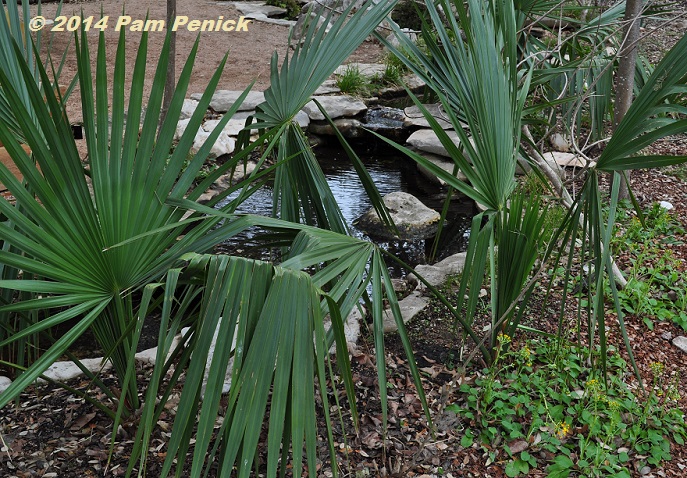 Behind these petite wildflowers, dwarf Texas palmetto (Sabal minor) raised its fan-like leaves above a gurgling stream.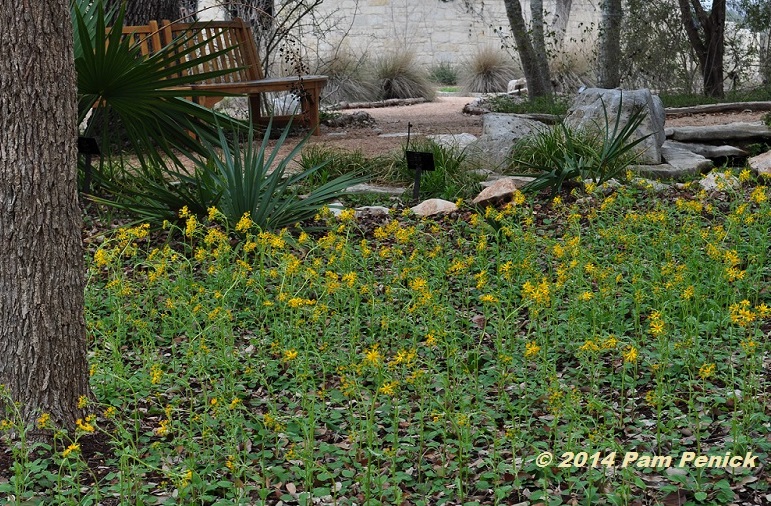 Another view of the golden groundsel. Soon columbines will take their place in the sequence of spring wildflowers.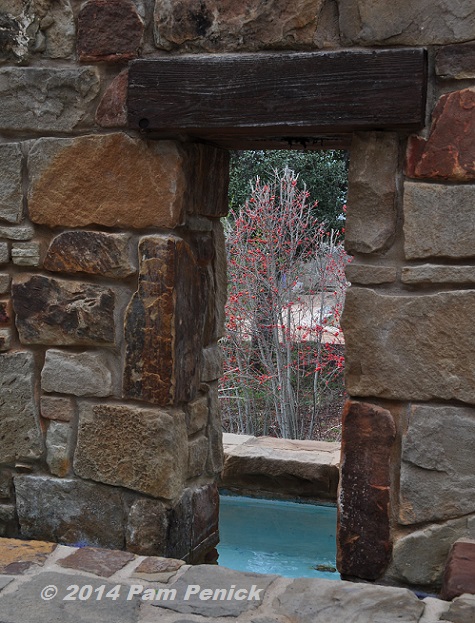 But a colorful vestige of winter, the sparkling, red berries of possumhaw holly (Ilex decidua), stood out above other plants on this visit. Everywhere I looked, blazing berries brightened the quiet winter garden.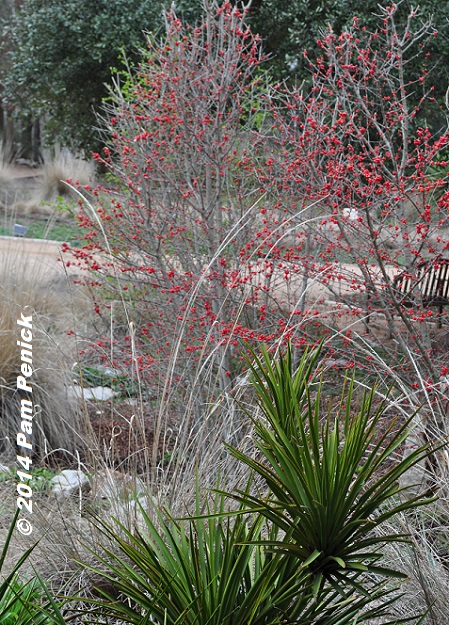 Possumhaw is a deciduous cousin of the commonly grown yaupon holly (Ilex vomitoria). Despite the ice earlier this week, a shimmer of chartreuse leaves were appearing along the branches.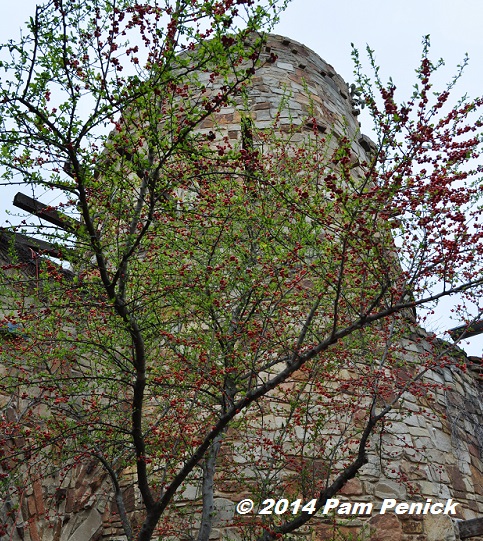 An enormous possumhaw grows next to the spiraling cistern-tower.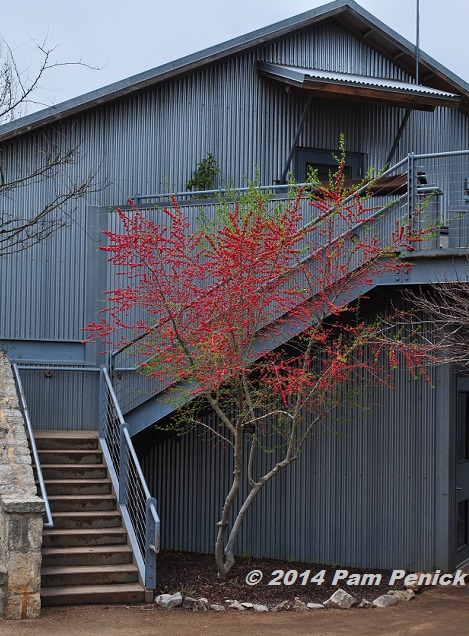 I showed this possumhaw a month and a half ago. Yesterday its brilliant berries mingled with fresh, green leaves.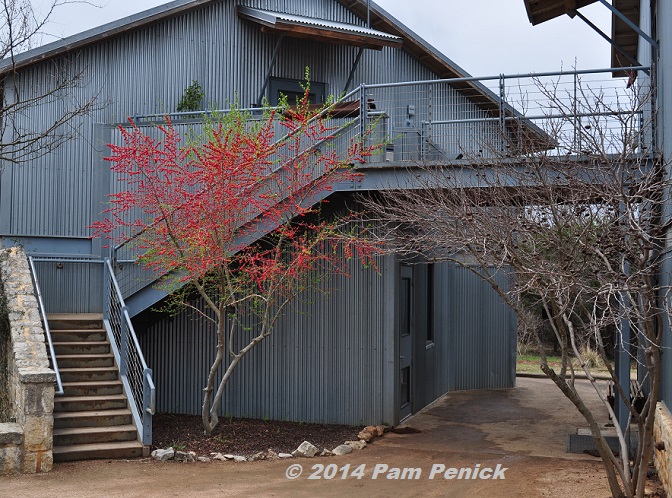 A still-dormant Mexican buckeye (Ungnadia speciosa) leaned longingly toward it, eager for spring's awakening touch.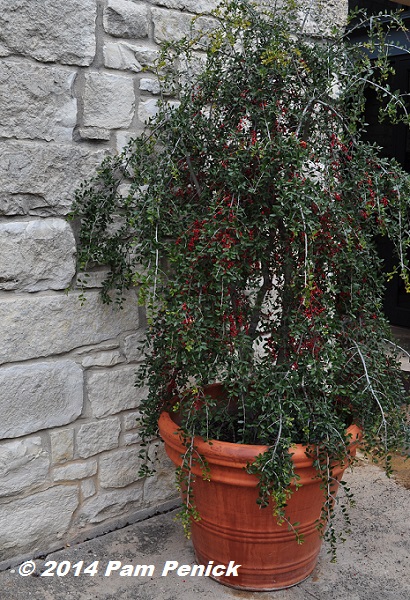 As I was leaving I noticed this pretty weeping yaupon holly (Ilex vomitoria 'Pendula') in a pot — a nice evergreen accent for a patio. I had quite a large weeping yaupon in my former garden, and miss it. Seeing this one, I felt as if I were seeing an old friend.
All material © 2006-2014 by Pam Penick for Digging. Unauthorized reproduction prohibited.
posted in
Agaves
,
Berries
,
Botanic/Public Gardens
,
Containers
,
Grasses
,
Palms/Cycads
,
Paths
,
Rivers & creeks
,
Seating
,
Texas natives
,
Trees
,
Walls
,
Wildflowers
,
Windows
,
Xeric plants
,
Yuccas