April 25th, 2007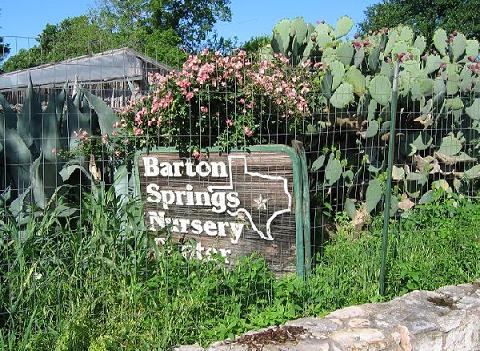 BSN's modest sign welcomes visitors, along with roses tumbling over agave and prickly pear. Hmm, I wonder where I picked up that roses-and-cactus aesthetic?
With sunny skies and warm, humid temperatures promising a typical spring day in Austin, I decided to pay a visit to an atypical nursery. To my favorite Austin nursery, in fact—Barton Springs Nursery. Why do I love thee, BSN? Let me count the ways.
1. An awesome staff who can answer your questions about their terrific selection of native and adapted plants. They're friendly, approachable, and will always ask you if you're finding what you're looking for. If they don't have it, they can call you when it comes in.
2. A terrific selection of native and adapted plants! According to one of the nursery employees I spoke with today, BSN buys only about 30% to 40% of their nursery stock from outside growers. The rest they propagate and grow themselves. These folks really know their plants because they not only sell them, they grow them.
3. Huge labels among the gallon-sized plants, with growing information plus a kind of "review" about each plant. The labels are attached to 3-ft-tall stakes set in 1-gal. pots filled with concrete, so you don't have to crouch low to read them, they don't blow over, and the nursery staff can move them around as needed.
4. Pots that are clearly marked with plant name and price. This should be standard at every nursery, but sadly it isn't.
5. Huge oak trees. You've got to have shade in Austin, and they've got it.
6. Casual Texas ambience with lots of cedar structures and funky garden accessories. It's fun to poke around.
In fact, the only negatives I can think of regarding this nursery are the lack of parking and mosquitoes. Their long, narrow lot fills up quickly on weekends or even sunny weekday afternoons. I usually avoid the crowd by going on weekday mornings or rainy days. And mosquitoes just seem to be a fact of life in shady spots in Austin, so wear bug spray or prepare to slap.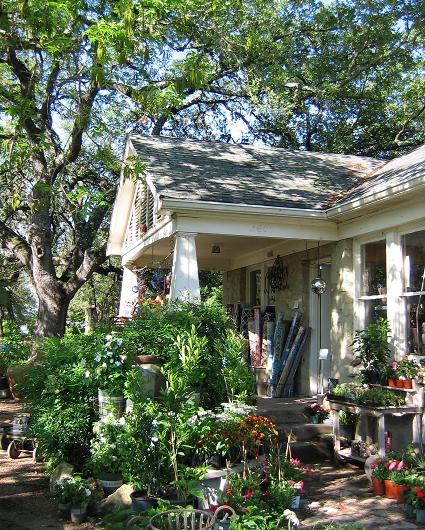 As you walk in, you see the old house that contains the nursery's gift shop and register, where you bring your ticket to pay. There's good browsing inside: garden books, indoor and outdoor decorative objects, organic fertilizers, a few garden tools, and some kid stuff.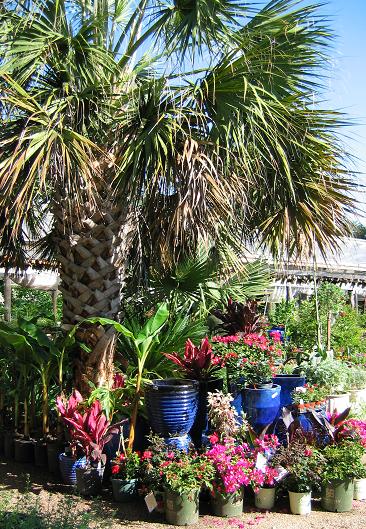 Heading to the sunny perennial beds, you pass a huge palm shading a little pond (behind the pots). Parked close by are the green wagon-carts you'll need as you stroll around, because you're sure to purchase more than you intended. Each cart has a goofy chalk name fading away on its rear. Some of the ones I remember: Cart Attack, Mr. Carty Pants, Shark Cart (my kids' favorite).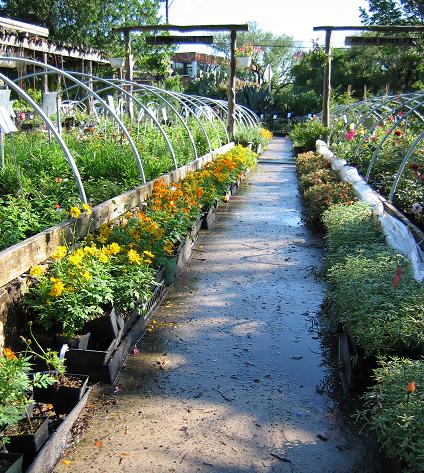 The sun-loving perennial aisle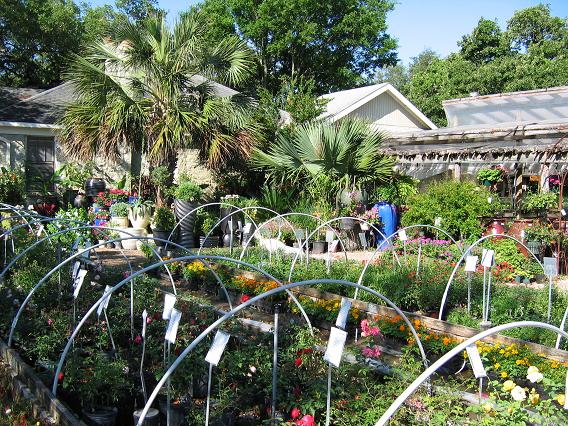 Another view, looking back toward the store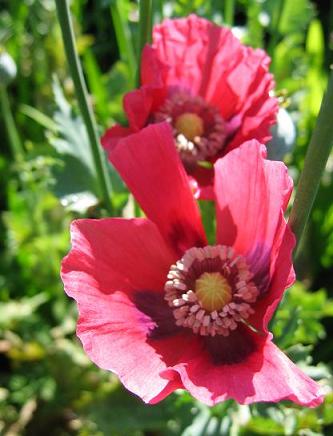 Display gardens edge the grounds, and these poppies caught my eye.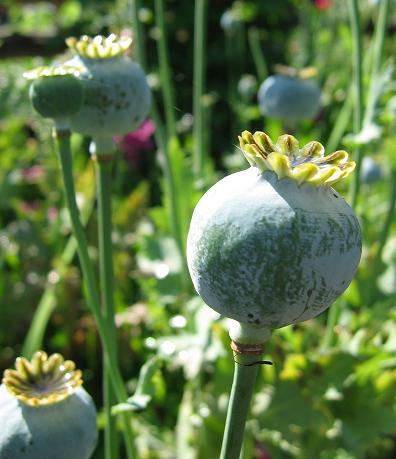 The poppy seed heads are even better.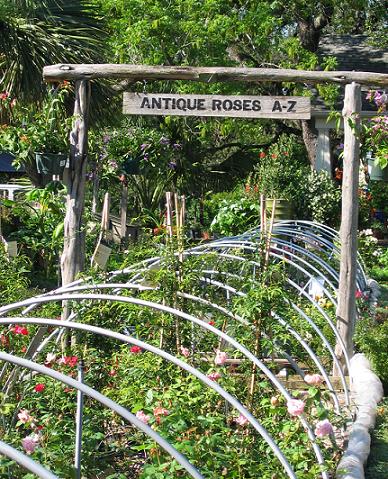 Antique Roses A-Z. BSN gets their antique roses from the Antique Rose Emporium, another wonderful nursery out in Brenham.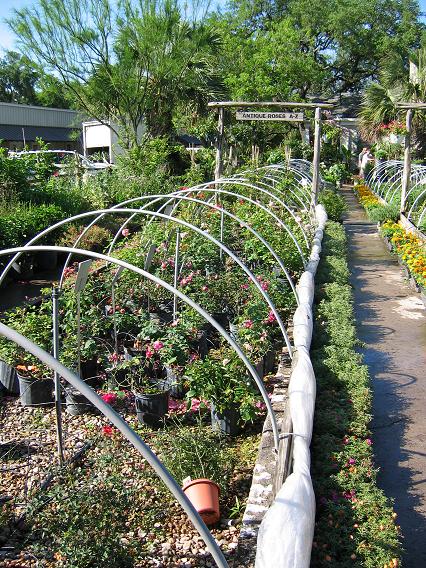 A whole aisle of antique roses, and yet I rarely give them a glance, preferring to save my rose money for a pilgrimage to the Rose Emporium. No offense, BSN.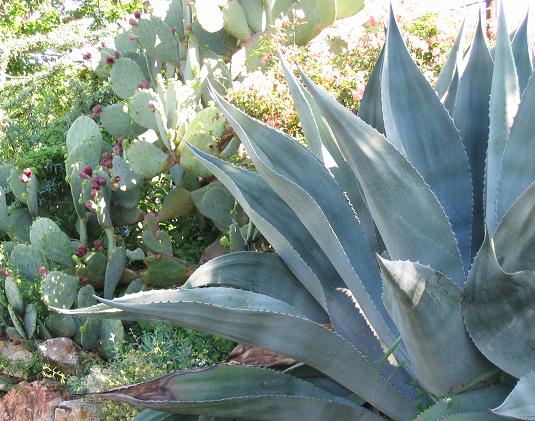 A giant agave and prickly pear screen busy Bee Caves Road from view.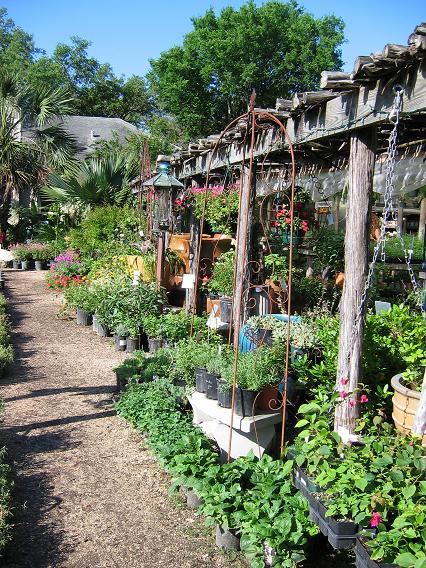 Cedar structures are a signature look and, more important, provide shade for both people and plants.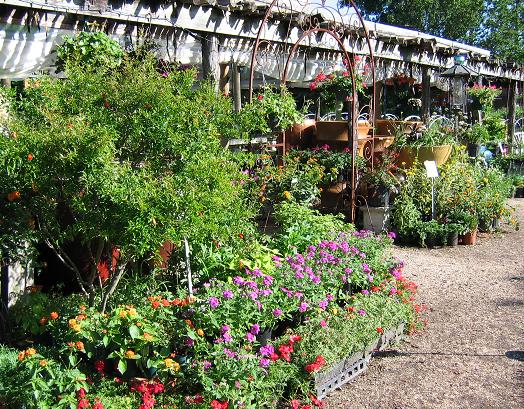 Another view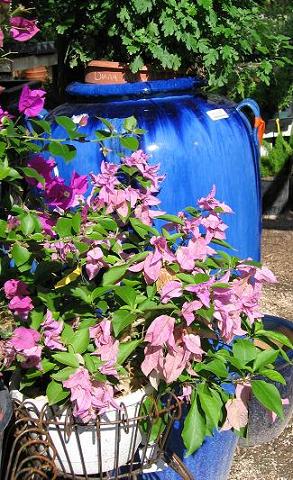 A huge, blue pot for sale amid pink bougainvillaea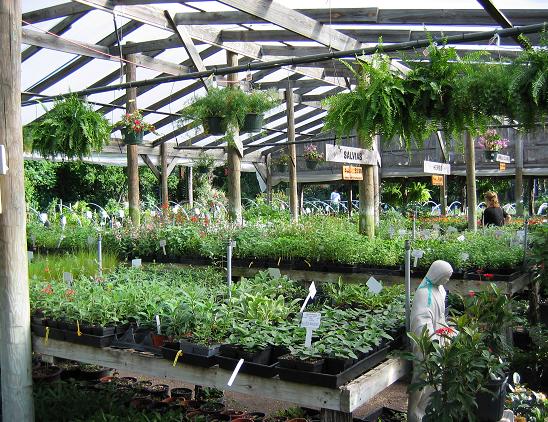 Here's where I do my economical shopping, among the flats of 4″ pots. Perennials, herbs, annuals—it's all here. In the winter, they roll down plastic walls to keep it warm.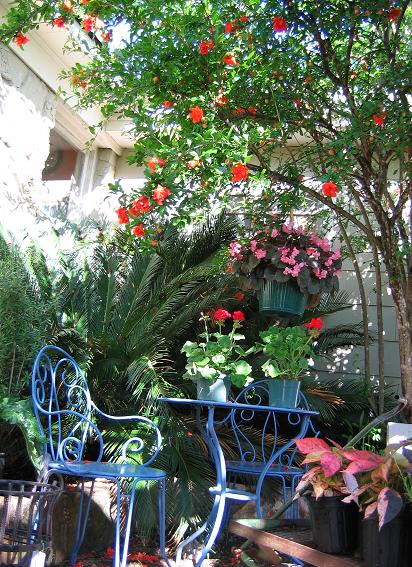 I am coveting this blue bistro set under the pomegranate tree.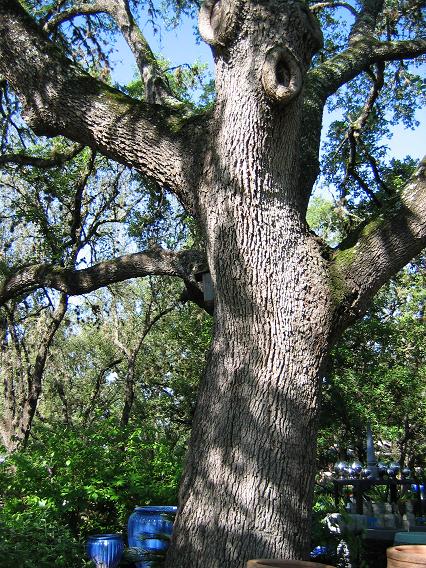 Heading to the shade beds in the rear, this towering oak greets you. Its canopy spreads over the back deck, where glazed pots and garden furniture are on display.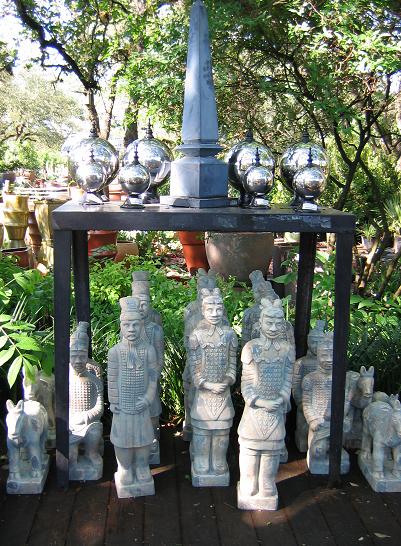 Perhaps you'll be tempted to start your own collection of Xi'an warriors, in concrete rather than terracotta. No? Me neither. But I do like those mercury-glass orbs.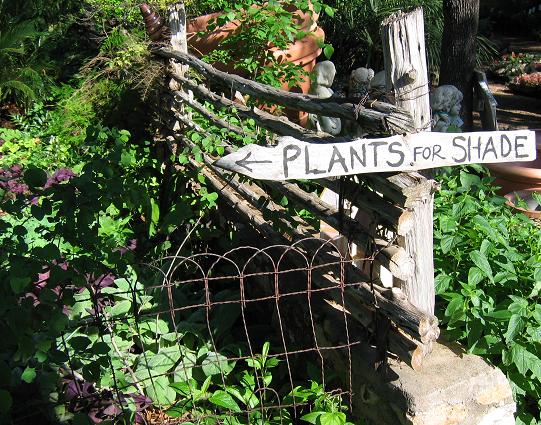 Casual but effective signage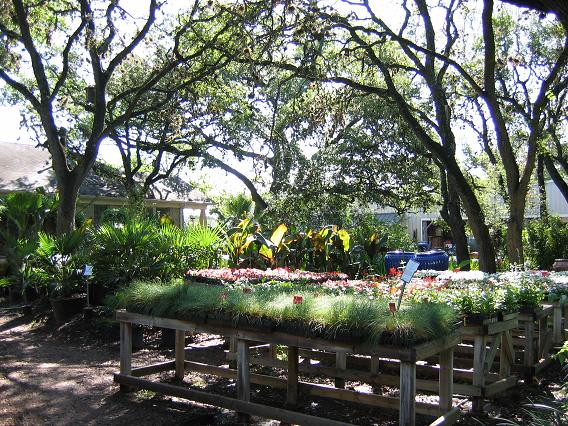 Great oak trees keep this section cool and shady.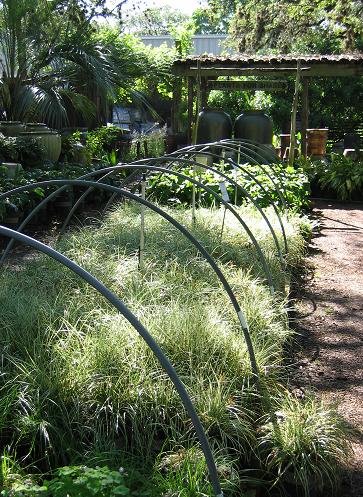 A shade-loving perennial aisle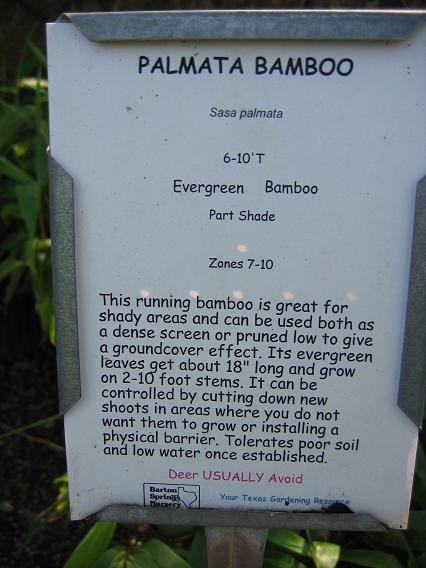 Here's one of the things I love about BSN. Plant information and "reviews" on large signs among the plants. What more could you need to know? Well, maybe a laminated photo of a mature specimen would be nice, but really, it's hard to ask for more.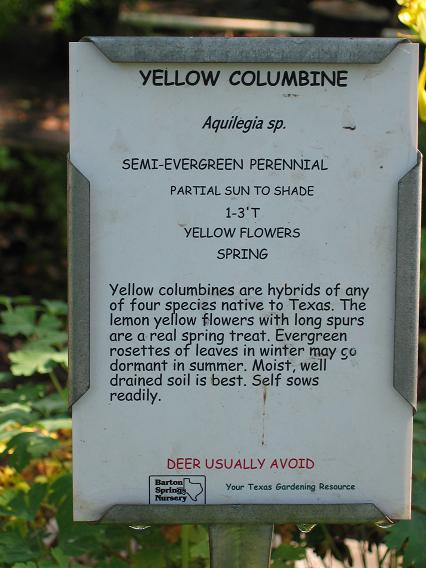 One of my favorite spring plants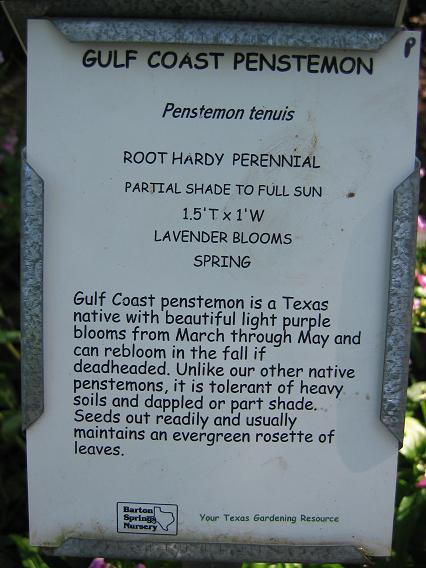 And another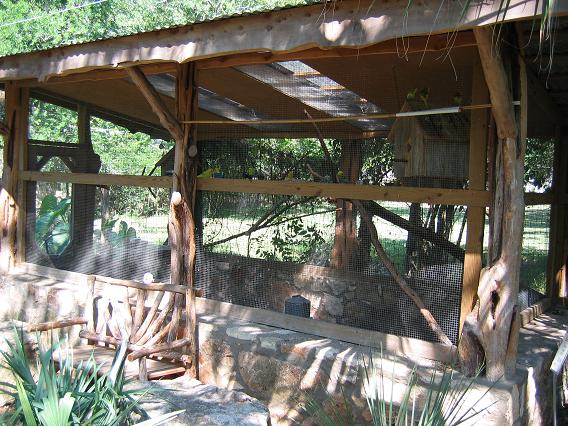 I didn't get a good shot of this today, so here's an old photo of their aviary. Parakeets and small parrots rule the roost.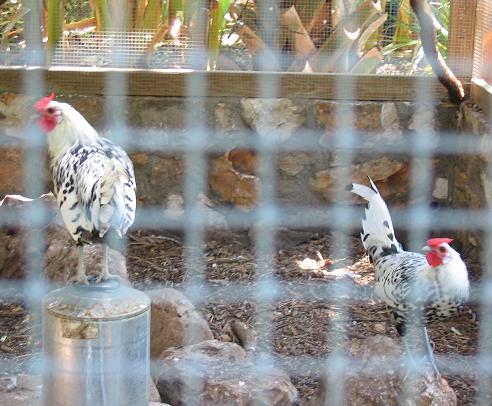 They used to keep chickens in there too, but I didn't see any today.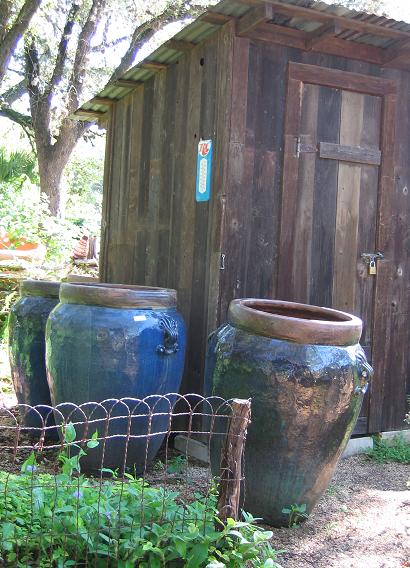 Shed with blue pots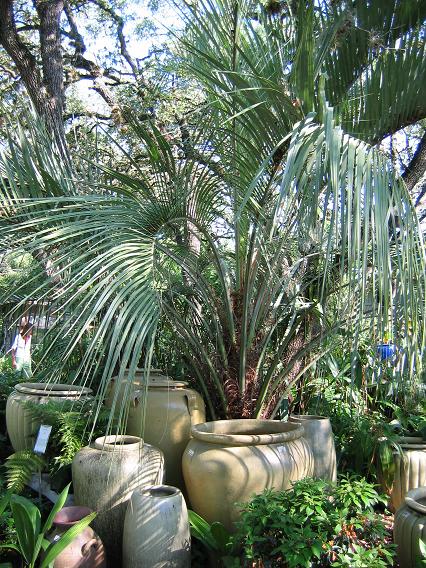 Ivory pots with large palm. BSN has a large tropical section with lots of palms and palmettos. These never interest me very much. They must be sold to all those West Austinites with negative-edge pools overlooking Lake Austin.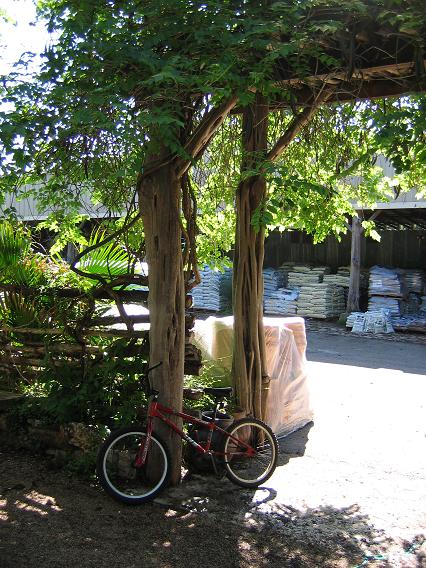 Arbor with bike. I love these massive, sinewy cedar posts.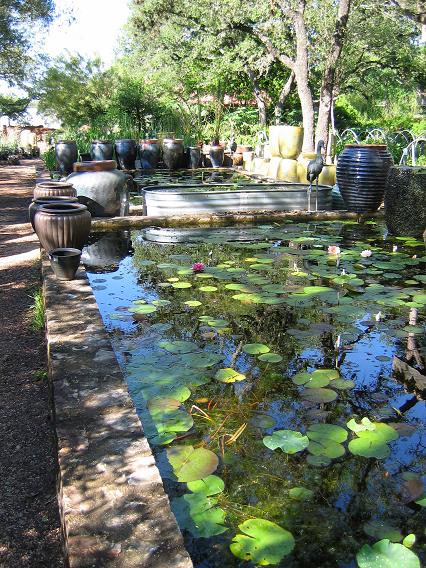 A couple of raised ponds offer goldfish-watching opportunities.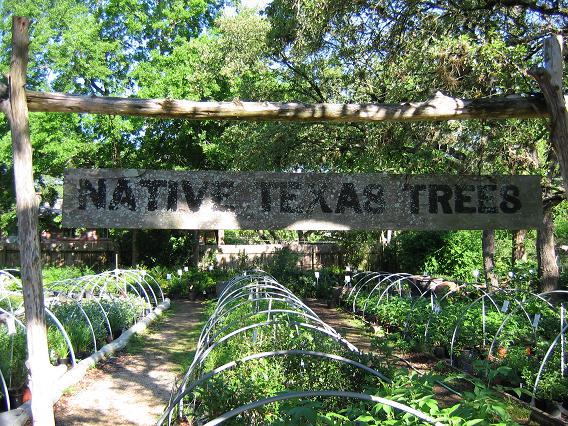 I love these old signs. Not many nurseries in town specialize in native plants. BSN and the Natural Gardener are my go-to places for native plants.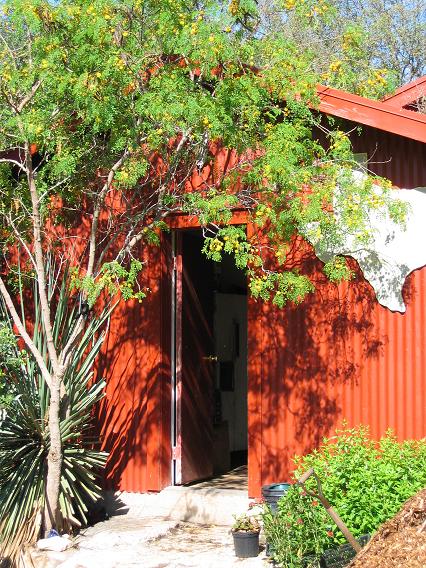 Out by the cacti in back, an orange shed blazes next to a golden-ball lead tree in bloom.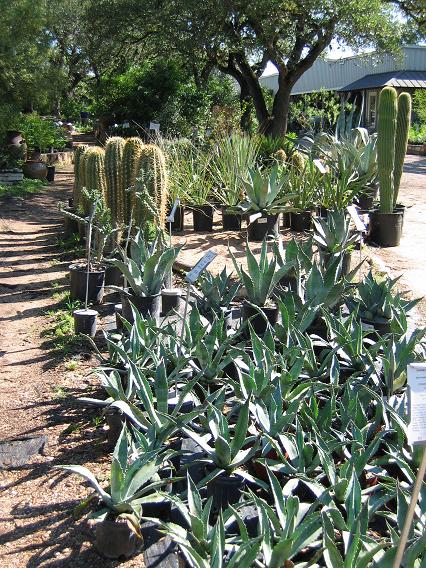 BSN stocks a good cactus selection out past the shade plants. Cacti like agaves, yuccas, and prickly pears make good evergreen "shrubs" for the caliche hills of West Austin, for modernist gardens in town, and increasingly, for my own prairie cottage garden.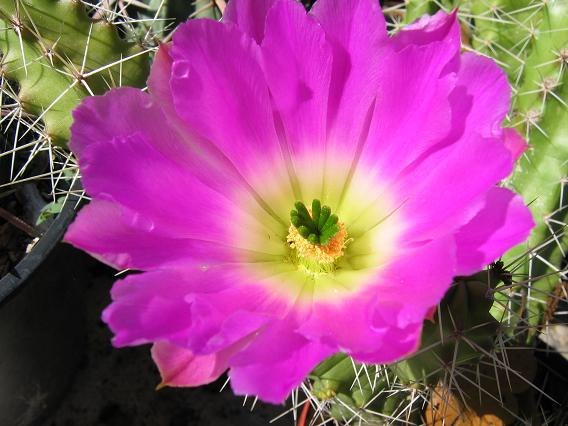 A brilliant cactus flower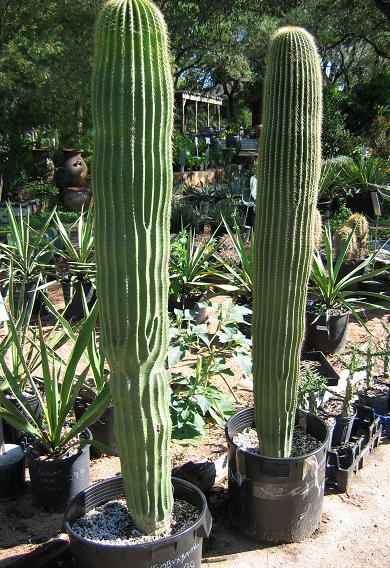 Twin columns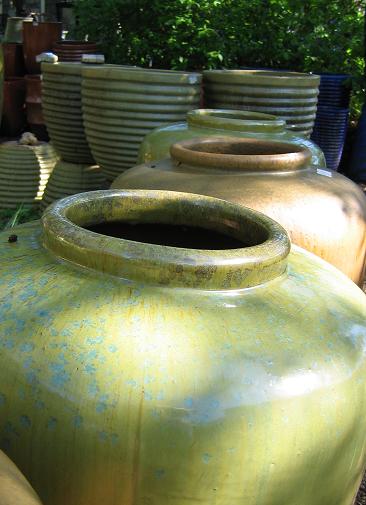 Pots line the path back to the shop.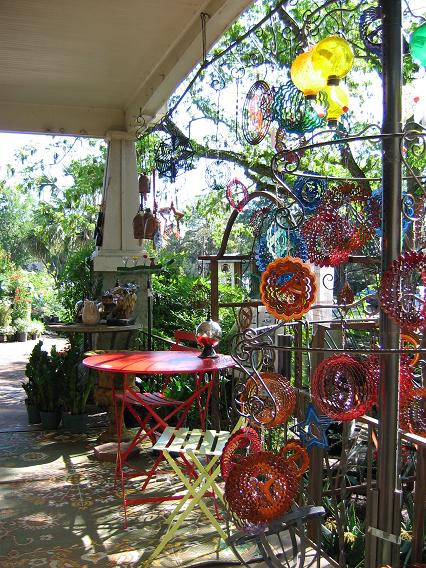 Colorful porch baubles entice you as you head to the register inside. I resisted, though that bistro set—in red this time—caught my eye again.
Archaically, Barton Springs Nursery lacks a web presence.* While they don't seem to be hurting for business, it looks like they'd want to at least have an online information page with hours of operation, a map to their location, and a few pretty pictures. Until then, they can rely on positive word-of-mouth from various Austin bloggers, who are happy to spread the word about a great local nursery.
*Update: In October 2007, I noticed that BSN had finally created a webpage. Check it out for more information.
posted in
1st garden--2007
,
Agaves
,
Arbors
,
Cactus
,
Containers
,
Decor
,
Garden art
,
Nurseries & Shops
,
Palms/Cycads
,
Ponds
,
Roses
,
Seating
,
Succulents
,
Texas natives
,
Xeric plants