February 26th, 2014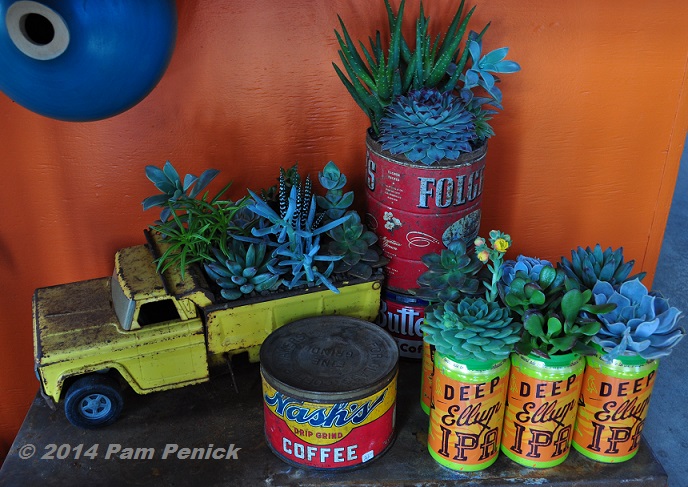 Don't you love it when you discover a new garden shop in a city you've visited many times before? Every time I'm in Dallas (about 4 hours north of Austin), I try to make time for the Dallas Arboretum. Last Saturday, after admiring the flowering cherries during the Arboretum's Dallas Blooms festival, I popped over to Redenta's Garden, just a couple miles away at Skillman and Oram, in a hip, Austinesque neighborhood of bungalows, shops, bars, and restaurants.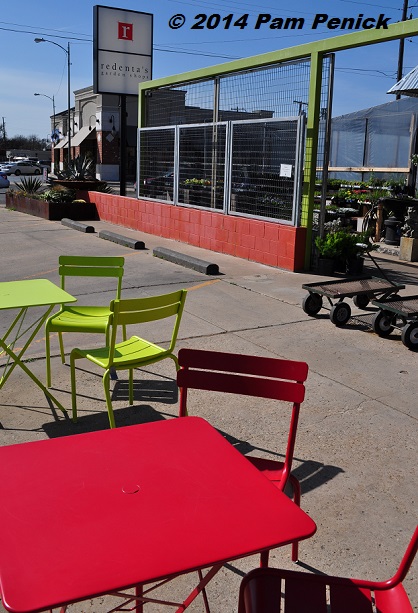 I knew as I drove up it was going to be good. Colorful, contemporary Fermob bistro tables and chairs brightened the sidewalk and perfectly matched the colors of the screening wall around the nursery. A Corten planter box and dish container at the street corner was filled with agaves and other succulents. Since the planter was a little winter-weary in the wake of the ice storm that Dallas endured recently, I didn't get any good close-ups. But I bet it's a show-stopper in summer.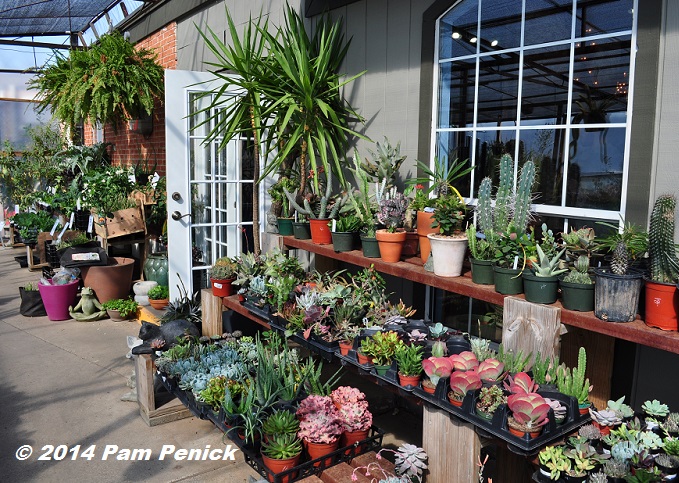 For gardeners looking to freshen their own winter-weary succulent containers, Redenta's offers a tempting selection.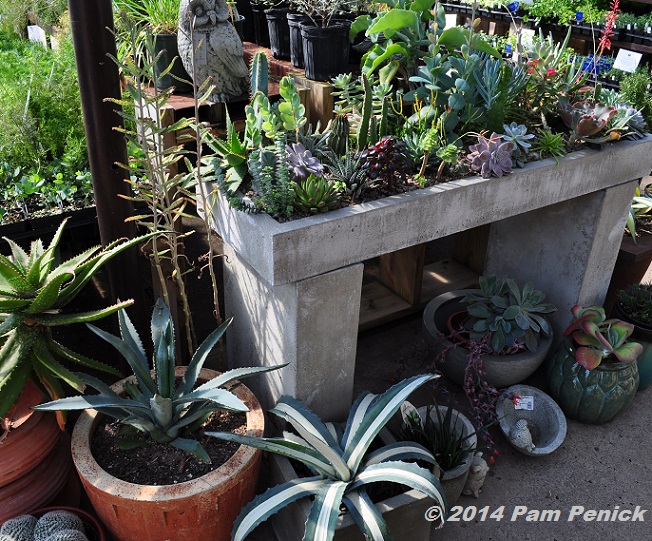 Not to mention some fabulous containers. Check out this succulent-filled "console table."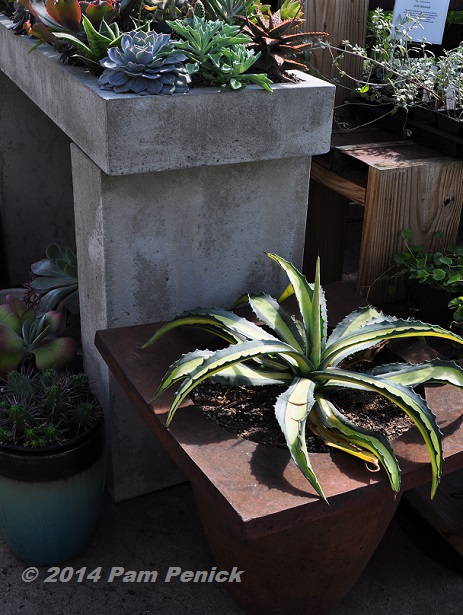 And this unusually shaped, rusty metal container planted up with a striped agave.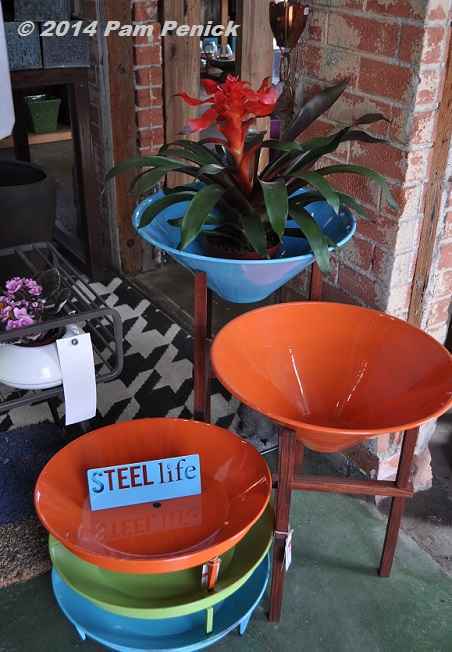 Inside they carry Shannon Lester's excellent Steel Life collection! I love these contemporary, crazy colorful dishes, which beg for succulents and tillandsias to fill them up. Redenta's also carries the Fermob double-top side table that I've been coveting but just can't bring myself to splurge on (and which I've never seen offered in Austin).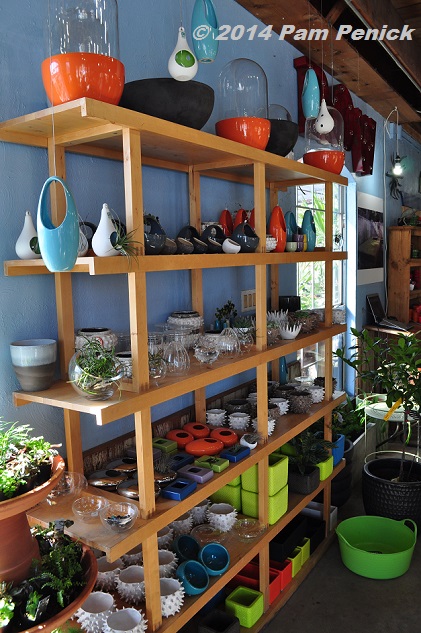 Shelves display a nice selection of small to medium containers and pots, especially if you like modern or rustic-retro design.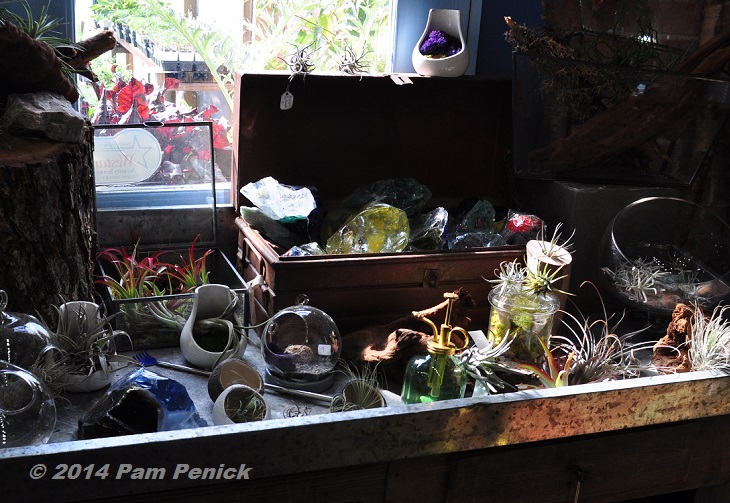 Tillandsias, which are still riding a wave of popularity, are given a good deal of shelf space, as are modern vessels and hanging glass globes in which to display them. Catching the light from a nearby window, chunks of slag glass in various colors are available for accessorizing your succulent containers.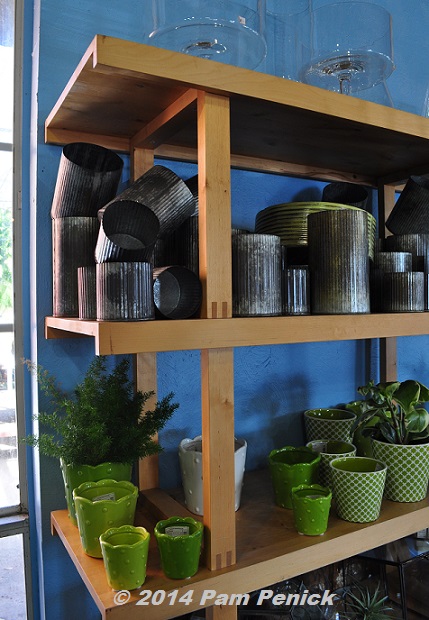 I seriously considered getting a couple of these crimped metal pots, which I'd admired recently in a post on The Outlaw Gardener. (Now that I look back at his pictures of these pots, I'm wondering why oh why I didn't buy a couple.)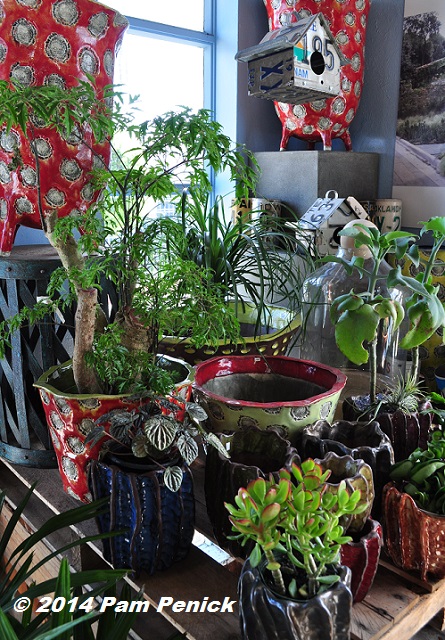 I did fall hard for the fluted Mike Cone pots along the front of this shelf. I brought home a red one that I'll be potting up this spring.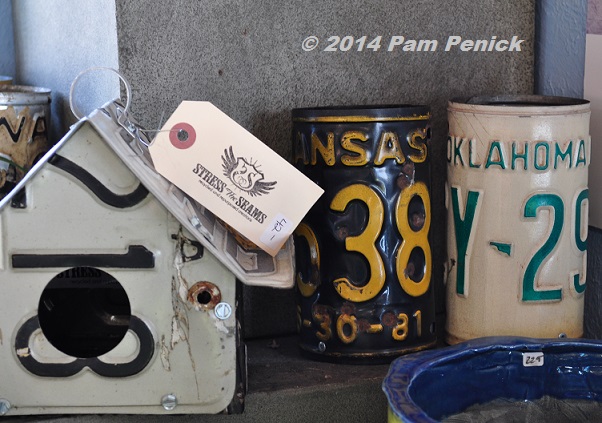 These license plate cylinders would also make fun succulent planters, or even a pencil holder for your desk.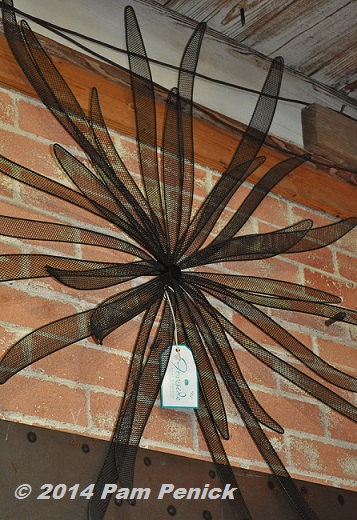 A metal-mesh flower for a big, blank wall?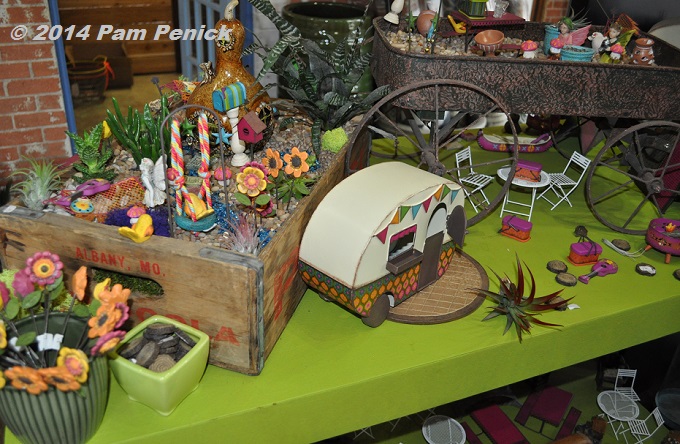 If you're into miniature or fairy gardening, Redenta's carries a colorful assortment of wee accessories.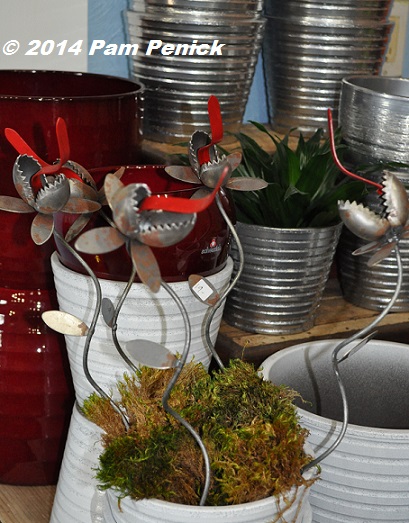 I have one of these! I call mine Audrey after the man-eating plant in Little Shop of Horrors.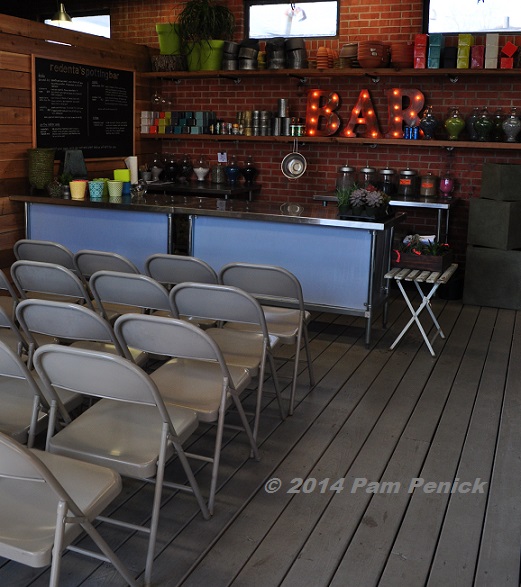 A covered, open-air seating area is where the nursery holds speaking events and potting demonstrations. With that bar, it would also make a great spot for a garden party, don't you think?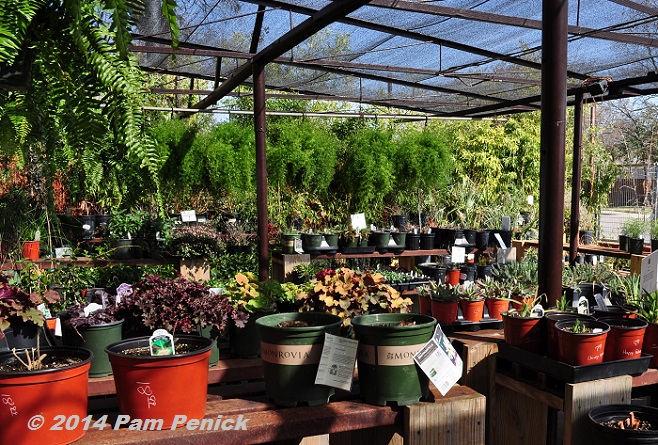 This is an urban nursery on a small lot, with a limited amount of space. Even so, Redenta's has managed to cram in quite a lot. Plant prices reflect the convenience of a neighborhood shopping experience, but the plants looked healthy and happy, even though it was still quite early in the season when I stopped by.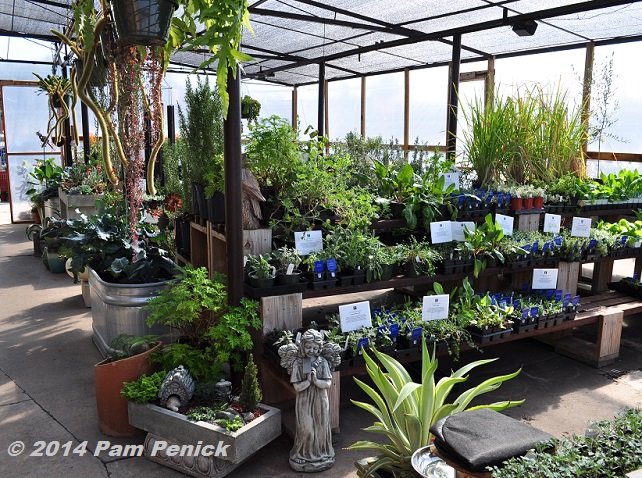 Redenta's prides itself on maintaining its stock organically and on selling only organic products. They also focus on native and well-adapted plants from regional growers, insuring that their plants are Texas tough.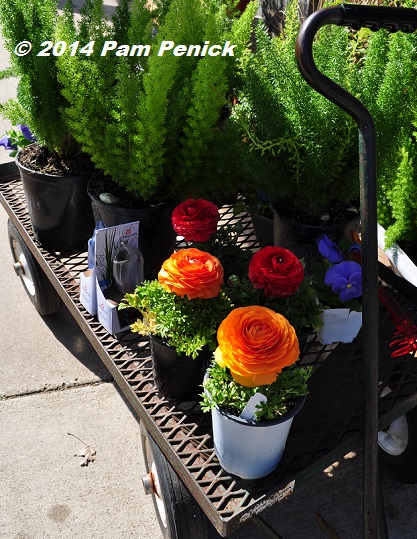 Of course they carry fun annuals too, like frilly ranunculus, and lots of tender succulents for all those fabulous pots they sell.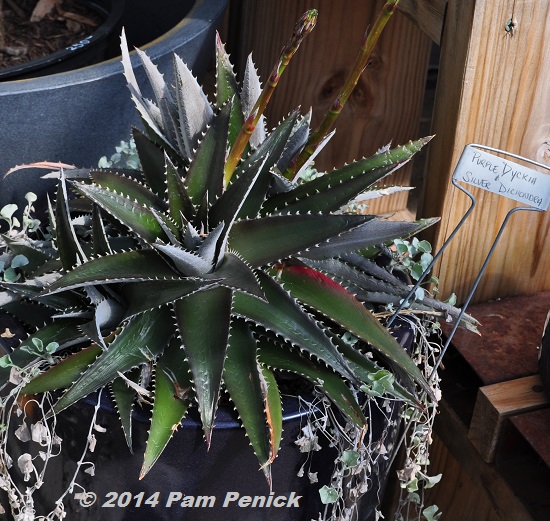 I admired this star-shaped purple dyckia underplanted with silver ponyfoot in a purple pot.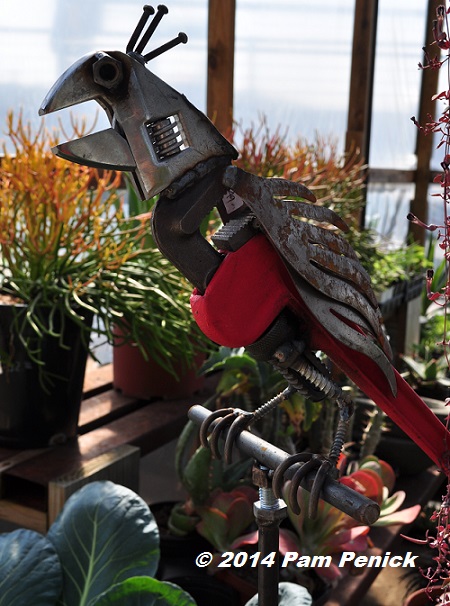 And I smiled over this pliers parrot on a metal stand. The pliers that make up his head are still functional, so you can open and close his beak.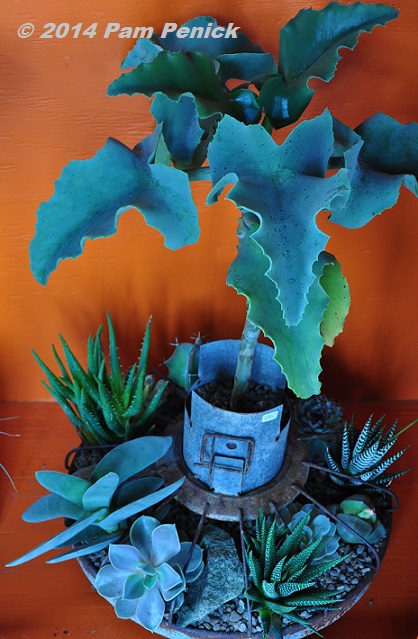 Inside by the cash register, an old chicken feeder has been transformed into a whimsical succulent container.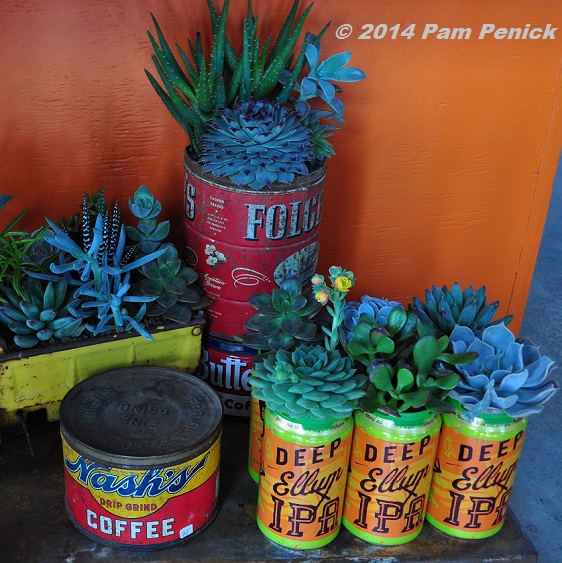 And what local could resist a six-pack of succulents planted in Dallas's own Deep Ellum IPA beer cans?
Redenta's Garden reminds me of equally tiny but stylish Potted in Los Angeles. I wish we had a modern-design garden shop like this in Austin. Ah well, it gives me a reason to revisit Redenta's the next time I'm in Dallas.
Redenta's operates a second location in Arlington, Texas (click for my tour), and offers a modern landscape design service as well.
All material © 2006-2014 by Pam Penick for Digging. Unauthorized reproduction prohibited.