February 24th, 2014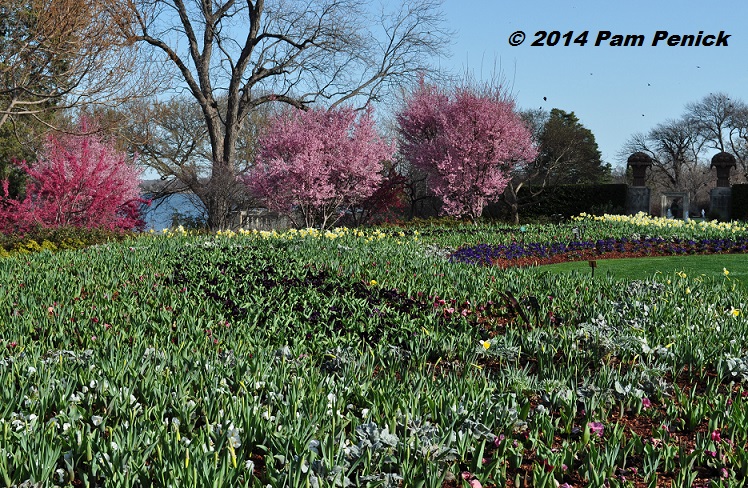 I'm not normally drawn to massive displays of crayon-bright bedding annuals, preferring instead the seasonal beauty and interplay of texture and form provided by perennials, shrubs, and trees. But this winter has been, by Texas standards, rather long and chilly, so when I heard that Dallas Arboretum's annual Dallas Blooms was opening last Saturday, while we were to be in town for a college visit with my son, I jumped at the chance to soak in a little spring color.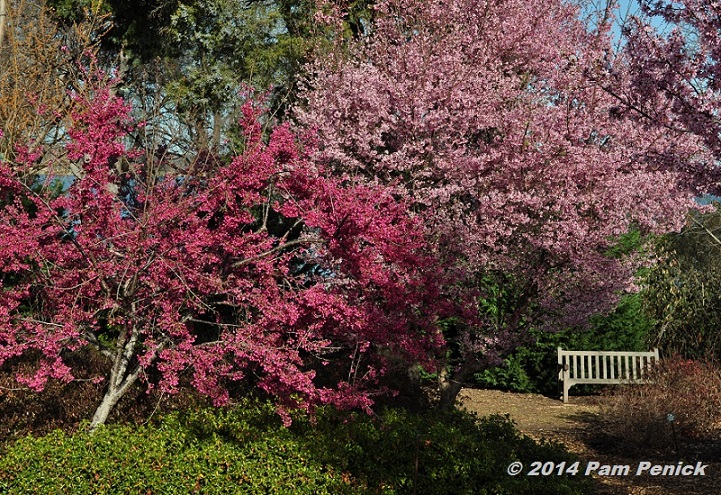 The bulbs, as it turned out, were mostly still waiting for warmer weather. But no matter. A cotton-candy assortment of cherry trees was in full bloom, and I oohed over every pink petal.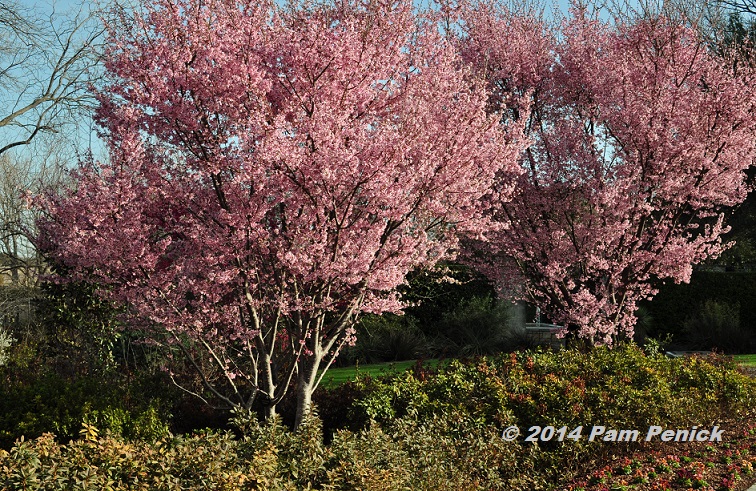 Don't they make your heart sing?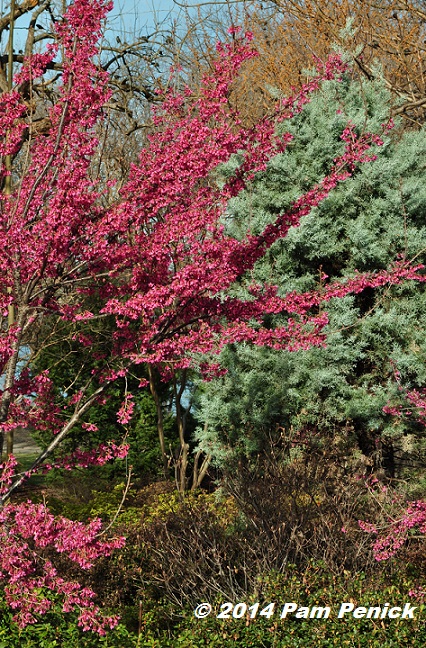 These cerise flowers look especially pretty against the blue-green of an Arizona cypress.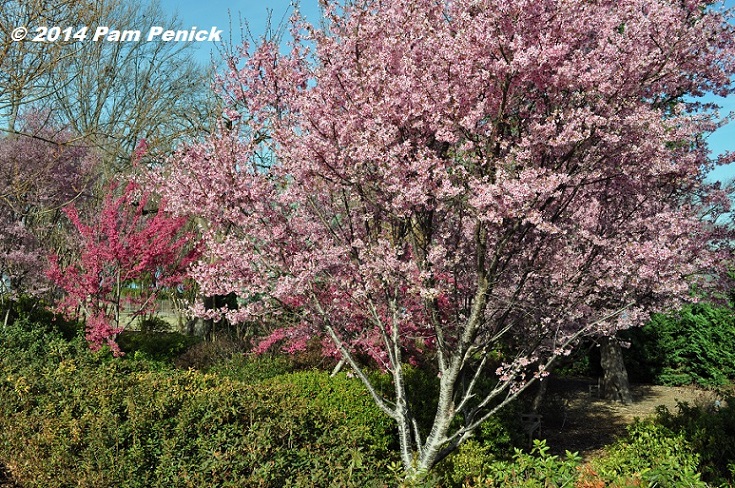 And they all looked stunning against the bright blue sky.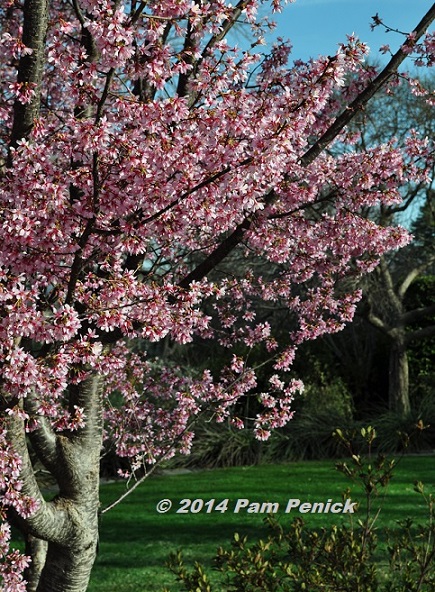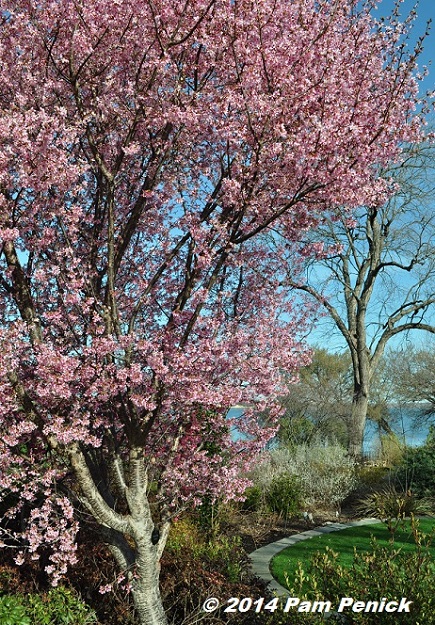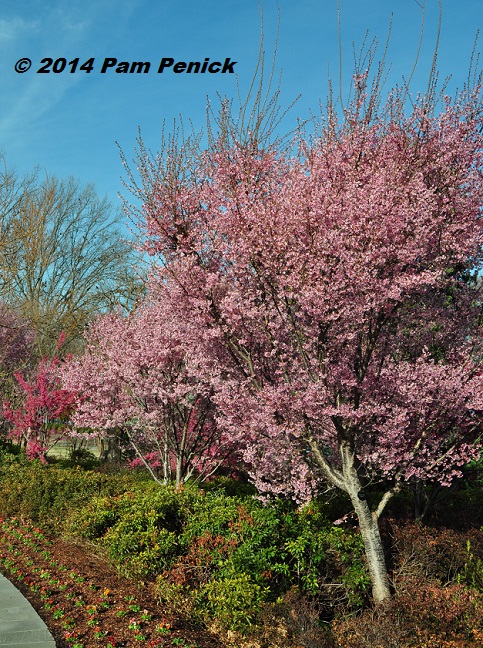 Celebrating its 30th year in 2014, Dallas Blooms is an annual festival of spring bulbs — more than 500,000 — as well as cherries, azaleas, and various other flowering annuals and perennials. In other words, it's a magnet for moms snapping Easter portraits of bow-tied or sundressed tots and pros making portraits of teenage girls in candy-colored, floaty quinceanera gowns.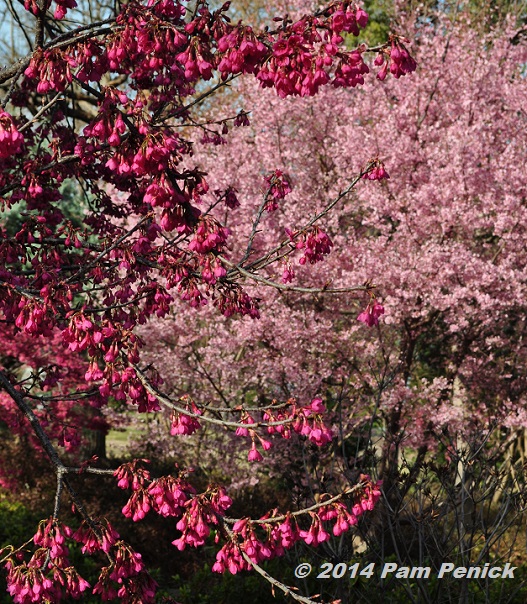 But it would be hard to compete with the frilly, bedecked cherries, I think.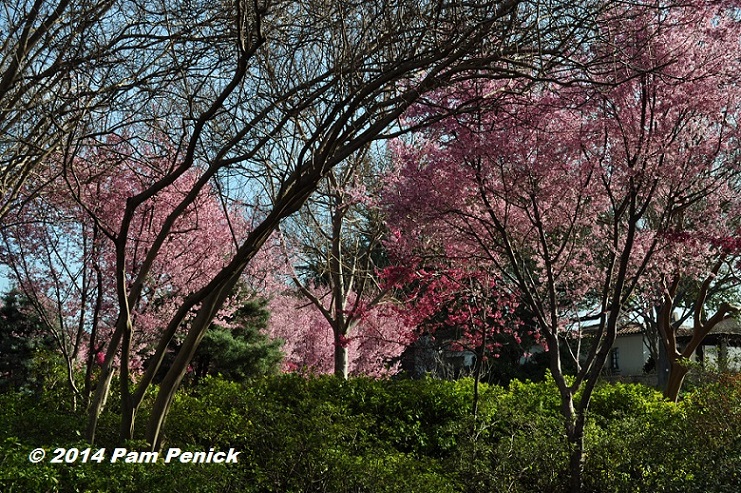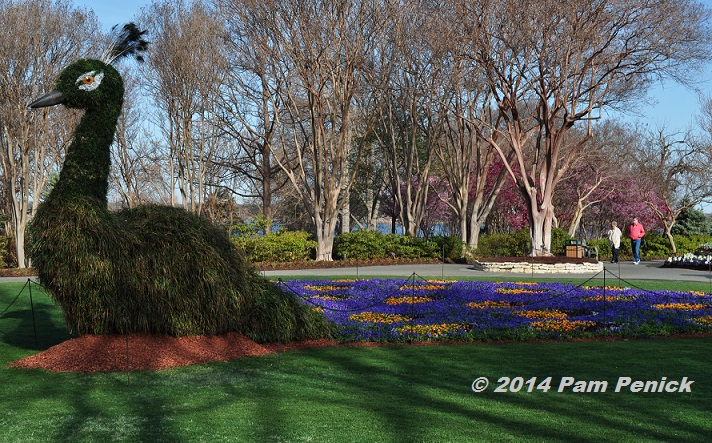 Each year Dallas Blooms has a theme, and this year it's "Birds in Paradise." The stars are two 13-foot-tall topiary peacocks holding court on the main lawn. They sure do make a statement. I thought they were pretty fun.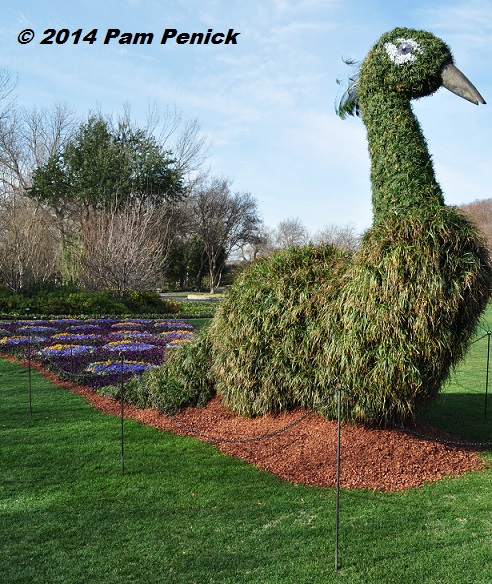 Their bodies are planted with thousands of liriope plants, giving them a shaggy appearance.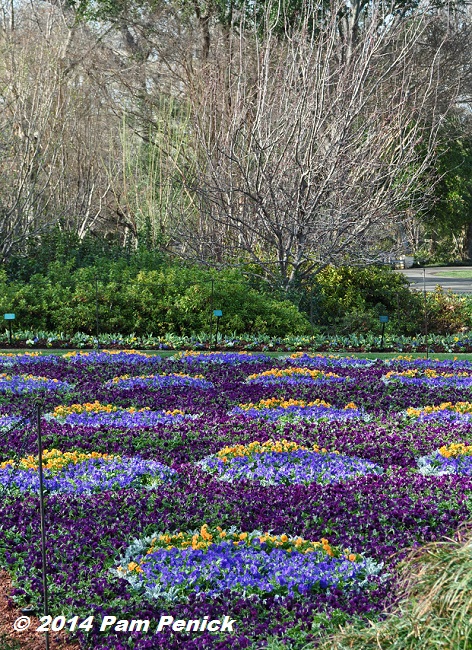 Their colorful tails, spread across the lawn, are made up of pansies and violas.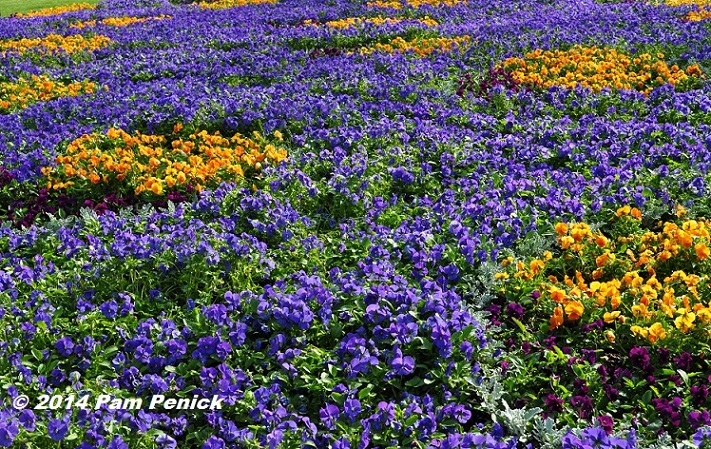 Later in the spring, these will be changed out for warmer-season annuals.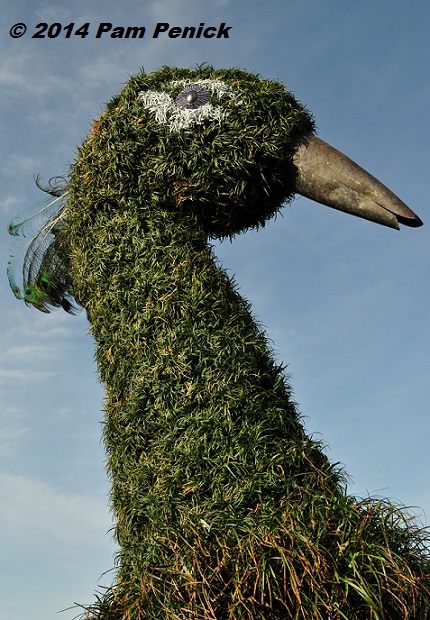 The peacocks' necks and heads seemed to be planted with dwarf mondo grass. A metal beak and coquettish glass eyes complete each bird.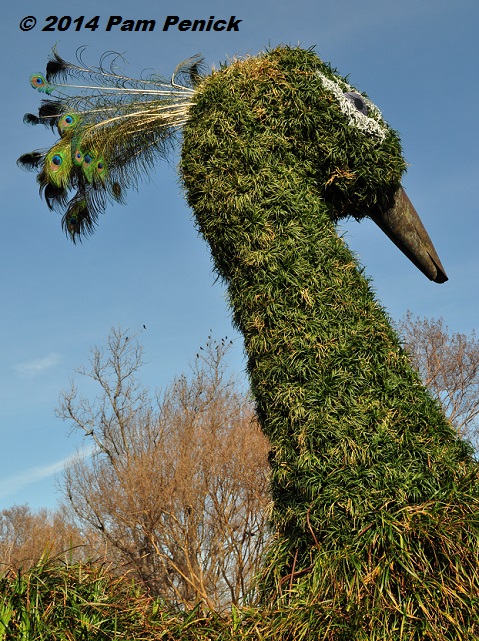 A plume of actual peacock feathers adds the finishing touch.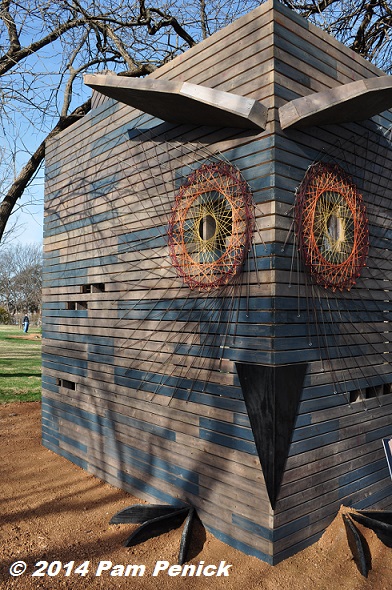 Also on theme are 5 or 6 playhouses for children constructed to resemble birds or bird nests. This owl playhouse was my favorite.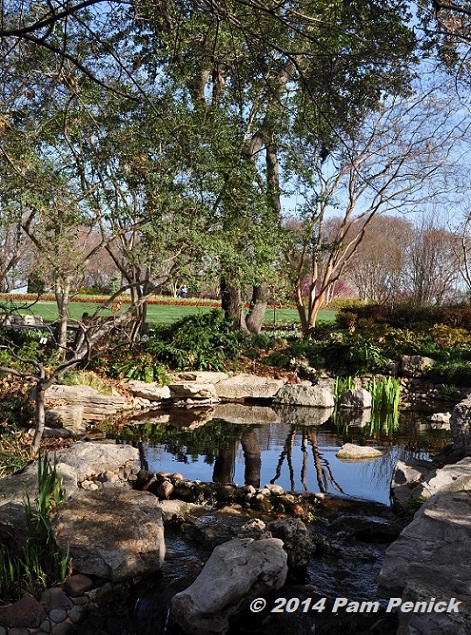 After taking in the main lawn's bedding display and extravagance of flowering cherries, we strolled the garden paths to see what other spring bloomers we might find, enjoying this tranquil pond along the way…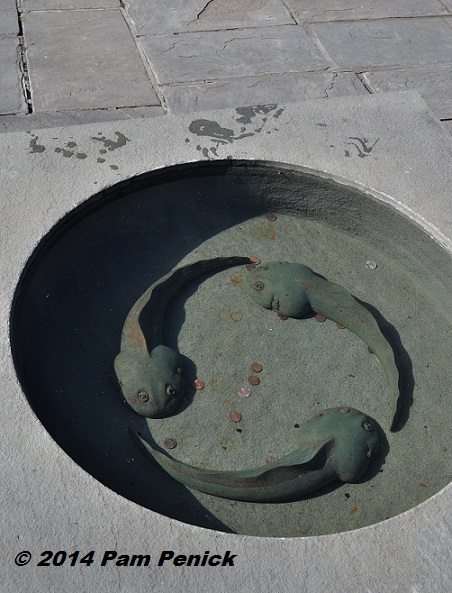 …and a charming tadpole pool.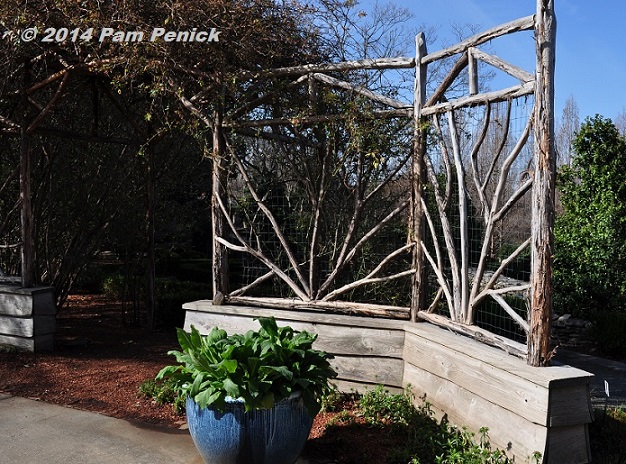 I admired these cedar-branch trellises, each panel unique, with branches arranged to resemble trees.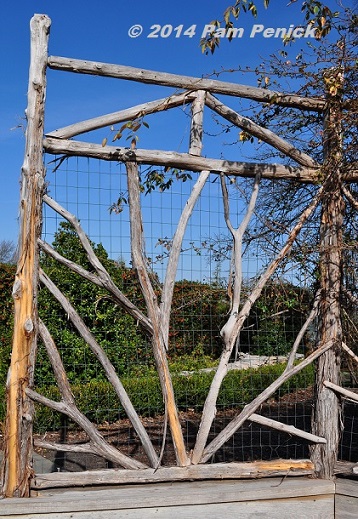 These would look good in an Austin garden, since we're right in the heart of cedar country.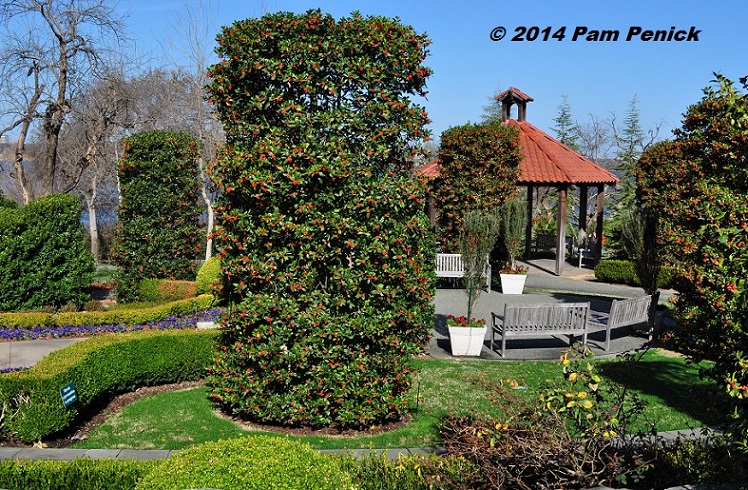 Mockingbirds were busily building nests in these large holly bushes.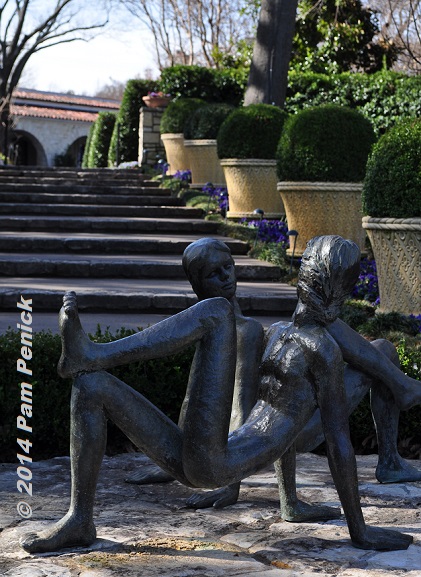 Love, it seemed, was in the air.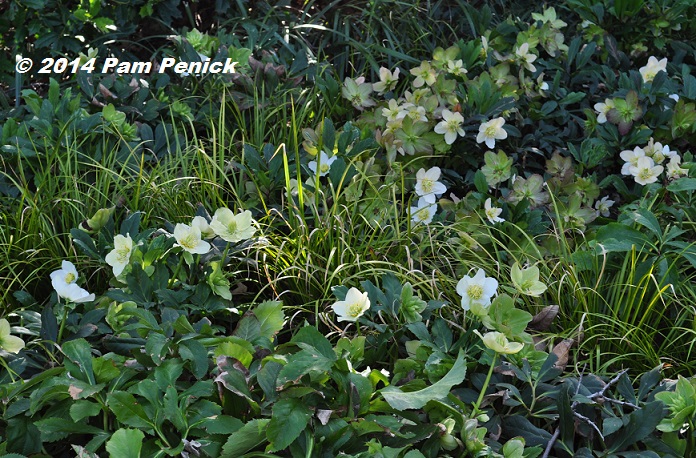 Pale-green and cream-colored hellebores brightened a shady bed.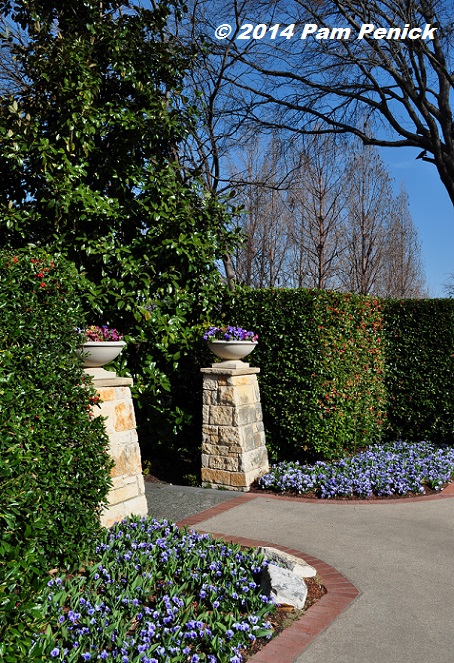 And berry-studded hollies provided evergreen structure as spring awakened the garden.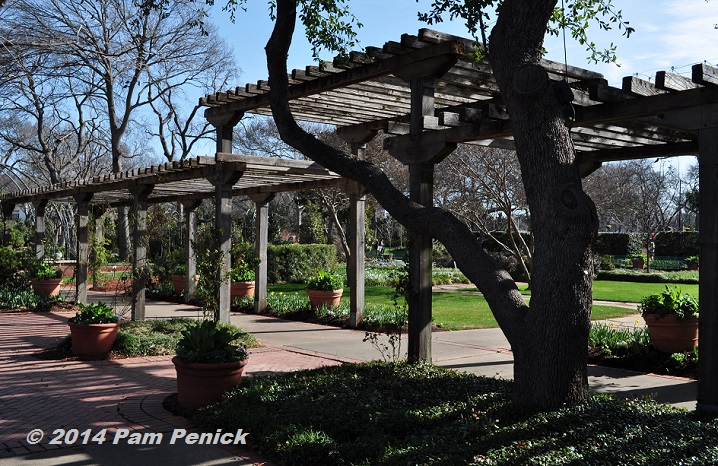 More structure in the form of a path-spanning arbor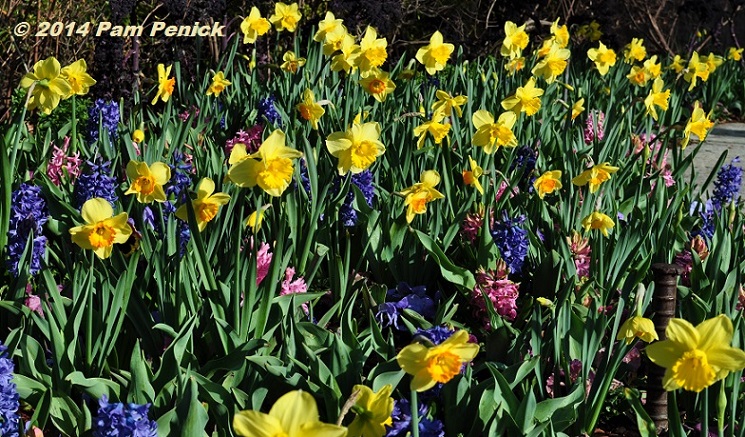 Back to the stars of the festival, however, with a swath of early daffodils and pink and blue hyacinths.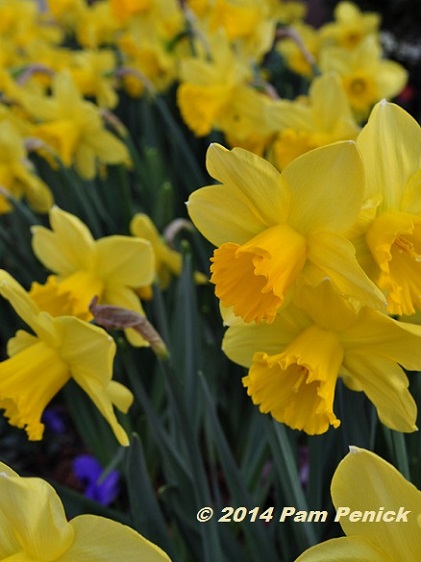 Is any flower more cheerful than the spring-trumpeting, sunny daffodil?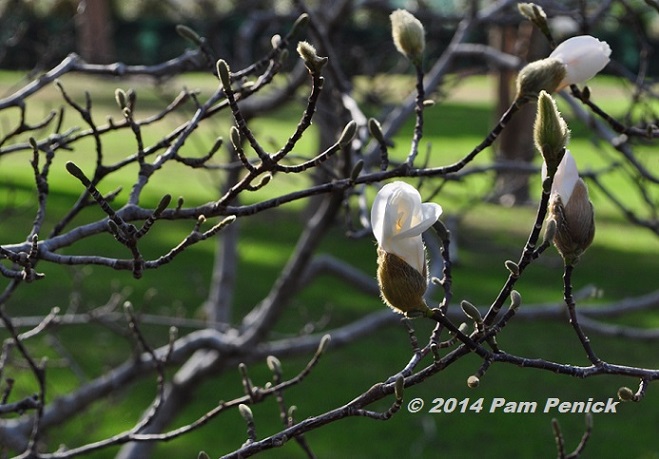 Equally determined to announce spring's arrival were the unfurling buds of a saucer magnolia (I think).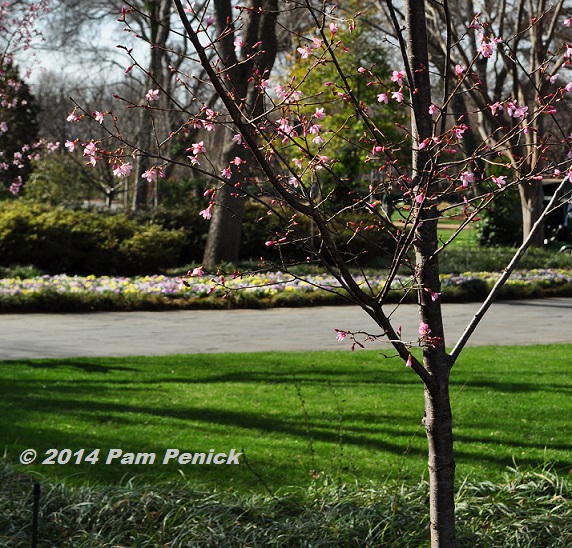 But, ah, those cherries!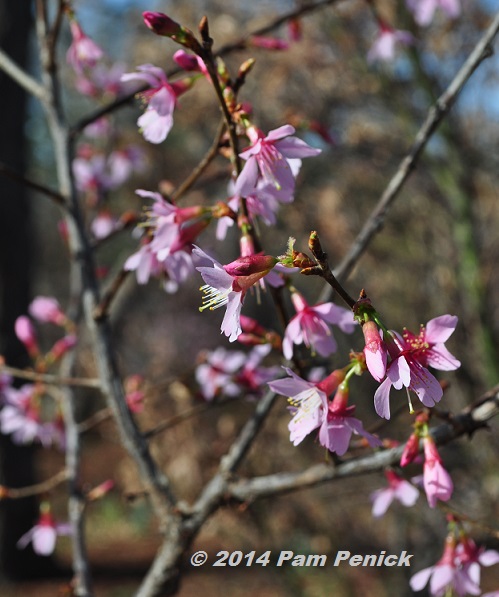 They sang the sweetest song of spring.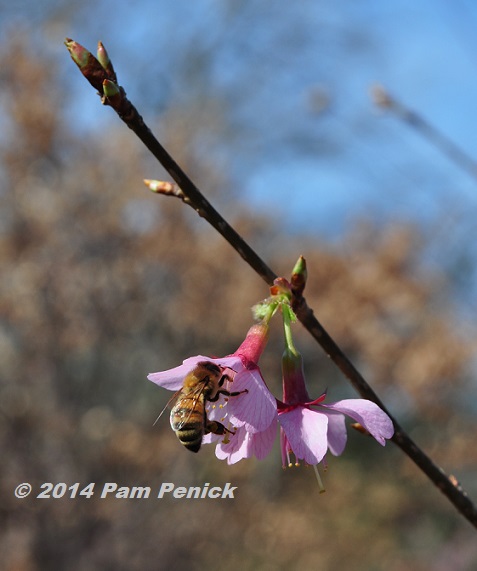 The bees heard it too.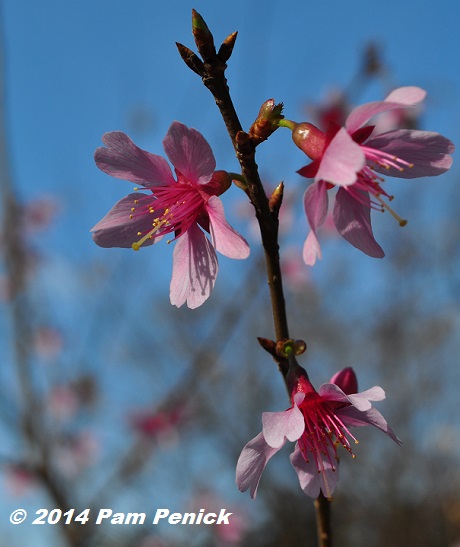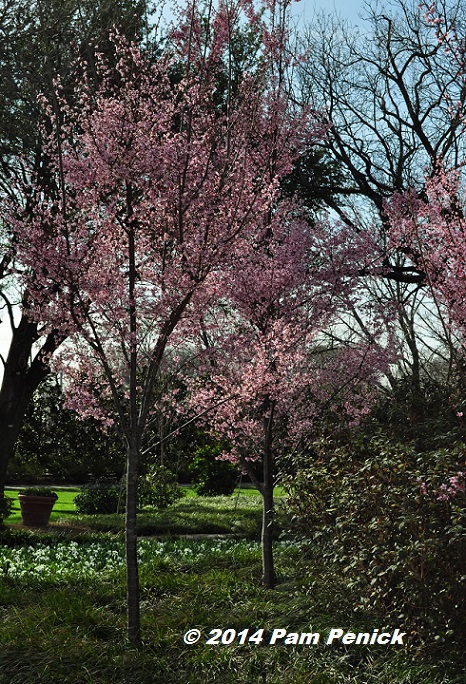 If you'd like to see Dallas Blooms, the festival runs through April 6, with a finale of 6,000 blooming azaleas. The Arboretum's Facebook page predicts full bulb bloom in a week to 10 days, especially if warm weather holds.
All material © 2006-2014 by Pam Penick for Digging. Unauthorized reproduction prohibited.
posted in
Annuals
,
Bees
,
Berries
,
Birds
,
Botanic/Public Gardens
,
Bulbs/Rhizomes
,
Color
,
Flowers
,
Ponds
,
Sculpture
,
Seating
,
Spring color
,
Trees
,
Trellis
,
Water features