April 20th, 2009
What are the six plants you can't live without? The Grumpy Gardener—aka Steve Bender, Southern Living's senior garden writer and blogger—posed this question to the writers of ten garden blogs across the U.S., including me, inviting us to join him in a "blogathon" about our favorite plants.
As I mentioned on Friday, I don't believe in absolute lists. If I were to move tomorrow to the Pacific Northwest or the Arizona desert or the Florida panhandle, I have no doubt that my list of favorite plants would soon be completely different. Heck, it may be different tomorrow as I stay right here in Austin, Texas.
Nevertheless, it was a good mental and emotional exercise trying to pick my very favorite six plants. It felt like distilling my current plant obsessions down to their very essence. So without any more equivocation here are my six favorites, arranged from tallest to smallest.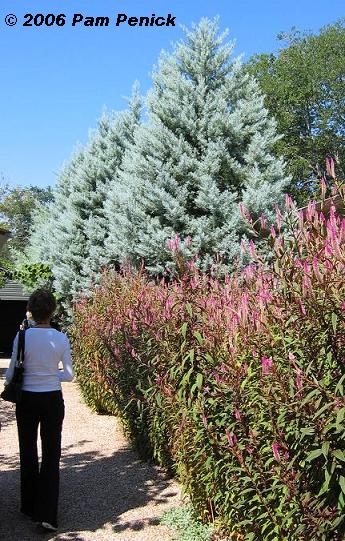 Arizona cypress (Cupressus arizonica). That silver-blue color! That fresh-cedar fragrance! I fell in love with this pyramidal tree while touring Deborah Hornickel's garden in October 2006, when I took this photo. This conifer grows happily in limestone soils and needs good drainage and sun. I'm trying a couple of 'Blue Ice' Arizona cypresses in my side yard and hope they'll one day make a silvery vertical screen like this one.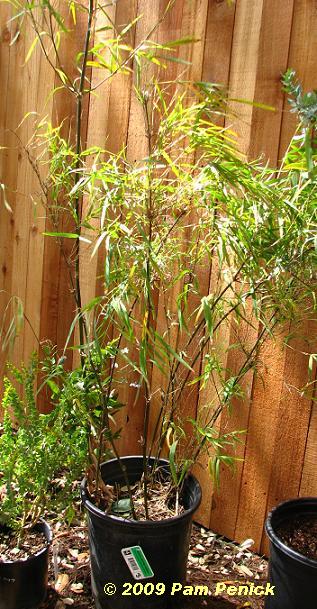 Mexican weeping bamboo (Otatea acuminata aztecorum). The only image I have is this uninspiring look at a tiny one I recently purchased. Click here for a look at a full-size weeping bamboo. I've admired established clumps in several gardens around town and knew I had to have some. Its feathery texture and movement in the breeze is unbeatable. And it's not a runner, so you don't have to fear this bamboo.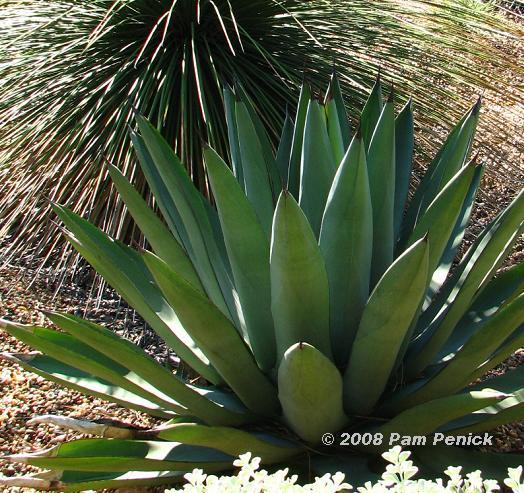 Sharkskin agave (Agave ferdinand-regis x scabra). Does this shock you? Regular readers know of my obsession with agaves, in particular my love affair with the 'Whale's Tongue' (A. ovatifolia), which I painstakingly moved to my new garden. But currently I'm crazy for the shark, not the whale—the sharkskin agave, that is. With handsome, smooth leaves that look just like sharkskin, contrasting black-tipped spines, and a strong, stiff-armed silhouette, this agave caught my attention during the Austin garden-bloggers' tour of Peckerwood last November, when I took this photo. It's on my must-have list.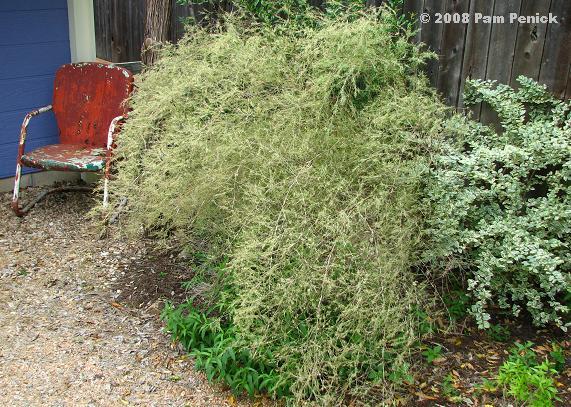 Bamboo muhly (Muhlenbergia dumosa). This evergreen clumping grass from Arizona is a staple in my new garden, as it was in my old one, and I use it in almost every garden I design professionally. It's such a beautiful, versatile plant with touchable, feathery texture, great color, drought hardiness, and deer resistance. It grows upright and almost hedge-like in full sun, looser and weepier in part-shade. It looks chartreuse in the morning and evening light, and in spring it's even more feathery with tiny, cream-colored blooms. Responding to each breath of wind, it dips and waves in the breeze.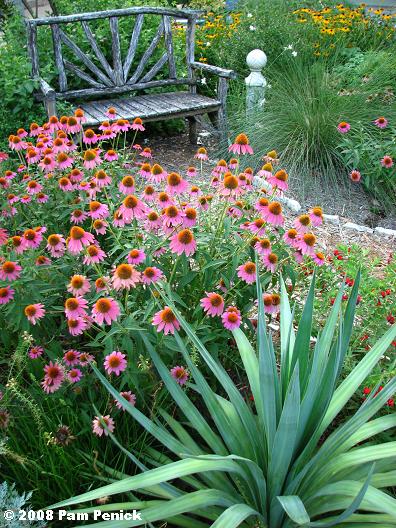 Purple coneflower (Echinacea purpurea). Have you ever seen a cheerier plant? For me, almost any coneflower would fit the bill, but this is the one I grow most often. It's easy to start from seed, it's a great attractor of butterflies in the summer and finches in the winter, and it looks smashing with spiky, evergreen plants like the softleaf yucca (Y. recurvifolia) pictured. What more can I say? I'm a conehead.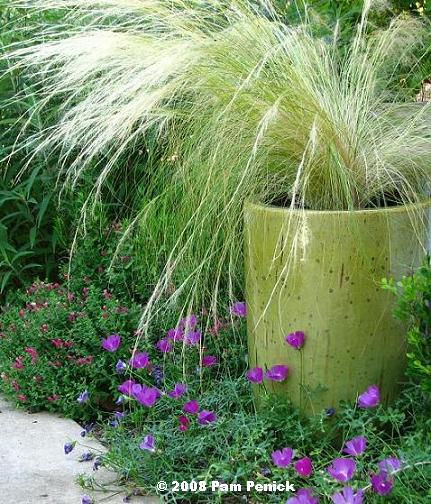 Mexican feathergrass (Nassella tenuissima). This little grass is a workhorse. You see it everywhere, and for good reason. It's elegant; beautifully bright green in spring, tan in summer; very drought tolerant; irresistible to the touch and responsive to the wind. Of course there's a downside—a tendency to invasiveness. But I've always found the volunteers easy to pluck out or transplant to a new spot. Mexican feathergrass also works beautifully in containers.
That's my list. I can easily imagine a beautiful, sunny, central Texas garden made up entirely of these six plants. If it were mine, would I want other plants? Without a doubt. I found it very hard to leave salvias off my list, for instance, as they provide long-blooming color and attract butterflies and hummingbirds. But structure and texture won out over flowers and fragrance, much as I love them too. While only the coneflower provides significant seasonal change, a garden such as this would look great year-round, even with just six plants.
By now you're probably thinking, "That's crazy! I'd never pick those." Or, "How could she leave ______ off her list?" If so, why not play along? If you could choose only six plants, what would you pick?
While you're thinking it over, go see what the other garden bloggers chose as their favorites by clicking on the links below:
Defining Your Home Garden. Cameron in Chapel Hill, NC
Diggin' It. Judy Lowe in Boston
Fairegarden. Frances in Tennessee
Fresh Dirt. Jim McCausland in western Washington is posting his choices on Monday, and Sharon Cohoon in southern California is posting hers on Tuesday.
Gardening With Confidence. Helen Yoest in Raleigh, NC
The Grumpy Gardener. Steve Bender in Alabama
Hoe and Shovel. Meems in Florida
Sweet Home and Garden Chicago. Carolyn Choi in Chicago
All material © 2006-2009 by Pam Penick for Digging. Unauthorized reproduction prohibited.