February 15th, 2014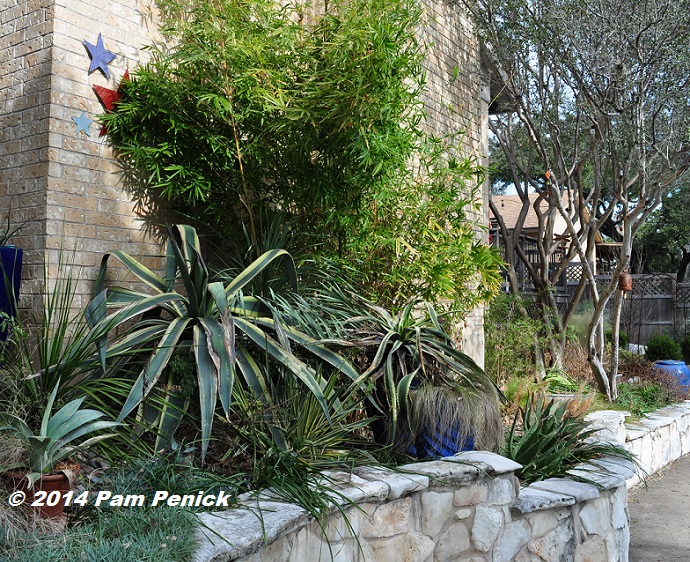 I'm posting for Foliage Follow-Up a day early this month because tomorrow I'm participating in a book release party and giveaway. But I couldn't let our monthly celebration of leafy goodness slip away without a post. February is a turning point in the Austin gardening calendar. We may well have another freeze or two ahead of us, but we're on the cusp of spring, with Mexican plum, quince, hyacinths, and daffodils all poised to bloom. The redbuds and spiderwort won't be far behind.
Valentine's Day is my annual target date for the big garden cut-back. Salvias, skullcaps, lantanas, and other flowering perennials plus ornamental grasses — all get a plebe-style haircut over the next couple of weeks. Don't dilly-dally, I remind myself, or you'll be cutting off new spring growth in addition to last season's frost-browned or leggy foliage.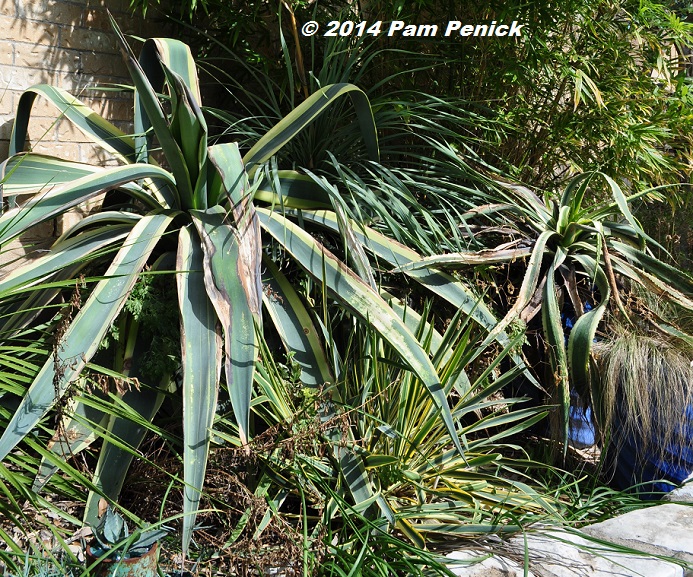 Mid-February onward is also a great time to transplant non-tender perennials, if you're inclined to rearrange, as I am. It's a little early for moving warm-season growers like yuccas and agaves, but I'm doing it anyway. Yesterday I reluctantly removed and discarded two large, variegated agaves from containers in the raised bed behind the house, both of which had suffered freeze damage this winter and had outgrown their pots.
Another impetus for the agave removal was to rescue a Yucca rostrata 'Sapphire Skies' hiding behind the agaves and smothered under the increasingly bushy 'Alphonse Karr' bamboo. Yucca rostrata is one of my favorite foliage plants — think blue-green Koosh ball!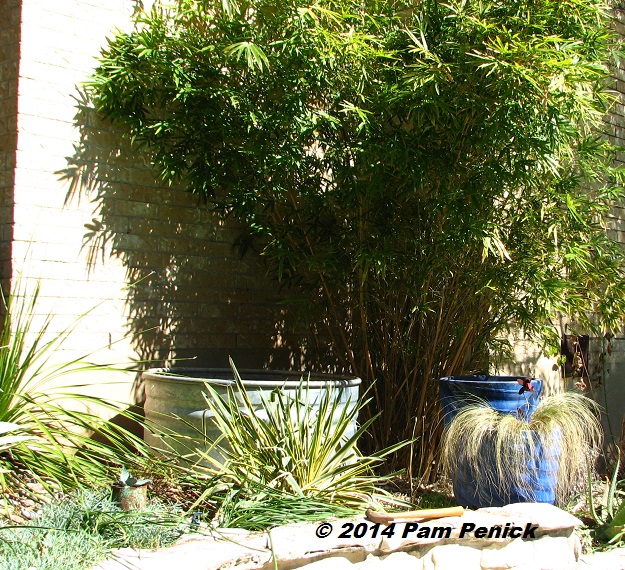 With some blood and sweat (it was 86F yesterday), I triumphed on the agave removal. I considered leaving the yucca in the stock tank, but knowing that it would like more sun and will grow tall, eventually developing a trunk, I decided to relocate it to the lower garden behind the pool.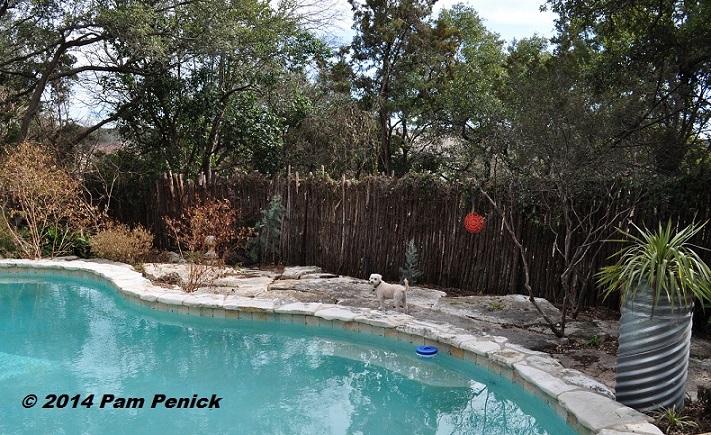 This is one of my sunniest spots since we lost a gum bumelia tree last year to the drought. When the tree came down, exposing the lower garden to sun, a number of shade plants in this area got scorched. I ripped them out last fall, as well as the purple heart that had carpeted the immense limestone slabs behind the pool. I've been loving the view of the exposed rock all winter. To keep the rock exposed I'm gearing up to battle the purple heart this spring and summer (for years to come?) as it tries to return from the roots. Purple heart is a wonderfully tough and richly colored groundcover, but I want to enjoy the rocks, which are a striking natural feature in our garden.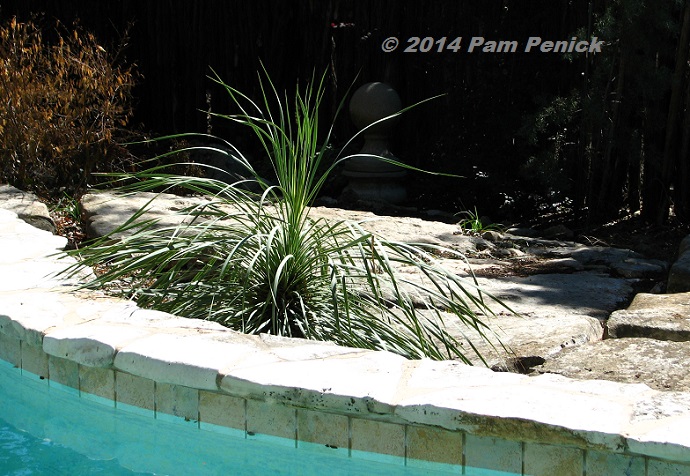 Here's the Yucca rostrata all settled into its new home. It looks so much bigger here, and now it has room to grow and plenty of sun to soak up.
Please join me in posting about your lovely leaves of February for Foliage Follow-Up, a way to remind ourselves of the importance of foliage in the garden on the day after Bloom Day. Leave your link to your Foliage Follow-Up post in a comment. I really appreciate it if you'll also include a link to this post in your own post (sharing link love!). If you can't post so soon after Bloom Day, no worries. Just leave your link when you get to it.
All material © 2006-2014 by Pam Penick for Digging. Unauthorized reproduction prohibited.