February 10th, 2014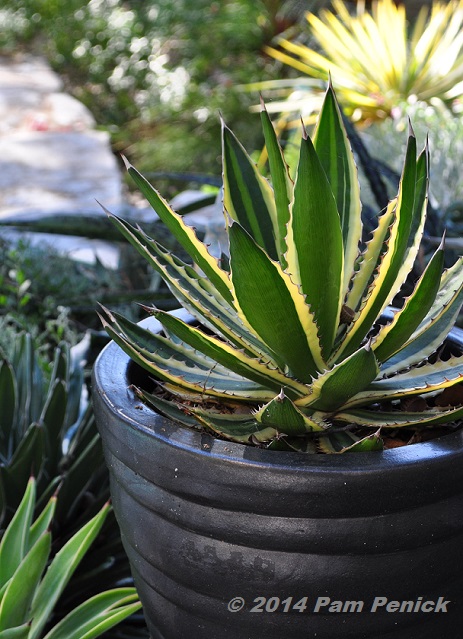 Need a little summer sunshine in your garden? Plant an Agave lophantha 'Quadricolor', a small agave with golden-edged, serrated leaves with reddish teeth that grab onto sunlight and simply glow.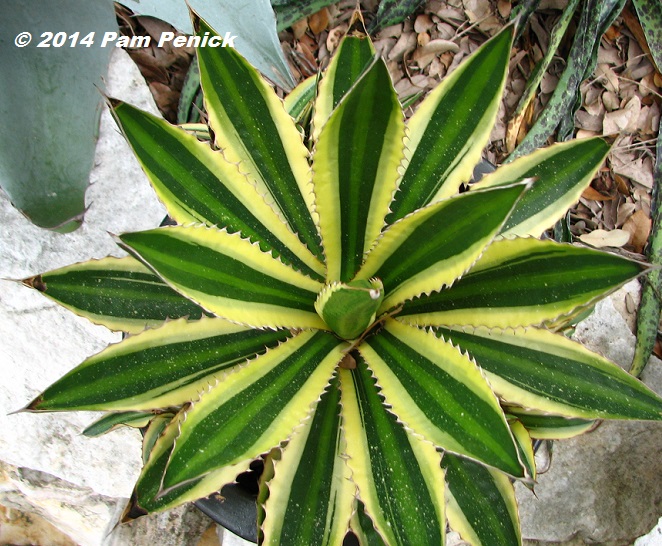 Stripes of pale celery, forest, and olive green run down the center of the leaves in snazzy fashion. Add in the gold along the edges, and you see why it's called 'Quadricolor'.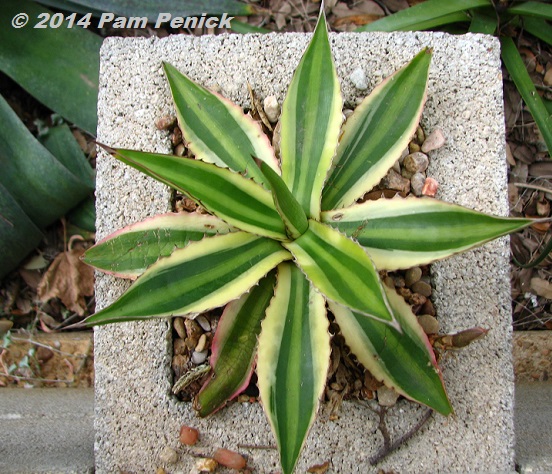 But actually you may see a fifth color in cold weather, when it may pink up around the edges. All in all, it's a gorgeous plant.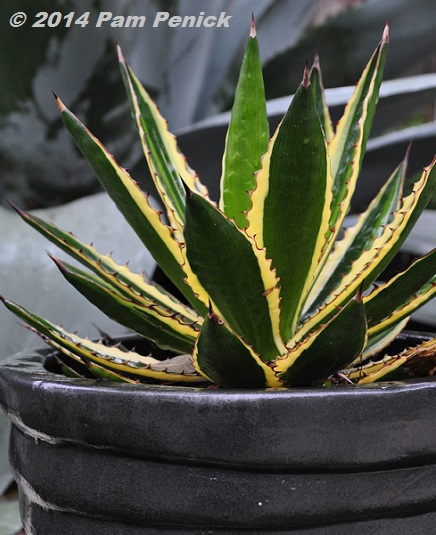 You'll never need to buy more than one because it's a prodigious pupper. Baby Quads pop up regularly at the base of the mother plant, and you can either gently tug them loose or use a sharp knife to sever the roots that connect them to the mother plant. Wear gloves — this plant can bite! Let the pups harden off (sit in a shaded, warm, dry spot for a couple of days), and then you can plant them up or share with a friend. Because of the pupping, I prefer to plant 'Quadricolor' agave in a pot, where I can control its spread more easily. Plus a pot elevates it for close appreciation of its unique striping.
'Quadricolor' agave is winter hardy in Austin's zone 8b and grows to about 1 to 1-1/2 feet tall by 1 to 2 feet wide. Sun or part sun keeps it happy. Give it excellent drainage, and water it occasionally in summer.
Note: My Plant This posts are written primarily for gardeners in central Texas. The plants I recommend are ones I've grown myself and have direct experience with. I wish I could provide more information about how these plants might perform in other parts of the country, but gardening knowledge is local. Consider checking your local online gardening forums to see if a particular plant might work in your region.
All material © 2006-2014 by Pam Penick for Digging. Unauthorized reproduction prohibited.