January 13th, 2014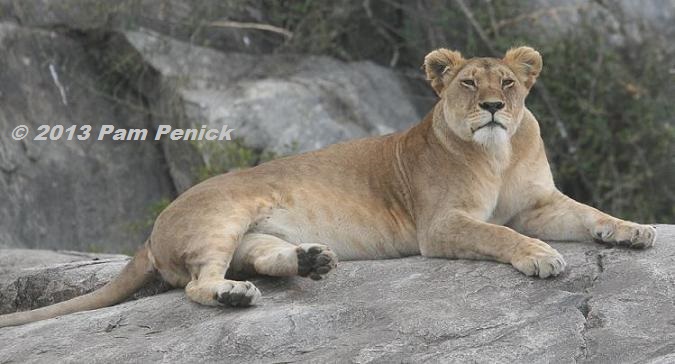 We left the Maasai village (June 2007 trip to Tanzania) and got back on the dirt road heading to Serengeti National Park. The drive in our open-roofed cars was long, dusty, and jolting. Open grasslands gave way to a savanna with flat-topped acacias and occasional spring-fed watering holes. It was the classic African vista I'd seen in movies and National Geographic specials.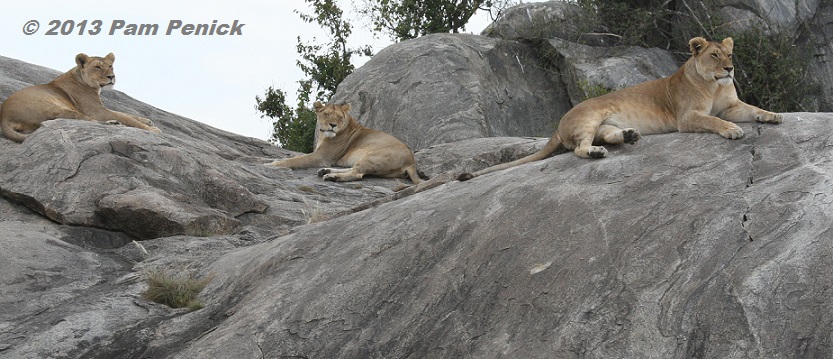 At 9,100 square miles, Serengeti is Tanzania's largest and best-known national park. Renowned for the annual migration of wildebeest across the park's short-grass plains, the park is home to incredible numbers of grazing animals. Where the herds go, predators follow. We soon spotted several lionesses lounging on a large granite outcropping, queens of all they surveyed.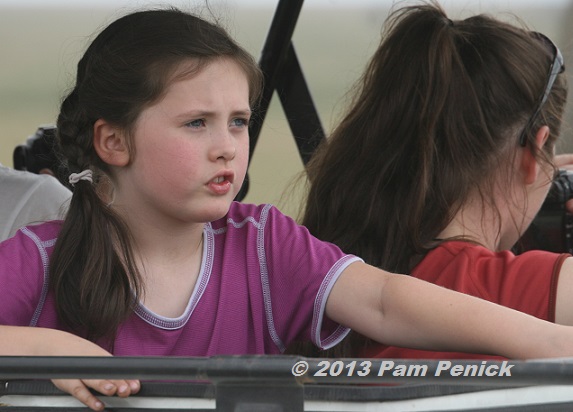 This young girl, from another tour group nearby, was fascinated by the lions.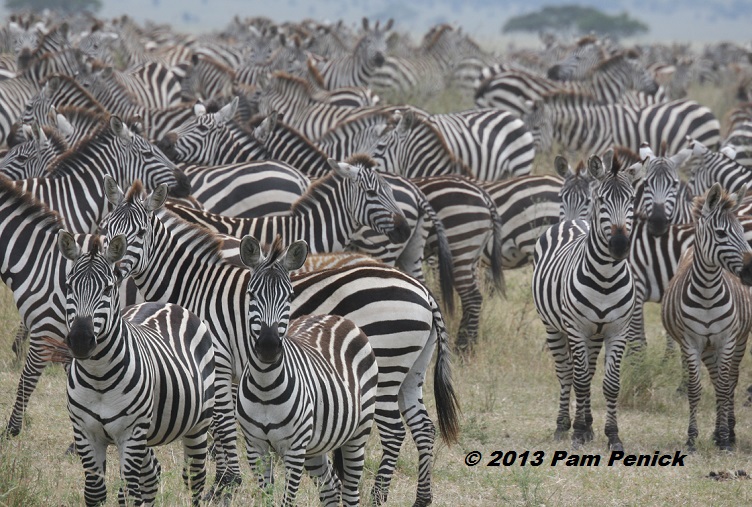 Did you know that a group of zebras is called a dazzle?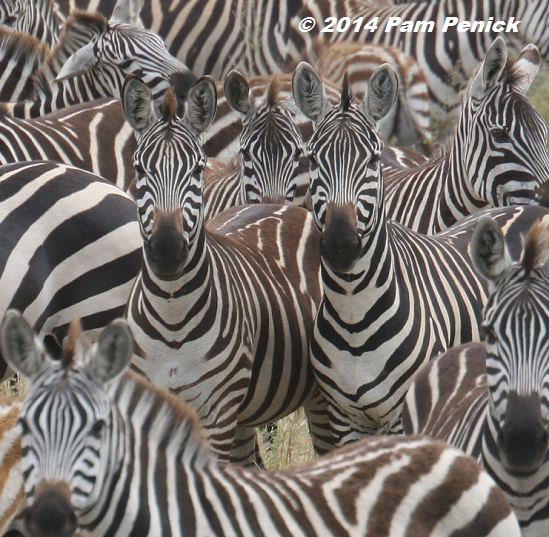 It seems appropriate.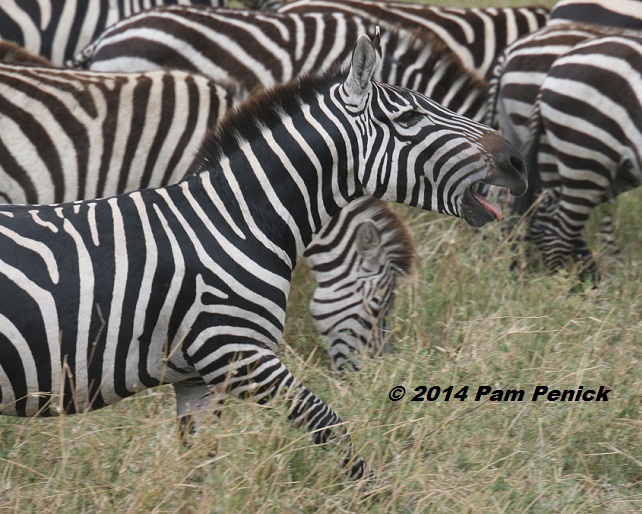 We saw a lot of zebras here and heard their high-pitched yelps, almost like a distressed dog's bark.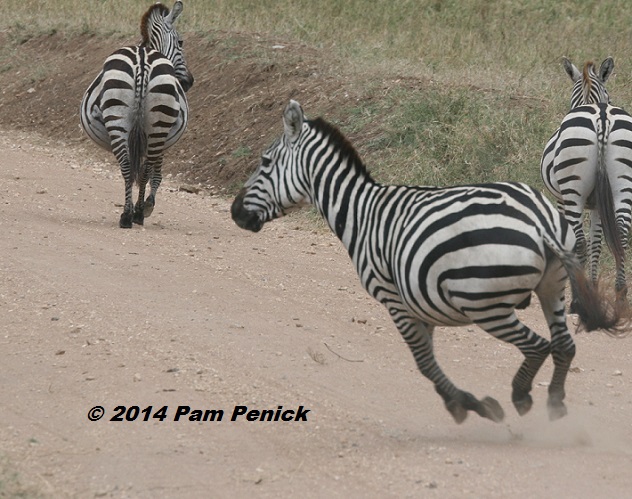 They were feeling frisky.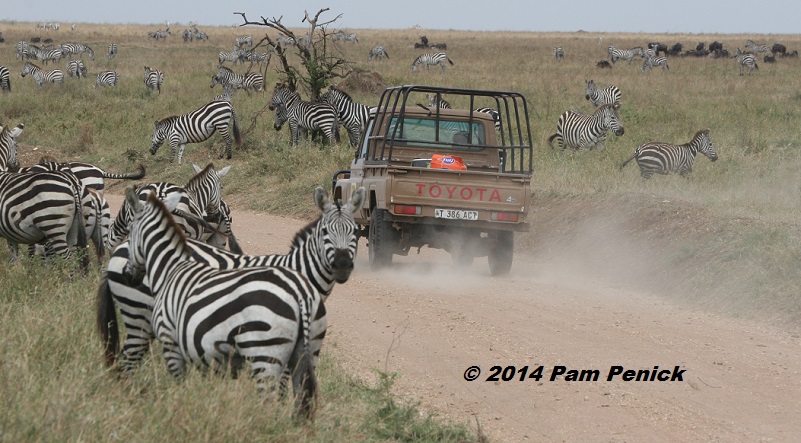 Zebras as far as you could see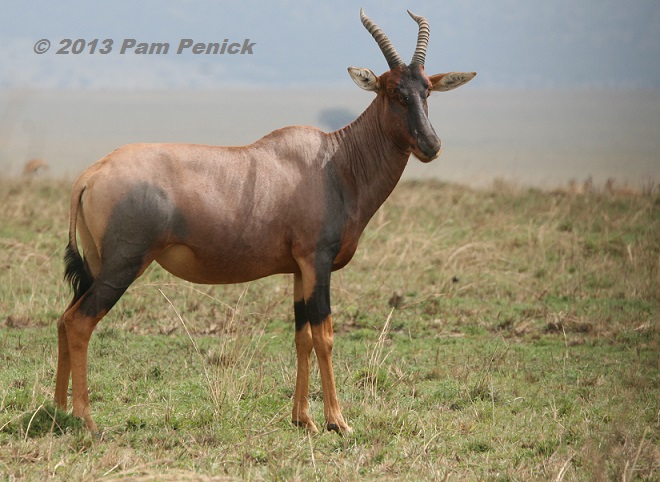 We also spotted topis, a type of antelope previously unknown to me.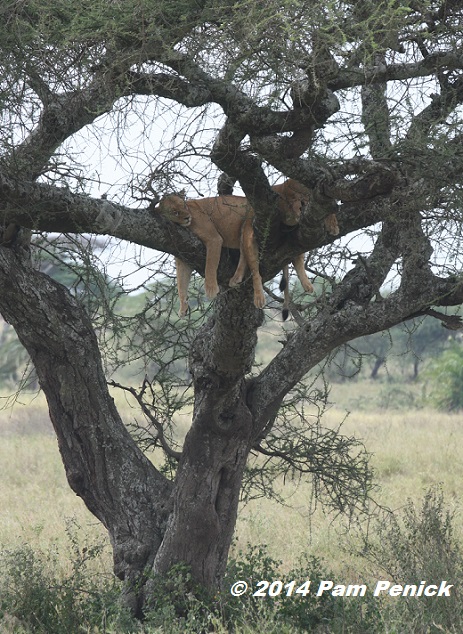 And we finally saw some tree-climbing lions, which our guides had told us about.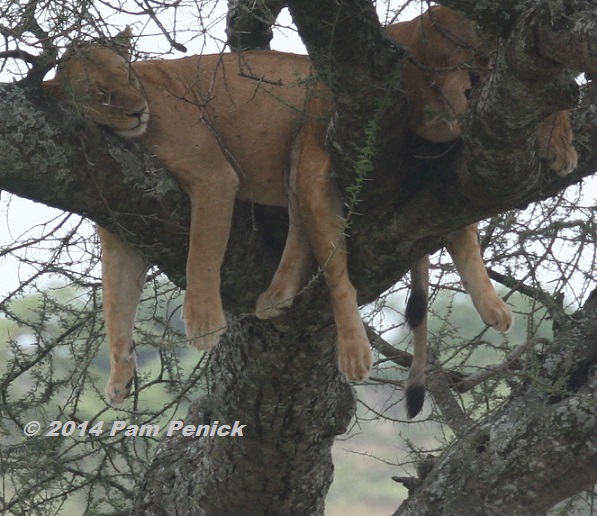 That's a spiny tree, but they made it look comfortable. Just goes to show, though, that climbing a tree wouldn't save you from lions.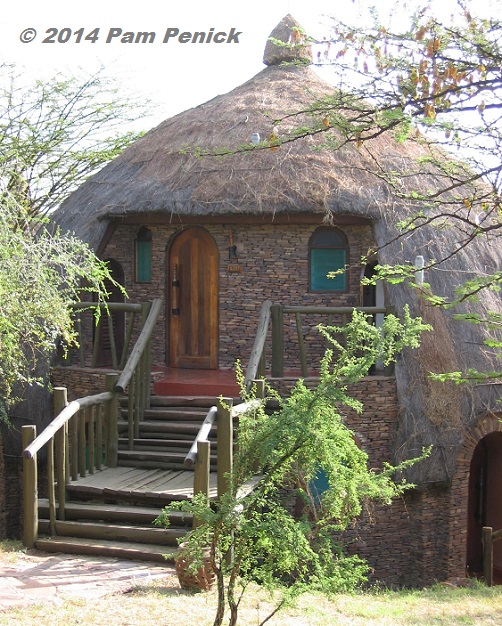 In the afternoon we arrived at Serengeti Serena Safari Lodge, my favorite of our accommodations so far. The rooms were in domed, thatched-roof rondavels spaced around the grounds under acacia trees.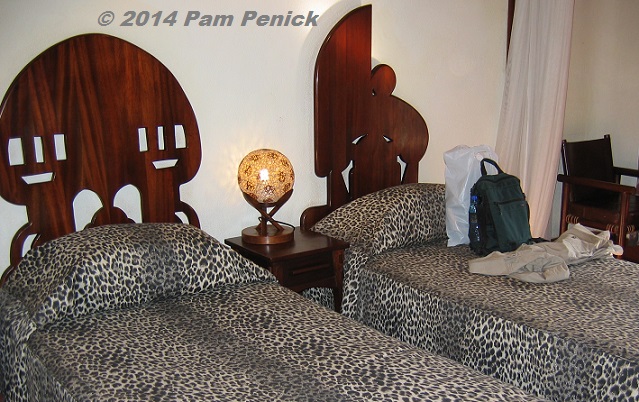 The rooms were comfortable and well furnished…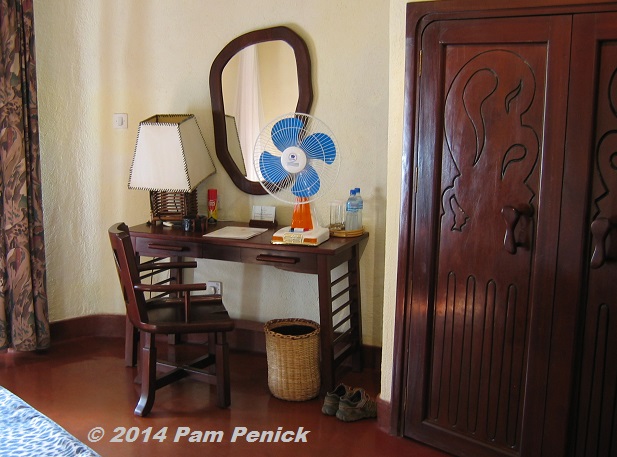 …with writing desks and armoires. I spent some time writing my travel notes here.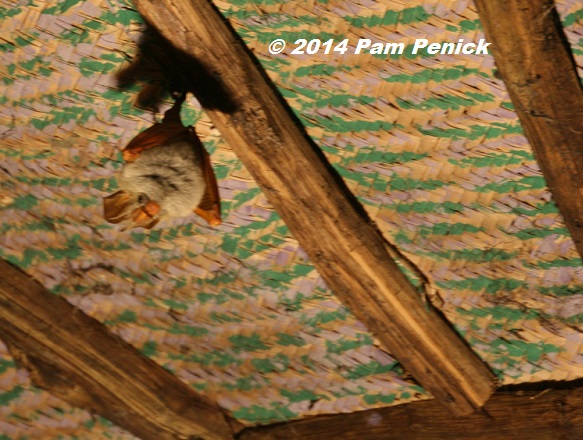 The hotel lounge was open-air, with a high, peaked thatched roof. As we hung out by the bar one evening, I noticed a furry bat hanging from the ceiling.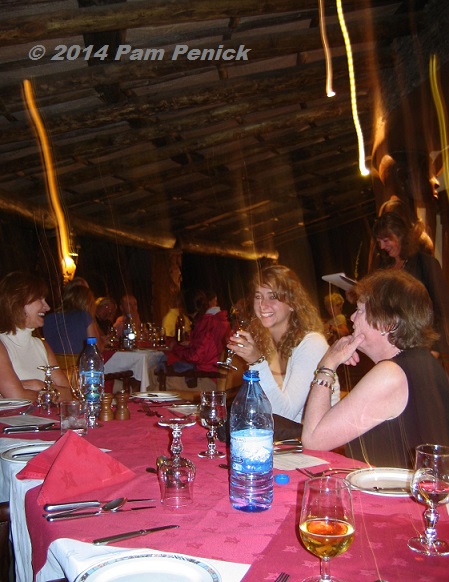 Dining was outdoors on a circular terrace overlooking the bush. It was lovely to eat dinner out there.
The staff asked that we call for an escort to go to and from our rooms after dark because of the danger from animals roaming the grounds, particularly Cape buffalo. We'd had after-dark escorts at some of the other lodges, but they were armed only with flashlights. ("You shine it in the buffalo's eyes to blind it and then run to your room," one told me.) Here though the young man who escorted us carried an automatic weapon slung over his shoulder.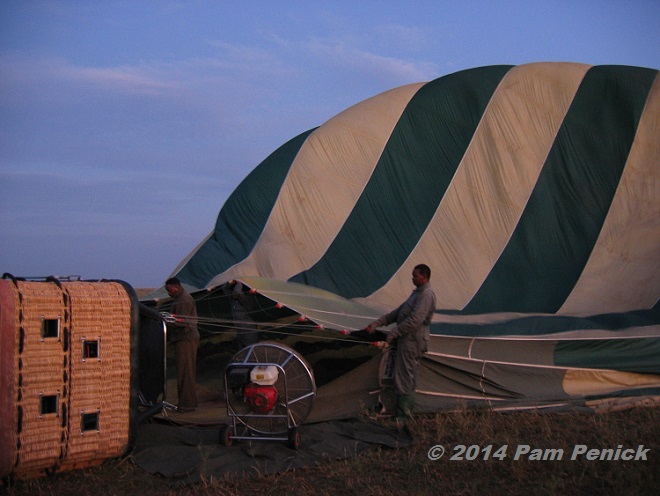 The next morning Dad and I woke at 3:45 a.m., and we all were on the road in the pre-dawn dark by 4:30 a.m. It was the earliest we'd been driven through any of the parks, and we heard lions roaring in the dark. Suddenly two lionesses appeared in our headlights, leisurely strolling down the dirt road, totally unconcerned about us, our cars, or the lights.
We were up early for a sunrise hot-air balloon ride. When our tour leader had asked our group of 25 at dinner the night before if anyone was nervous about the balloons, I was the only one who raised a hand. Really, I thought? No one else was nervous? Well, I was, but I wasn't about to miss out on any of the experiences offered on this trip.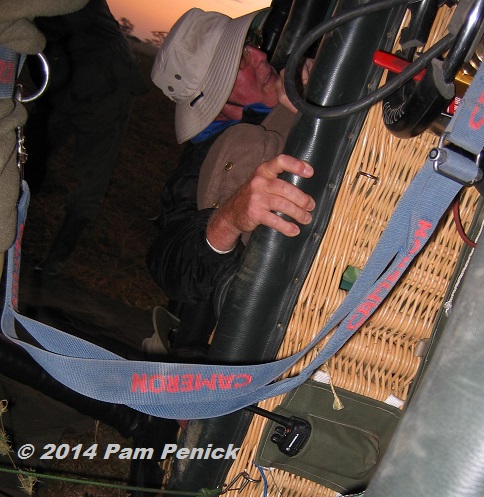 Two balloons with large baskets were being filled with air by generator-powered fans when we arrived. We were split into two groups, and two-by-two, like Noah's ark animals, we were stuffed feet-first, on our backs, into the baskets' compartments by the ground crew. It was a bit awkward, but we were all soon packed in like sardines and ready for liftoff. There were 16 of us plus the pilot in our basket.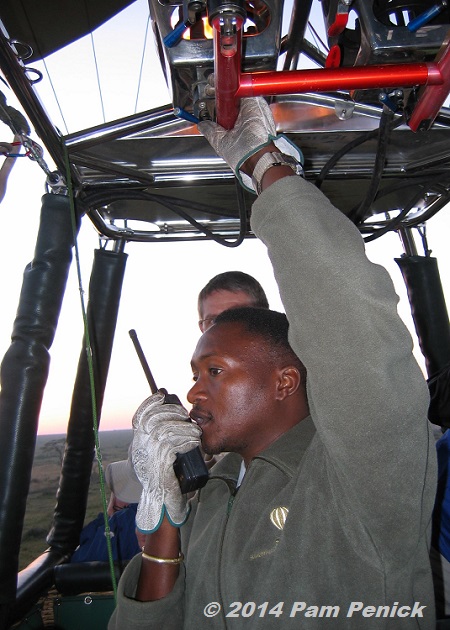 Our pilot, Mohammed, fired up the burners, the balloon began to rise, and suddenly our basket righted itself and lifted off the ground.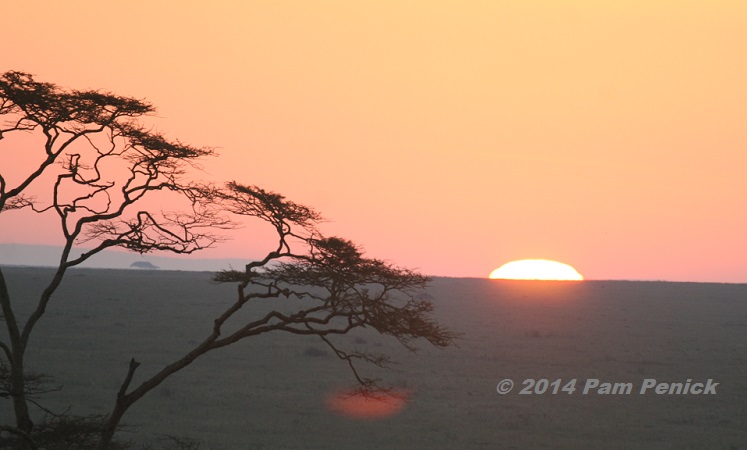 As the plains fell away beneath us, my fear disappeared and a feeling of serenity took its place. It was one of the most amazing experiences of the entire trip. Once we were up, the ride was gentle and smooth. The view? Unforgettable. We floated low over the savanna and spotted lions, hyenas, giraffes, zebras, buffalo, hippos, and many more animals from a bird's-eye view.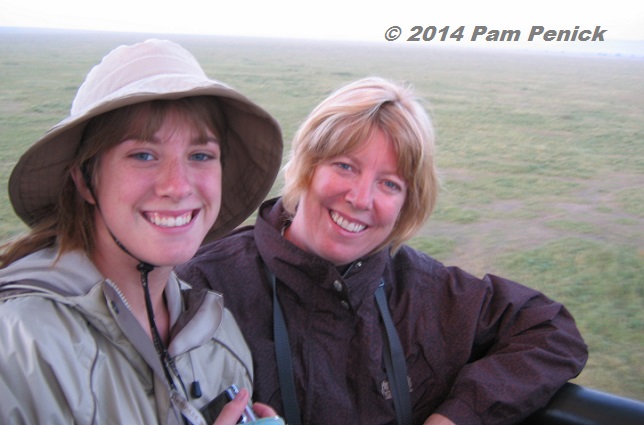 Fellow travelers Kelsey and Lisa, a lovely mother-daughter duo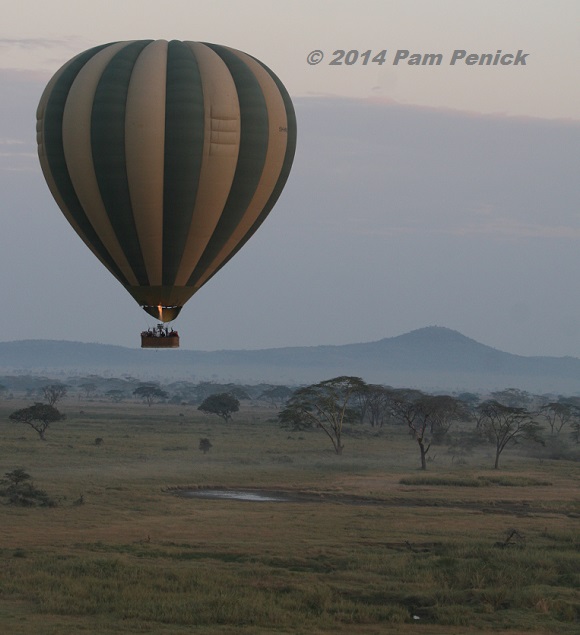 One nice thing about needing two balloons for the size of our party was the opportunity to take photos of a balloon in flight against the East African landscape.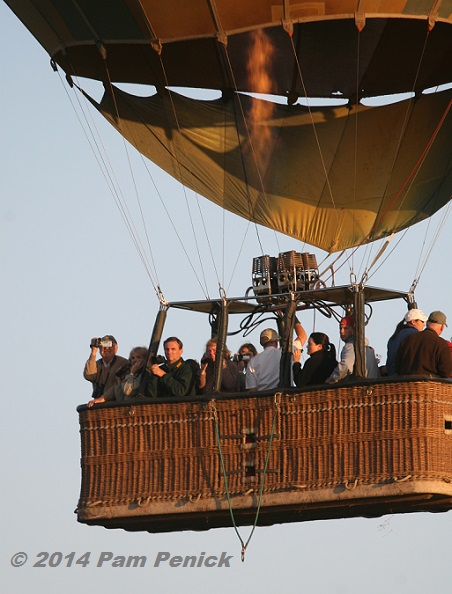 And to take pictures of each other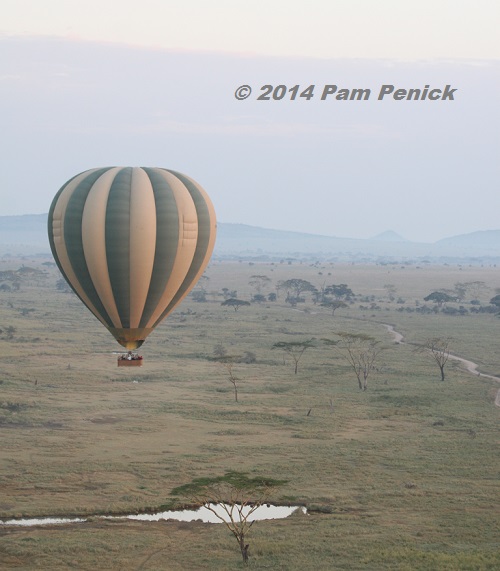 The air was hazy with smoke from the fires used to burn off last season's crops outside park boundaries. But it was still incredibly scenic.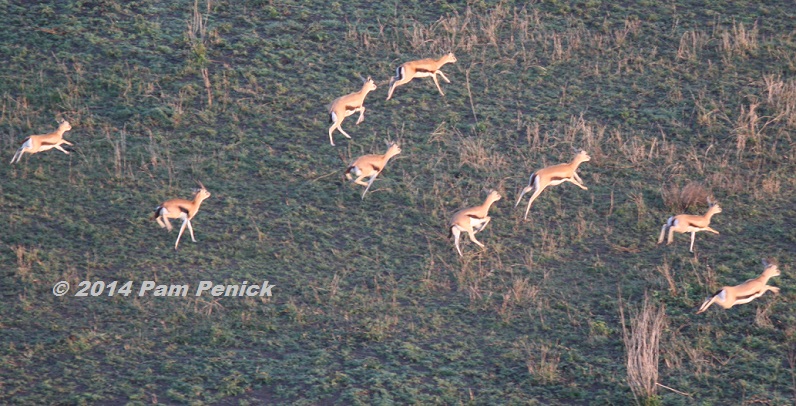 When the burners came on to reheat the air and lift the balloon, the noise startled the animals below us. But when the burners were off, we floated in perfect silence, like a bird.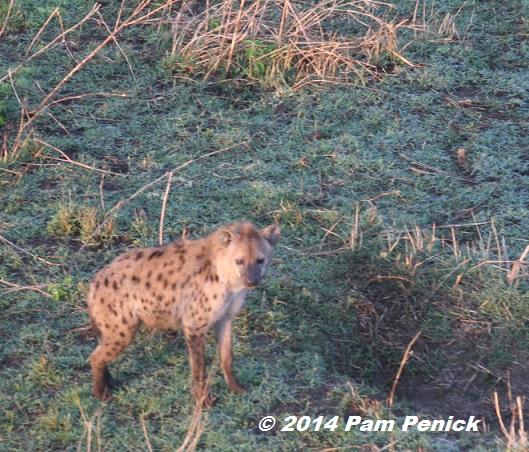 This hyena looked a bit puzzled by us.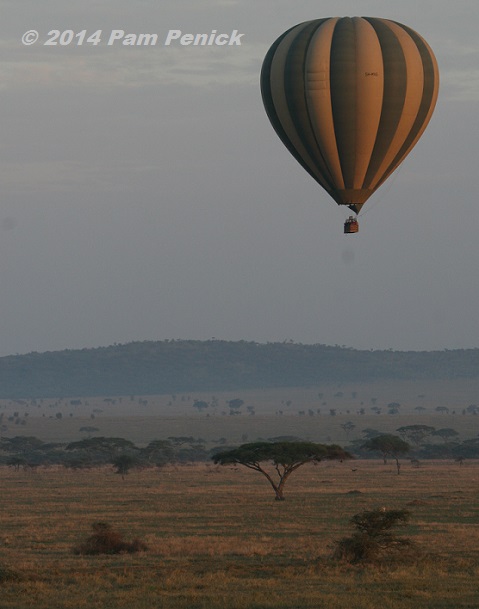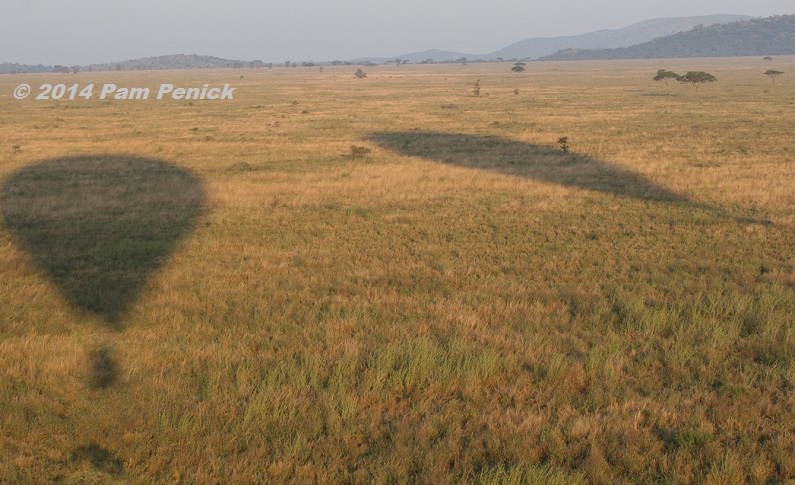 Balloon shadows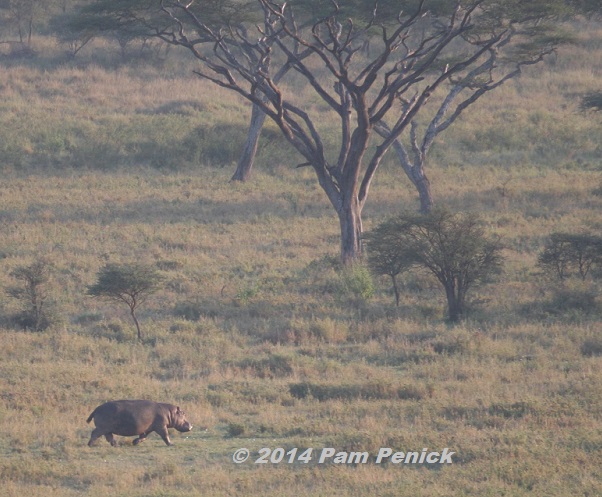 We spotted this hippopotamus on the run, heading to a new waterhole, our pilot surmised. Hippos can run pretty fast.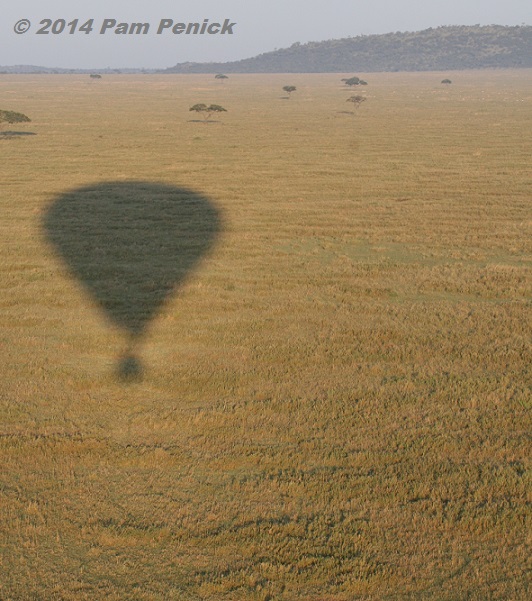 We got up to 500 feet and traveled about 20 mph, the pilot informed us.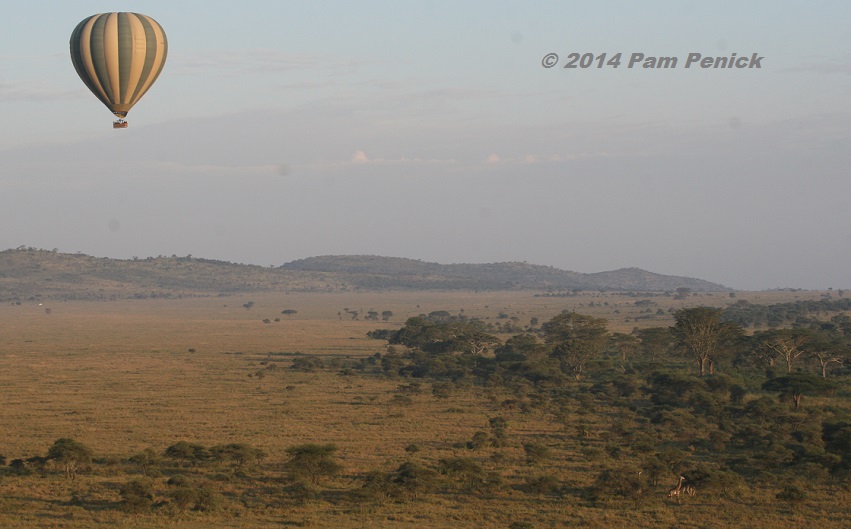 See the giraffes at the bottom right?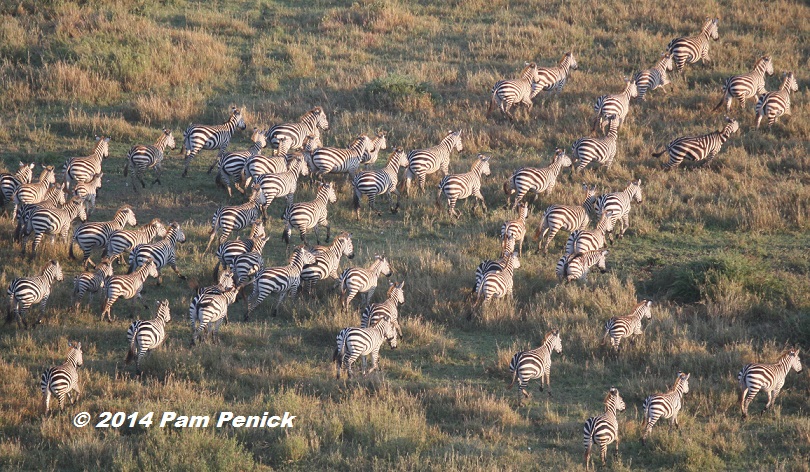 Looking at these pictures I realize that the majesty of the experience doesn't translate to a computer screen. We've all seen these animals on TV and at the zoo and at safari parks — ho-hum. All I can say is that it's a completely different experience seeing them in the wild, in herds that number hundreds if not thousands.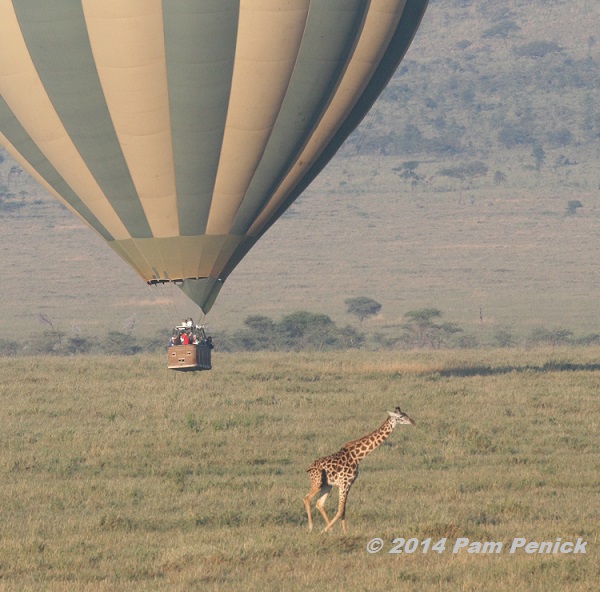 Or even the solitary animal running in its natural environment, unconstrained by fencing or paddocks.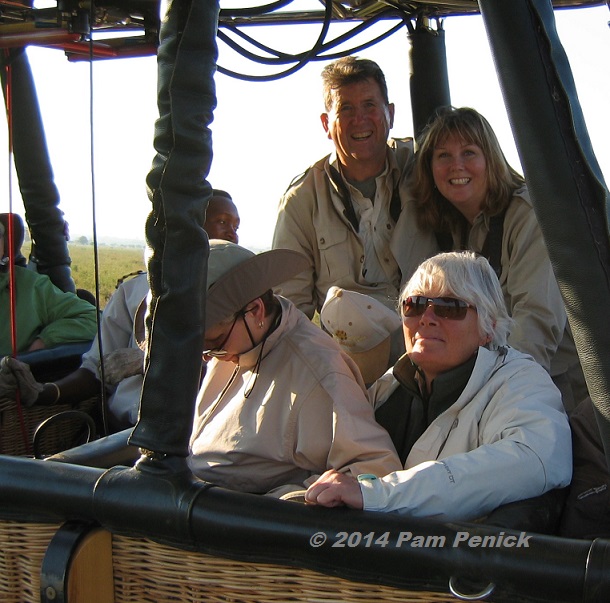 Landing was exciting. As we sank toward a likely spot — we'd been trailed by a ground crew in Jeeps — we looked ahead and saw a ravine in the distance, but the pilot was confident of landing well ahead of it. He asked us to crouch down in the basket, as we had at lift-off, and soon we felt the basket touch the ground. But then the basket tipped partly over and was dragging across the ground, the half-inflated balloon pulling us toward the ravine. As I mentally calculated the odds of staying in the basket when we went over and idly wondered whether any crocodiles might be at the bottom, I hung on tightly and the pilot did whatever pilots do in such situations. At last we dragged to a stop, and the basket righted itself, and it was time to celebrate.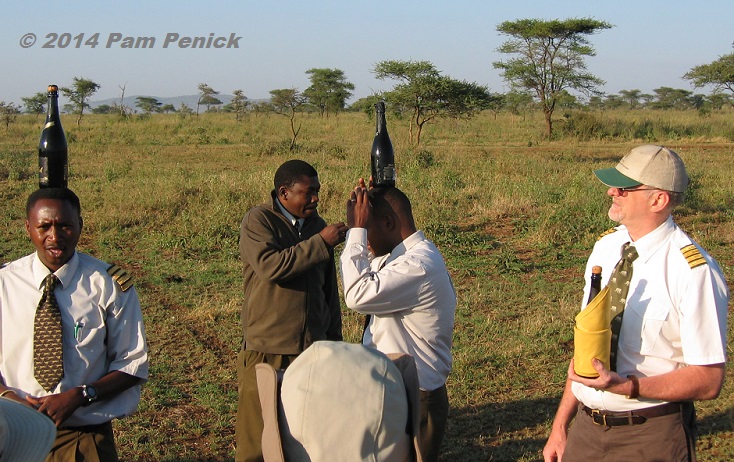 Celebrating a successful balloon landing means balancing champagne bottles on your head.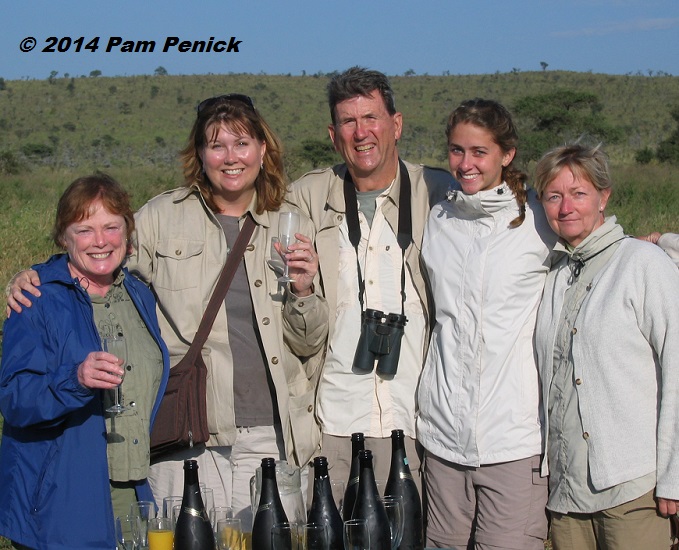 And toasting the pilots' skill, of course! Here's me and my dad with our favorite threesome from the tour: Caroline, Alison, and Karen, a grandmother, granddaughter, and aunt from Chico, California. Caroline has gone everywhere and done everything — and continues to do so, according to letters I receive from her on occasion. I admire her spirit and enthusiasm for adventure!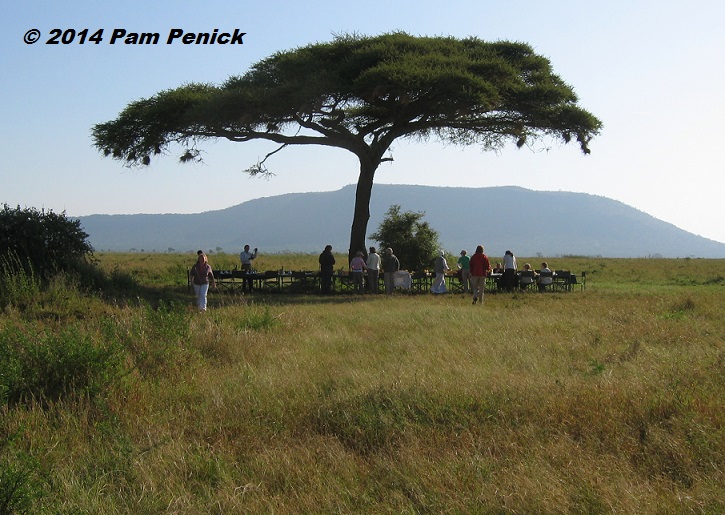 After we'd emptied our champagne glasses, we were driven a short distance and stepped out to see a long, linen-covered table set with china and silverware under an acacia tree. Right out in the middle of the Serengeti.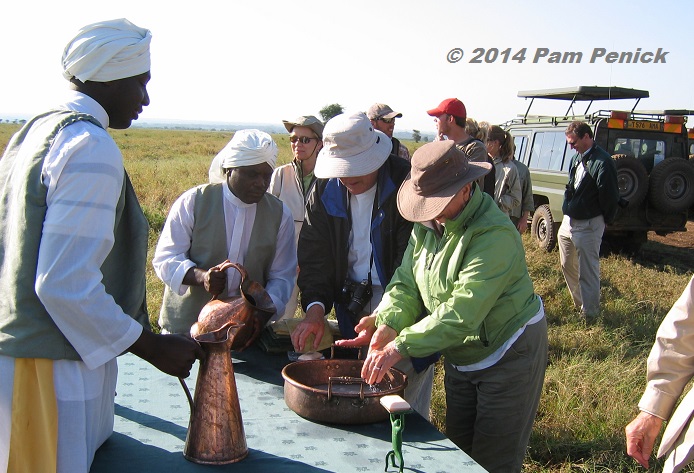 We were invited to wash our hands with clean water in copper bowls.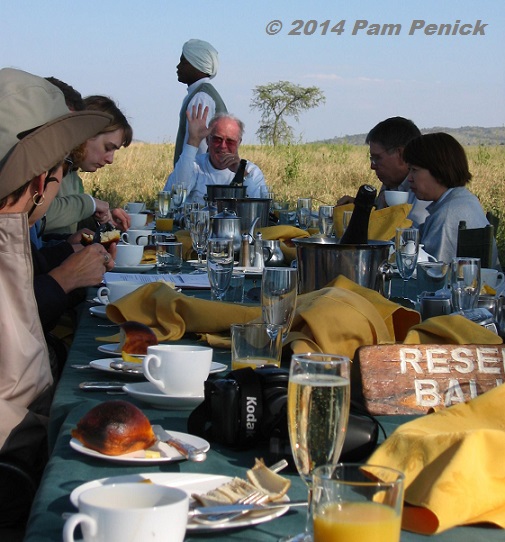 And then we sat down to a fresh-cooked champagne breakfast. What a treat!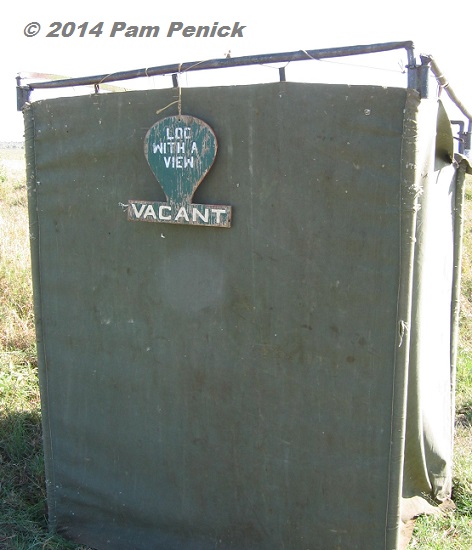 They'd even set up a "loo with a view" for us. This was a 3-sided tent, open on the far side to an unobstructed view of the Serengeti. A sign on the front could be flipped around to indicate whether it was occupied.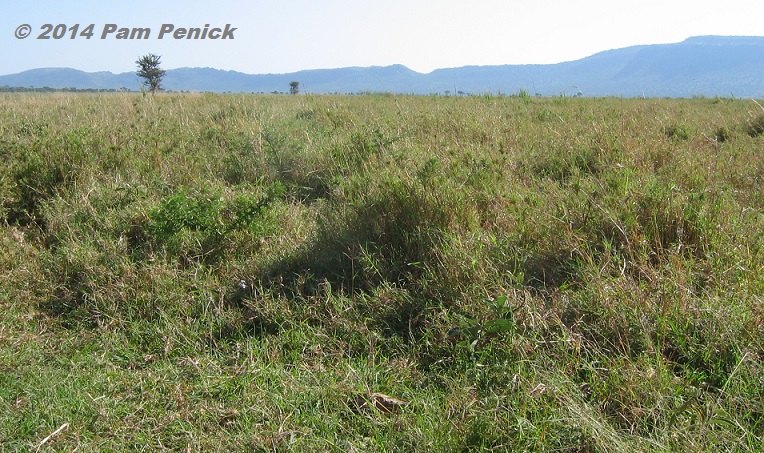 The view from the loo. No lions or hyenas to be seen. But I wondered about them as I sat there!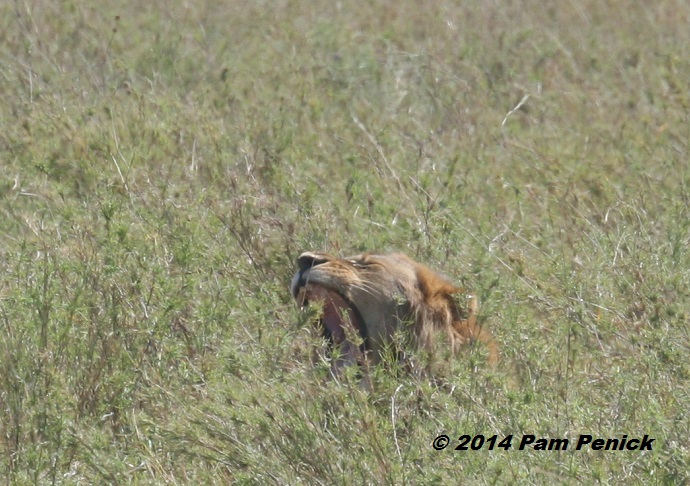 That afternoon we were back in the cars for more game-watching and spotted this yawning lion in the grass.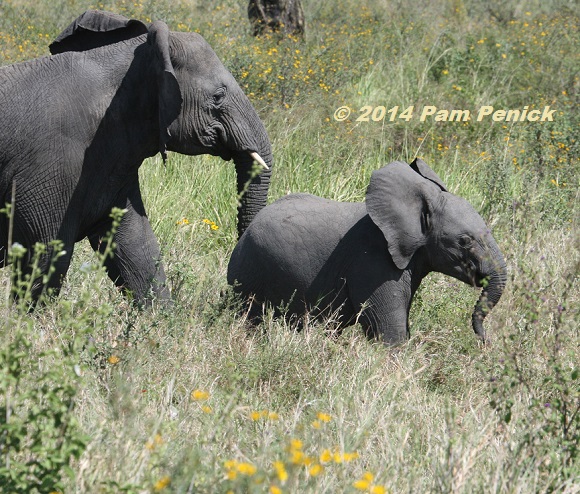 And a darling elephant baby with a short, dangling trunk — one of a family of 38 elephants marching in a line.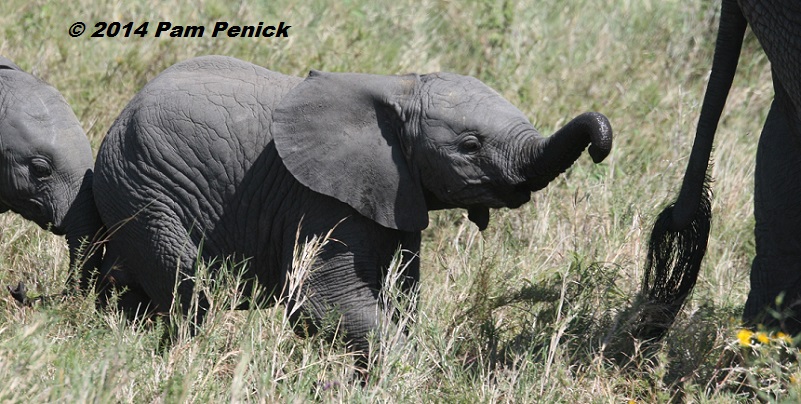 He'd been nosing around in a river or puddle — his trunk was wet.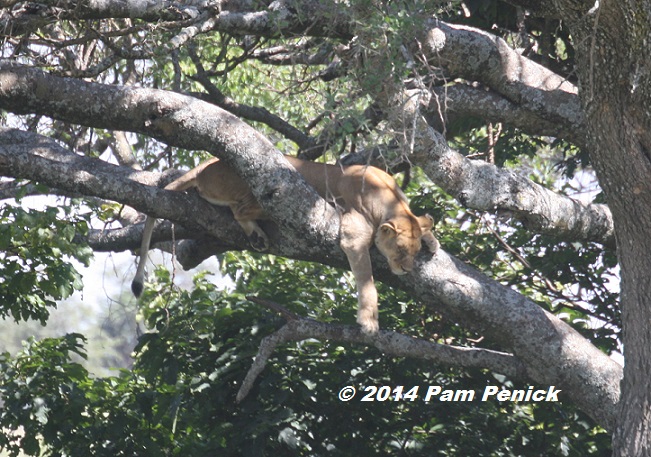 More lions snoozing in trees…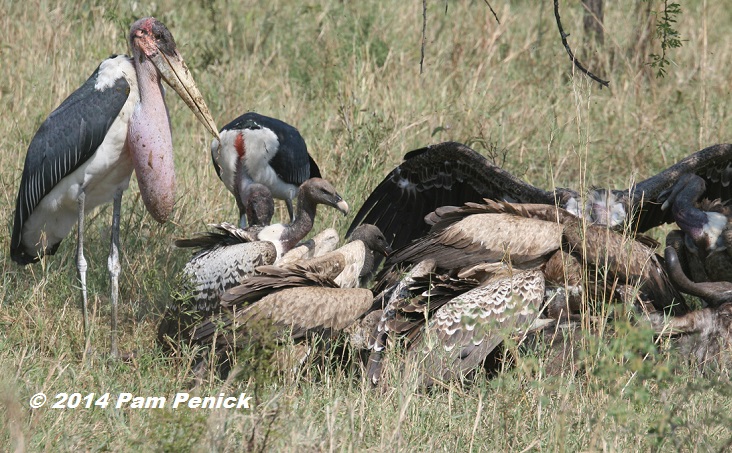 …and scavenger birds cleaning up after their kills. These are Marabou storks and vultures squabbling over scraps.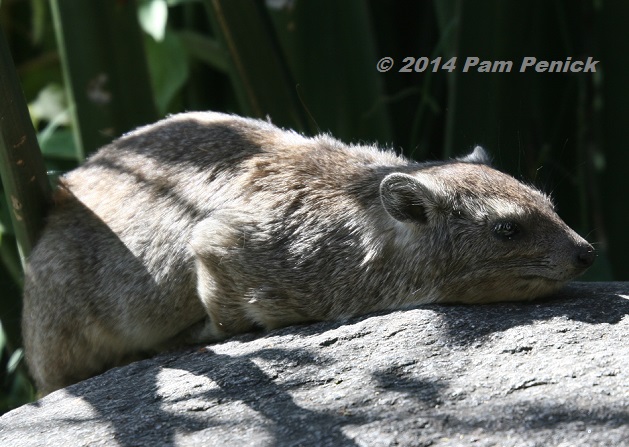 As the day heated up, rock-loving hyrax — related to the elephant! — were visible napping on rocks.
Up next: Our final Serengeti game drives, a swinging footbridge over a crocodile-infested river, and a bush plane ride over a volcano. For a look back at our visit to a Maasai village, click here.
All material © 2006-2014 by Pam Penick for Digging. Unauthorized reproduction prohibited.