January 12th, 2014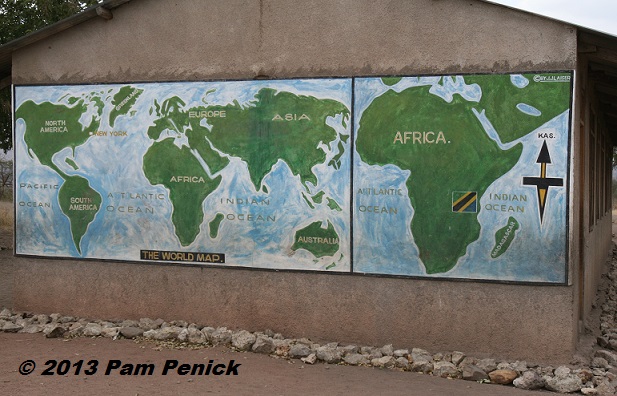 On our fourth day in Tanzania (June 2007) we visited a local school on the way to Lake Manyara. An English-language world map was painted on the school building. The only city noted on it is New York, which is of course how New Yorkers see the world. (Am I right?) If you don't know exactly where Tanzania is, look at the map of Africa on the right. Tanzania is represented by its flag, diagonal gold and black lines on a green and blue ground: green for the country's fertile lands, gold for their mineral deposits, black for the Tanzanian people, and blue for their waters and the Indian Ocean.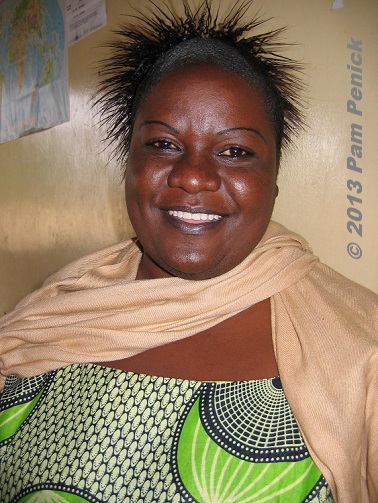 A teacher invited us inside to meet the students and learn about the school. She told us that the students are Maasai, one of the many ethnic groups in Tanzania, and a semi-nomadic people who are pasturalists (cattle farmers). There's no school bus, and some children must walk 3 to 10 kilometers a day, even up to 4 hours, to get to school. Therefore, she said, the school is building dormitories so that students can stay overnight during the week. Maasai are seasonally nomadic, and when a village moves to greener pastures the children often don't return to school.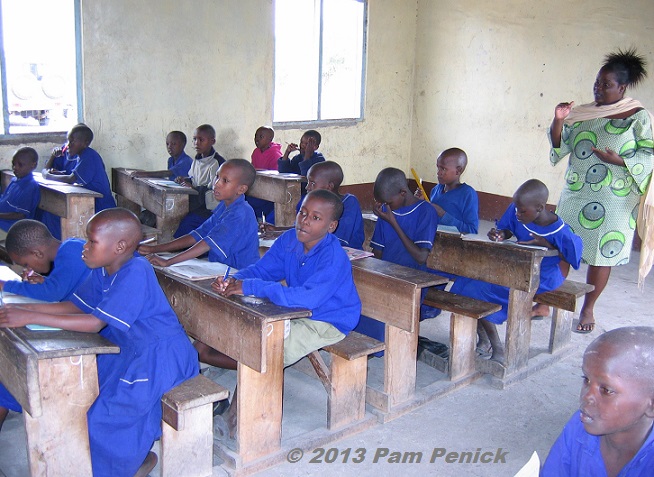 First we visited the 4th-grade class. I was struck by the spareness of the classroom. But in comparison to a schoolhouse we saw later on our journey, in a Maasai village, this one was well furnished, with desks, paper, pencils, and a long blackboard.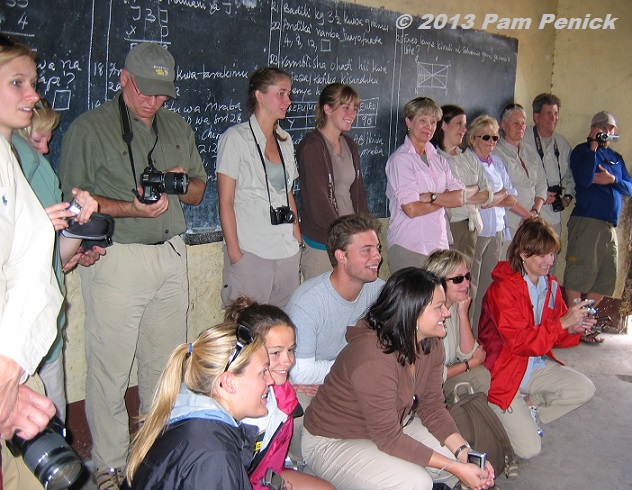 The children sang for us. We stood by the blackboard and listened. If you're wondering about the uniformity of our clothing, we were instructed to pack light-colored, earth-toned clothes for the trip. Dark colors, we were advised, attract biting tsetse flies. I can attest to that, as one day I (stubbornly) wore a dark-brown shirt, and a tsetse fly got into the safari car and tormented me with horsefly-like bites.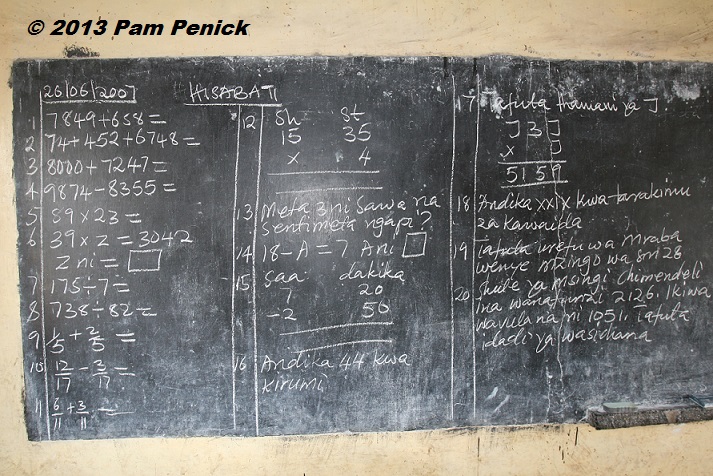 Evidence of a math lesson in progress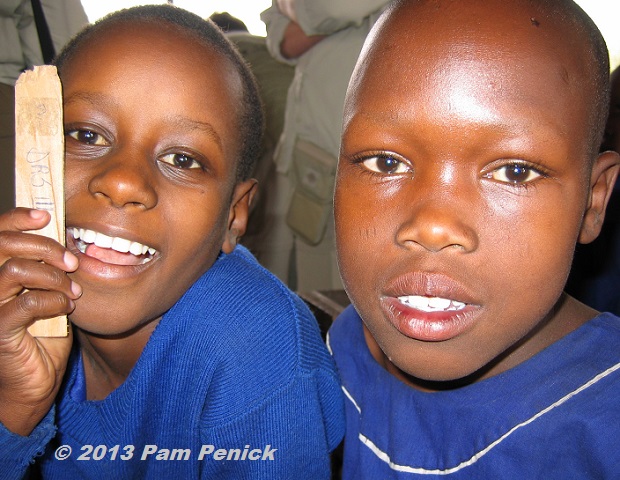 The children wore blue uniforms, the girls in round-necked blouses or sweaters, the boys in button-up shirts. All had closely cropped hair, making it hard for me to differentiate between boys and girls, except for clothing style.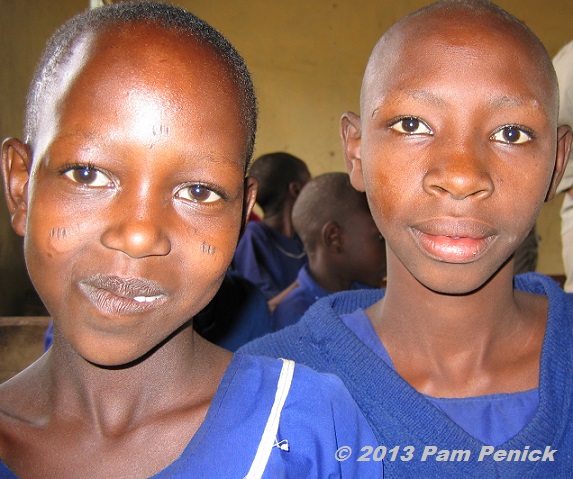 The students were polite and friendly, showing us their work if asked. They all knew a little English.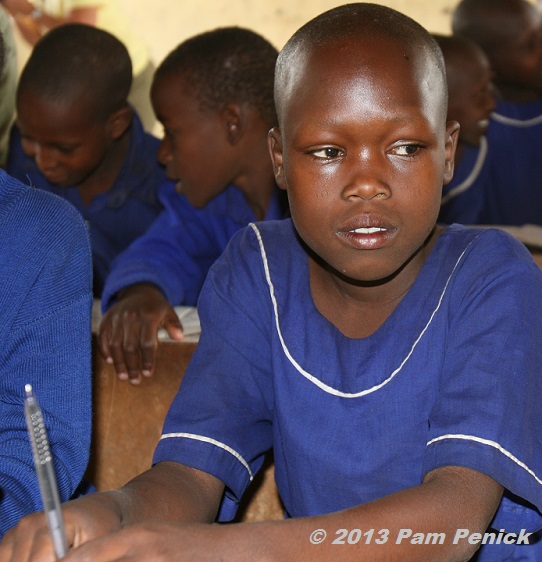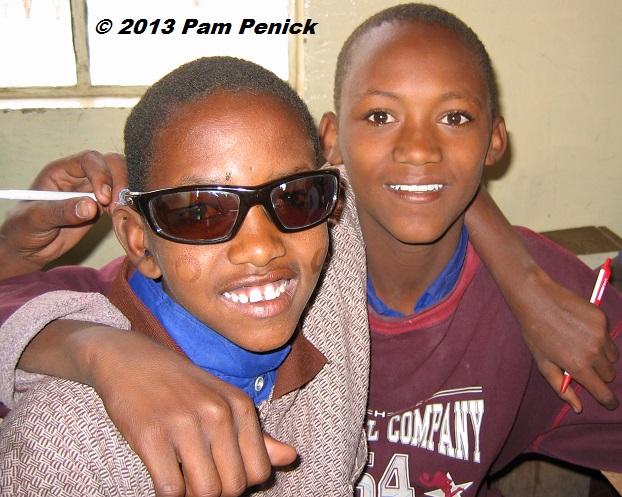 These boys hammed it up with sunglasses borrowed from someone in our group.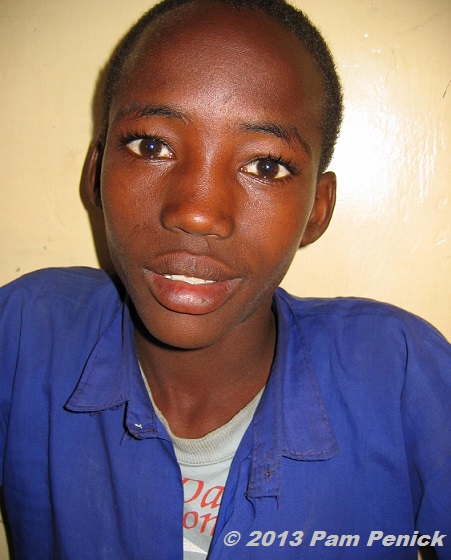 We met older students — and far fewer girls — in the 7th-grade classroom next door.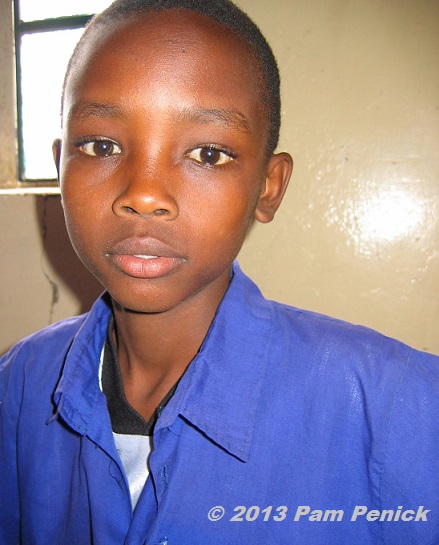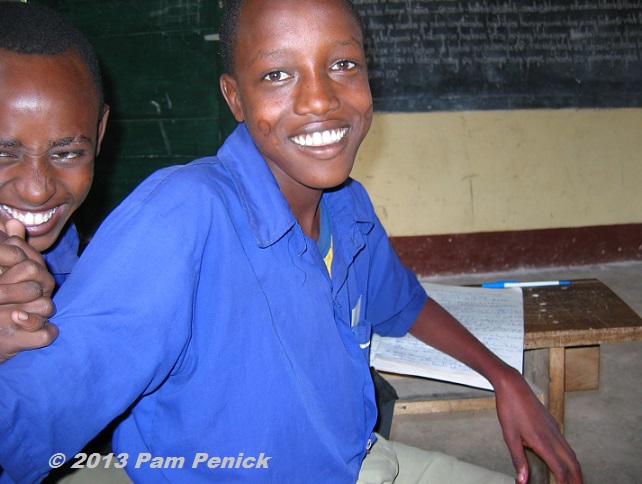 Many students were eager to have their photo taken. They all wanted to see the digital images of themselves, and some of them pulled at our cameras, wanting to take pictures of their friends. They laughed with glee to see their own image on-screen. Do they have mirrors at home, I wondered, or are tourist visits the only time they see images of themselves?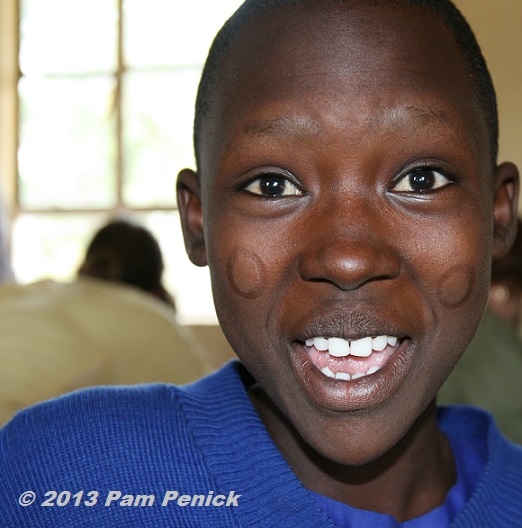 Many of the children had circle scars on their cheeks or vertical markings, brands that are a traditional practice in their culture.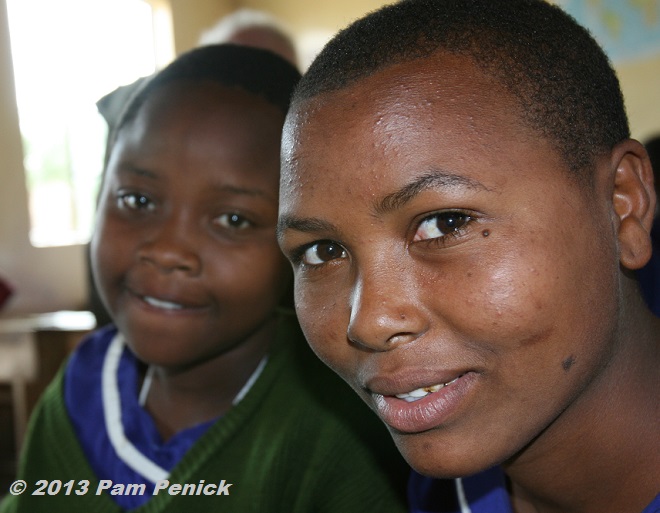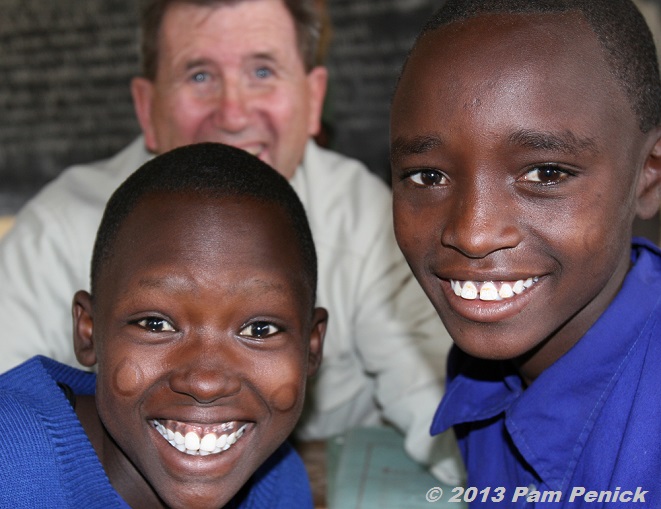 Dad photobombing two students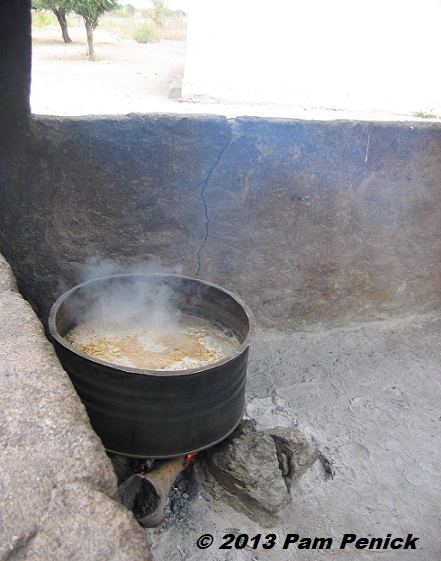 Afterward, the teacher told us about the school's lunch program, which requires that students eat the school lunch rather than bringing their own. This ensures, she said, that portions are equal and everyone gets fed. On this day lunch was a sort of corn porridge, which cooked over a fire in an outbuilding.

We presented the students with school supplies we'd brought with us and said our goodbyes. Then we drove to our next hotel, Lake Manyara Serena Safari Lodge, "perched on the edge of the Mto wa Mbu escarpment and [offering] one of the greatest views of the Great Rift Valley," our tour packet informed us. Here's the lobby, where we sat under basket-lights and sipped our champagne and fruit juice.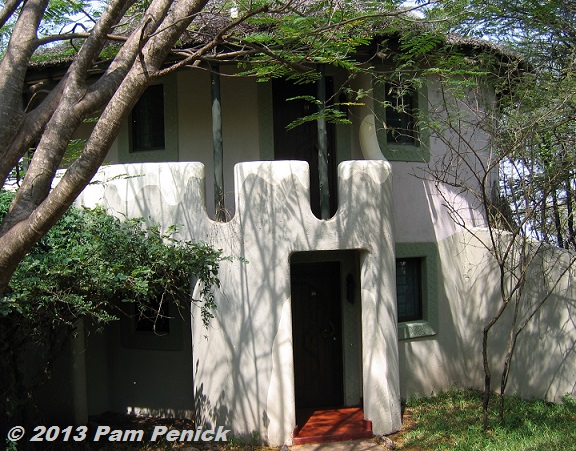 Four hotel rooms made up each round, thatched-roof building.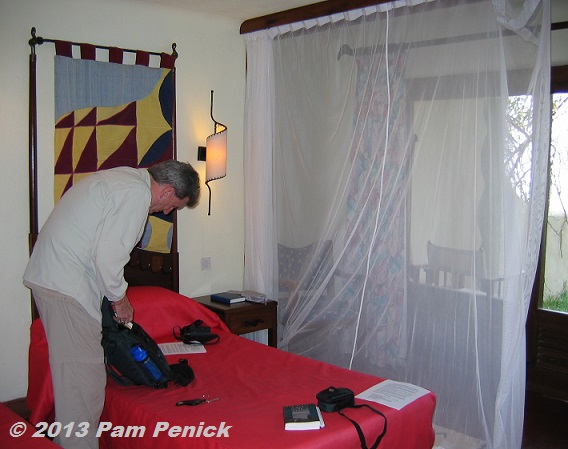 Mosquito nets shielded sleepers here too.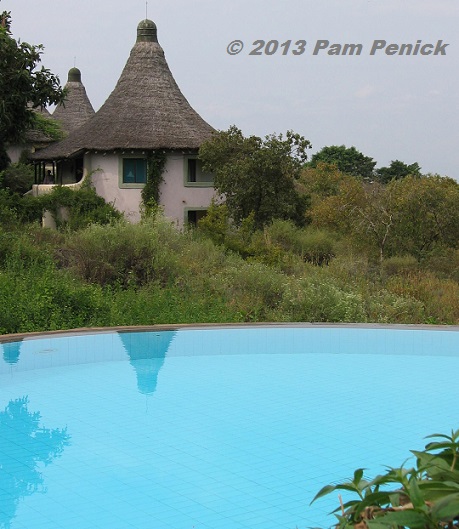 The hotel pool — quite an extravagance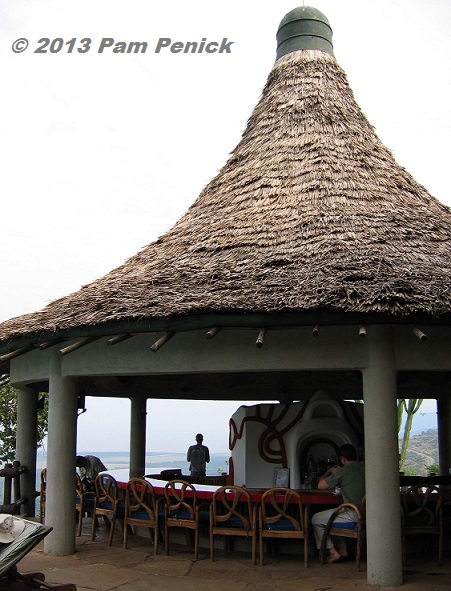 The poolside bar enjoyed a view of the valley.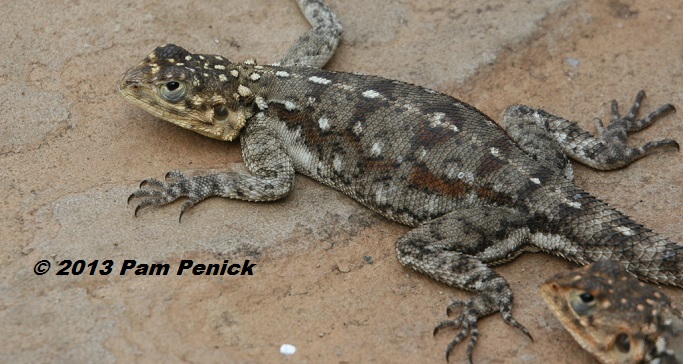 Large agama lizards sunned themselves alongside guests on the pool patio.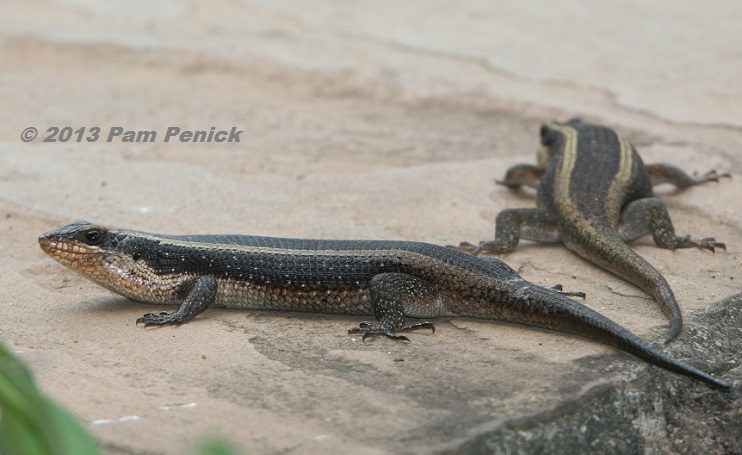 As did striped skinks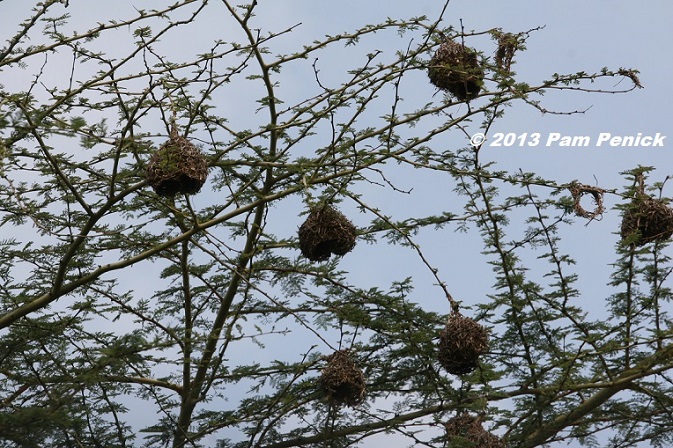 Weaver nests in the trees. Isn't it amazing to consider how the birds are able to weave these hanging nests with only beak and claw?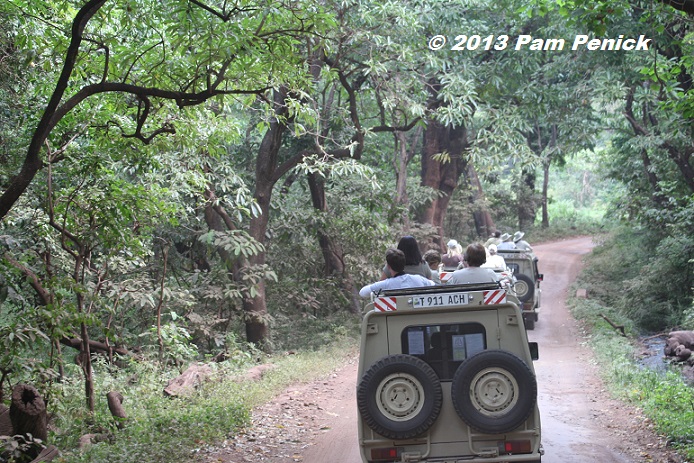 After lunch we headed into the valley for a game drive through Lake Manyara National Park, a lushly forested preserve surrounding a grassy floodplain and lake.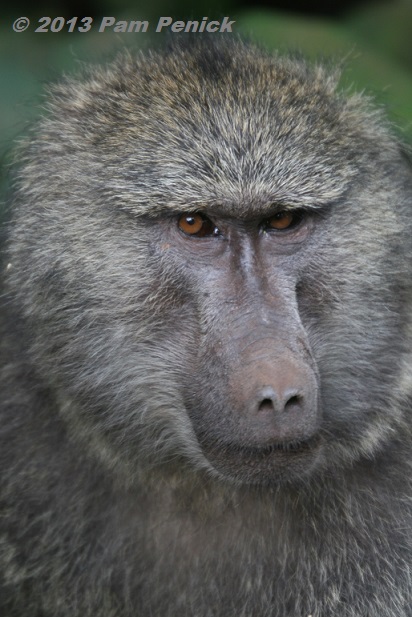 A troop of baboons captured our attention for a while. They relaxed along the roadside, just looking around, grooming each other, and giving their young some playtime.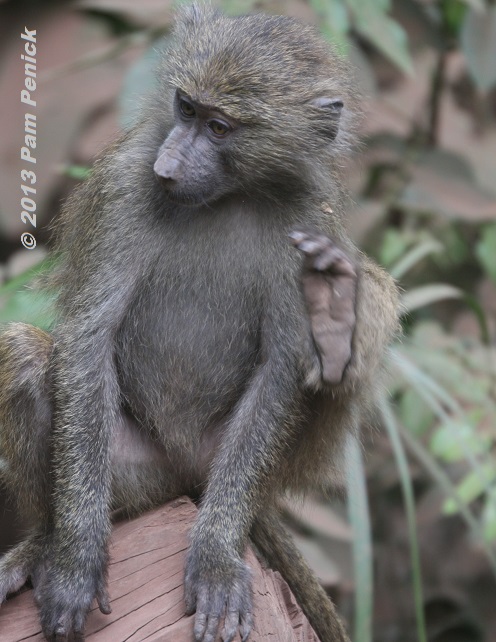 Scratching an itch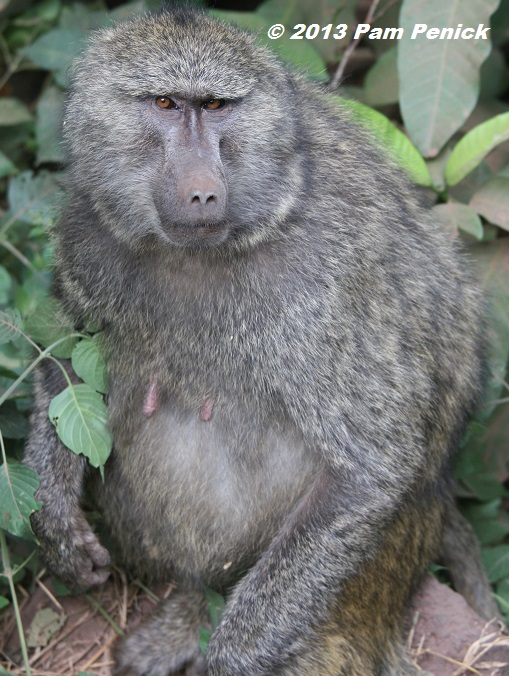 They're rather fierce looking.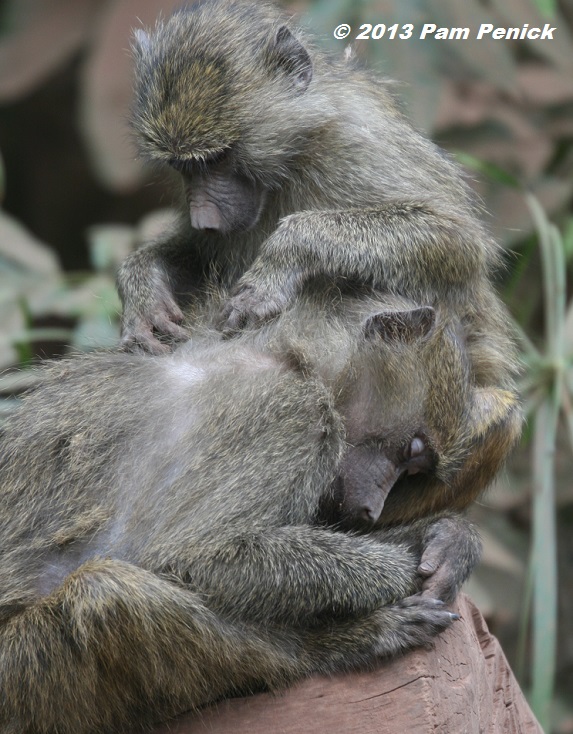 Being social creatures, they assiduously groomed each other, eating what they picked off.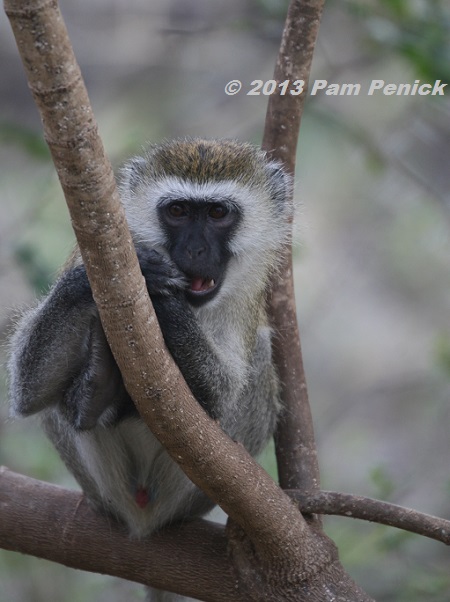 Not far away, vervet monkeys were hanging out in a tree.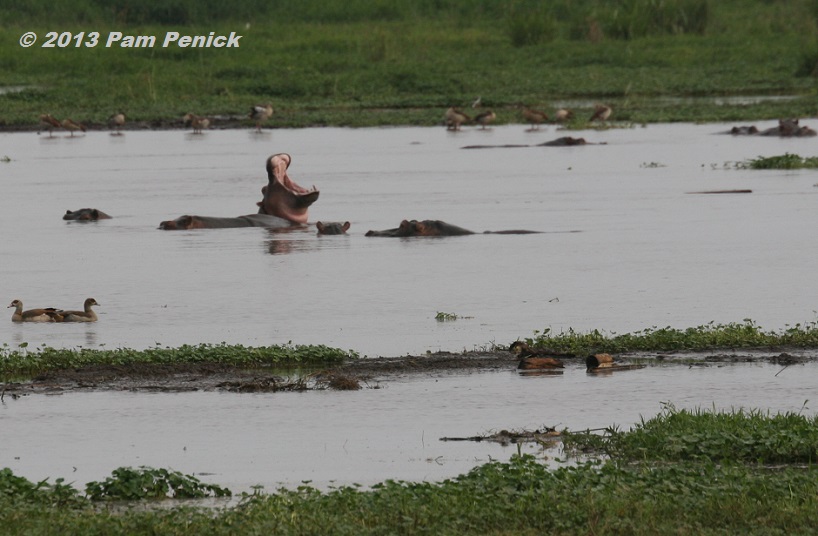 Leaving the forest, we drove out to the lake and watched hippos.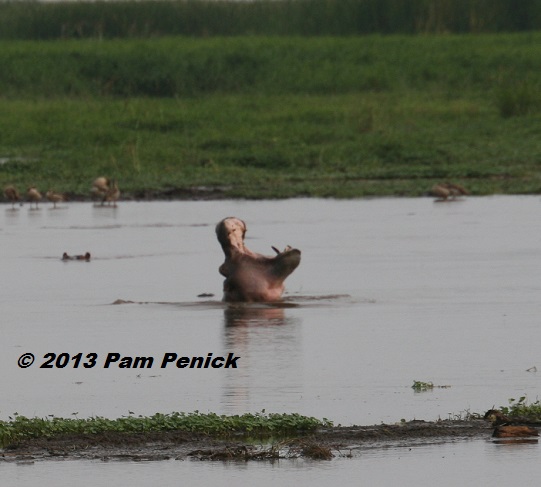 What a mouth!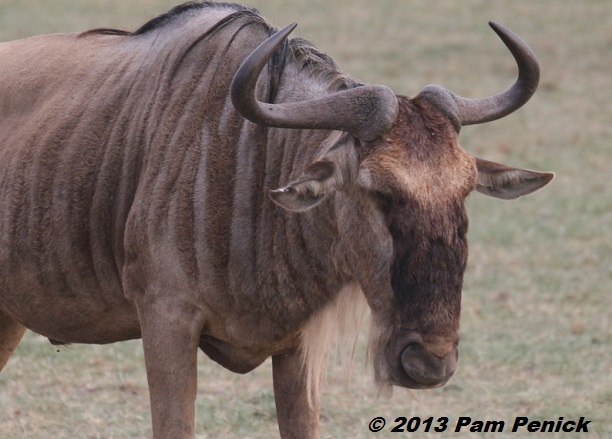 On the short-grass plain we spotted wildebeest.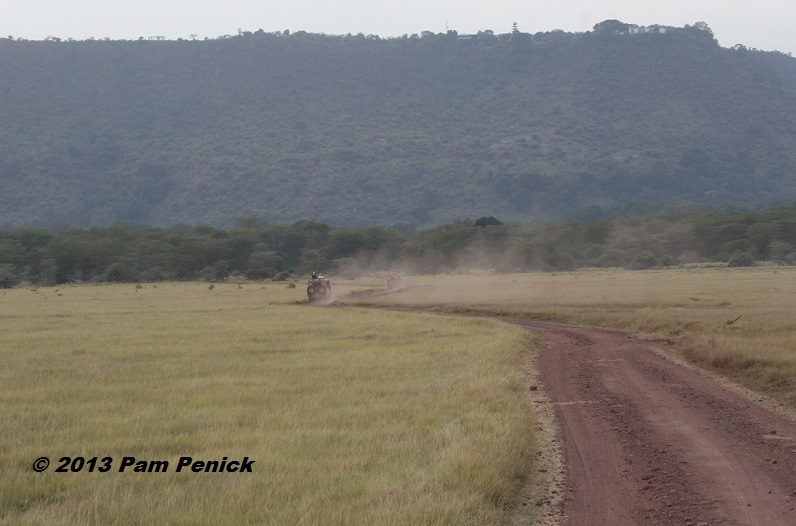 The Great Rift escarpment rose before us. Our hotel was somewhere at the top.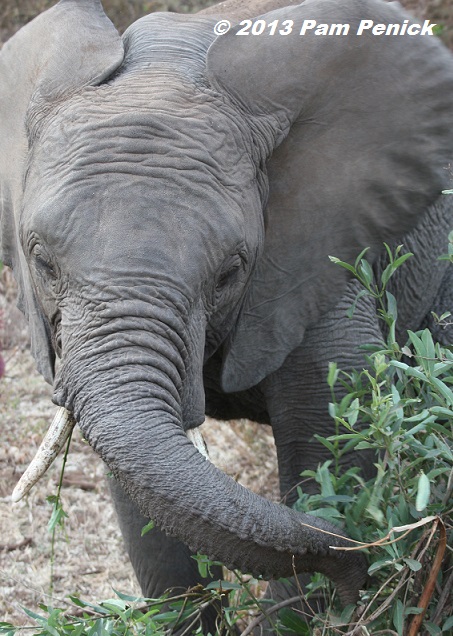 Elephants were busy with lunch in the shrubbery alongside the road.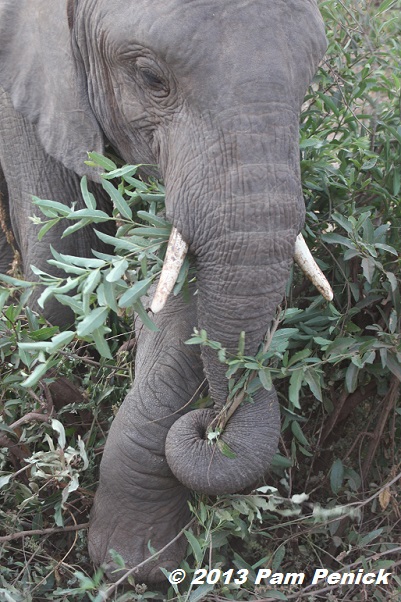 Wrapping his trunk around a sapling tree, this elephant would put his foot on the roots and pull, breaking off branches and leaves, which he then stuffed in his mouth. He was methodical about it.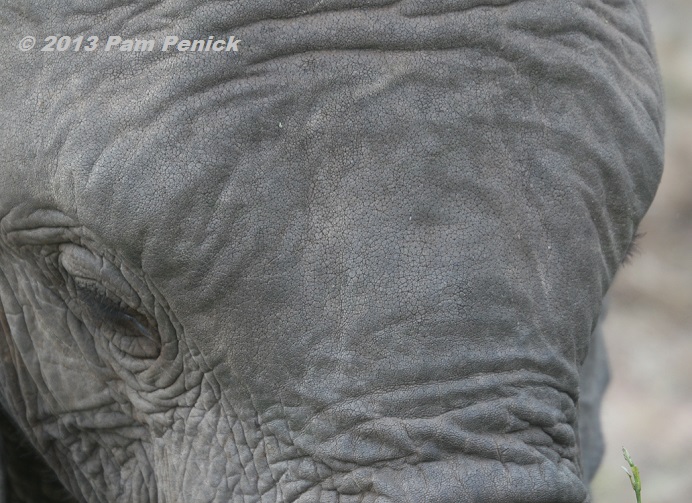 Elephant skin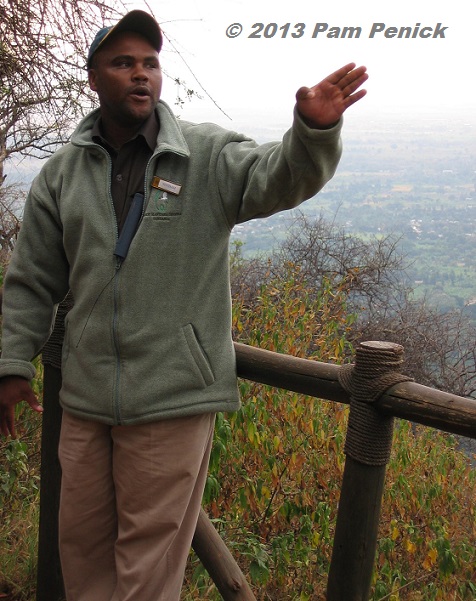 The next morning a naturalist named Yotham took us on a nature walk around the hotel and along the edge of the Rift. He was very knowledgeable and told us about the ant defense of the whistling acacia tree, termite mounds as animal habitats, and the Little Five (as opposed to the Big Five). The Little Five are: rhinoceros beetle, ant lion, buffalo weaver, leopard tortoise, and elephant shrew.
We'd already heard about the Big Five — a term coined during the era of hunting safaris for the animals most dangerous to hunt on foot: rhinoceros, lion, buffalo, leopard, and elephant. Thank heavens safaris are today about shooting with cameras, not guns. We were not lucky enough to see all of the Big Five on this trip. The rhino and the leopard eluded us, giving me a reason, if I needed one, to return one day. (Assuming, that is, that rhinos don't go extinct in the next decade or two. Sadly, the rhinoceros is in grave danger of going extinct in the wild.)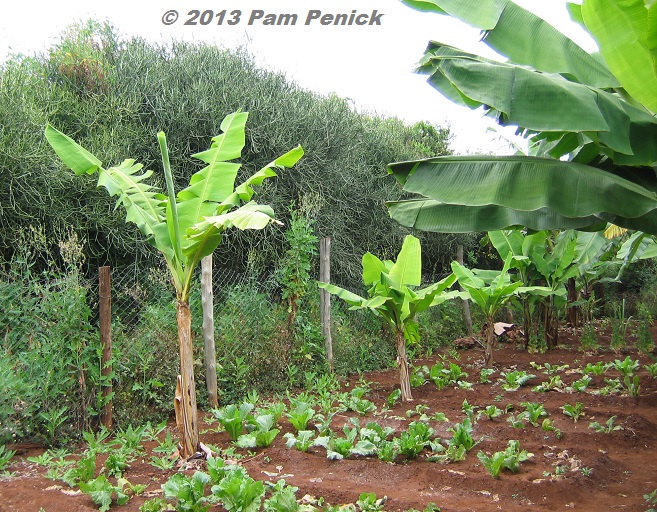 We also got a tour of the hotel's extensive vegetable garden, naturally fenced against hungry and destructive animals like elephants with Manyara trees, the tall euphorbia for which the park is named. A wire fence provided additional protection from smaller animals. Inside, staff gardeners grew bananas, oranges, papaya, spinach, leeks, tomatoes, radishes, and avocados.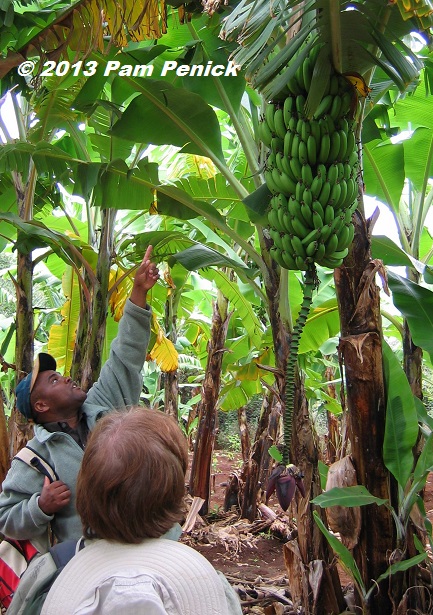 Banana tree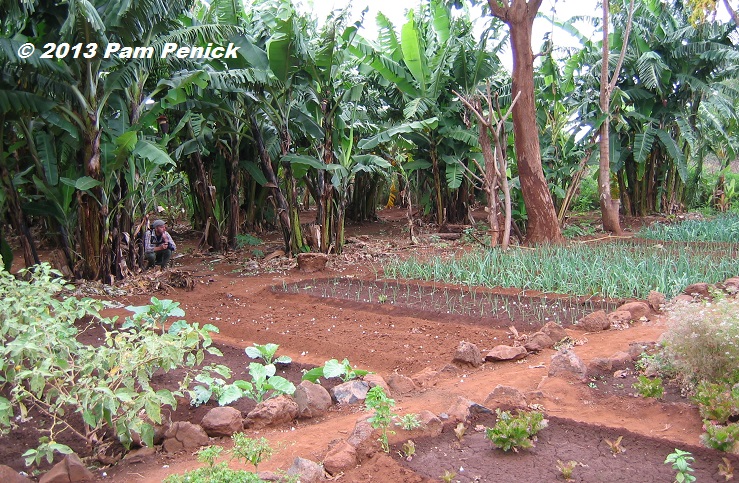 The garden was irrigated by channels that carried water poured at one end to each planting bed. We enjoyed many fruits and vegetables grown here during our meals at the hotel.
Up next: A visit to the multicultural village of Mto Wa Mbu, where we toured a local home. For a look back at our game drives in Tarangire National Park, click here.
All material © 2006-2014 by Pam Penick for Digging. Unauthorized reproduction prohibited.