December 31st, 2013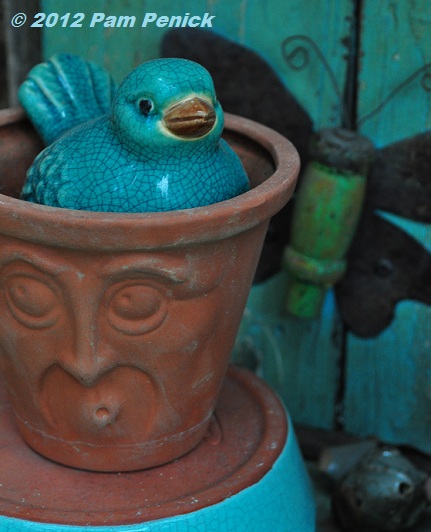 Last year I had fun selecting my 10 favorite photos from 2012, an annual meme led by Les at A Tidewater Gardener. So here I am again, sitting at my computer in stretchy pants and a cuddly cardigan, with the spicy scent of a baking pumpkin pie wafting into my office, to round up my top ten from 2013.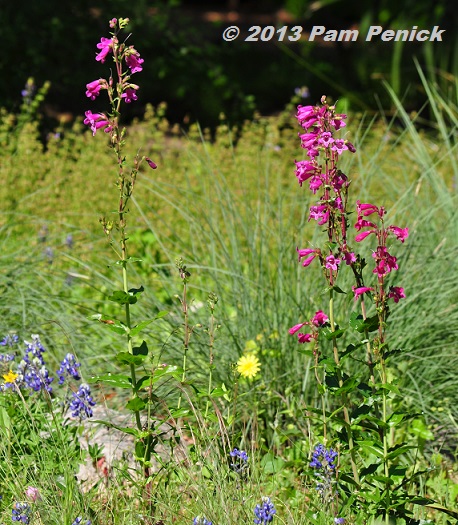 Following the porch vignette at top, I'll lead with hot-pink penstemon in bloom during an April visit to the Lady Bird Johnson Wildflower Center in Austin.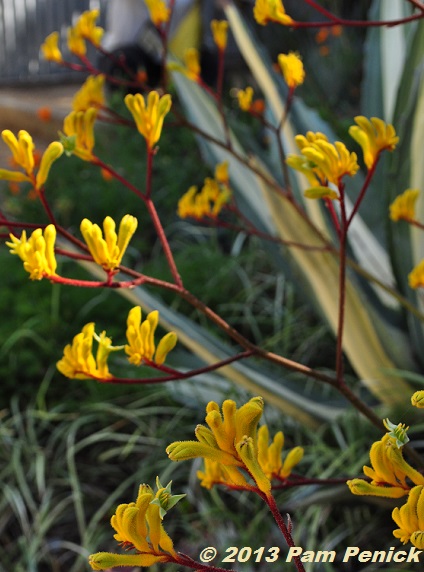 Next, several from the Bay Area in California, which I visited last summer. Here are golden kangaroo paws at Matt Gil's garden, one of the stops during the San Francisco Garden Bloggers Fling.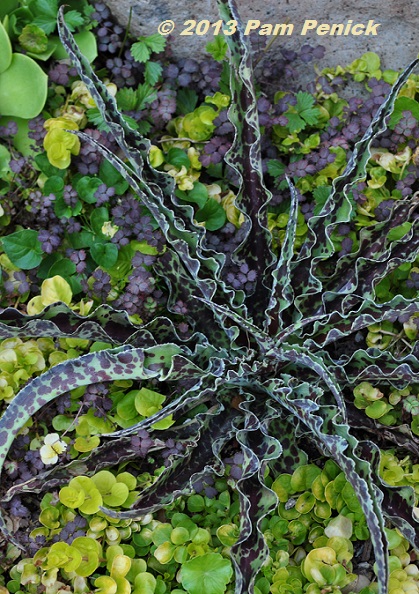 'Chocolate Chips' manfreda amid chartreuse and purple groundcovers, one of the many masterful plan combinations in Ann Nichols's garden, another stop on the San Francisco Garden Bloggers Fling.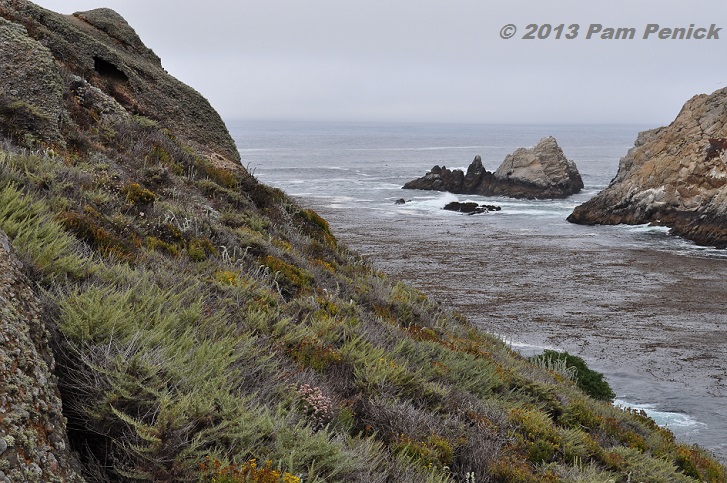 The wild coastline at Point Lobos State Natural Reserve near San Francisco, one of the day trips my family and I made after the Fling ended.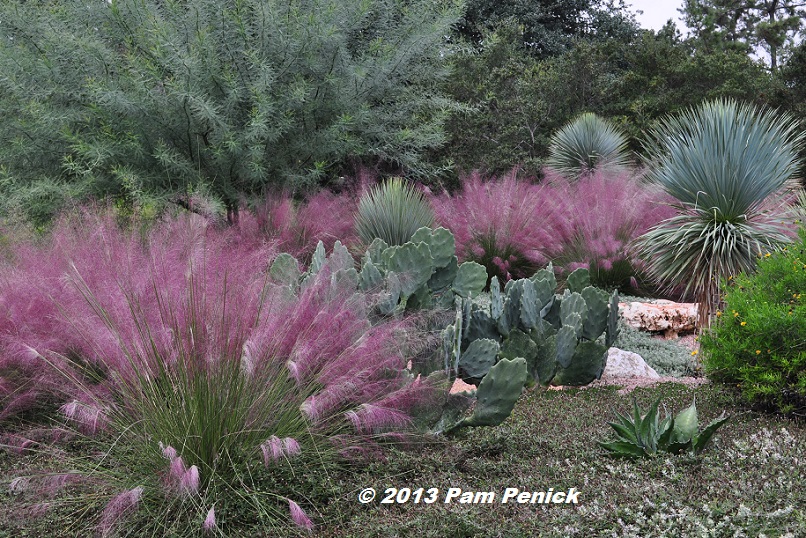 Back in Austin, a Curt Arnette-designed garden during peak Gulf muhly season.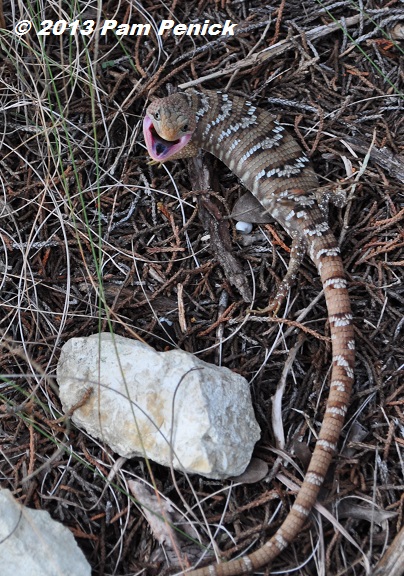 An angry Texas alligator lizard flashing its blue tongue at me during a fall hike in St. Edward's Park in west Austin.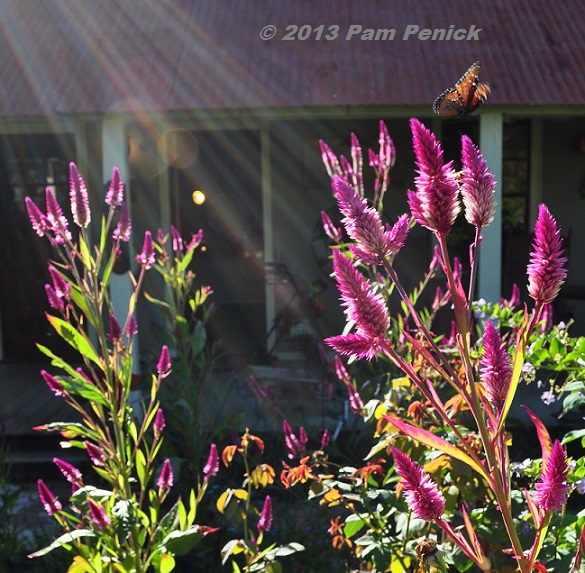 Celosia and a queen butterfly glow in autumn light at the Antique Rose Emporium in Brenham, Texas.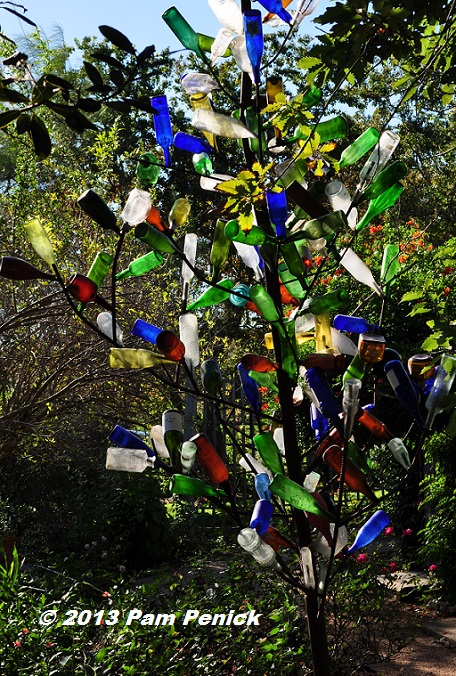 The Rose Emporium's bottle tree illuminated like stained glass during that same visit.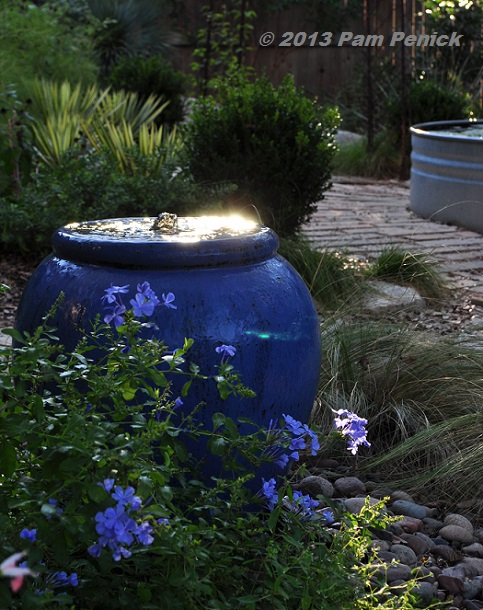 I hope always to have a photo from my own garden in any "favorites" list. In looking back, I notice I took fewer photos of my garden this year than I've ever done since starting this blog in 2006. I often feel that I've covered my own space so extensively that I have nothing new to say about it, and so I look for other gardens to post about. And yet my own garden is always on my mind and the first and last thing I see each day, whether I'm enjoying a garden-puttering day or just catching glimpses through the office window as I work.
I don't go in much for New Year's resolutions, but if I were to make one, I'd resolve to take more photos of my own garden in 2014 — not to "feed the blog" but just to remind myself, when looking back, of how much beauty it gives me every day.
Happy New Year! See you in 2014!
All material © 2006-2013 by Pam Penick for Digging. Unauthorized reproduction prohibited.