November 27th, 2013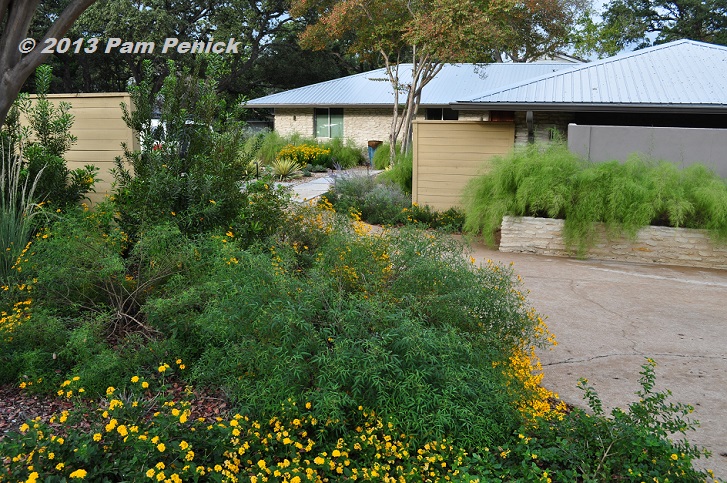 Two of my design clients in Austin's Northwest Hills neighborhood have recently mentioned this front garden to me as one that inspires them, so I thought I'd feature it for a Drive-By post. Blessed (cursed?) with an enormous, corner-lot expanse of thirsty St. Augustine lawn and a location along a busy street, these homeowners clearly needed to cut down on the grass and give their home a sense of enclosure, privacy, and security.
Soon after they moved in, they put up new wooden fencing, which they stained an attractive butterscotch color, and planted a generous xeriscape garden on both sides of it. Strategically placed panels in the front yard create a sort of courtyard out of what used to be a very exposed front entry. Here's the view from the driveway. The fence panels offer peek-a-boo glimpses of a semi-private space near the front door, and they make a neutral backdrop for the streetside garden. On this fall day, gold lantana and copper canyon daisy were in full bloom.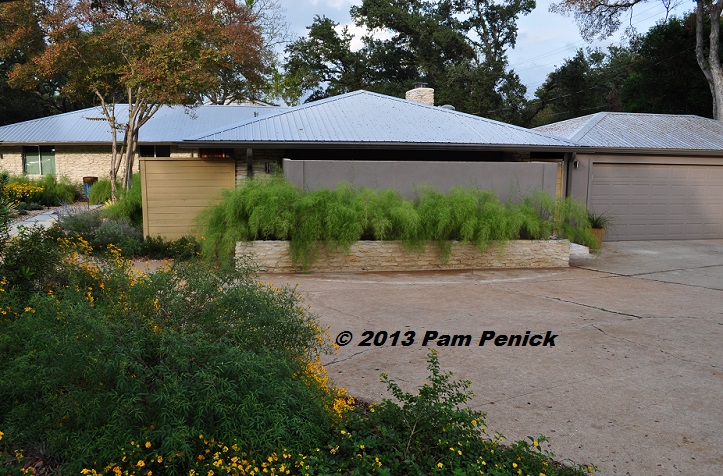 Panning right, you see a line of graceful bamboo muhly grasses in a raised bed along a stucco wall. Wouldn't it be perfect to have a tiny courtyard garden behind the wall, with a spilling fountain of some sort, to create a view from inside the house?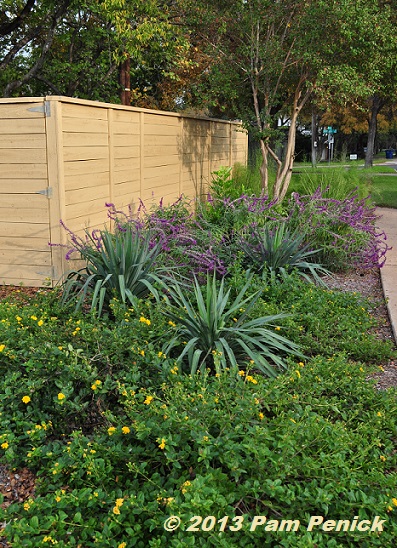 Looking all the way to the right you see the back-yard fence and a garden bed of gold lantana, softleaf yucca, Mexican bush sage, and crepe myrtle that eliminates the need for mowing and adds beauty for passers-by.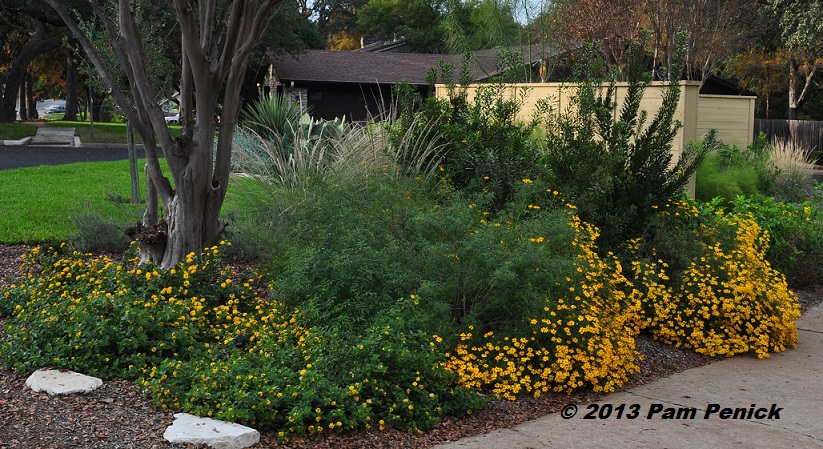 But the real action is at the front corner, where the owners installed an L-shaped section of fence about halfway between the house and the street. Both sides are planted, creating pretty views for the owners and passers-by, and the bed width is appropriately scaled to the size of the lot and height of the fence — i.e., they avoided the common mistake of too-narrow beds that tightly hug a fence line.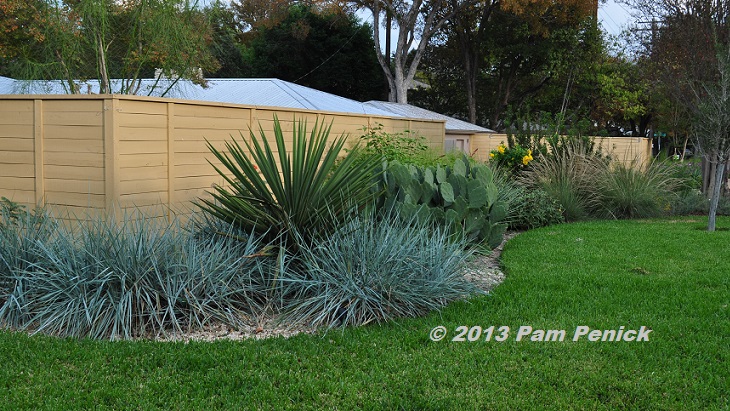 At the hot, sunny, outer corner, lyme grass, also known as dune grass (probably Leymus arenarius) adds cool, blue color to a drought-tolerant planting of yucca, prickly pear, salvia, yellow bells, and ornamental grasses. A curving swath of St. Augustine lawn ties the design to that of neighboring homes and nicely frames the garden beds. Since this is a sunny location, if it were my garden I'd consider replacing the thirsty St. Augustine with Habiturf.
(A note on the lyme grass: Not being familiar with this plant, I asked my gardening and designing friends about their experiences with it in Austin. It got poor reviews: invasive, sprawly, not surviving tough drought and heat conditions. Still, it does look quite nice in this garden. Anyone else in central Texas growing it and wanting to share an opinion, please let me know in the comments.)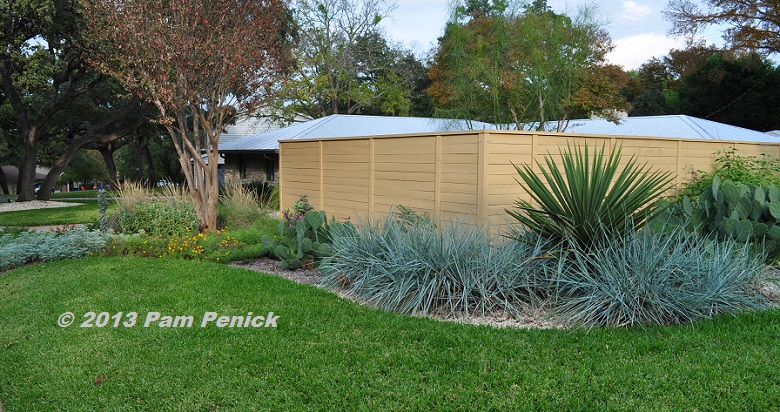 Looking left, the home's front walk is located on the cross street, just past the crepe myrtle. You can see the roofline behind the L fence, but the owners have privacy while still enjoying some openness and a connection with the neighborhood.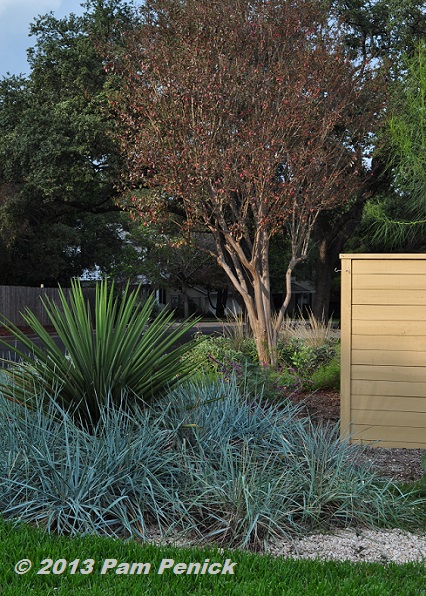 I can see why this garden is inspiring neighbors to pull up unnecessary lawn and add flowering perennials mixed with spiky yuccas and soft grasses. It saves water and creates an attractive habitat for butterflies, bees, and birds. Plus it looks fantastic.
All material © 2006-2013 by Pam Penick for Digging. Unauthorized reproduction prohibited.