November 18th, 2013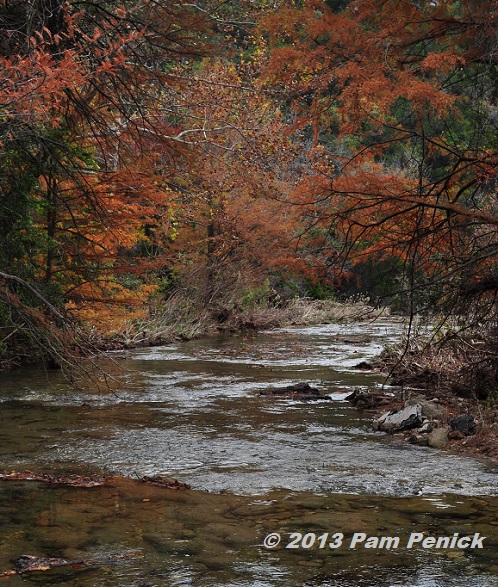 We've been hiking at St. Edward's Park — more of a greenbelt trail, really — for 20 years, enjoying the reliable flow of Bull Creek, the treetop views from the bluff that follows the creek, and the park's relative solitude, especially as compared to Barton Creek Greenbelt. We've hiked pre-kids, with babies in front carriers and toddlers in back carriers, with eager school-age kids running up the trails ahead of us, pausing only to chunk rocks in the water, and with our pre-teen daughter and her friends for a "birthday hike" (we love that she chose a nature hike as her birthday activity).
Last Saturday morning the kids, both teens now, were away from home, one at a sleepover, the other on a road trip to Dallas. David and I decided to visit St. Edward's Park without a kid in tow for the first time in almost 18 years. We did, however, bring along our dog Cosmo for his first hike at the park. He seemed to enjoy it too.
The drive along Spicewood Springs Road, just northwest of Loop 360 and only 4 miles from our house, is especially scenic in the fall when the bald cypresses along the creek turn rusty orange. The view pictured above is glimpsed from one of the many low-water crossings along the road — crossings that are often underwater and impassable during heavy rains.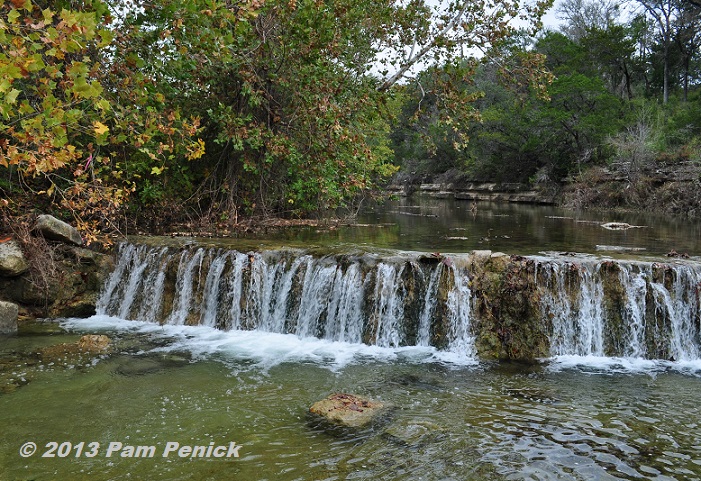 The narrow, two-lane road twists and turns through tunnels of overhanging trees, past white-fenced horse farms, and across meandering Bull Creek numerous times, offering views like this.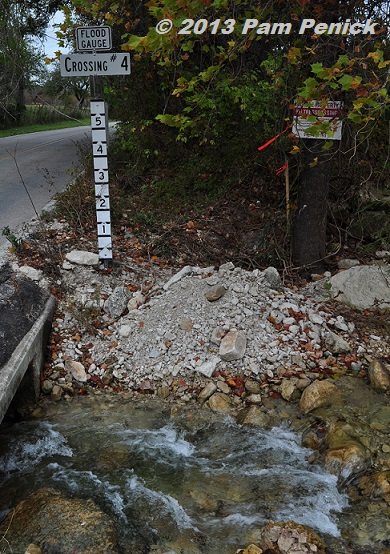 The low-water crossings are not bridges but just strips of pavement across the creek, with no guard rails, giving you a nearly creek-level view of the water as you cross. People drive too fast along this shoulderless, curvy road, so it's not a good place to walk or stand with your camera to get a photo (ahem). Though hazardous, it's a beautiful drive, but probably one day the state will replace the crossings with actual bridges and widen the increasingly trafficked road, destroying its out-in-the-country atmosphere. Enjoy it now.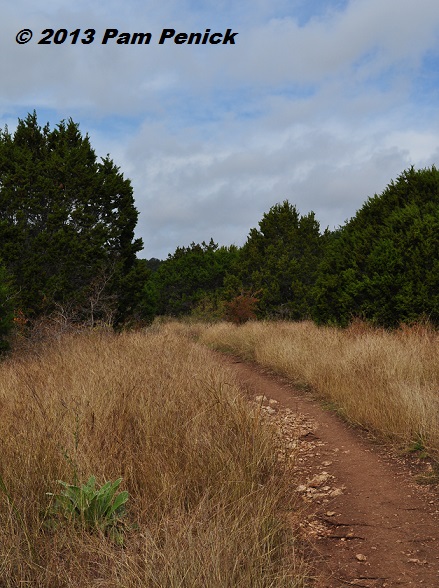 St. Edward's Park is accessible via two small parking areas along Spicewood Springs Road. The first one is little more than a pull-out. The second has room for about a dozen cars. Dogs are allowed but must be on leashes on the bluff side of Bull Creek, which is part of the Balcones Canyonlands Preserve. It's my pet peeve to be approached by dogs off-leash, especially wet and muddy ones, so I wish the entire park was subject to leash laws.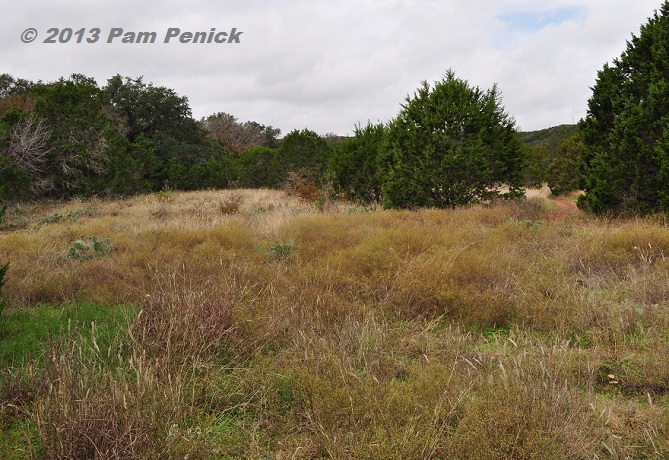 From the parking area you enter the park through a savannah of grasses bordered by oaks and cedars (what we call our native junipers).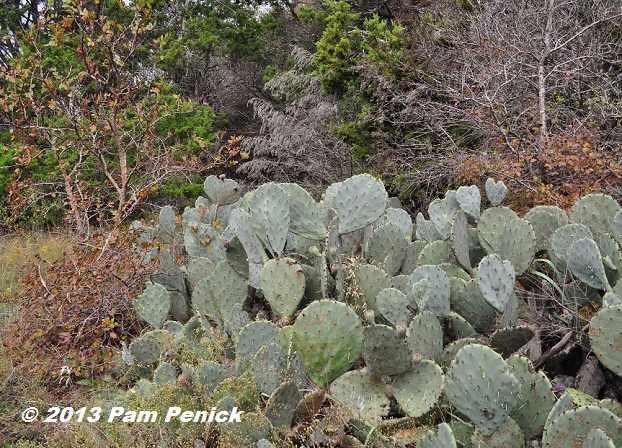 Stands of prickly pear add the contrast of their Mickey Mouse ears.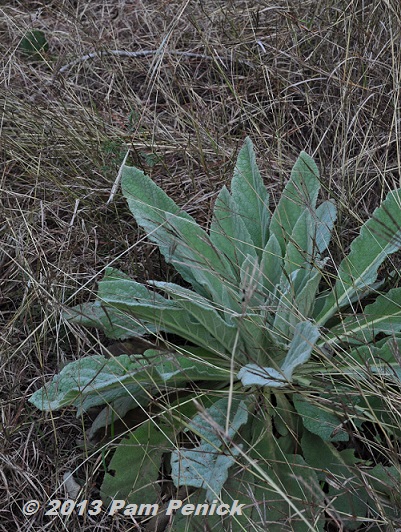 I spotted this mullein growing amid the grasses.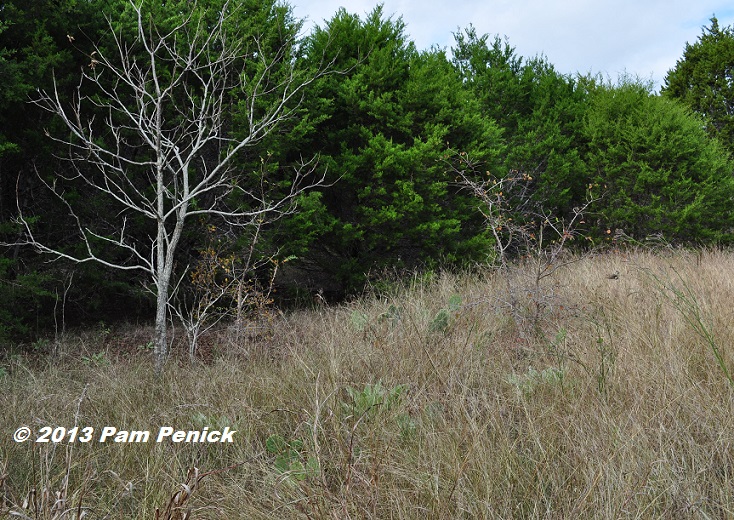 The green junipers make a pretty backdrop for the grasses and trees that are coloring up for fall — or already bare.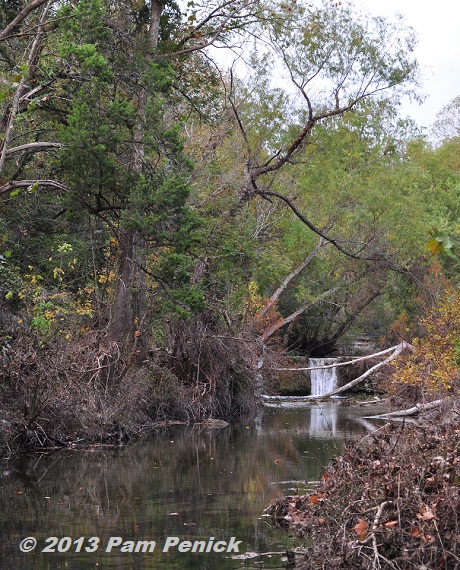 The trail leads to Bull Creek at various points. We wanted to cross in order to hike the hill trail along the bluff, but because of recent heavy rains, the creek was running high, and the stepping stones we usually cross on were either underwater or washed away. Evidence of recent flash floods was plain to see, as brush and other debris hung from the limbs of creek-side trees at a height well over my head.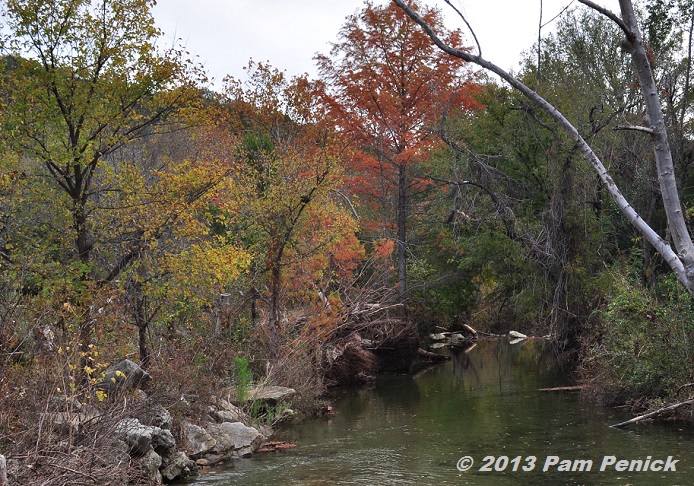 Rather than get our feet wet, we followed the trail a little further to where it meets up with Spicewood Springs Road and darted over the low-water crossing to avoid getting caught out there by a car shooting around the bend. Like I said, the road is not safe for walking, but we were quickly back on the trail, on the bluff side of the creek.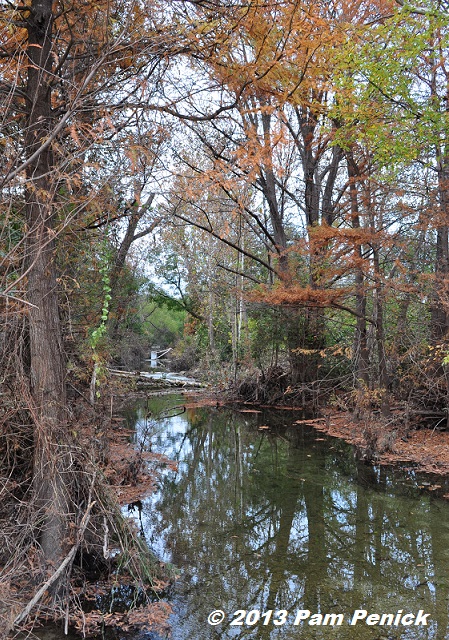 The bald cypresses were littering the water with their needles.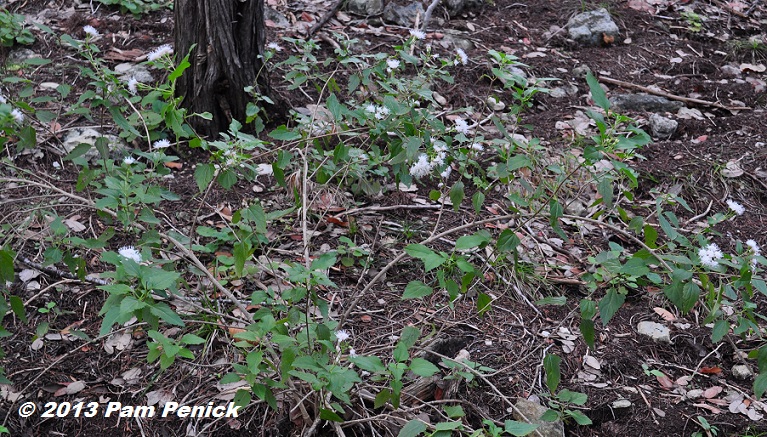 As we started climbing the rugged hillside trail, I saw shrubby white boneset, or white mistflower (Ageratina havanensis), one of several native plants I spotted on our hike that I'm growing in my own garden. It's fun to see them in their native habitat — like catching a glimpse of an old friend in an unfamiliar part of town.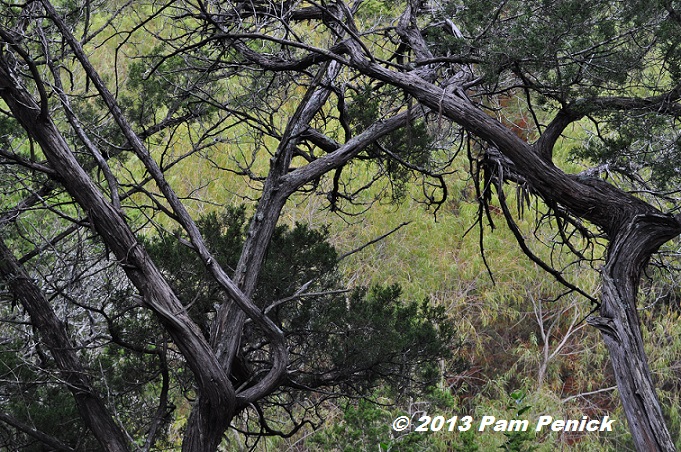 Atop the bluff — part of the Balcones Escarpment that separates the blackland prairie on the east side of Austin from the thin caliche soils in the hills of West Austin — the trail follows the creek 300 feet below. For the most part you only catch glimpses through the cedars and oaks that edge the bluff.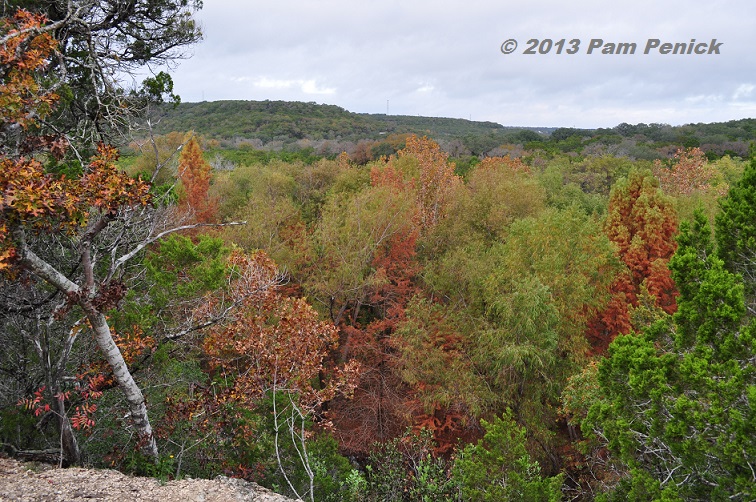 But every so often the trees clear and this view opens up.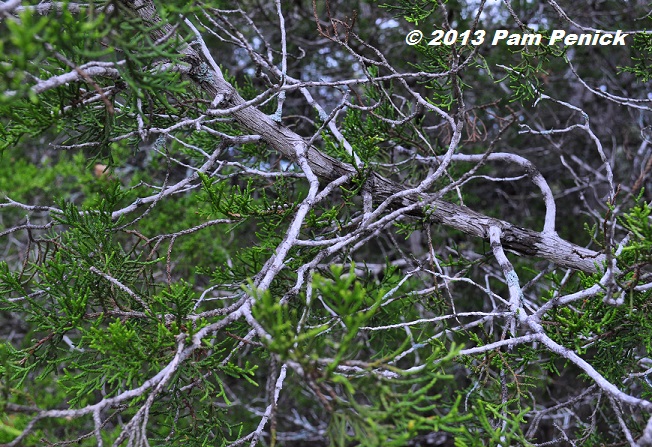 The cedars smell of Christmas, but soon the pollen from the male trees will cause cedar fever misery across the city.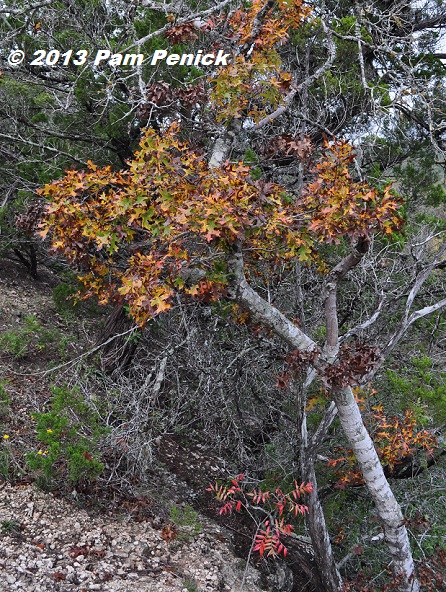 Some of the oaks were colorful with golden leaves.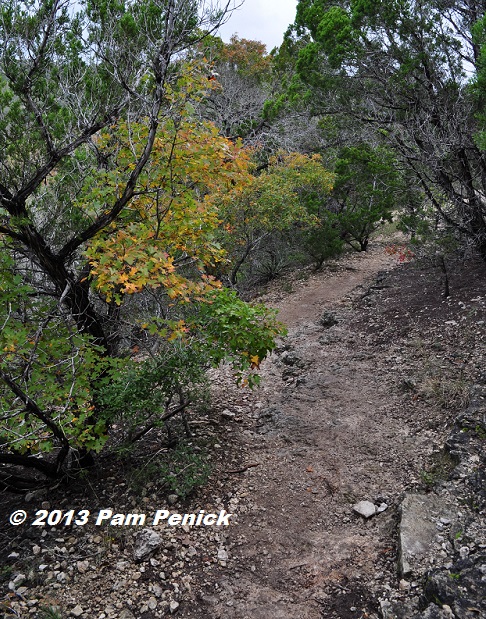 And another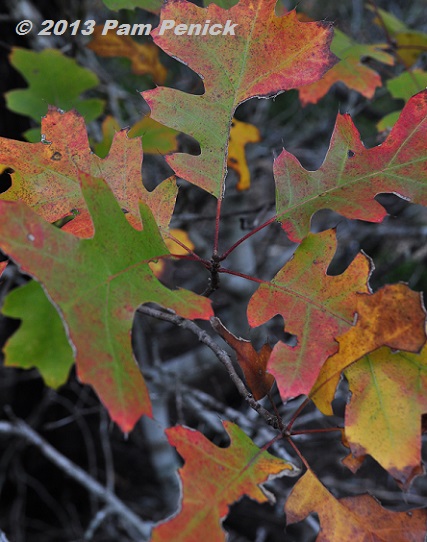 Close-up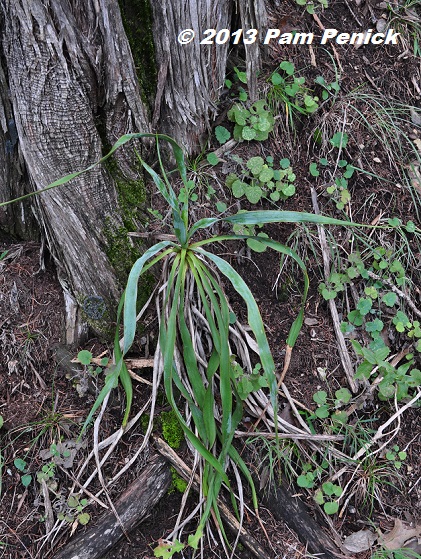 Twistleaf yucca (Y. rupicola) clings to the thin soil among the cedars. Yep, I'm growing this native at home too.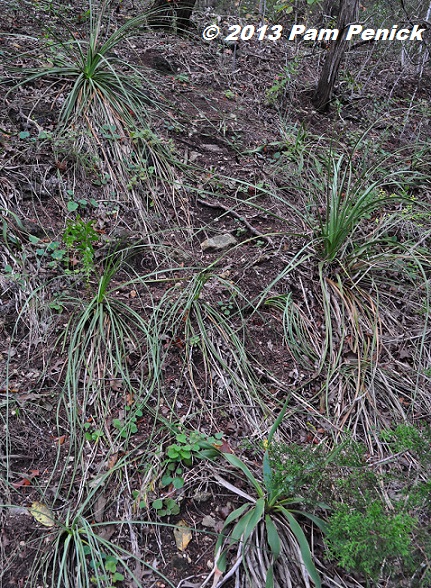 Devil's shoestring (Nolina lindheimeriana) also colonizes these inhospitable, rocky slopes. I grow this grass-like plant in my front garden, where it helps hold the soil on a natural berm.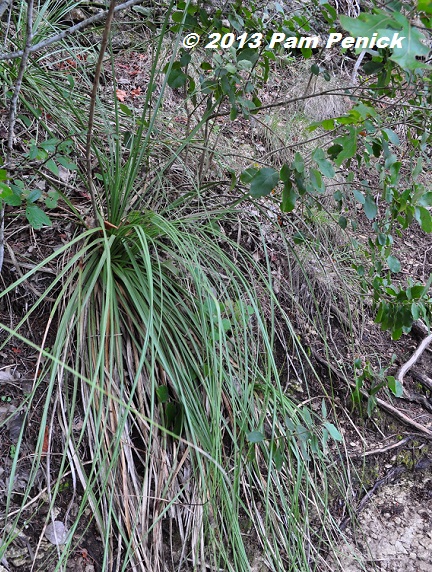 It cascades so nicely.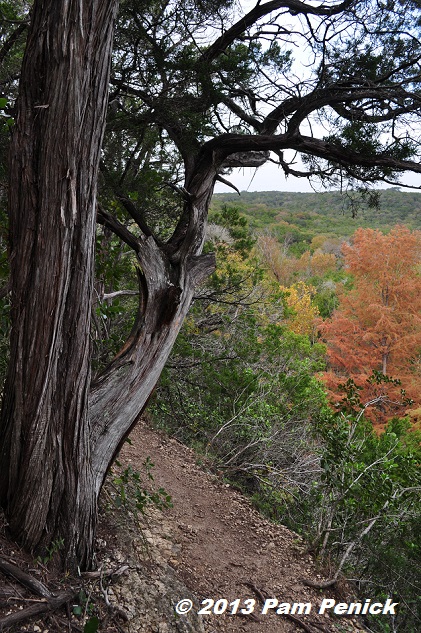 The narrow trail hugs the cliff up here, with a steep drop-off on the right down to Bull Creek.

More views. Those are rooftops on the hill in the distance.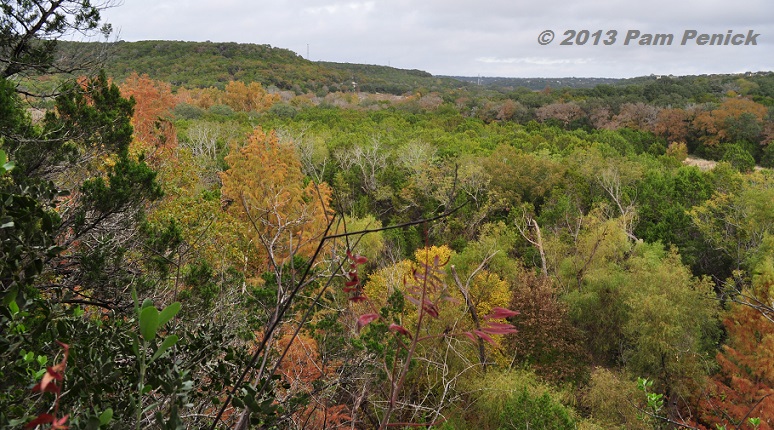 We are surprisingly close to town.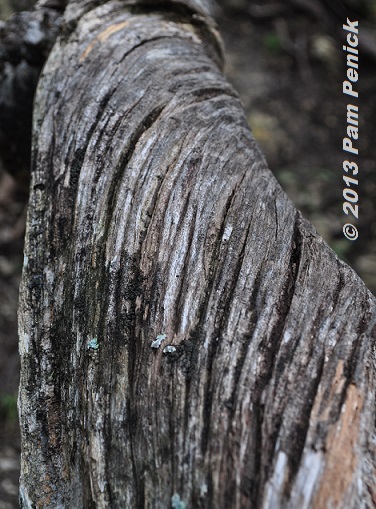 Twisted cedar trunk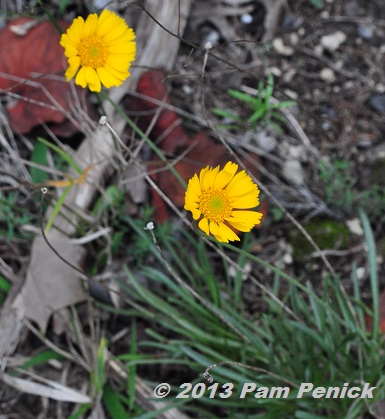 And here's a cheerful native wildflower that I grow in my garden: four-nerve daisy (Tetraneuris scaposa).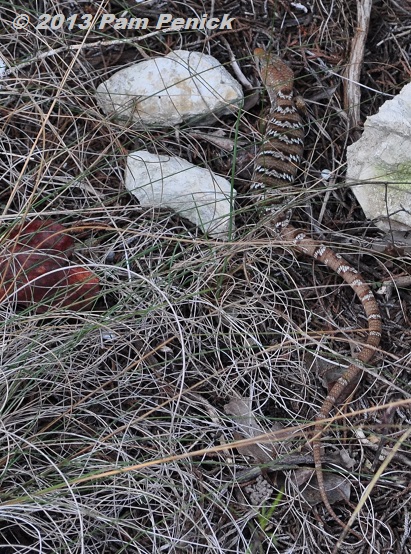 Cosmo surprised this guy along the trail, and he was decidedly not cheerful about being investigated by a dog's nose.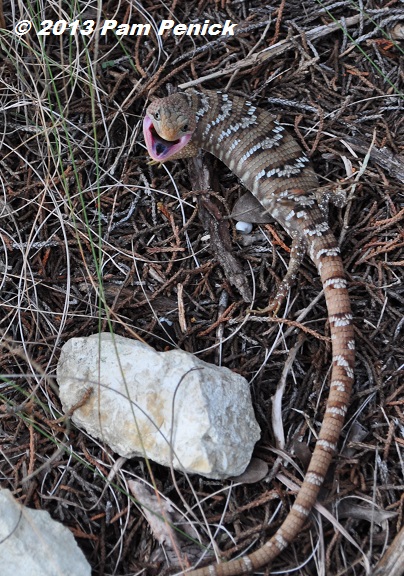 It's a Texas alligator lizard, which I'd never run across before. His body was about 6 inches long, with a tail that added another 8 inches.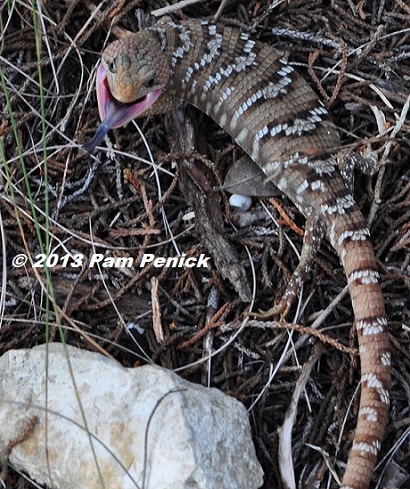 Check out that blue tongue! I snapped a few photos, and then we backed away. Sorry to alarm you, little fellow.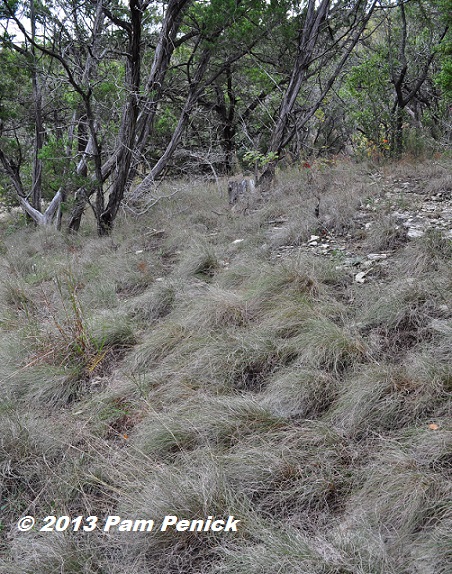 A native grass or a sedge? I'm not sure.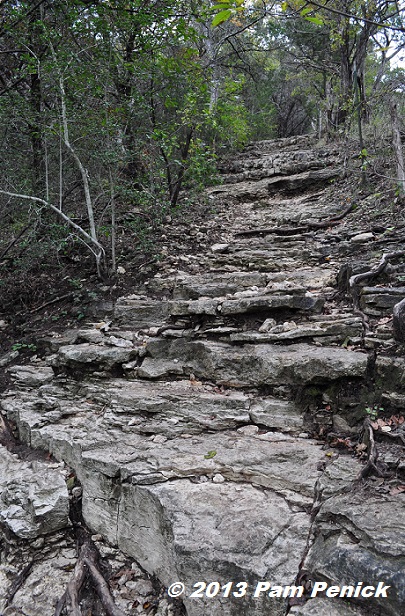 After some ups and downs across crumbly rocks, the trail eventually leads back down to the creek, with this rugged "stair" of exposed limestone being the final challenging part of the trail for the less sure-footed hiker.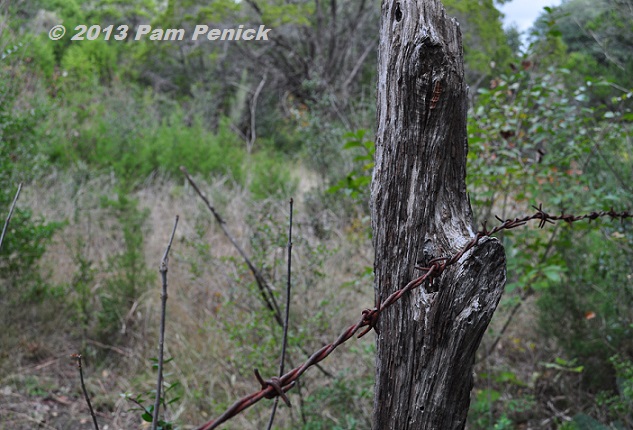 Barbed-wire fencing separates the park from privately owned land.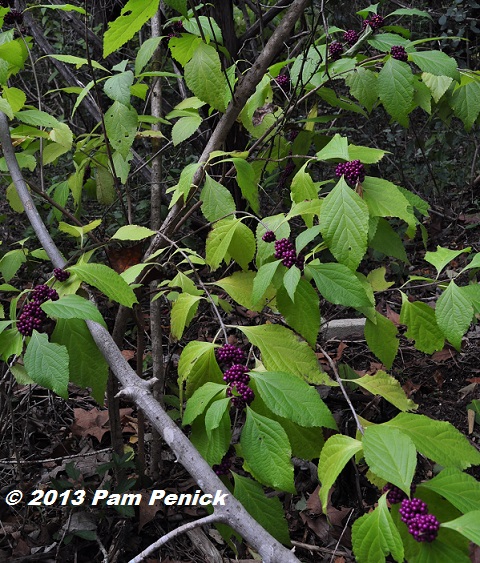 As you near the creek, bottomland natives like American beautyberry (Callicarpa americana) appear. This is a shade-loving favorite in my garden.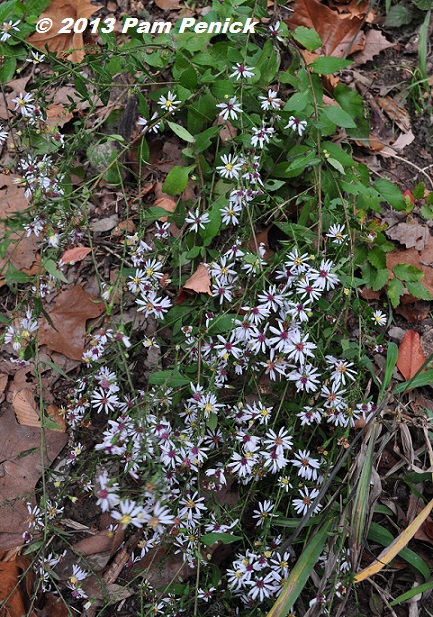 I don't know this one — an aster of some sort? Update: Annie in Austin suggests Texas aster (Symphyotrichum drummondii var. texanus).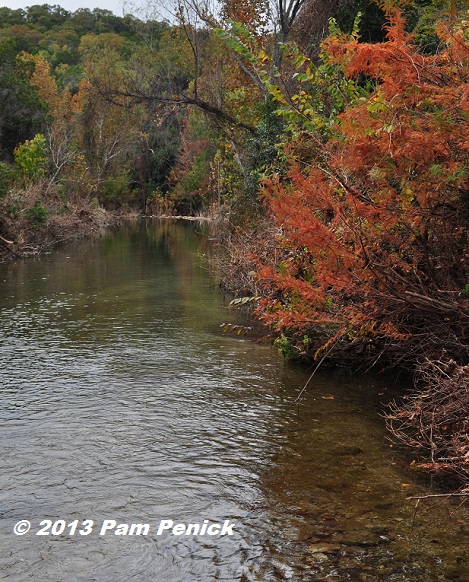 And we're back to the creek, upstream from where we started.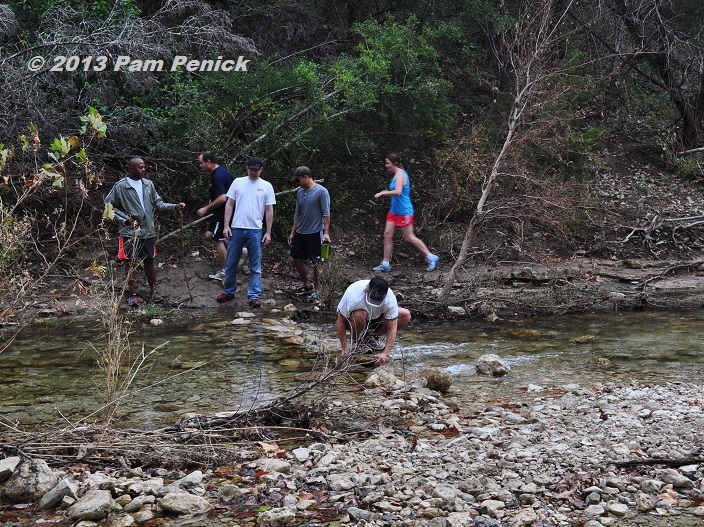 The stepping-stone crossing was underwater here too, and someone was trying to lay a new line of boulders on which to cross.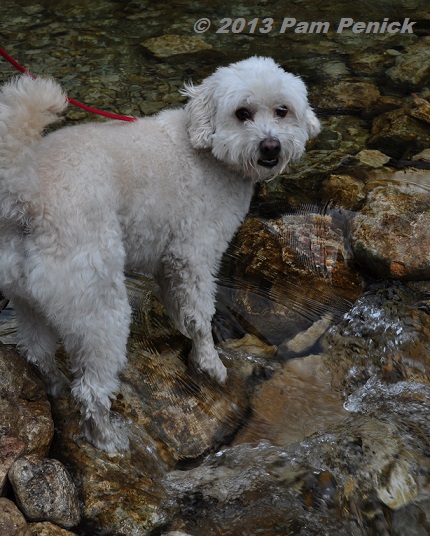 Cosmo tried to hop across on them, but the rocks were slick and in he went. It's not too deep, but his legs are quite short. David and I got across with damp but not soaking feet.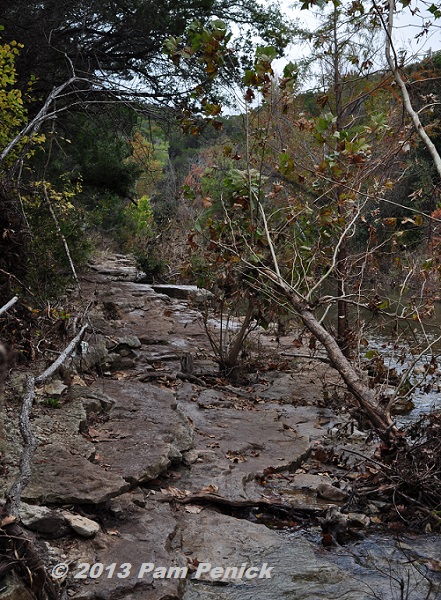 An exposed limestone ledge follows the creek here.

More fall color — it seems a little early this year and especially colorful.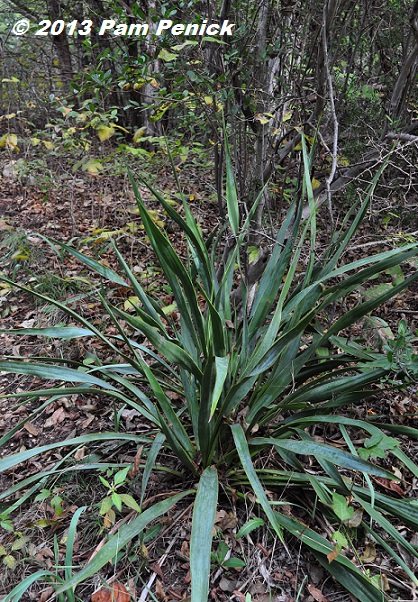 Another handsome twistleaf yucca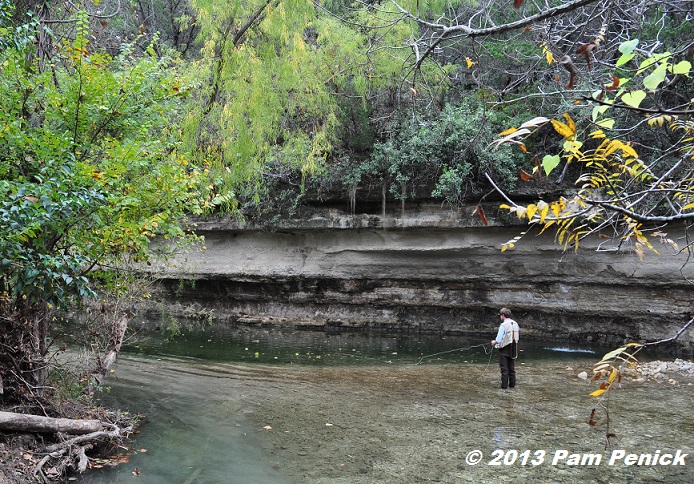 I leave you with one last view of Bull Creek. This is one of my favorite spots, where the bluff rises up on one side and water drips like a bead curtain to ripple the water (see the line of white to the right of the fisherman; that's where the water falls). A fly fisherman stood ankle-deep, casting into the deeper water where we've often seen fish. What a perfect spot, whether he caught anything or not.
All material © 2006-2013 by Pam Penick for Digging. Unauthorized reproduction prohibited.
posted in
Cactus
,
Dogs
,
Fall color
,
Fences
,
Grasses
,
Lizards
,
Parks & greenbelts
,
Paths
,
Rivers & creeks
,
Texas natives
,
Trees
,
Views
,
Waterfalls
,
Wildflowers
,
Wildlife
,
Yuccas