November 12th, 2013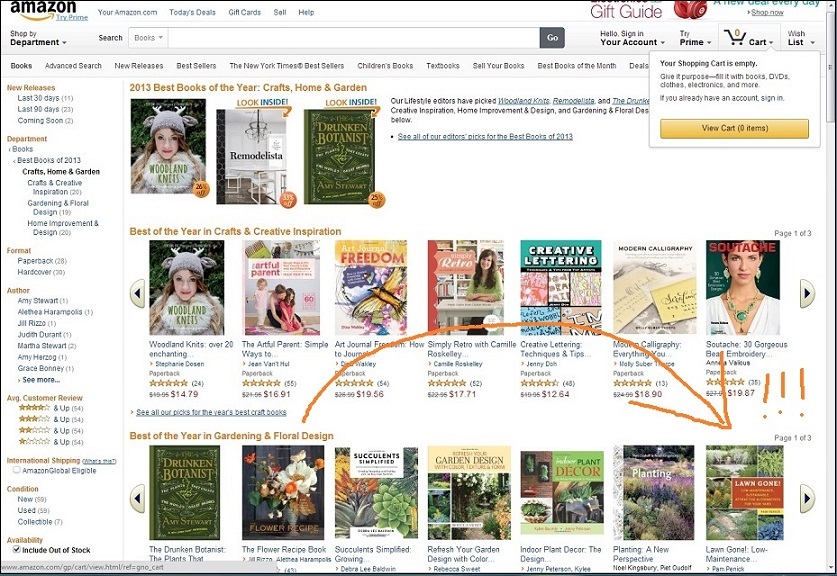 The editors at Amazon have put Lawn Gone! on their list of best gardening books of 2013, and I couldn't be more thrilled!
I may be a little biased, but I
do
think
Lawn Gone!
would make a great Christmas, Hanukkah, or other holiday gift — for the non-gardener who wants to get rid of the lawn but isn't sure what to put in its place; for the new gardener who needs ideas and how-to information to get started; for the devoted gardener who wants to be inspired by images of beautiful, lawnless gardens; for the environmentalist who wants to create an earth-friendly landscape; for the wildlife gardener who wants to attract birds, bees, butterflies, and other creatures to the garden; for the senior who wants simple groundcovers that require less maintenance than the lawn; for the family who wants to create a yard that's alive and enticing to explore with the kids.
Therefore I'm giving away TWO copies of Lawn Gone! to ONE lucky reader: one for you and one to give away as a gift. Just leave a comment on this post telling me why Lawn Gone! would make a great gift for someone in your life. I look forward to hearing why you think your friends or family members would enjoy the book. And if you already have a copy, you can give them both away as gifts! Since they'll be coming directly from me, I can also inscribe them however you'd like.
The giveaway will run through next Monday, Nov. 18, at 11:59 pm. I'll randomly draw the winner's name and announce it here next Tuesday. Good luck!
Note: Due to shipping costs, this giveaway is open only to residents of the continental U.S. Thanks for understanding.
UPDATE 11/19/13: WE HAVE A WINNER! Congratulations to Meredith H. Meredith, I hope Lawn Gone! inspires you and your dad in your gardening adventures! I've sent you an email with additional information.
Many thanks to everyone who took the time to enter and especially to each of you who shared your hopes and dreams for your gardens. Happy digging!
All material © 2006-2013 by Pam Penick for Digging. Unauthorized reproduction prohibited.