November 7th, 2013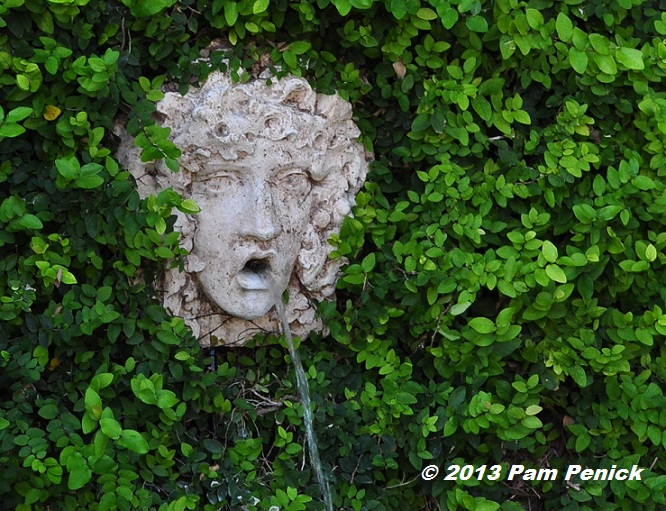 On a perfect fall day last Saturday at the Antique Rose Emporium near Brenham, Texas, after I'd given my Lawn Gone! talk, I strolled around for an hour taking pictures in the golden light of late afternoon. Felder Rushing, the final speaker of the day, was entertaining a crowd in the speakers' hall, so I had the display gardens largely to myself.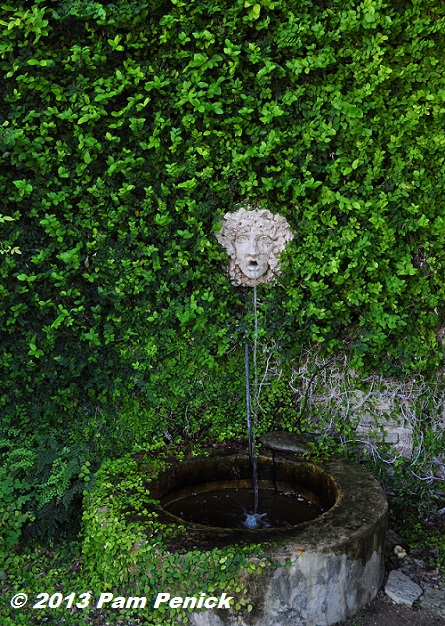 The gardens occupy several acres of former farmland — wide, open space that can dwarf a garden that lacks sufficient structure. A handful of old houses and other buildings have been rescued and revived as gift shops, speaking venues, and information booths, providing structure and quaint charm. Large-scale arbors also add structure — not to mention vertical space to grow roses and other climbers — as we'll see below. The wall pictured here, however, is cloaked in tidy fig ivy, with a classic spitting fountain and circular basin. I love this.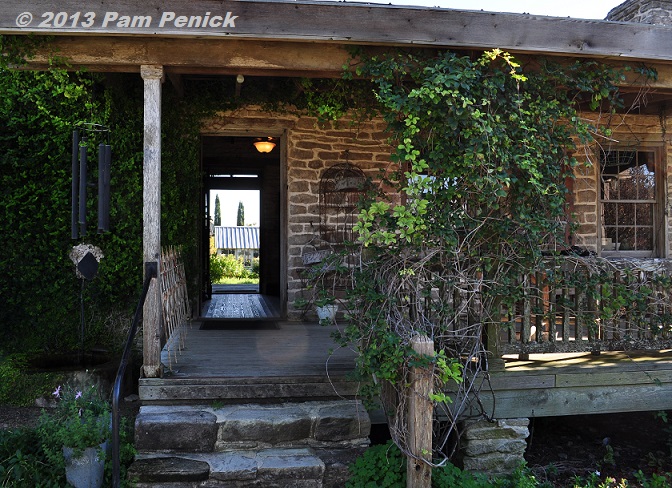 The wall is part of an old stone house that contains garden decor, bulbs, and gift items. No employees ever seem to man the little shops scattered around the grounds, relying on the honor system for customers who want to buy. The trust is so refreshing.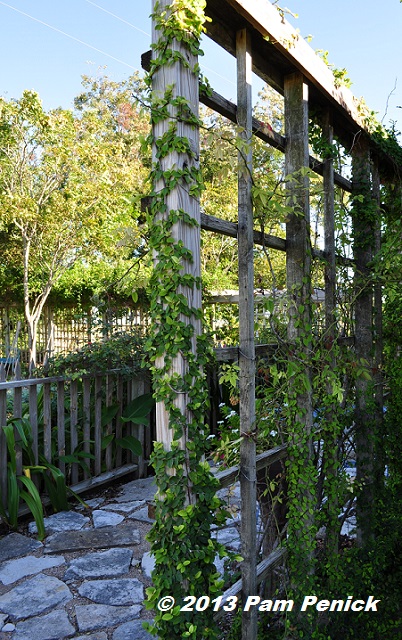 Lattice screening stands tall along a side path…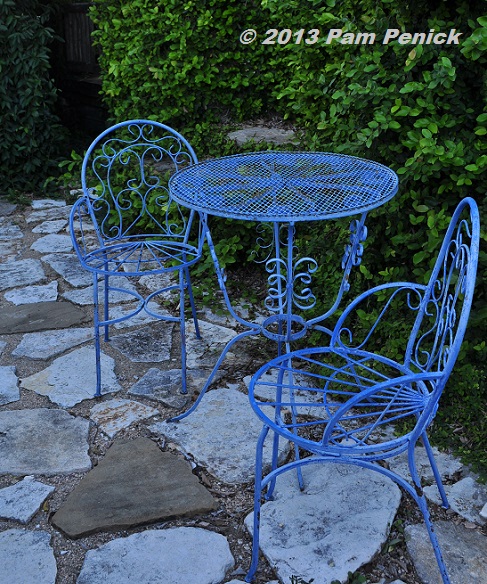 …and helps to shelter a blue bistro set on a small patio.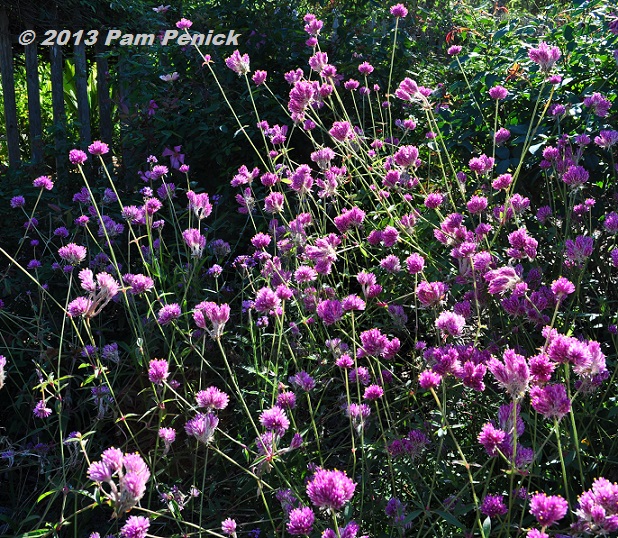 'Fireworks' gomphrena blazing alongside a picket fence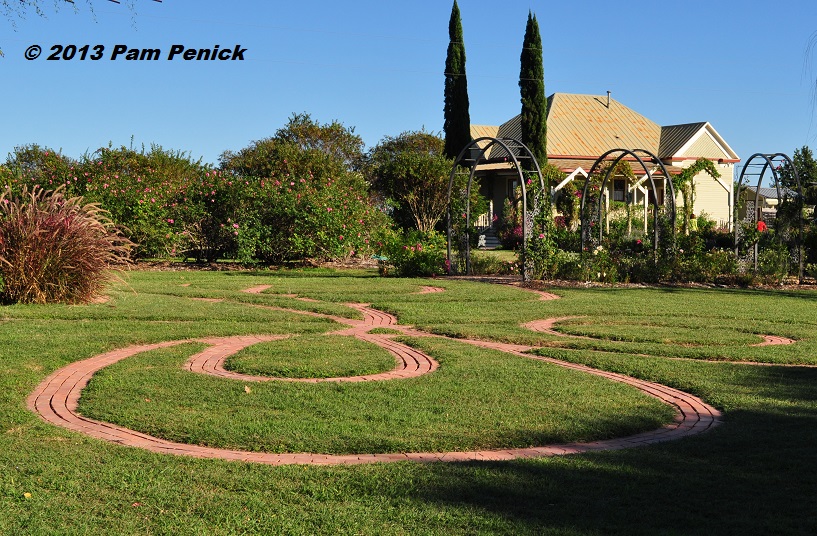 The central part of the display gardens is quite open, given over to a winding, brick labyrinth. Enormous shrub roses and arching arbors give definition to the space.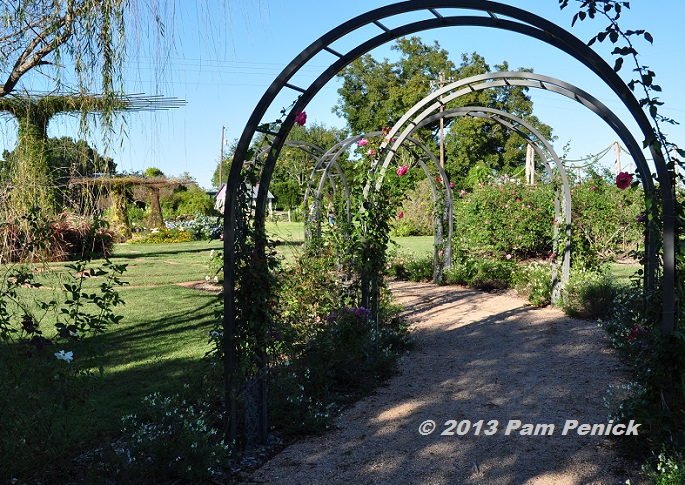 A gravel walk curves beneath a series of arched arbors planted with roses.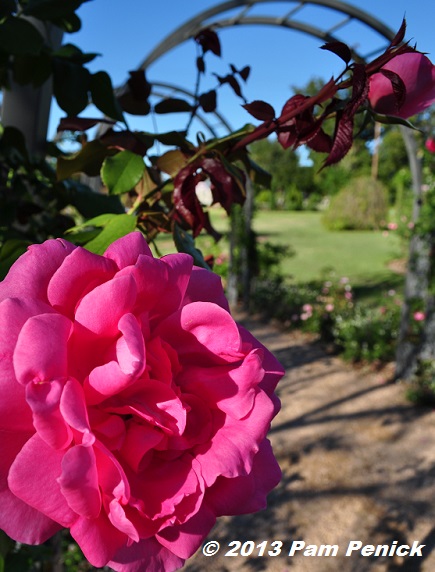 Hot-pink roses like these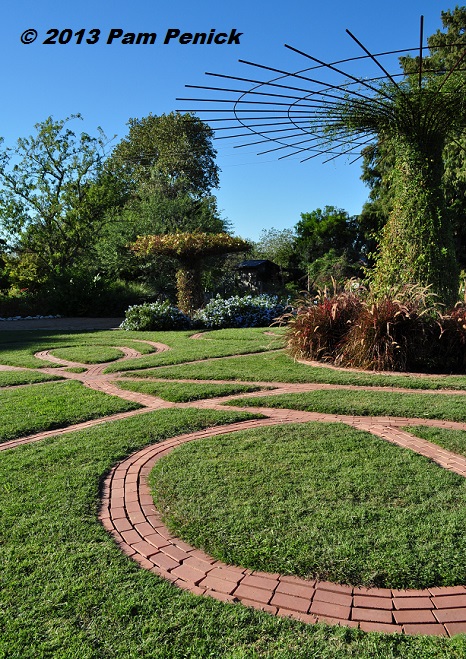 You exit the arbors into the labyrinth, whose narrow, brick path meanders around several treelike metal rose towers.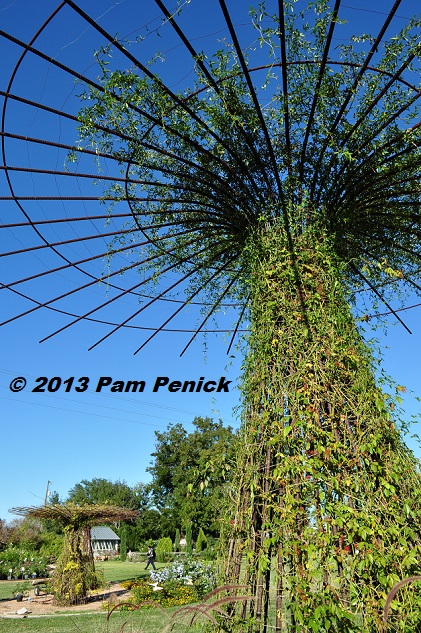 This is a big one.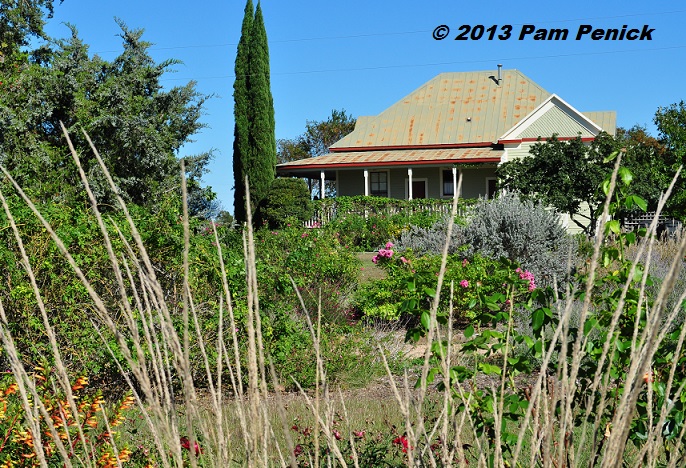 There's so much rural Texas charm in the old farm structures that adorn the property. I've never peeked in the windows to see if it's an occupied or rentable structure. ARE does rent out the gardens and buildings for weddings.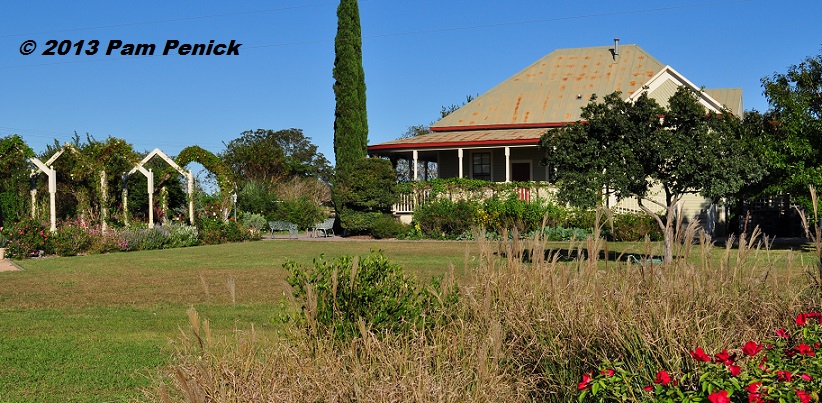 Another look from a more open viewpoint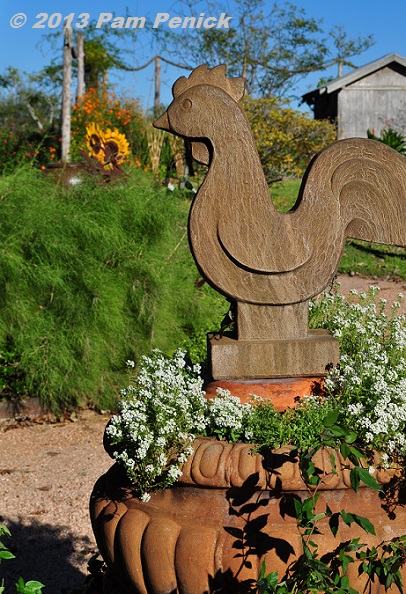 I have this same rooster sculpture, a gift from my sweet husband, in my own garden. Here it's elevated to sculptural prominence on an overturned pot inside a larger, planted pot.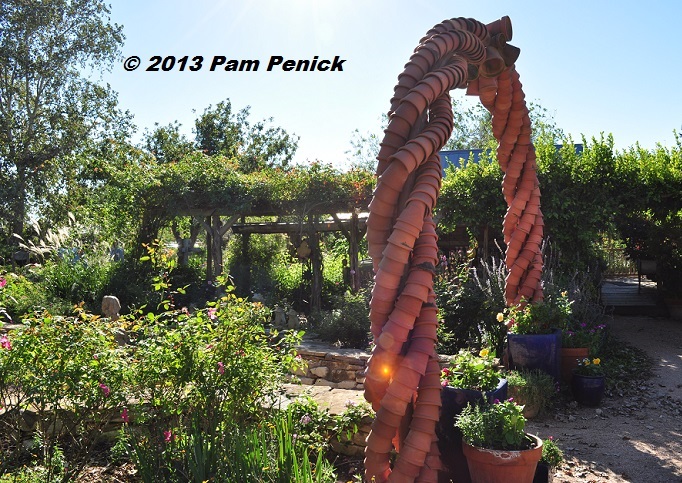 This spiraling, terracotta-pot archway greets visitors entering the nursery.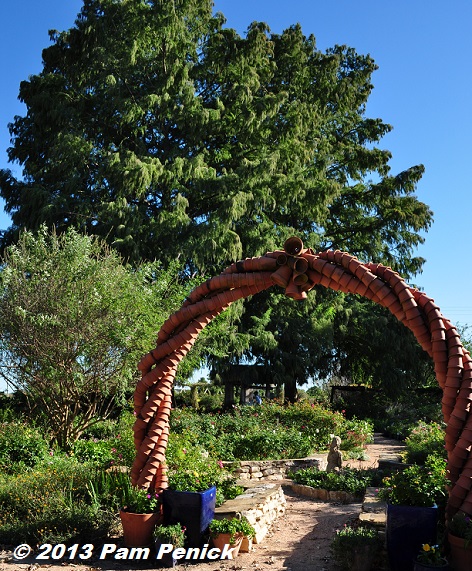 How many pots do you reckon make up this arch?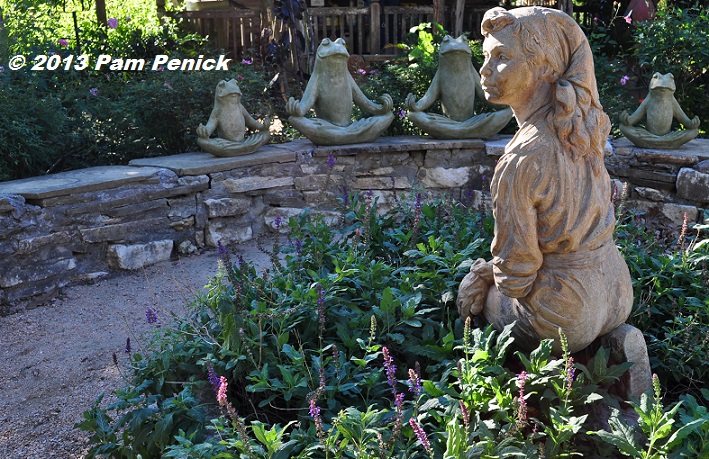 Just inside the arch, a statue of a young gardener kneels in a flowerbed, with an audience of meditating frogs for company.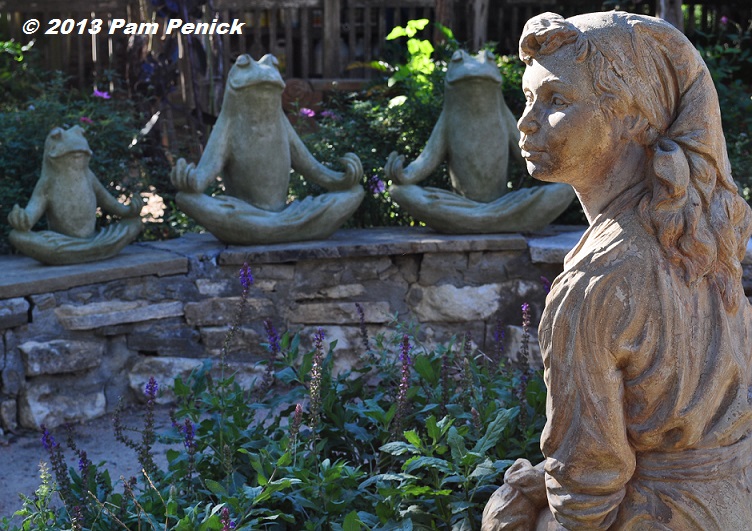 The frogs are funny, but something else has caught her eye.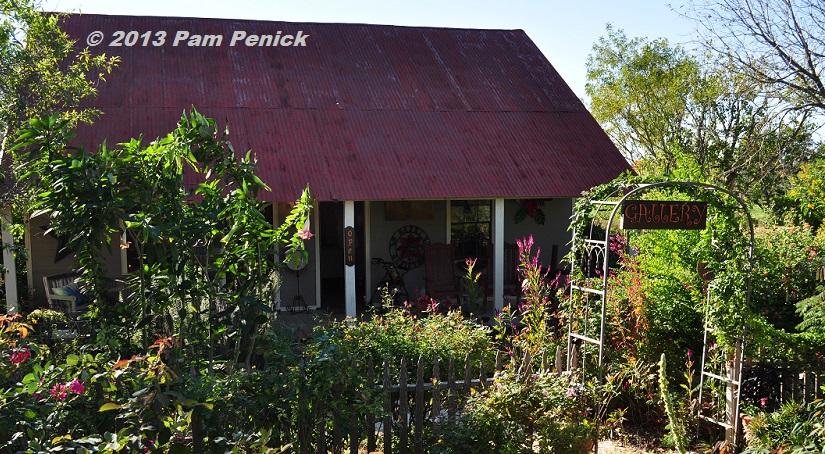 A tin-roofed gallery — another gift shop — enclosed by a picket fence and cottage garden, beckons visitors.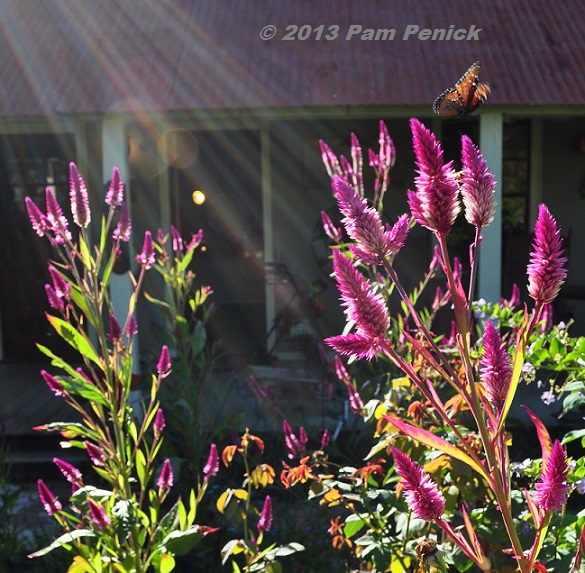 Flame-tipped celosia beckons the butterflies as well.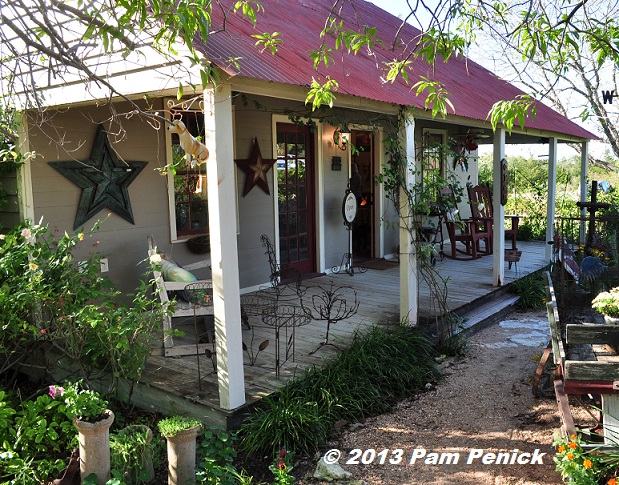 Porch chairs and rockers invite you to sit a spell.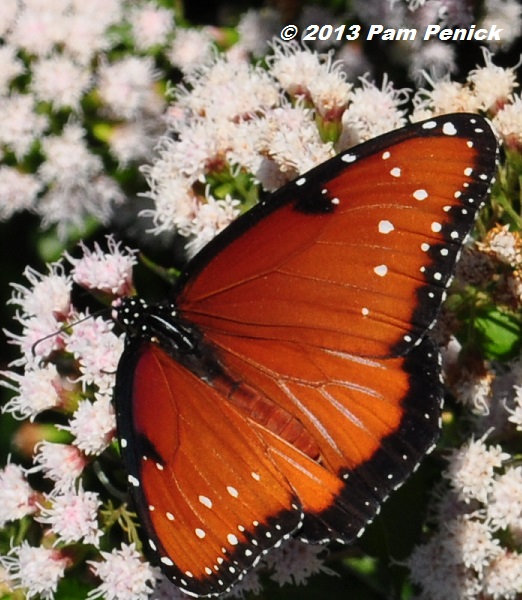 On this day, white mistflower was attracting queen butterflies, skippers, and bees by the hundreds.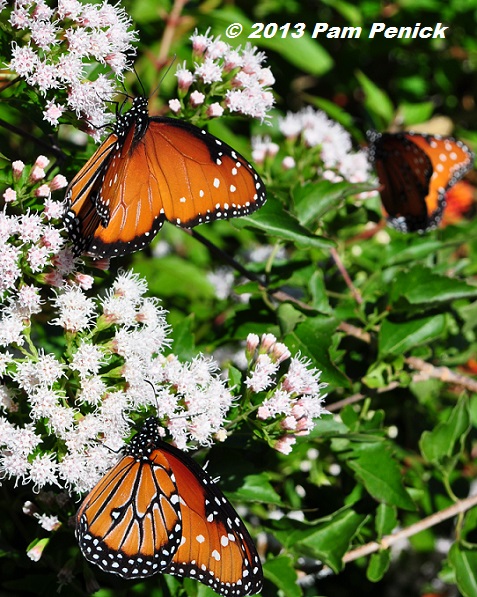 Leaning in for a photo I caught its spicy fragrance, a distinctive and pleasant autumn smell in central Texas.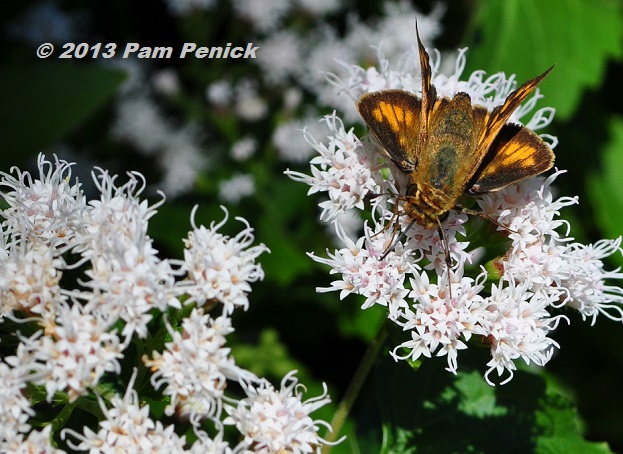 The butterflies were frenzied for it.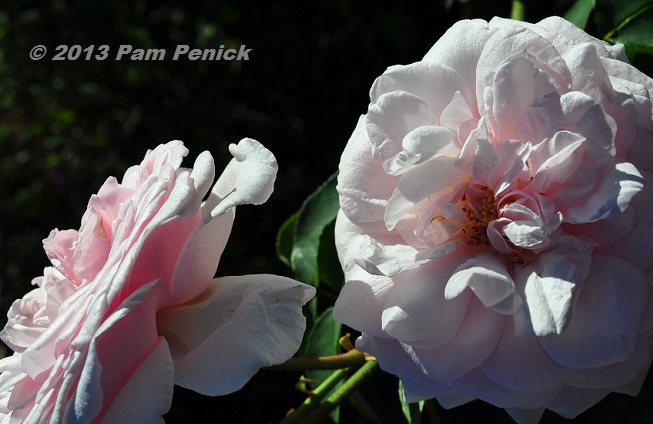 Pillowy pink roses offered their own sweet scent as well.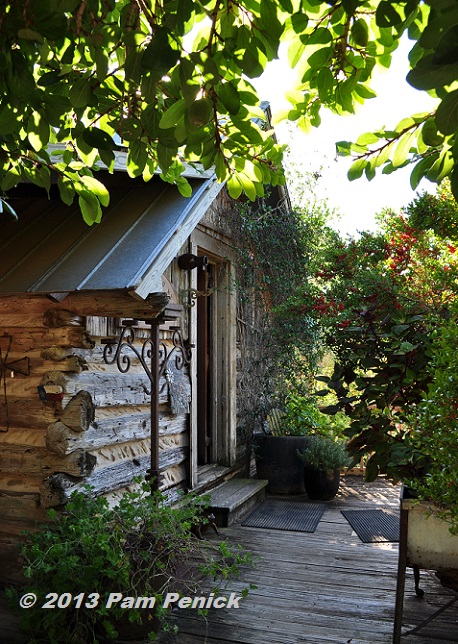 Near the gallery, a log cabin contains bagged soils and other gardening supplies for sale.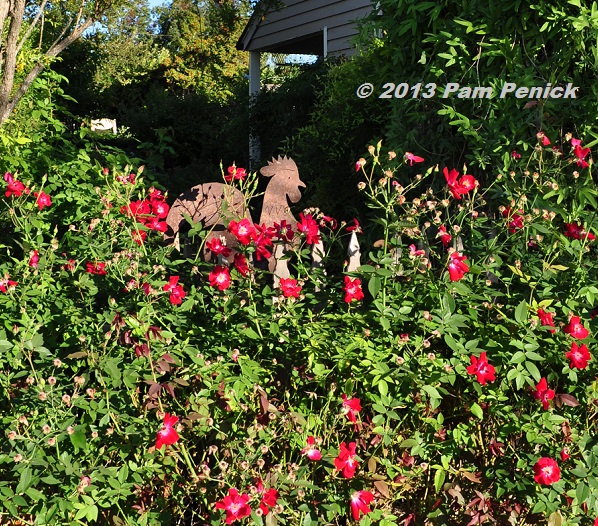 And in back, red roses clamber across a picket fence…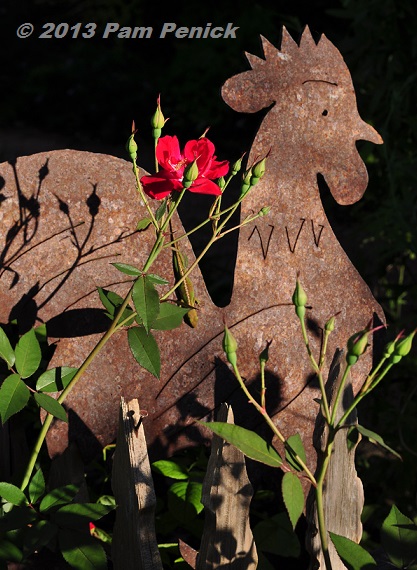 …as a metal rooster stands sentry.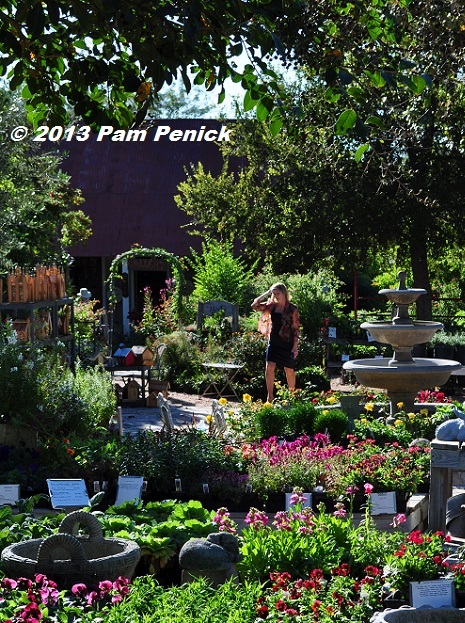 Yes, ARE does have nursery display tables. Here they are, filled with colorful perennials and cool-season annuals. I imagine this woman is thinking, "How can I ever choose?"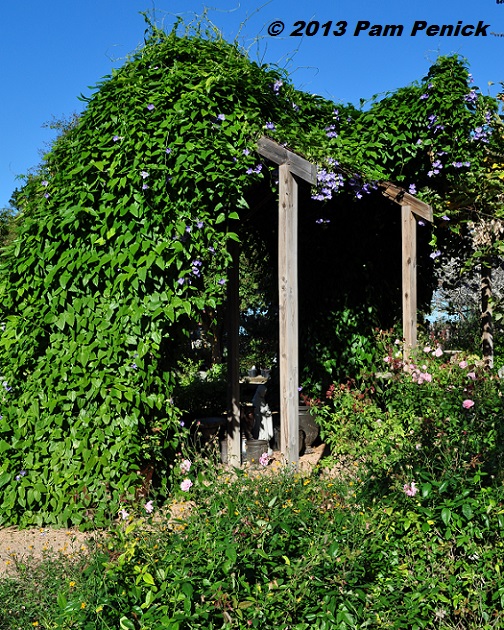 At one end of the nursery space, a wooden arbor is absolutely smothered in exotic-looking blue sky vine (Thunbergia grandiflora).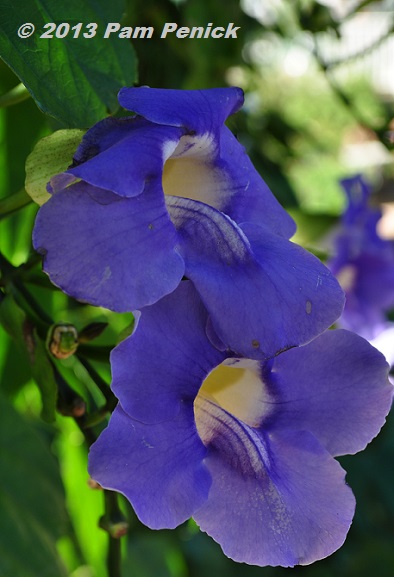 I love these showy, purple flowers with deep, pale-yellow throats.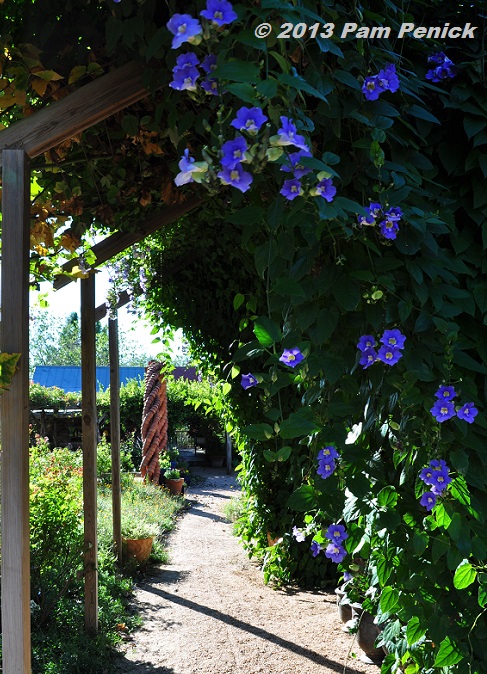 Aren't they stunning?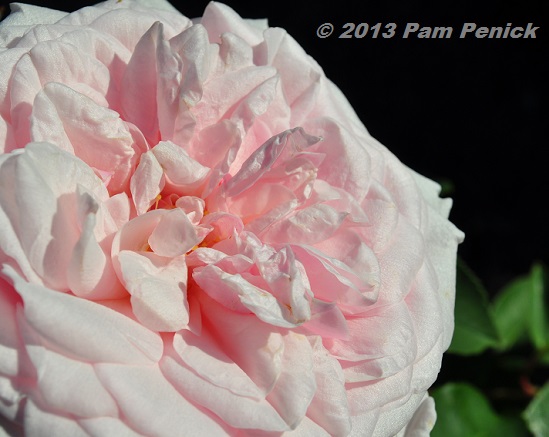 And so were the roses, flowery and full thanks to recent rains and cooler weather.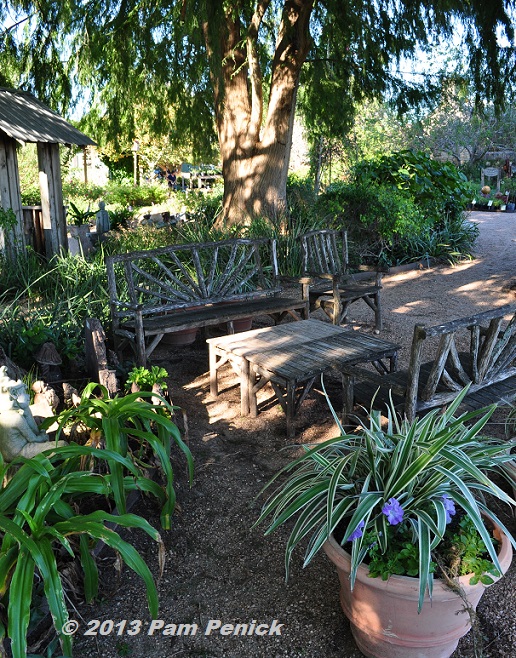 ARE offers plenty of roses for sale, of course, though I neglected to photograph them (potted roses lined up in rows aren't particularly scenic). After your shopping and garden touring is done you may wish to rest a while. It must be pleasantly shady here on hot days…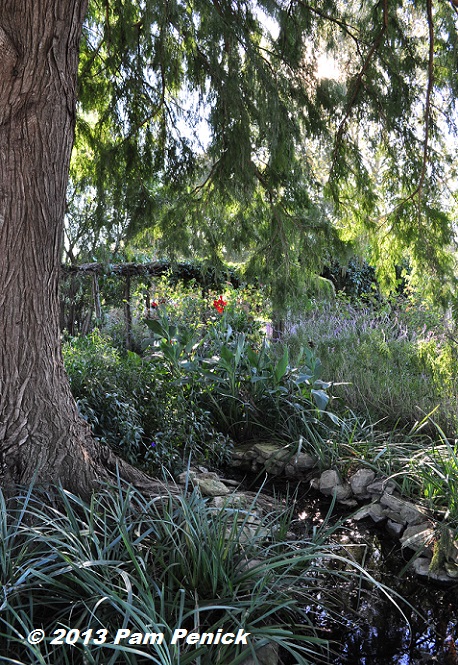 …cooled by a towering bald cypress and winding stream.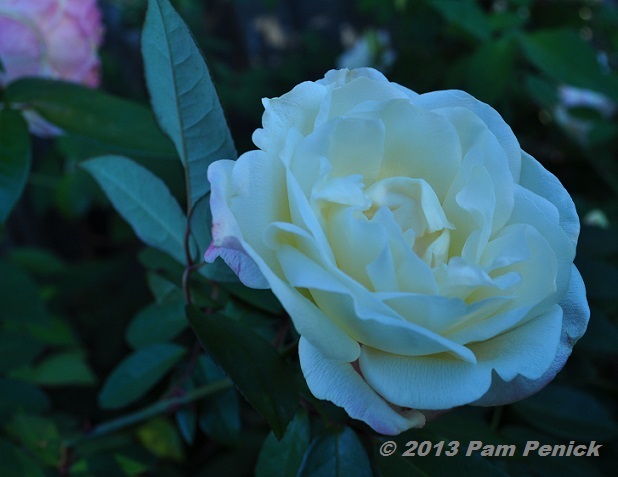 By this time it was getting late, and it was time to grab a bite to eat and then hit the road back to Austin. What a lovely day it was. Thanks again, ARE!
For more Rose Emporium goodness, check out my other two posts about the nursery this week:
Fall Festival 2013 at Antique Rose Emporium: Country Girl mums, grasses, and chapel garden
Fall Festival 2013 at Antique Rose Emporium: Beatrix Potter garden, bottle trees & cottage charm

All material © 2006-2013 by Pam Penick for Digging. Unauthorized reproduction prohibited.
posted in
Arbors
,
Butterflies/Moths
,
Fall color
,
Garden art
,
Garden structures
,
Garden tours 2013
,
Nurseries & Shops
,
Paths
,
Porch
,
Roses
,
Sculpture
,
Seating
,
Travel
,
Trees
,
Vines
,
Walls
,
Water features