April 6th, 2009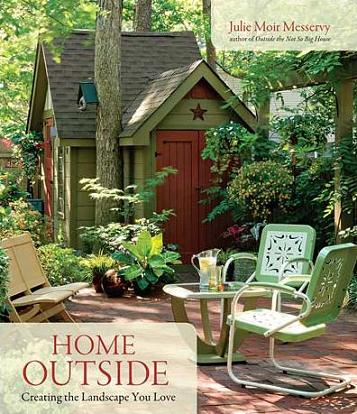 As springtime sends you racing out into your yard, eager to create the garden you've been dreaming of all winter, publishers are releasing new design books seemingly daily to inspire, to educate, and to demystify the process.
One of these is Julie Moir Messervy's Home Outside: Creating the Landscape You Love. An internationally known designer and author of two other books—The Inward Garden, which sits on my bedside table awaiting a few spare hours, and a collaboration with architect Sarah Susanka called Outside the Not So Big House, which I reviewed last summer—Messervy explains in Home Outside that she wants "to revive the home landscape as a place of importance in people's lives. By teaching you what I know about landscape design, I'm hoping that you'll learn how to create the spaces you love and go outdoors to enjoy them."
She wants us outside, reacquainting ourselves with the joy of being in nature that most of us felt instinctively as children. By tapping into memories of outdoor spaces that were special to us then, she urges, we can create meaningful gardens for ourselves as adults. If the psychology of understanding oneself is always an aspect of good garden design (and it is)—What do I want? What makes me feel safe and comfortable? What brings me joy?—Messervy is Freud, bringing the exploration of self all the way back to childhood memories of the outdoors and mining them for what still resonates with us today.
Messervy works hard to demystify the process of landscape design, to make it less intimidating to people who just don't know where to begin. Understanding that most homeowners construct and plant their landscaping over time, sometimes on a shoestring budget, she encourages readers to make an overall guiding plan for their property and illustrates the process with a step-by-step explanation of her design principles. She even includes a personality test for figuring out what kind of designer you are.
Like anything that involves artistry, however, landscape design concepts can be broadly sketched and deliciously illustrated, but they're hard to transform into a step-by-step manual. Messervy is a good writer who puts her concepts into plain English without talking down to anyone, and the book's numerous, full-color images of gardens are inspiring. But ultimately, landscape design is more art than science. Instead, read this book for inspiration, for lessons in what makes a particular garden beautiful and a place you want to linger, and for the enjoyment of Messervy's enthusiastic advocacy for creating a landscape that's as welcoming and reflective of your personality as the inside of your home.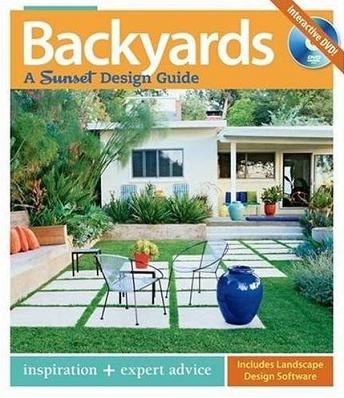 Like Home Outside, Sunset's new design guides, Backyards and Patio & Stone, seek not only to inspire but to provide practical, hands-on resources to readers. The inspiration comes from 224 pages of gardens, landscaping features, and hardscaping ideas that you'll be marking with Post-its or dog-eared corners. The hands-on resource comes in the form of an interactive DVD tucked into a sleeve at the back of each book. I confess that I have not touched the DVDs of either book, so I can't offer any opinion on them. For what it's worth, the DVD is billed as 3D interactive landscape design software from Punch! Software Company, and it's compatible with both PCs and Macs.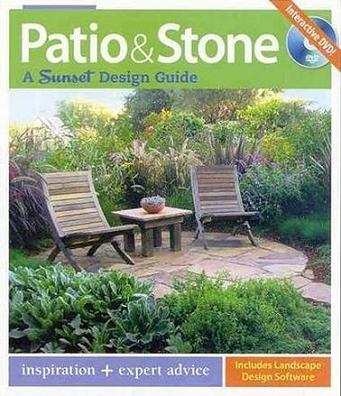 I find Sunset's publications to be particularly appealing to those of us living in the western parts of the U.S., thanks to equal time given to more-arid landscapes. Anyone interested in accessible contemporary design would probably also enjoy them.
Sunset's two books are all about hardscaping. The text is succinct and provides basic information, but what you really want anyway are the lovely images and numerous design examples. They'll provide plenty of inspiration to get you going this spring.
All material © 2006-2009 by Pam Penick for Digging. Unauthorized reproduction prohibited.