October 21st, 2013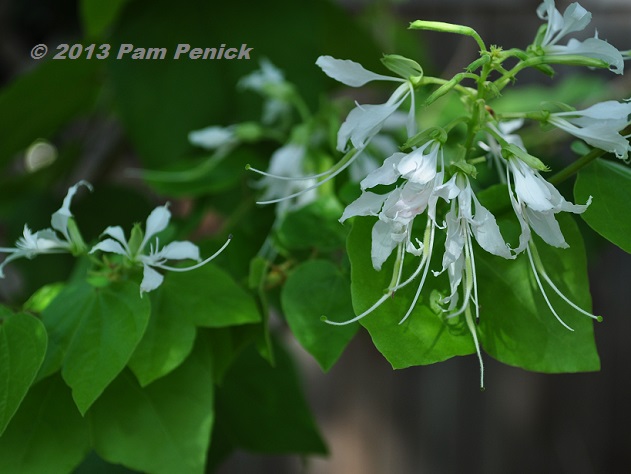 Brightening the shade with floppy-petaled, gleaming white flowers, Mexican orchid tree (Bauhinia mexicana) is a gangly but pretty shrub for dappled shade or light morning sun here in central Texas. Cousin to the Hill Country-native, spring-blooming Anacacho orchid tree (Bauhinia lunarioides), Mexican orchid tree blooms spring through fall, with its most prolific flowering occurring in late summer.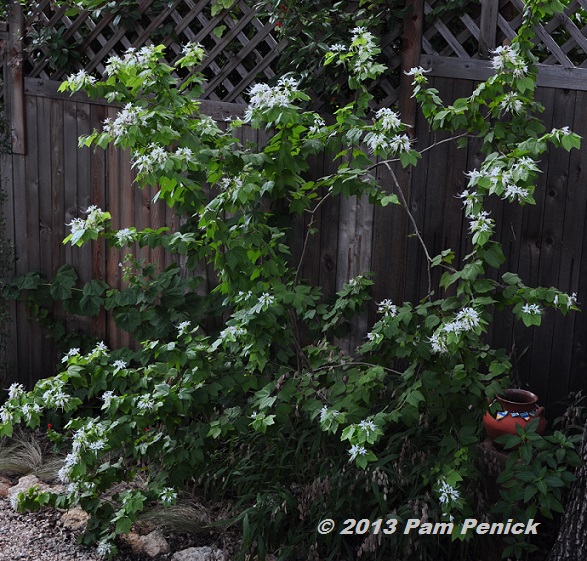 Here's how mine looked about a month ago, in full bloom. It stands 6 feet tall, which is about as tall as it gets in a climate with winter freezes.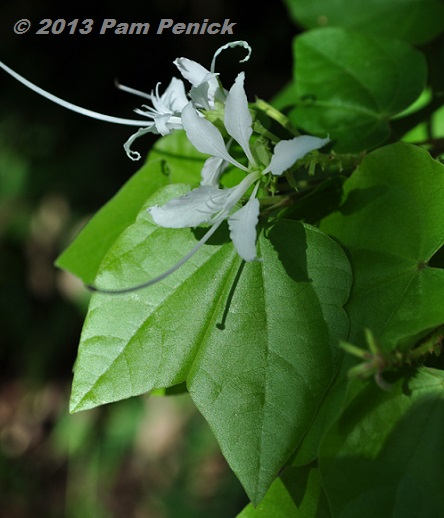 The leaves are shaped like cloven hooves, and the flowers are reputed to attract butterflies, although I can't recall seeing butterflies on mine. Hummingbirds definitely enjoy them though.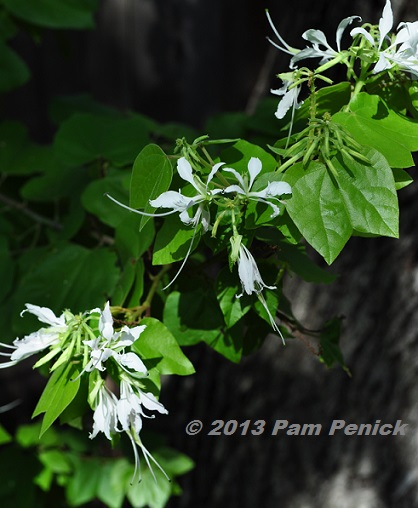 Considered hardy to zone 9 (not our 8b), Mexican orchid tree is susceptible to cold damage in Austin, so site it on the warmer side of the house or under an evergreen tree for some protection from hard freezes. Also, forgo a fall planting and aim for planting in late spring, so it'll have time to get established before experiencing a freeze.
Companion plants might include inland sea oats (Chasmanthium latifolium), variegated flax lily (Dianella tasmanica 'Variegata'), and white-flowered Salvia coccinea.
Note: My Plant This posts are written primarily for gardeners in central Texas. The plants I recommend are ones I've grown myself and have direct experience with. I wish I could provide more information about how these plants might perform in other parts of the country, but gardening knowledge is local. Consider checking your local online gardening forums to see if a particular plant might work in your region.
All material © 2006-2013 by Pam Penick for Digging. Unauthorized reproduction prohibited.