October 7th, 2013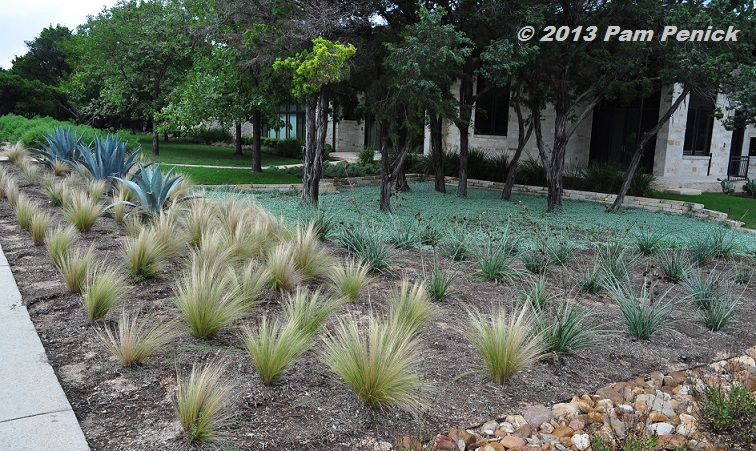 The lawn-gone trend is going strong, especially in Austin, where watering restrictions and the drought have galvanized even non-gardening homeowners to convert their thirsty landscapes into drought-tolerant planting beds. Here's another one, which I spotted in the southwest Austin neighborhood of Covenant Estates.
This lawn replacement relies on mass plantings of tough-as-nails, low-maintenance plants. Just four kinds of plants fill half of this spacious yard: Mexican feathergrass (Nassella tenuissima), red yucca (Hesperaloe parviflora), and agave (A. americana?), with ground-covering silver ponyfoot (Dichondra argentea) shimmering like a lake under the trees.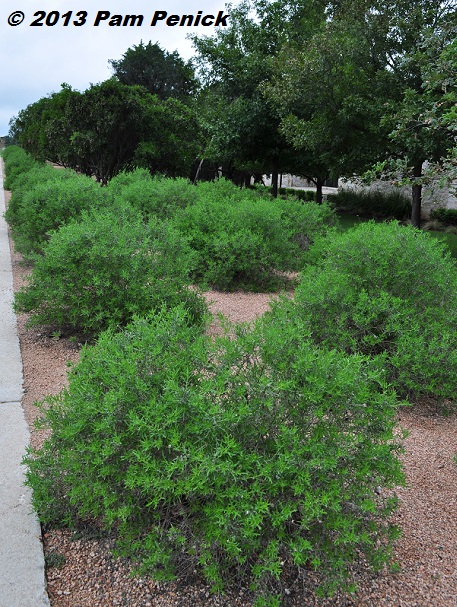 On the other side of the front walk, in a deep strip (approximately 10 feet deep; go big or go home!) along the street — typically a difficult place to keep lawn green and happy — a staggered double line of what looks like skeleton-leaf goldeneye (Viguiera stenoloba) provides some privacy and an explosion of fall color. If I'm in the area again in a couple of weeks, I'll swing by to see these in full bloom.
My thanks to reader Charlene for the tip about the drive-bys in today's and yesterday's posts. I welcome suggestions for interesting and/or lawn-gone gardens to check out for future posts. It helps if you can send me a photo or two with your suggestions so I know what to look for.
All material © 2006-2013 by Pam Penick for Digging. Unauthorized reproduction prohibited.