September 20th, 2013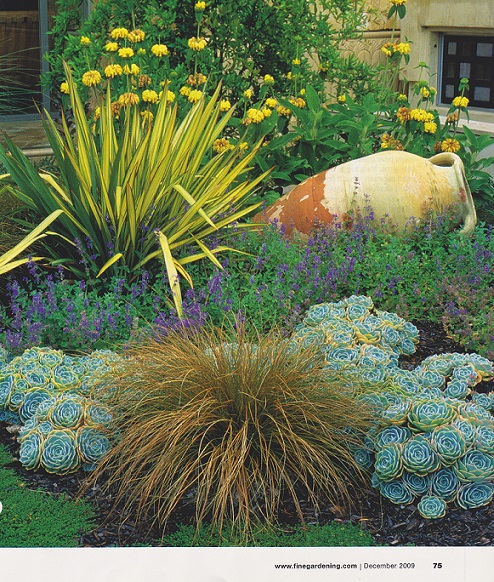 Do you ever mentally substitute plants that grow well in your region for non-hardy plants you see in a magazine or blog picture from another region? As a gardener in a part of the country not well represented by national gardening magazines, I often find that the pretty pictures of gardens from the Northeast, the Pacific Northwest, and California feature plants that won't survive in my Death Star-blasted, water-deprived, alkaline-soil central Texas garden.
Luckily, a garden you admire can often be approximated by substituting hardy plants from your own region that have similar shapes and colors. Take the photo above, for example. I tore out this page from the December 2009 issue of Fine Gardening because I loved the mix of blue, purple, and gold and the contrasting shapes of the plants. Most likely this is a frost-free California garden because of the presence of those clusters of echeverias. And what is that yellow-striped plant with the sword-like leaves? Furcraea? Phormium? Neither is hardy here.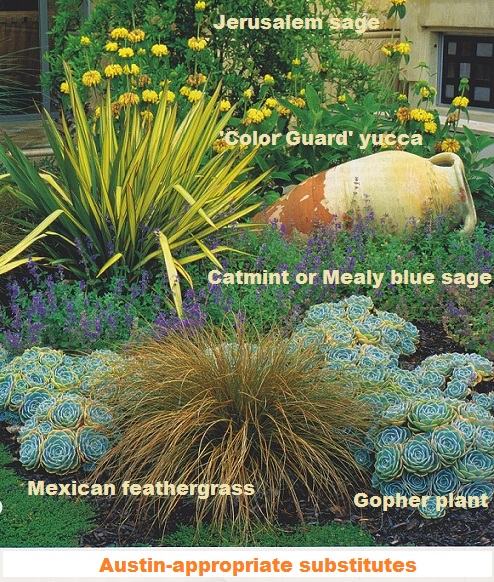 But some of these plants will grow for us, like Jerusalem sage (Phlomis frutescens) and catmint (Nepeta) — at least I think that's a catmint. You could also use mealy blue sage (Salvia farinacea) in its place. 'Color Guard' yucca would substitute nicely for the furcraea/phormium, and Mexican feathergrass (Nassella tenuissima) for the bronze New Zealand sedge or whatever kind of grass that is at the front. The echeverias are harder to replace — their shape is so unique — but for a similar color and groundcovering height you could substitute gopher plant (Euphorbia rigida), 'Bath's Pink' dianthus, or even woolly stemodia (Stemodia lanata).
The next time you feel frustrated by your inability to use the temperate-zone plants we see all the time in magazines, use your imagination — or stroll through a nursery with your photo in hand, looking for similar shapes — to come up with locally adapted plants that can mimic that look. Just make sure all your substitutes can take the same conditions of light, heat/frost, soil type, and water to ensure that they'll grow well together.
All material © 2006-2013 by Pam Penick for Digging. Unauthorized reproduction prohibited.