September 19th, 2013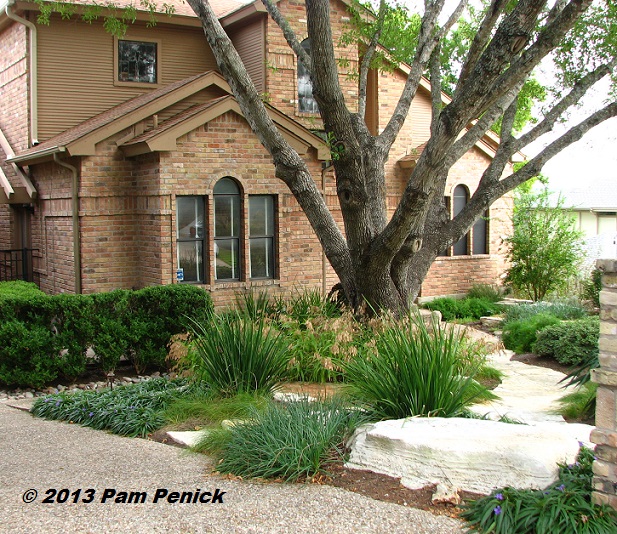 While driving the hilly West Austin neighborhood of Jester this week, I couldn't help noticing this attractive, lawn-gone garden that relies heavily on evergreens and ornamental grasses with a sprinkling of flowering perennials for color.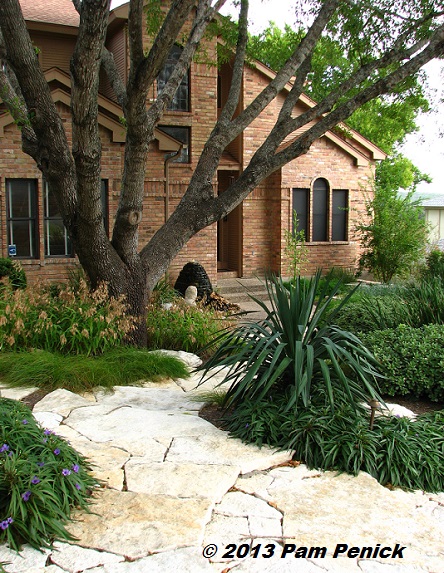 Limestone boulders and pieced flagstone pathways are a key design element here. The careful piecing of the front walk reminds me of stonework I've seen in gardens by Environmental Survey Consulting. I wonder if they designed this one as well? Notice the curving approach and, at the front door, the stacked-stone, beehive-shaped fountain, which draws the eye.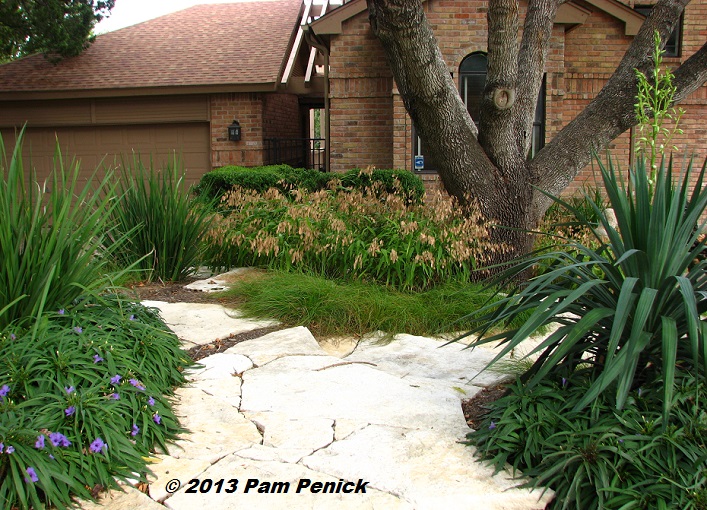 A straight-on view leads to a clump of native inland sea oats (Chasmanthium latifolium) underplanted with a fringe of sedge — maybe Texas sedge (Carex texensis)? Upright, strappy leaves of African iris on the left and native softleaf yucca (Y. recurvifolia) on the right anchor the entryways.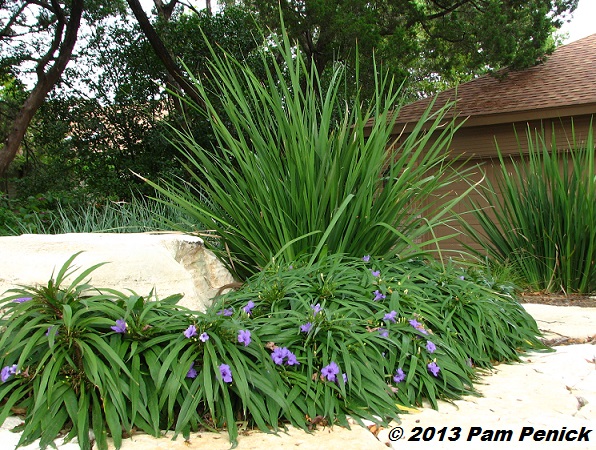 Dwarf 'Katie' ruellia makes a fantastic, flowering groundcover. I'm trying for this look in my own garden, but the deer have nibbled mine mercilessly. Still, I see 'Katie' ruellia used frequently in deer-infested neighborhoods, so I'm hoping if I can just get mine well-established with the use of deer repellent they'll eventually leave it alone.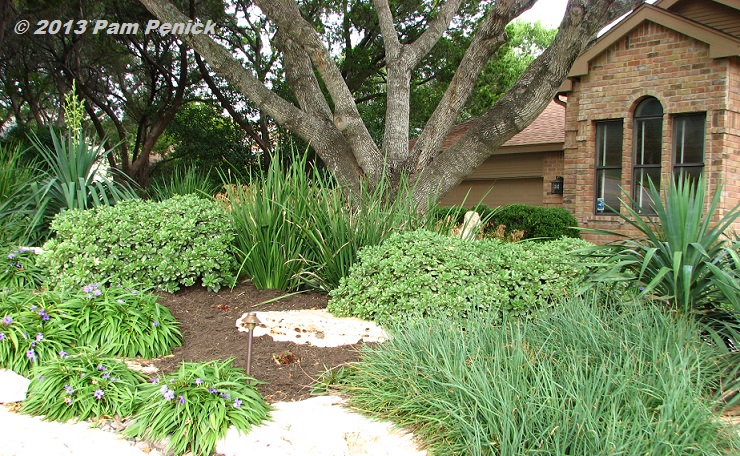 Variegated pittosporum shrubs flow over a boulder-studded berm along the sidewalk, mingling easily with the native yuccas. I believe this garden gets morning sun only, with the large tree shading it at midday and the house shading it in the afternoon.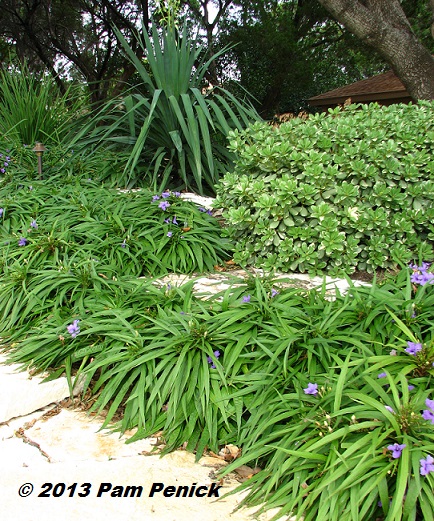 A fairly simple plant palette, with effective massing for impact. This also makes for a lower-maintenance garden.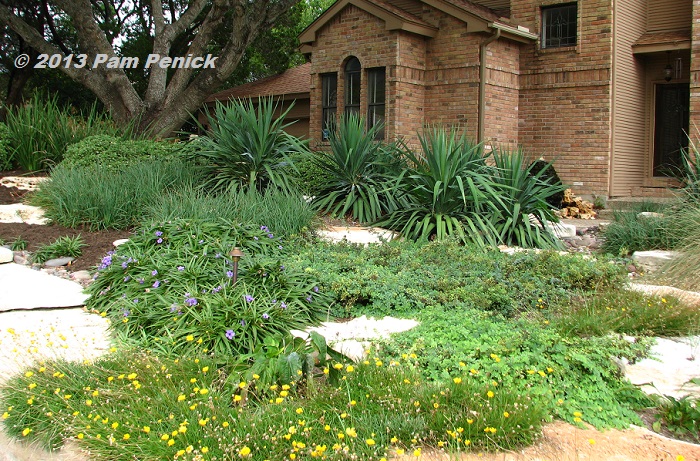 On the sunnier side, just out from the under the tree canopy, cheery four-nerve daisy (Tetraneuris scaposa) adds a swath of drought-tolerant yellow along the curb. In my own front garden, the deer devoured this plant — which just goes to show that what works for one gardener may not work for another in a different neighborhood, where deer are concerned. In the background, a row of softleaf yuccas march along the front walk, adding evergreen structure.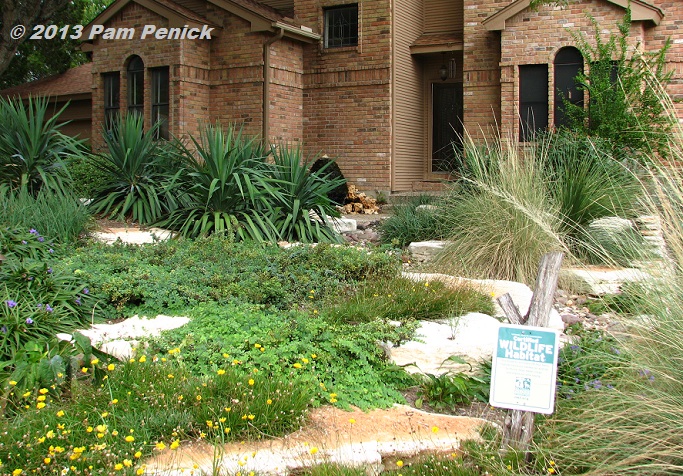 Along the edge of the yard, more boulders and a retaining wall hold back the slope (and probably helped to level out the front yard for planting). Native ornamental grasses (perhaps Lindheimer's muhly?) enjoy the full sun. A Certified Wildlife Habitat sign from the National Wildlife Federation, attached to a natural cedar post, helps to "explain" a lawnless garden to neighbors and encourage them to do the same.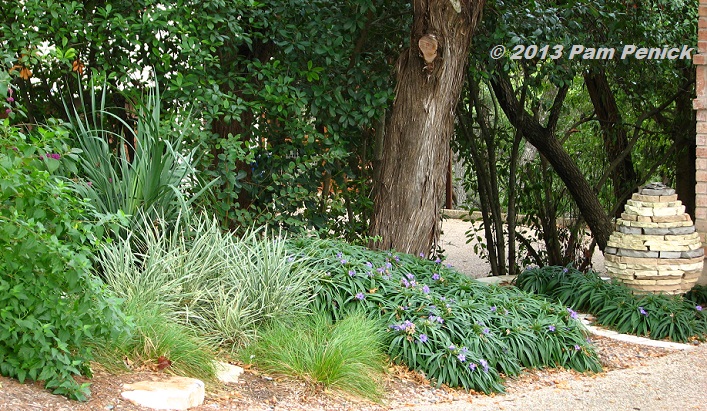 One last look at the strip of garden along the left side of the driveway. This might have been a throwaway space, especially in the heavy shade of cedars and oaks. Instead it's been transformed into a lovely shade garden, with native American beautyberry (Callicarpa americana), variegated liriope, native Mexican feathergrass (Nassella tenuissima), and 'Katie' ruellia. A stacked-stone, beehive-shaped sculpture, which echoes the water feature by the front door, anchors this space.
All material © 2006-2013 by Pam Penick for Digging. Unauthorized reproduction prohibited.
posted in
Design
,
Drive-By Gardens
,
Fountains
,
Garden art
,
Grasses
,
Groundcovers
,
Lawn Gone!
,
Paths
,
Sculpture
,
Sustainable Gardening
,
Texas natives
,
Xeric plants
,
Yuccas