October 1st, 2013
Support Your Independent Nursery month
— or so I've declared for the past several years. Every October I write a post or even a series about some of Austin's locally owned nurseries, and I encourage other bloggers to do the same.
Even better, let's support our locally owned garden centers by shopping there! Here in central Texas, it's prime planting time. Shrubs and trees, in particular, are best planted in the fall so they can establish a strong root system before the heat and drought of summer return. If it's getting too late in the season to buy plants where you live, consider shopping for a pot, garden decor, or gift items for the upcoming holidays.
All of this is just a way for us gardeners to show our appreciation for our independent nurseries — for their plant expertise, knowledge of local gardening conditions, inspiring displays and gardens, useful gardening talks, and, most important, a great selection of plants.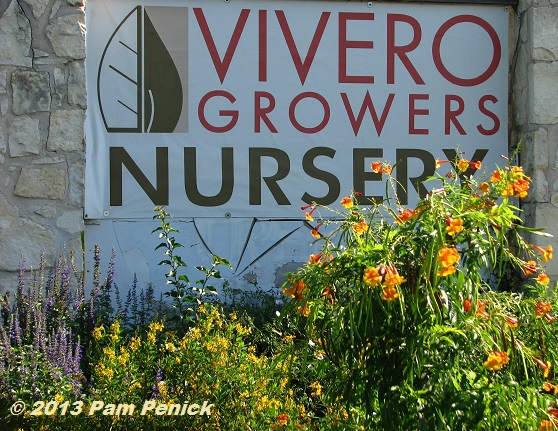 This year I'm kicking off SYINM with a tour of locally owned Vivero Growers, a retail and wholesale nursery and mom-and-pop business located in southwest Austin on Highway 290 West.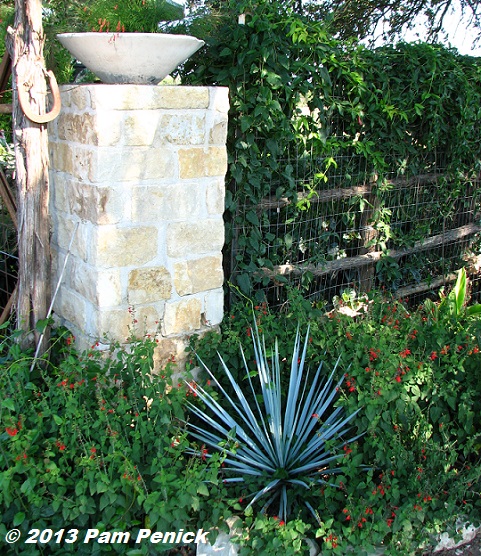 As you walk in from the parking lot, this pretty, quintessentially central Texas scene greets you: red salvia and a blue yucca, with a fence made of cedar, limestone, and wire fencing.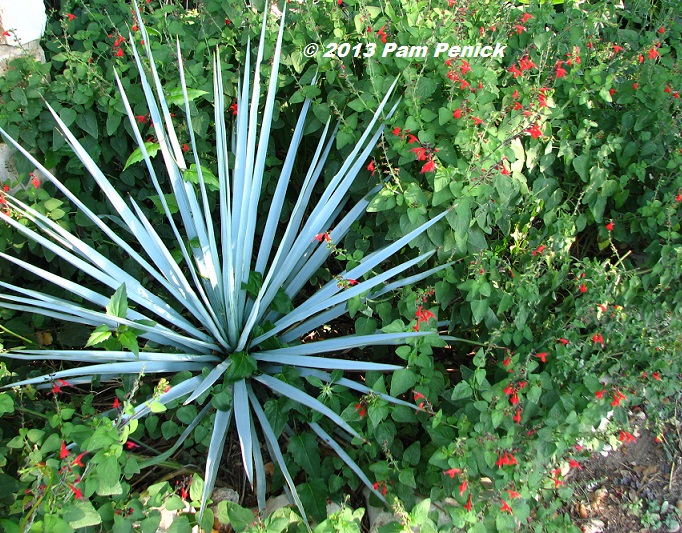 Shazam! I love this combo.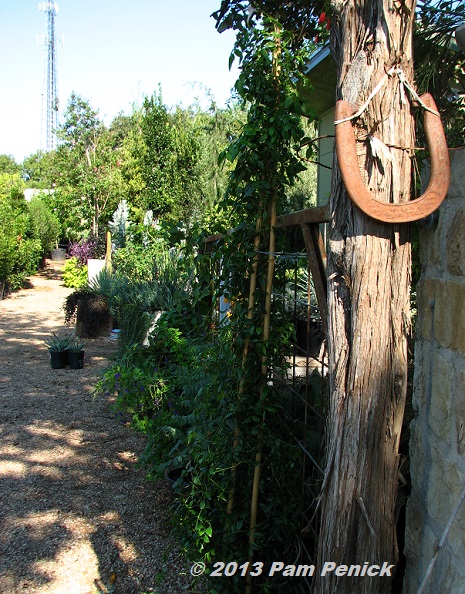 Notice the good-luck horseshoe on the post — and all those enticing plants.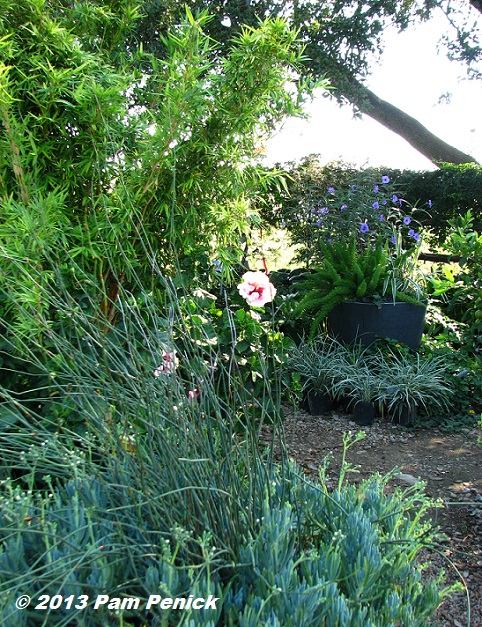 Vivero doesn't have room for a lot of display gardens, but this charming shade garden at the entry sets a beautiful tone for your visit.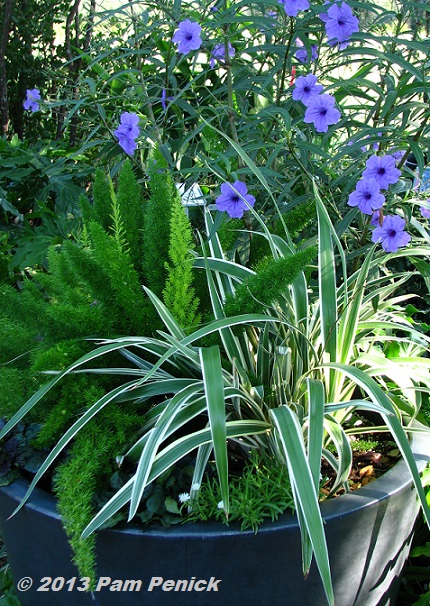 I absolutely covet this pot arrangement for shade or morning sun: foxtail fern (Asparagus densiflorus 'Myers'), variegated flax lily (Dianella tasmanica 'Variegata'), ajuga, and Mexican petunia (Ruellia brittoniana).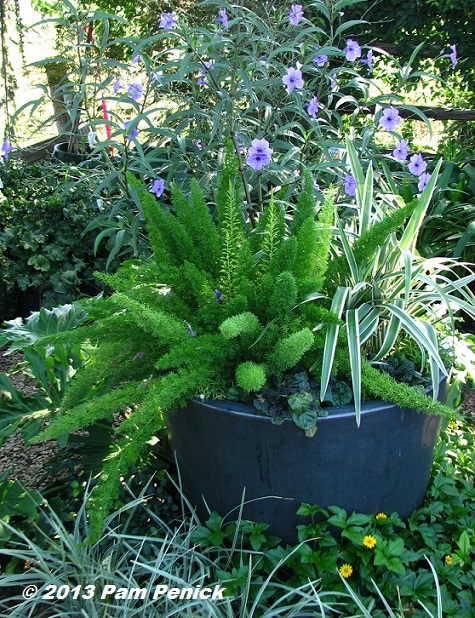 At its feet, yellow-flowering Wedelia trilobata and grassy variegated liriope or Aztec grass adds evergreen texture. (Be aware that both the wedelia and the Mexican petunia are aggressive and can become invasive in Texas. Plant with care and consider containing them in planters.)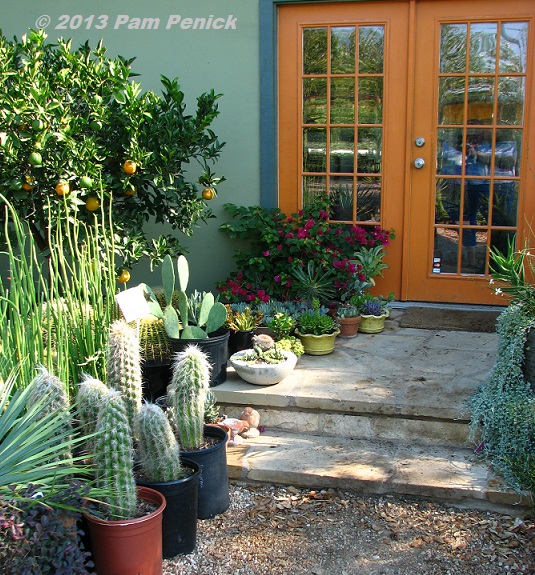 Just past the shade garden is the sales building — not really a gift shop, but it does have some pretty jewelry and a few garden ornaments for sale. But it's not what's inside that catches your eye. It's the beautifully arranged containers on the front porch, backed by vibrant orange doors.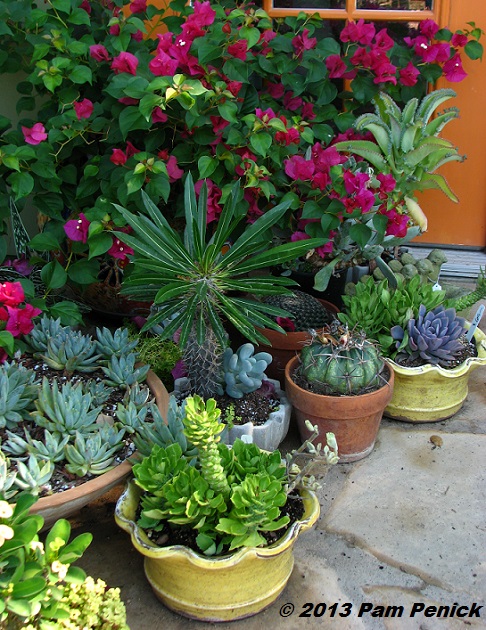 I love these scalloped yellow pots filled with succulents.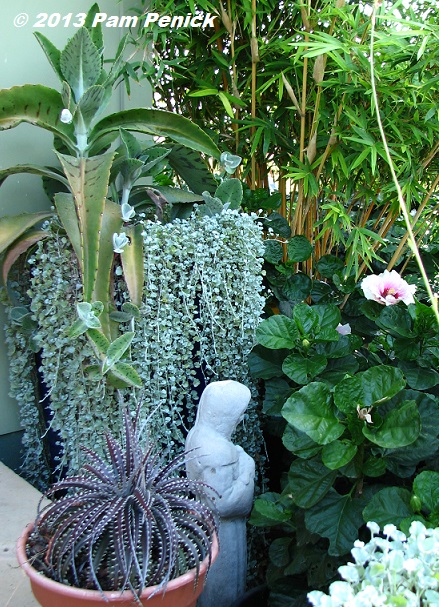 On the other side, a silvery bronze dyckia shines against a cascade of silver ponyfoot. I wonder why St. Francis is turned aside? Maybe he's admiring the hibiscus.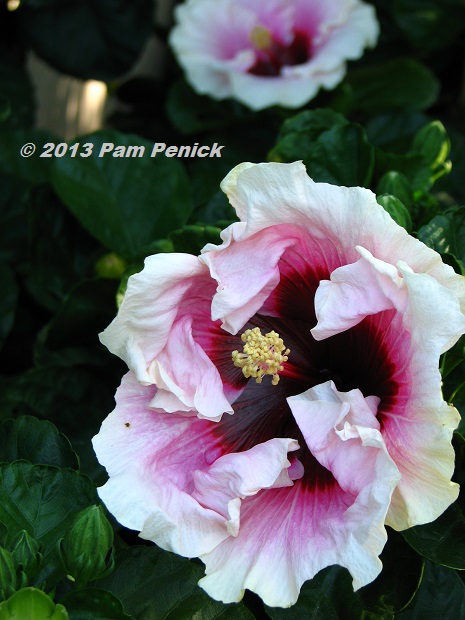 Just look at this ruffled hibiscus flower.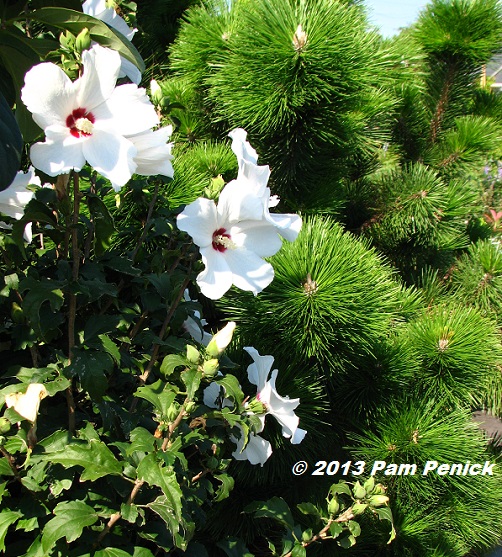 Speaking of ruffled flowers, I fell in love with this white rose of Sharon framed by deep-green, Koosh-ball pine needles. This is one thing I noticed about the plant aisles at Vivero. The plants are not just plunked down in boring rows. There seems to have been some thought in placing each plant next to something complementary. It makes you want to buy the whole row.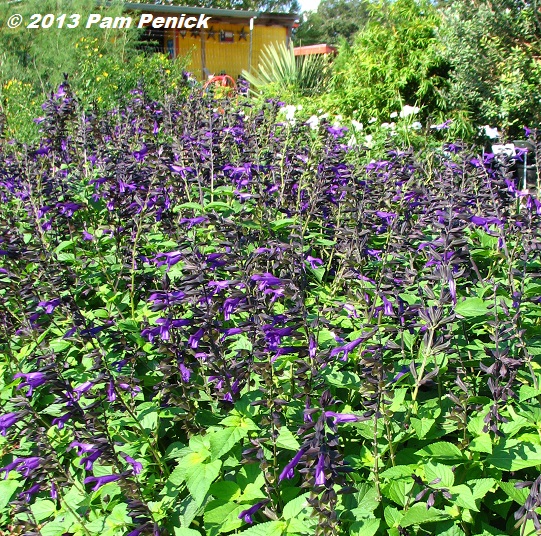 'Amistad' salvia is a new introduction, and I haven't heard whether it's reliably root hardy here. It sure is pretty. I saw it for the first time this summer at Sunset's headquarters in the Bay Area.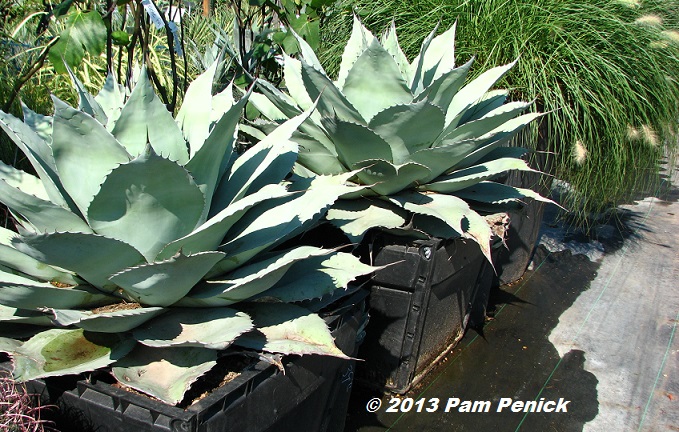 Gotta love big 'Whale's Tongue' agaves, although they're so fast growing I'd plant smaller ones and enjoy them longer before they bloom and die. Since Vivero caters to designers buying wholesale, they do carry a lot of mature-size plants, rather than just the smaller (and less expensive) 4-inch, 1-gallons, and 3-gallons typical of retail nurseries. But you'll still find some plants available in smaller sizes, if that's what interests you.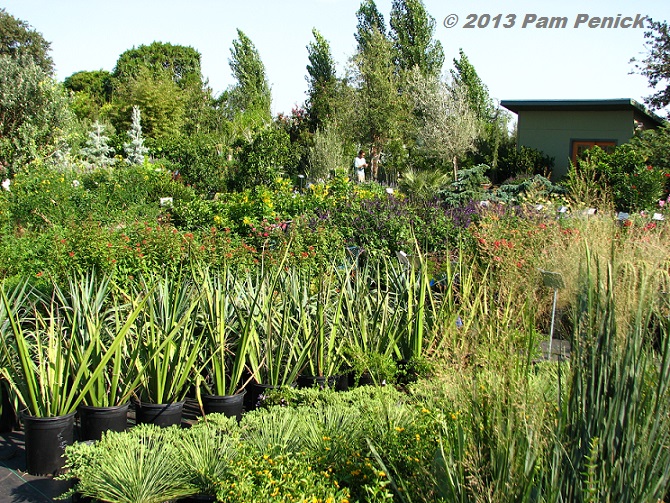 Larger plants may be more expensive, but I will say that Vivero's stock is superbly healthy and well cared for. The plants are temptingly bushy and full.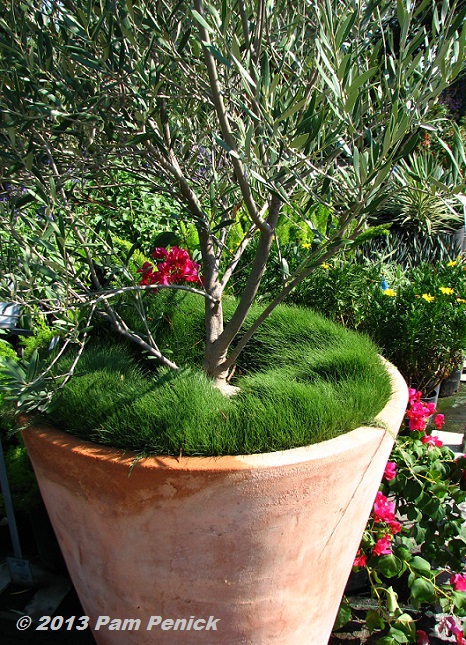 Ooh la la — I love this combo of olive tree and Korean grass (Zoysia japonica) in a giant terracotta pot.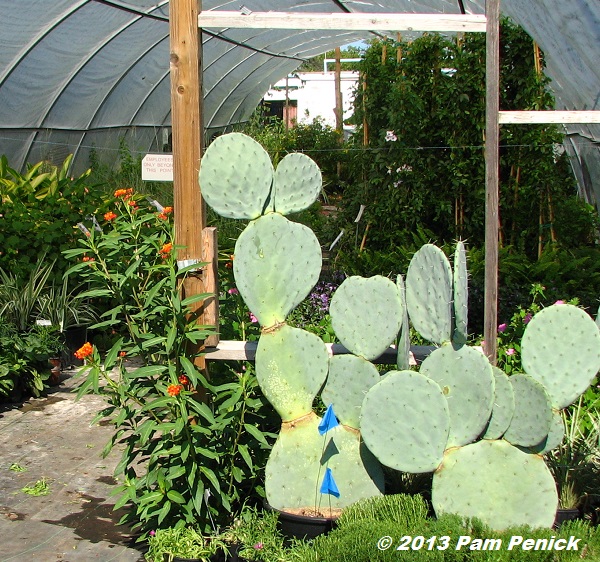 Dinner plate Opuntia — I'd like a serving of this in my garden.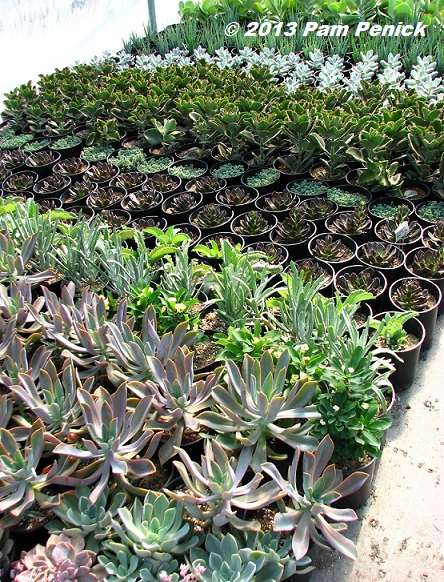 Let's take a peek in the greenhouses while we're here.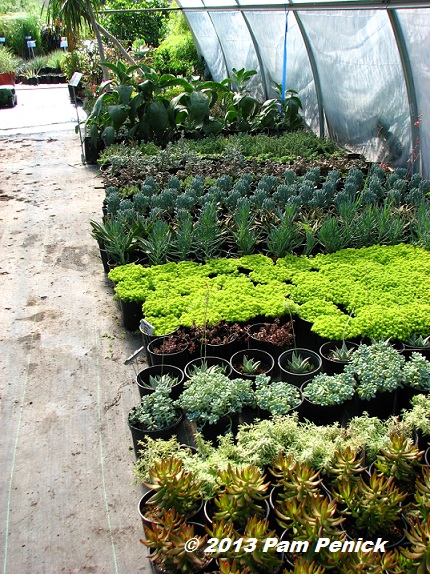 Succulent goodness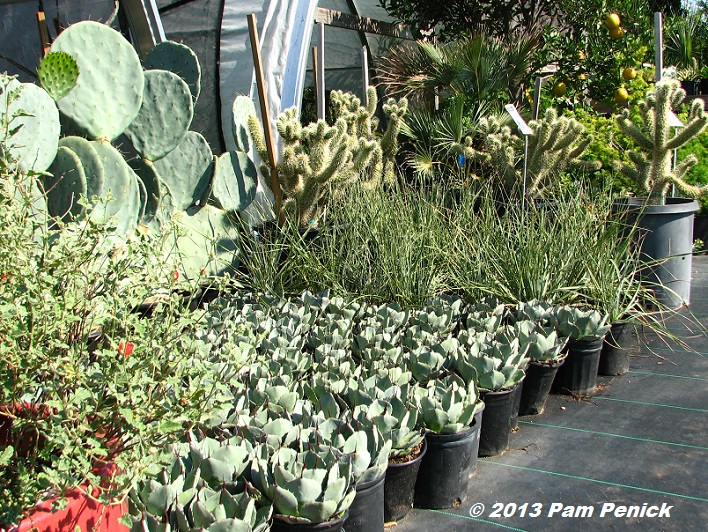 Bigger succulents, of the spiny variety, are tempting as well.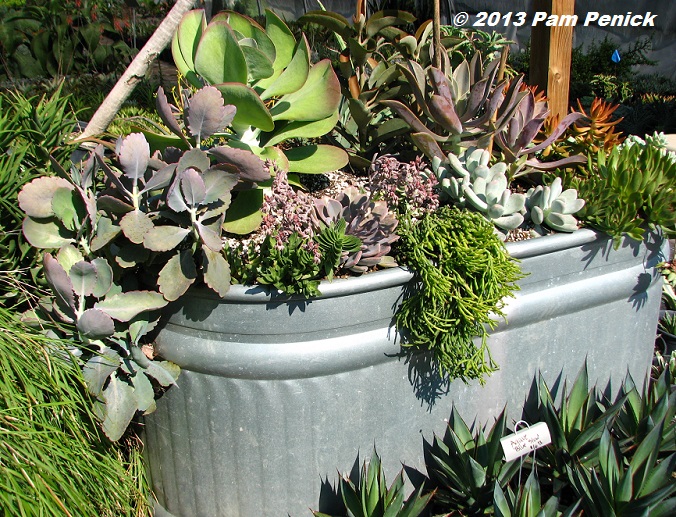 Stock-tank planters are perfect for succulent displays…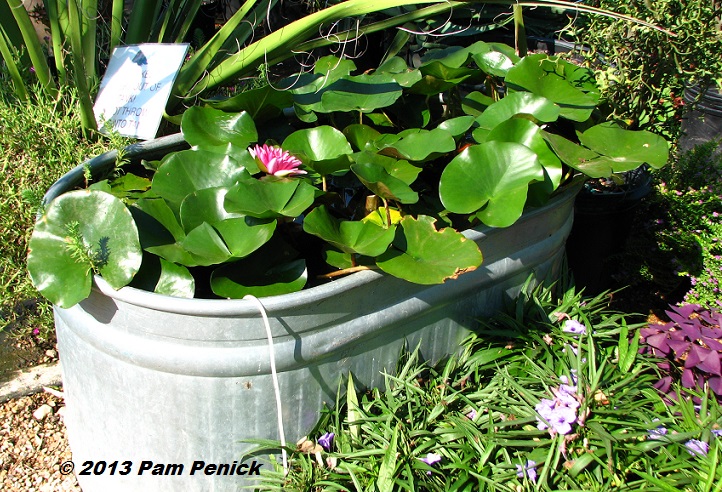 …and for water gardens.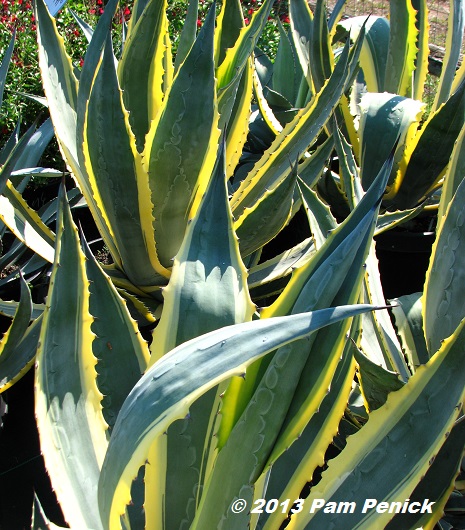 You know I love spiny plants. Here's variegated American agave.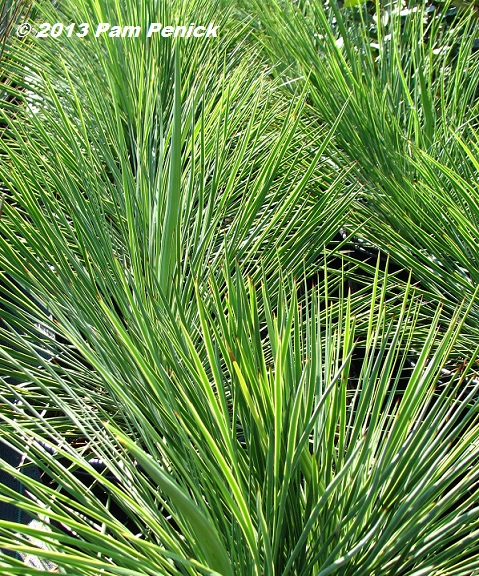 Narrowleaf Yucca rostrata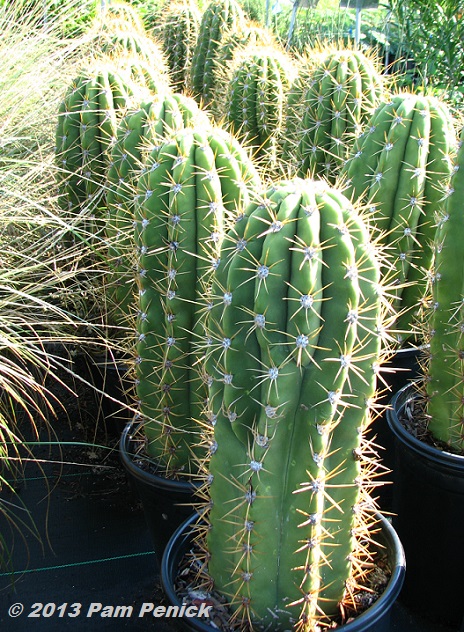 Arizona's iconic saguaro cactus won't grow here in Austin, but we can grow the similar Argentine saguaro.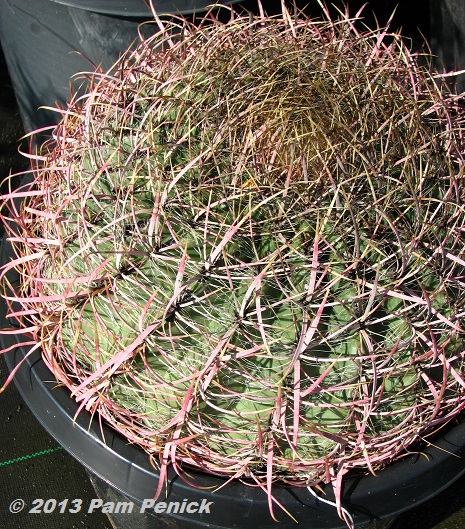 Fire barrel cactus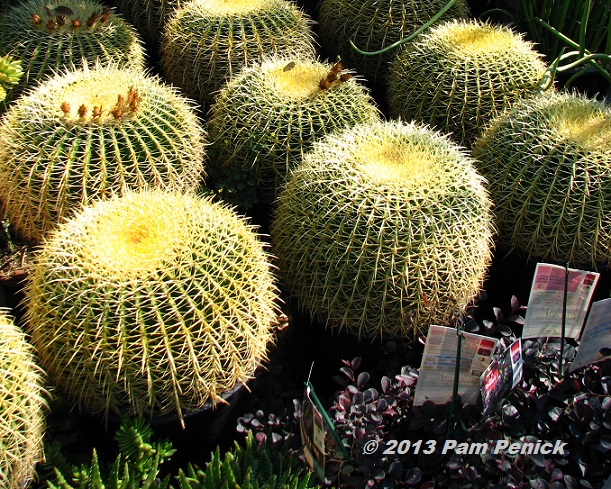 The fabulous golden barrel cactus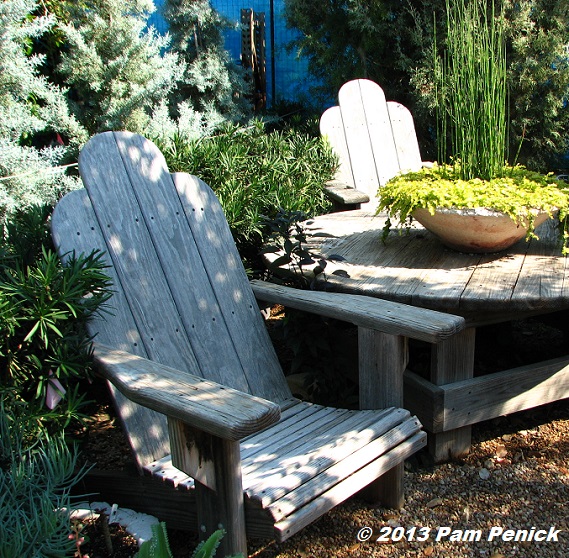 Vivero focuses on plants, so you won't find a big selection of garden furniture or accessories. This enticing seating area was the only one I saw, and I'm not even sure whether it was for sale. But you can bet that bowl planter on the table is up for grabs.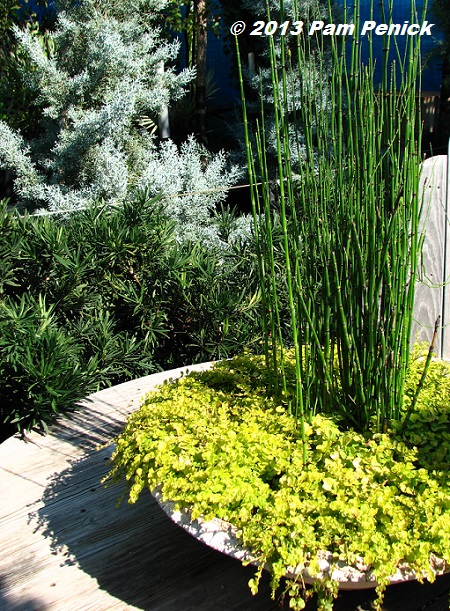 Katherine Cain, who owns and operates Vivero with her husband, has a great eye for container arrangements and sells her creations at the nursery. She also writes a blog called Vivero's Garden, so be sure to check it out for fun pictures of hummingbirds, blooming plants, and other activity at the nursery.
All material © 2006-2013 by Pam Penick for Digging. Unauthorized reproduction prohibited.
October is
posted in
Agaves
,
Cactus
,
Containers
,
Dyckias
,
Fences
,
Grasses
,
Groundcovers
,
Nurseries & Shops
,
Ponds
,
Seating
,
Stock tanks
,
Succulents
,
Support Indep Nurseries
,
Trees
,
Water features
,
Xeric plants
,
Yuccas