September 15th, 2013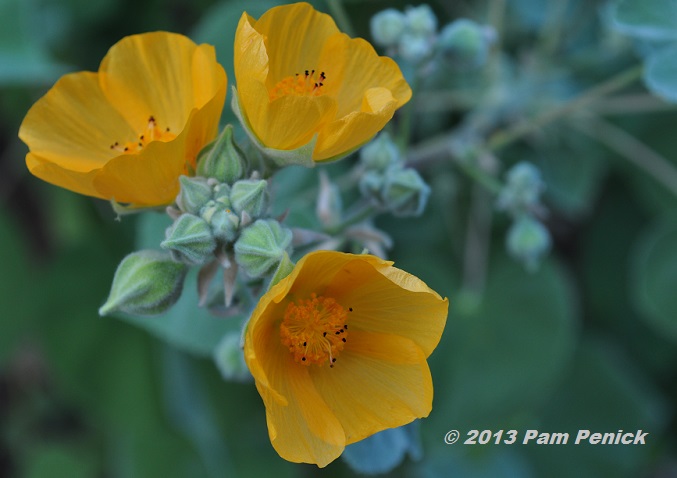 In my sunniest, driest garden beds, gray globemallow (Sphaeralcea incana) is a true performer. When I first spotted this Indian mallow in the exhibition hall at GWA Tucson last fall, I mistook it for another of the many species of Sphaeralcea. Was I surprised to learn that it's an abutilon! Abutilon palmeri, in fact — a southwestern U.S. native and quite different from its shade-loving, thirstier cousins known as flowering maple or Chinese lantern.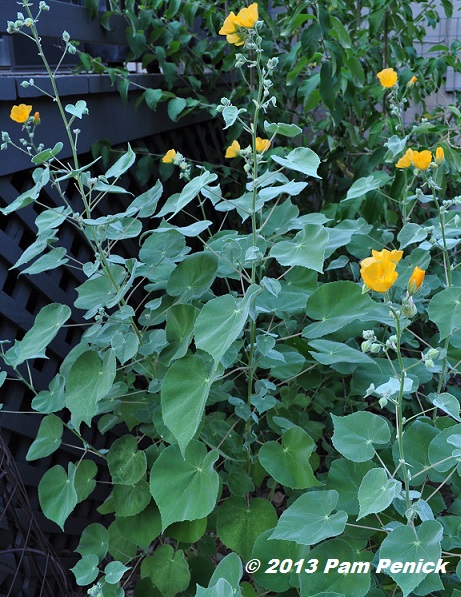 Also called superstition mallow (for the Superstition Mountains in Arizona, part of its native range), Indian mallow needs very well-drained soil and plenty of sun. I brought this plant home in my suitcase from Tucson, not knowing if it would survive the winter in Austin since it's rated hardy only to zone 9 (20 to 25 degrees F). Last winter turned out to be mild, and the plant remained evergreen.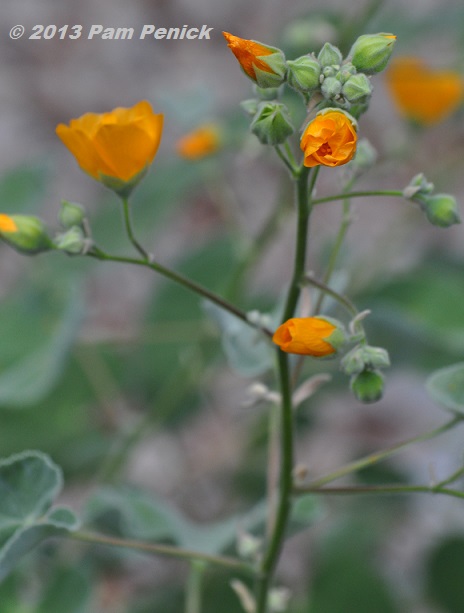 In the spring it put out lots of new growth, and cup-shaped, orange flowers appeared soon after, continuing through the summer despite its neglect in a poorly watered, blasting-hot corner of the garden.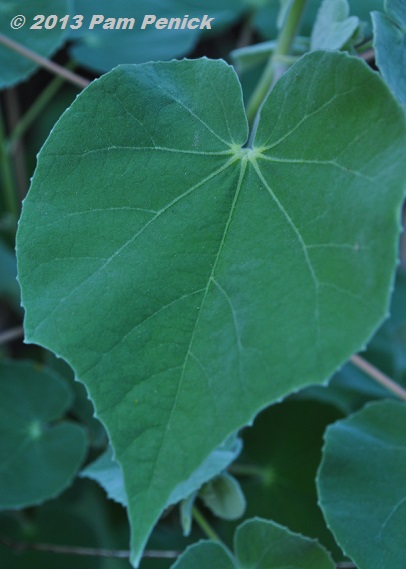 The silvery, heart-shaped leaves are large for a drought-tolerant plant — some are 5 to 6 inches across — but are soft and fuzzy to the touch, a water-conserving adaptation. Each one is as pettable as a stuffed bunny.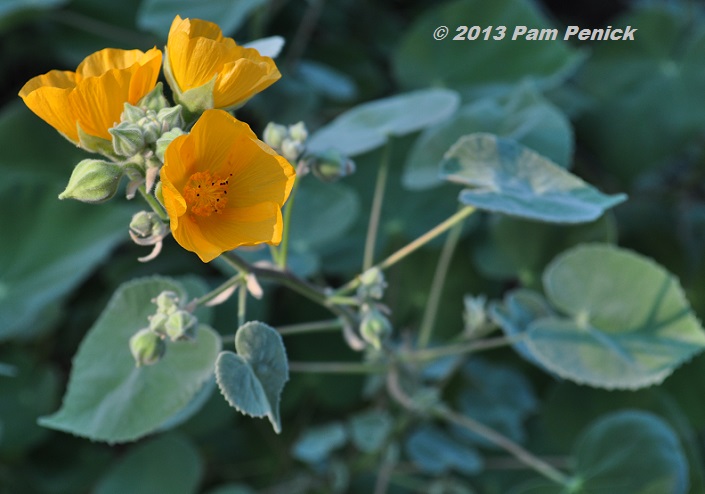 Since bringing it home, I've spotted Indian mallow in one other local garden. I don't think it'll be easy to find in Austin nurseries, and since it's only marginally hardy a hard winter freeze may take it out. But if you like to live dangerously and have a protected but hot, dry, sunny spot, give Indian mallow a try. You'll love it all summer and — fingers crossed! — all winter too.
I'm joining other bloggers for the Bloom Day meme with this post. Visit May Dreams Gardens to see what's blooming in other gardens around the world on this date. And don't forget to join me tomorrow for Foliage Follow-Up!
All material © 2006-2013 by Pam Penick for Digging. Unauthorized reproduction prohibited.