September 13th, 2013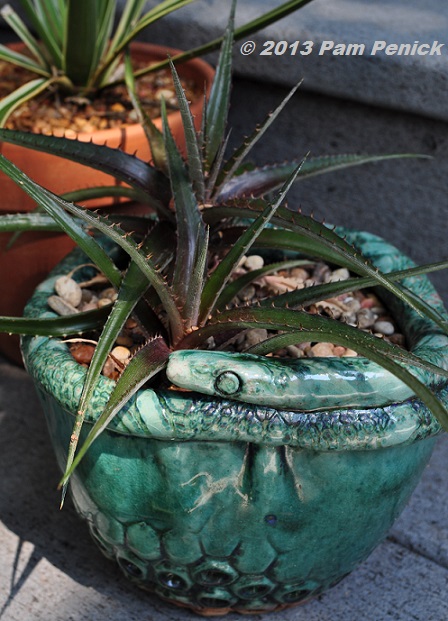 I don't know when my Rick Van Dyke pottery obsession started, but I have it totally under control. I can stop anytime I want. Anyway, I needed a little pick-me-up a few weekends ago and found this fun snake pot at Rick's booth at the Austin Cactus and Succulent Society's fall sale. Love! For now I have a 'Cherry Coke' dyckia in it (a division from my friend Vicki at Playin' Outside), although when it grows large enough to obscure the snake I'll have to plant something else. For now the fanged plant and the slithery pot seem a good match.
(If you're interested in starting or adding to your own collection of Van Dyke pottery, his Fireseed Clay Art Studios in Austin is having a grand opening this Saturday from noon to 5 p.m.)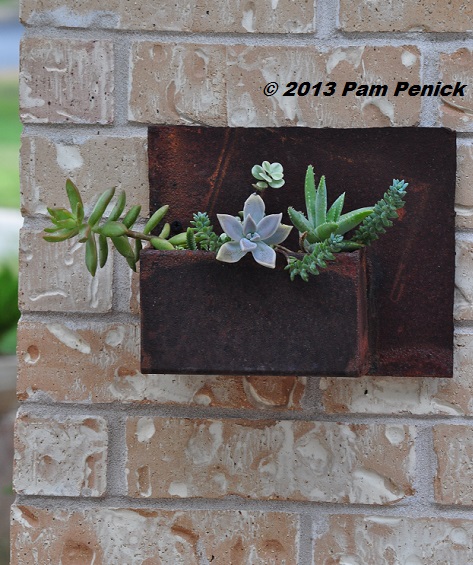 Speaking of fun succulent planters, I'm still loving this contemporary metal wall planter that the talented Bob Pool of Gardening at Draco made on commission for me. Yes, it's a blatant ripoff of Potted's City Planter — sorry, Annette and Mary! — but, hey, gardening often involves the theft borrowing of great ideas. Um, at least in my case.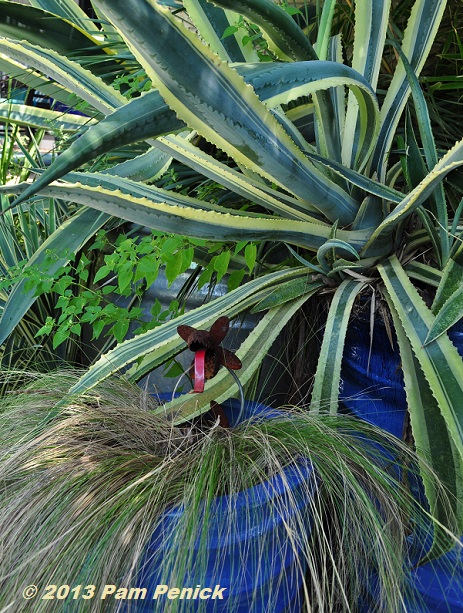 Virtually exploding out of its pot in the back garden is a variegated American agave — so stripey and snazzy but totally out of control. I fear it'll eventually break the pot in its bid for freedom, but I love its visual energy.
Are you enjoying any cool new containers or succuliciousness in your garden?
All material © 2006-2013 by Pam Penick for Digging. Unauthorized reproduction prohibited.