September 3rd, 2013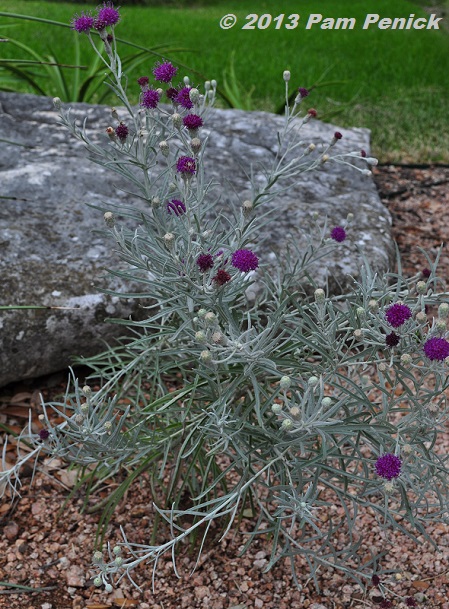 Pretty, yes? This silver-leaved lovely with buttons of purple-pink flowers, growing in 4 or 5 inches of decomposed granite with no irrigation, has an interesting back story.
In April 2012 David Salman of High Country Gardens (since closed and reopened under American Meadows' ownership) sent me a box of plants to trial here in Austin. Included were three silver ironweed (Vernonia lindheimeri var. leucophylla), a silvery subspecies of wooly ironweed (Vernonia lindheimeri), which is native to the Edwards Plateau of west-central Texas and the Hill Country.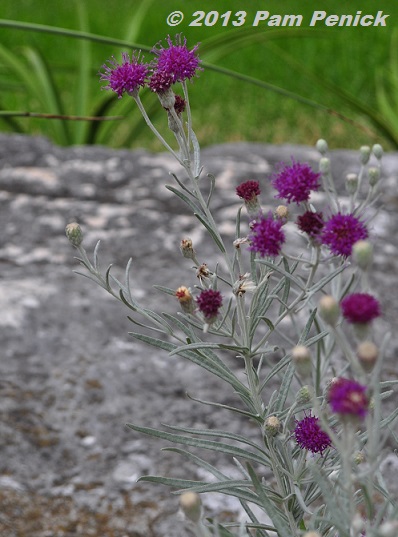 In High Country's archives (link no longer working), David described how silver ironweed performed in his own high-desert New Mexico garden. He mentioned that he acquired the seed for this subspecies from Scott and Lauren Springer Ogden, who found it growing in the "cold, arid Davis Mountains of west TX (at the northern edge of the vast Chihuahuan desert)," and said he'd been propagating it for several years.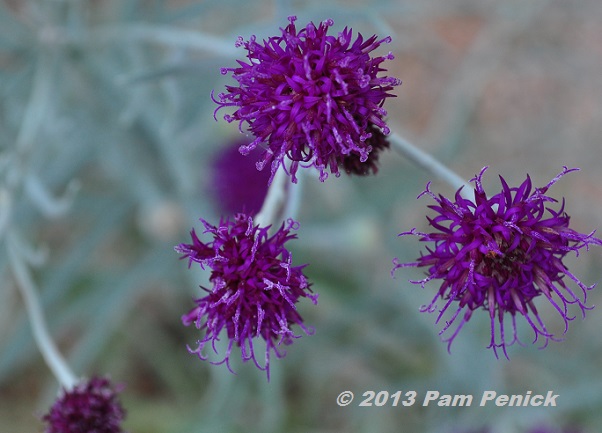 Of my three trial plants, I put two in the back garden, in wood-mulched beds that receive the most sun (about a half day of afternoon sun), and one in the front garden, in a protected angle of a decomposed-granite path, with a few hours of morning sun and no irrigation. The two in the back garden grew straggly and thin and basically looked like weeds until they croaked. My guess is they got too much moisture, thanks to Austin's humidity, regular summer irrigation, and organic mulch. The one in the front garden looked better at first but suffered several mishaps, including being stepped on by a visitor who mistook it for a weed and being regularly browsed by deer, even after I put a protective "cage" of bent cattle panel over it.
I did give it a drink about once every couple of weeks through that first summer, and it survived despite the deer, the careless foot, and likely a wish for more sun. I cut it back to about 6 inches around March, and then basically ignored it. The deer have so far left it alone this year, and it's grown to about 12-15 inches tall and 10-12 inches wide. It started blooming about two weeks ago and last week was covered in purple button-like flowers.
If you enjoy these sorts of plant trials in your own garden, and if you can find silver ironweed (High Country no longer seems to be carrying it), I suggest planting it in lean, gravelly soil or decomposed granite, in full or half-day sun. Give it some protection from deer the first year to get it established. Water sparingly.
If Vernonia lindheimeri var. leucophylla proves too difficult to locate here in central Texas, try our native Vernonia instead: wooly ironweed (Vernonia lindheimeri), which Barton Springs Nursery sometimes carries.
Update 9/4/13: From David Salman at High Country Gardens, "an update on availability of silver ironweed (Vernonia lindheimeri var. leucophylla) through High Country Gardens; it will be available for spring 2014. I've got some beautiful seedlings going into our 5-inch deep pots this fall. They'll be ready for shipping in mid-Feb. and March for TX customers. And it will be a regular in the future as I now have a good supply of seed."
All material © 2006-2013 by Pam Penick for Digging. Unauthorized reproduction prohibited.