March 31st, 2007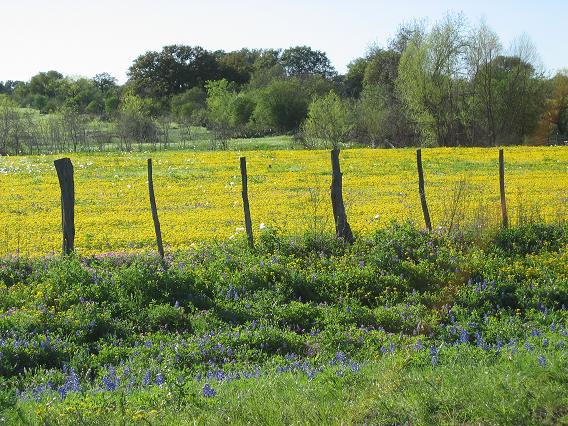 The lure of a good bluebonnet season enticed me into the Hill Country today. Around 2 pm, I headed west from Austin toward Fredericksburg, then up to Llano before returning home. Brown, nondescript roadsides along Hwy. 290 on the way to Fredericksburg had me worrying that I'd come too early. But as soon as I turned north on Hwy. 16 headed to Llano, the roadsides and fields burst into bloom. Here's a sampling of the wildflowers I saw today.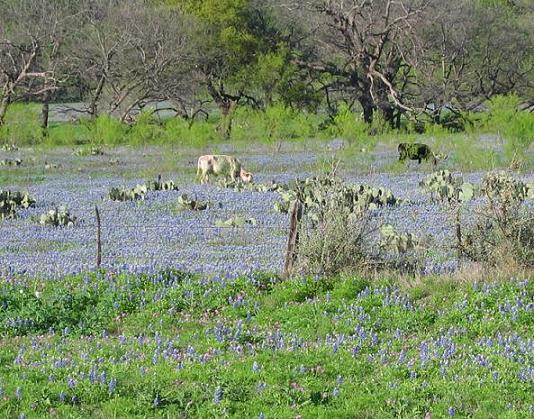 Cows grazed among the bluebonnets, which covered the fields so thickly they created an illusion of water. See the mist of blue even in the far background, behind the trees?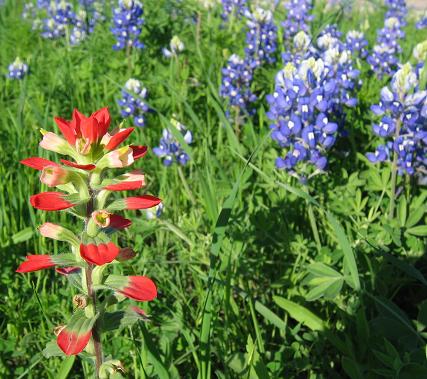 Indian paintbrush (Castilleja indivisa ) and bluebonnets (Lupinus texensis ) mingle alongside the highway.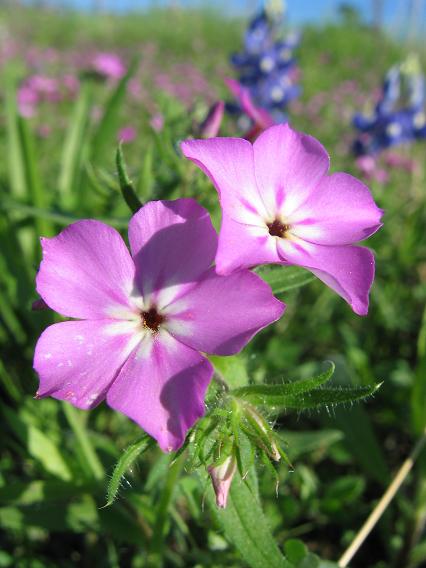 Texas Wildflowers: A Field Guide, by Campbell and Lynn Loughmiller, helped me identify this one as goldeneye phlox (Phlox roemeriana ).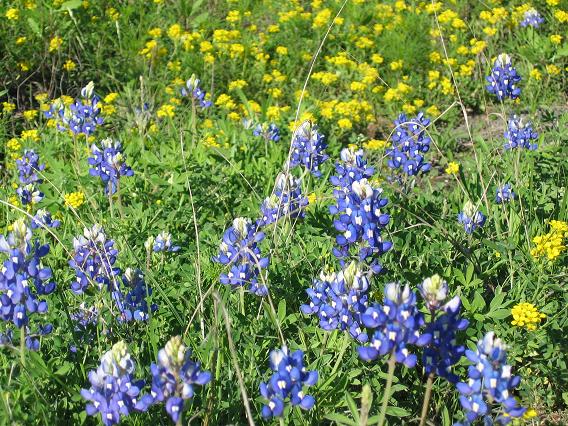 Bluebonnets and Fendler bladderpod, or popweed (Lesquerella fendleri )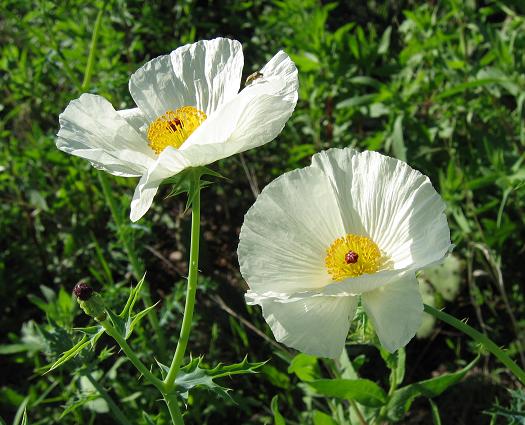 White prickly poppies (Argemone albiflora ) like these floated above entire fields.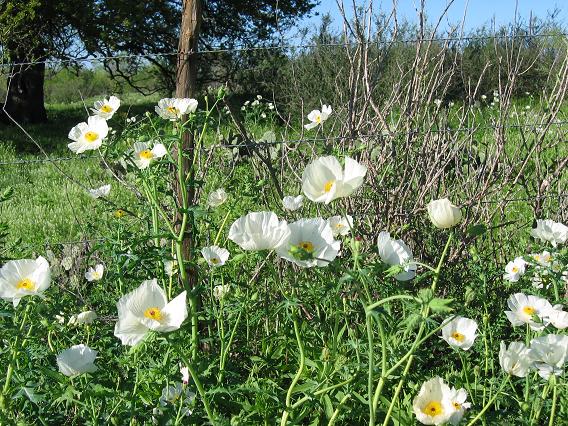 More poppies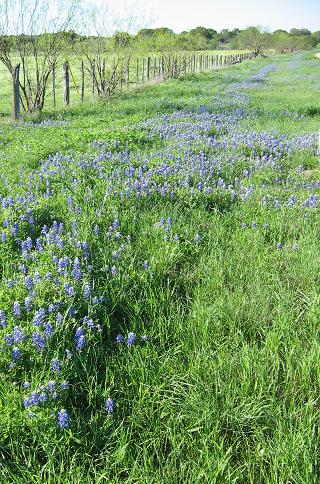 A roadside river of bluebonnets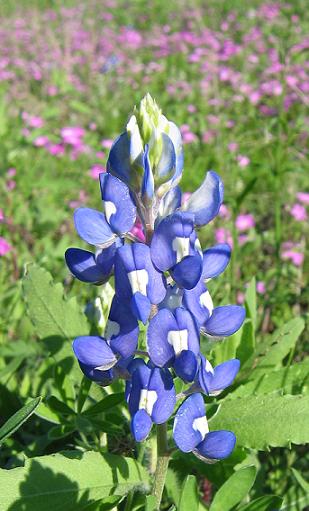 A bluebonnet with goldeneye phlox in the background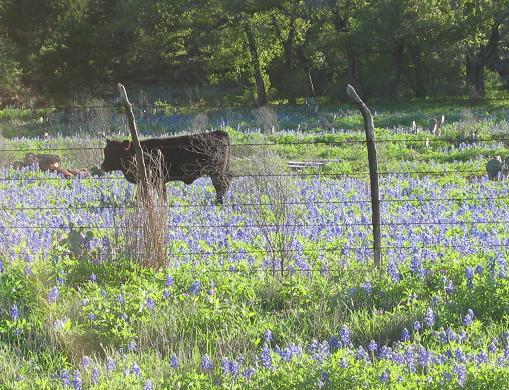 More bluebonnets sharing space with grazing cows
Between Johnson City and Fredericksburg, we came across the Lyndon B. Johnson State Park and Historic Site. Since we were on a wildflower safari, it seemed appropriate to remember not just LBJ's legacy but his wife Lady Bird Johnson's legacy of promoting the preservation and seeding of native wildflowers along state highways. We stopped in for a quick look around, and just past the visitor center we found a charming living-history farm, known as the Sauer-Beckmann Farmstead. Several adults and one child wearing early 20th-century farm clothes were working the farm as in days of old, churning butter, making lye soap, blacksmithing, and caring for the livestock. It was quite educational to see how people got along without refrigeration, indoor plumbing, electronics, or any other modern conveniences we take for granted.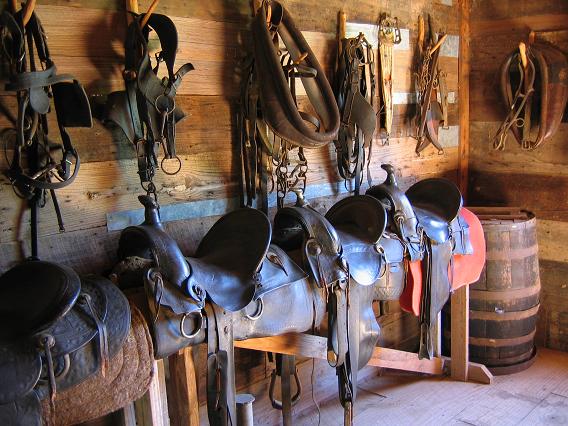 Though we didn't see any horses at the farm, saddles lined a wall in an atmospheric tackroom in the barn.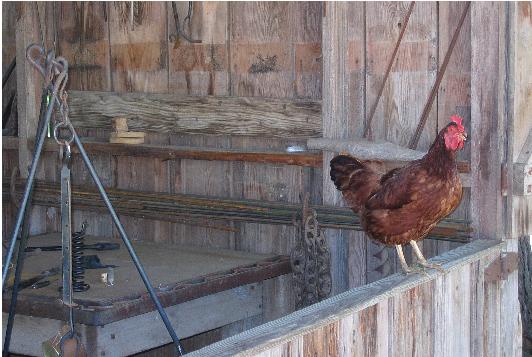 A red hen kept the blacksmith and his grandson company until we walked up. Then she flew down from the wall and scurried away. What a chicken.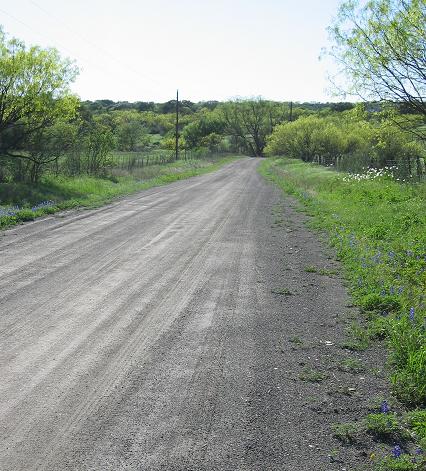 At last it was time to head home. So long, country roads.