August 21st, 2013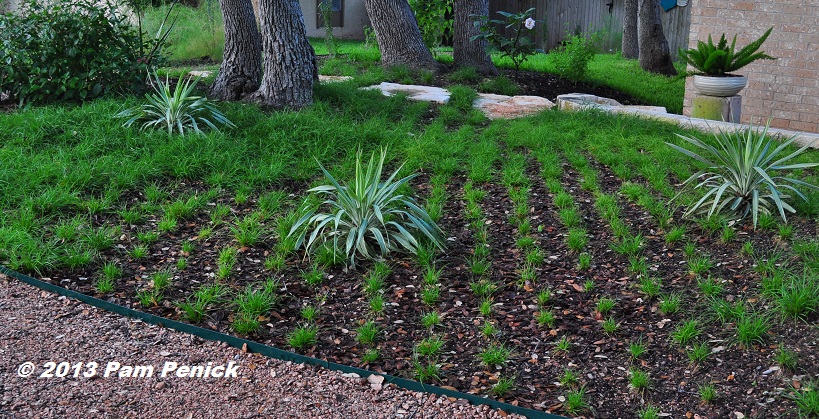 After escaping another Austin summer by reliving my recent California vacation it's time to refocus attention on my own garden. The Berkeley sedge (Carex divulsa) that I planted in early March is finally filling in. Well, the left part is. The section on the right still looks like a man's hair-replacement plugs. A trio of 'Margaritaville' yuccas (an idea I borrowed from Scott and Lauren Springer Ogden's garden) are pale, stripey accents.
I plan to write a detailed post about my sedge lawn experiment very soon — possibly tomorrow. Stay tuned for before-and-after photos and how-tos.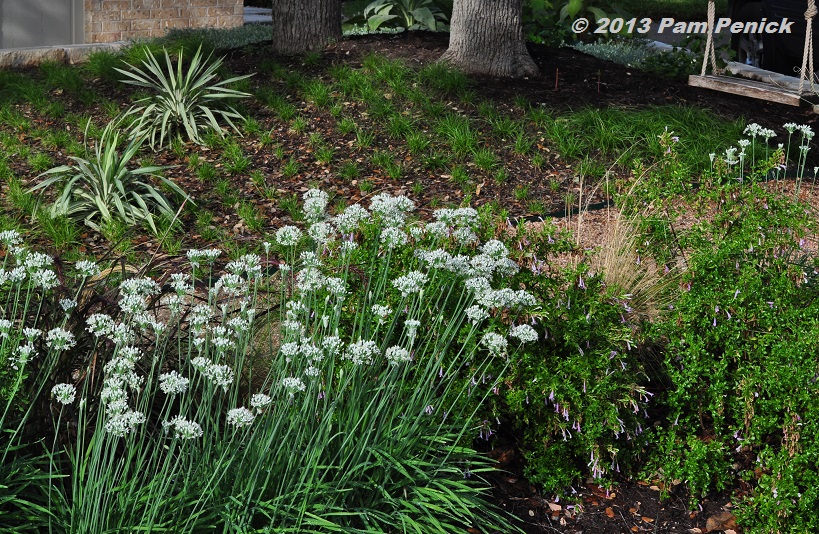 The view from the street. Several of my neighbors have asked me this week what the white-blooming flowers are. The garlic chives (Allium tuberosum) are showing off!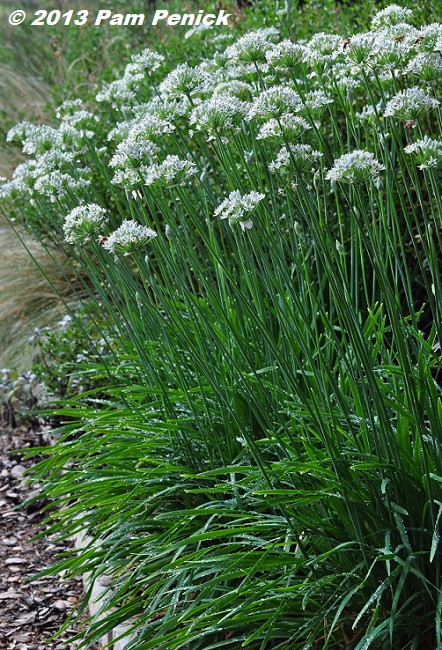 Their slender stems and neat, grassy foliage are quite elegant, I think, for such a commonplace, easy-to-grow plant.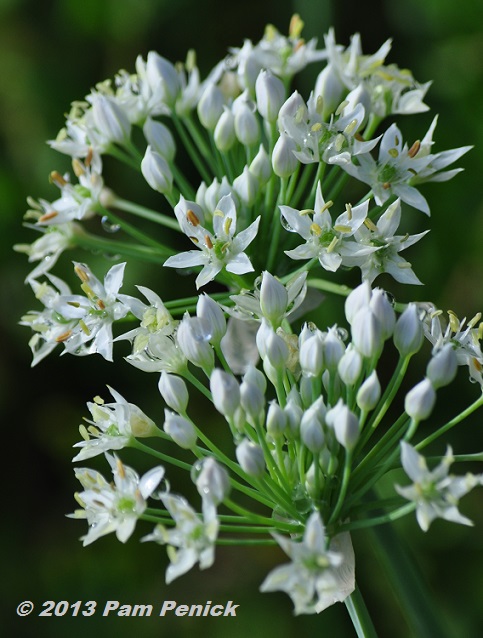 Deer hate them, and bees love them. I'll post some chive-loving bee pics soon.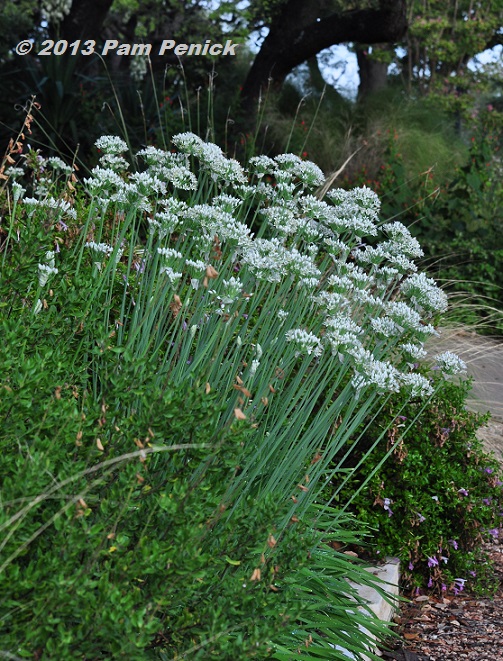 The other side view. (Please don't flop. Please don't flop.)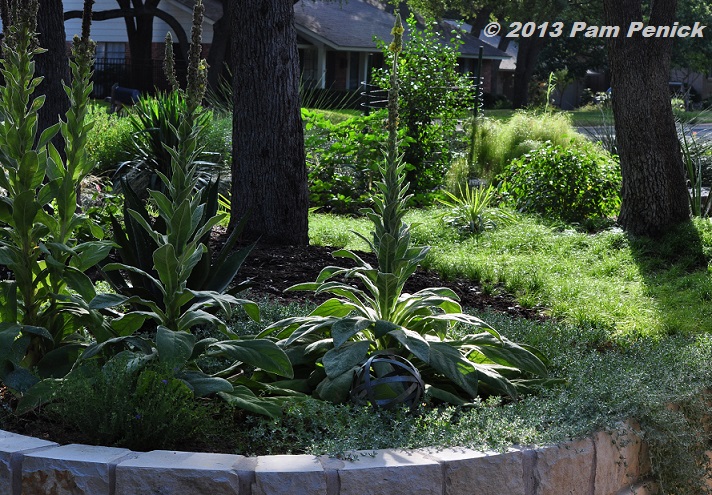 From the front of the house, this is the view that greets me each morning. All three giant mulleins (Verbascum thapsus) are in bloom, and since they're biennial (living only two years) that means they'll die come winter. But I hope to have seedlings next spring. I know they are supposed to be seed-making monsters. We'll see. I seldom get a lot of seedlings in my garden, including garlic chives, despite their reputation.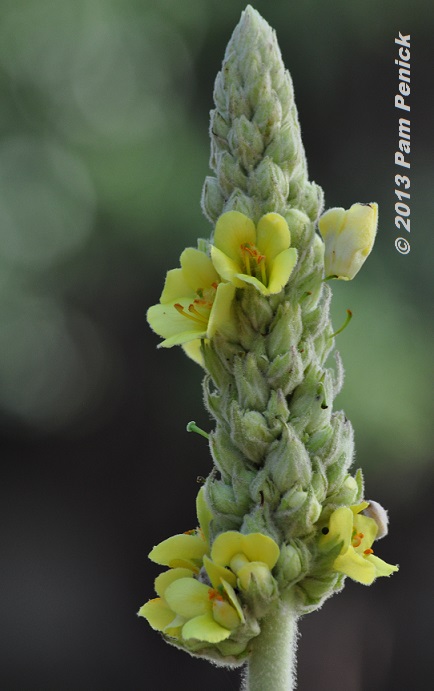 Soft-yellow mullein bloom, on stalks that are almost as tall as I am.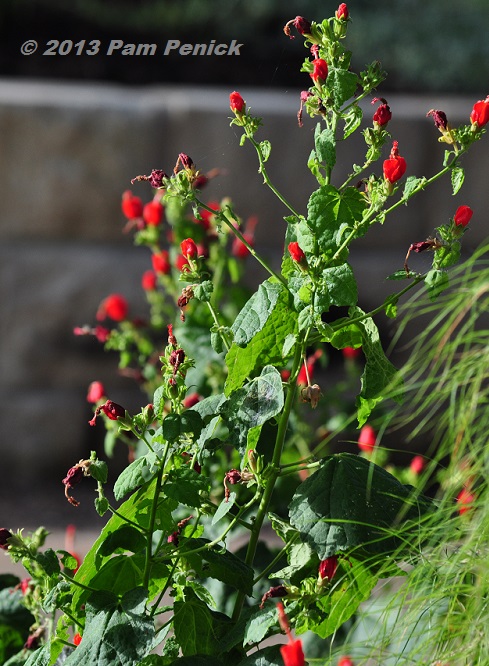 Hummingbird magnet Turk's cap (Malvaviscus arboreus var. drummondii) has been blooming reliably all summer in the shade of the live oaks. I love this easy-care, hot-flowered native.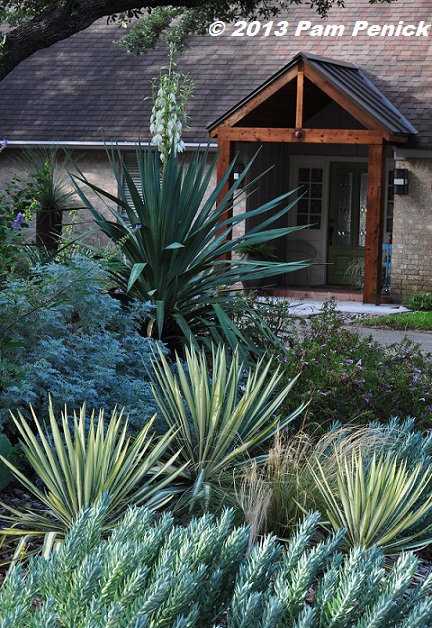 This is the island bed as seen from the street. Planted in silvers and golds, this is a very low-care area — except for the live oak sprouts, which do drive me to distraction and need frequent cutting down with the weed-whacker. Still, this garden delivers a lot of enjoyment through the year with tough, drought-tolerant evergreens like gopher plant (Euphorbia rigida), 'Color Guard' yucca, 'Powis Castle' artemisia, Mexican feathergrass (Nassella tenuissima), softleaf yucca (Y. recurvifolia), and Mexican oregano (Poliomintha longiflora).
All are deer resistant — and, I guess, rabbit resistant. A couple of days ago, I spotted a rabbit in the neighbor's front yard for the first time ever. Add rabbits to the menagerie of armadillos, deer, raccoons, and coyotes that call my neighborhood home.
All material © 2006-2013 by Pam Penick for Digging. Unauthorized reproduction prohibited.