March 25th, 2009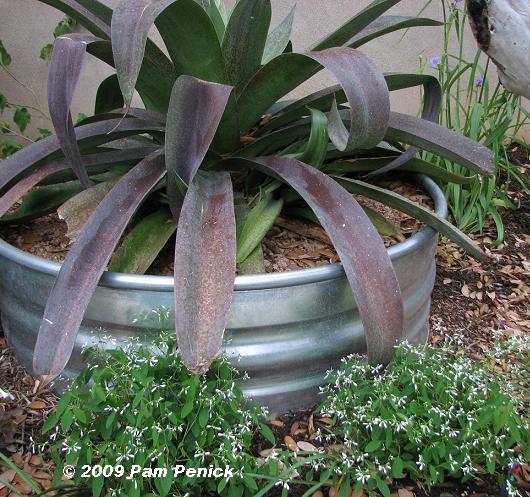 My 'Macho Mocha' mangave (pronounced man-GAH-vay) is budding its first bloom stalk! I'm very excited and checking on it almost hourly. When I transplanted it from my old garden last fall, giving it a solo spot in a low stock tank, I never expected it to respond like a gorilla on steroids. But that's exactly what it has done over the winter and spring. This thing is a macho monster now. It could eat the Village People for breakfast.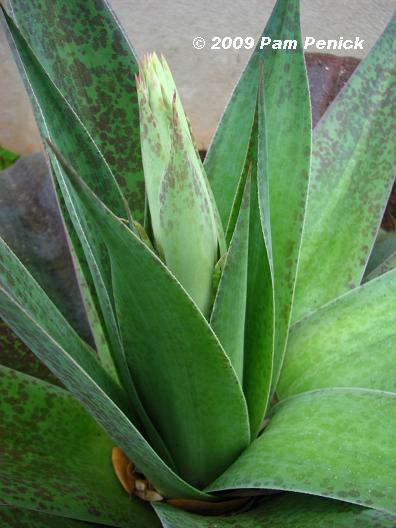 As soon as I moved it last fall, it started producing pups—baby mangaves that grow out from under the mother plant. I'd read that pups appear before it blooms, so I wasn't entirely surprised to see the beginnings of a bloom stalk. At first I was also a little sad because I thought this plant, like many agaves, dies after blooming. But having done a little online research, I think it survives. Can anyone confirm? Update: Yes, it lives.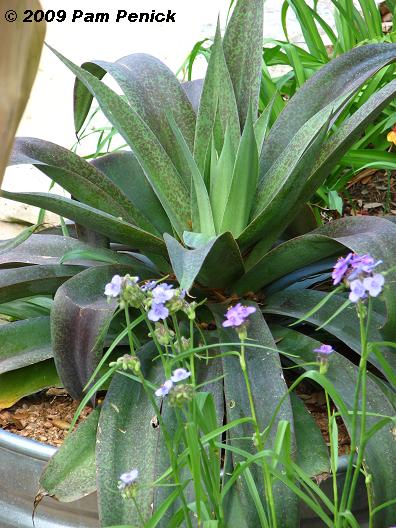 This is an incredibly eye-catching plant, as structural as an agave but lacking the sharp spikes that make some people shy away. Purplish red spots freckle the green leaves, and some of the lower leaves are entirely eggplant-colored. Like agaves and other members of the woody lily family, it is susceptible to the dreaded snout-nosed agave weevil. But I wouldn't garden without it. It grows in sharply drained soil in either sun or shade and is very drought-tolerant though it appreciates a long drink every so often in the hot summer months.
For more info, check out Sunset's Fresh Dirt blog, original provider Yucca Do's catalog, and the always irreverent Plant Delights Nursery's catalog, which deadpans that "the thick 8-ft tall flower spikes [are] a hummingbird's wet dream."
Eight feet!? I'm waiting with bated breath.
Note: My Plant This posts are written primarily for gardeners in central Texas. The plants I recommend are ones I've grown myself and have direct experience with. I wish I could provide more information about how these plants might perform in other parts of the country, but gardening knowledge is local. Consider checking your local online gardening forums to see if a particular plant might work in your region.
All material © 2006-2009 by Pam Penick for Digging. Unauthorized reproduction prohibited.