July 23rd, 2013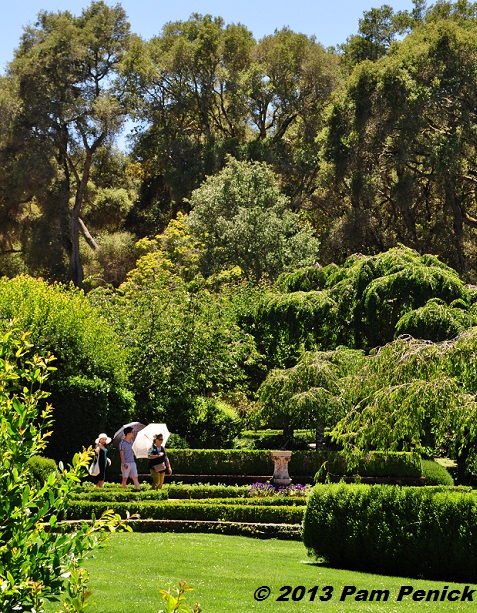 Our 3rd stop on the 2nd day of the San Francisco Garden Bloggers Fling was the old estate garden of Filoli. According to its website, Filoli is a "654–acre property, including the 36,000 square foot Georgian country house and spectacular 16–acre English Renaissance garden."
Despite the Texas-level heat on this late June day, I was eager to explore the garden. But first I wanted to know one thing: how to pronounce the garden's name? "Filoli," I learned, is a combination of the first two letters of three verbs in the original owner's credo: "Fight for a just cause; Love your fellow man; Live a good life." OK then: Fie-low-lee?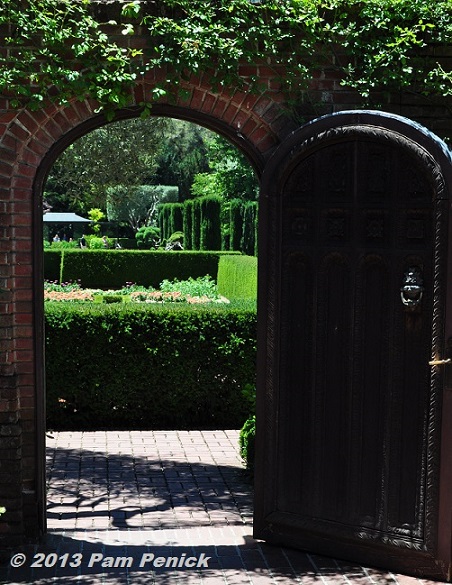 Hidden behind a series of tall, brick walls, with bright views inviting you through arched doorways, Filoli is explored the way you'd unwrap a beautiful gift.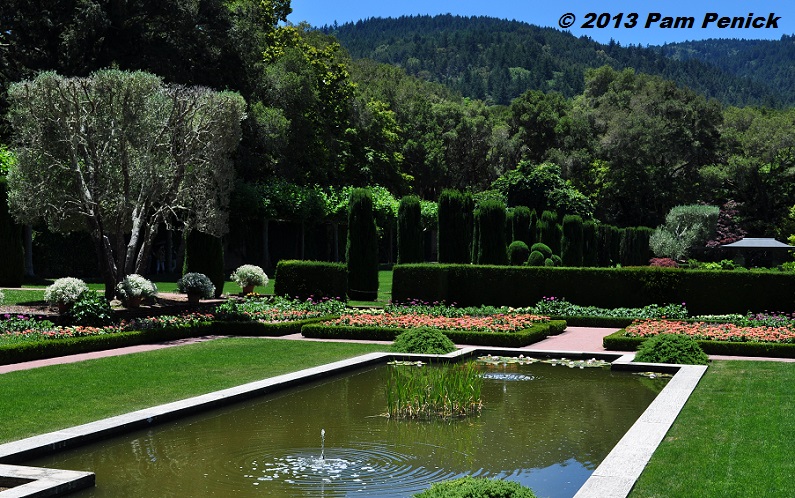 You pass through a wall, take in the formal vista of clipped hedges, masses of colorful annuals, and focal points like a pond, conservatory, or row of columns, and then you reach another wall with an open door. You can't help pressing on to see what's revealed ahead.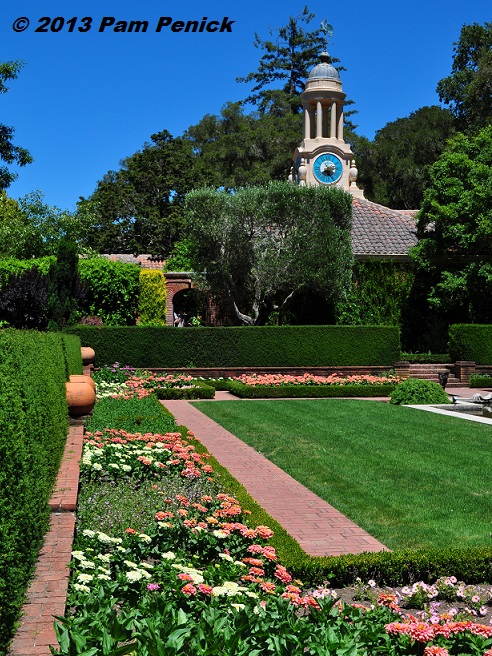 On this bright, sunny — and did I mention very warm? — day, I didn't have much luck recording those secret transitions, those doorways between shade and sun that so enticed me. But my camera and I did fine with open vistas like this. That's the cupola and clock above Filoli's lovely gift shop, and just to the left is the arched doorway I came through.
Peach-colored flowers pick up the terracotta hue of old bricks and rounded pots, contrasting so nicely with the emerald lawn and perfectly clipped hedges.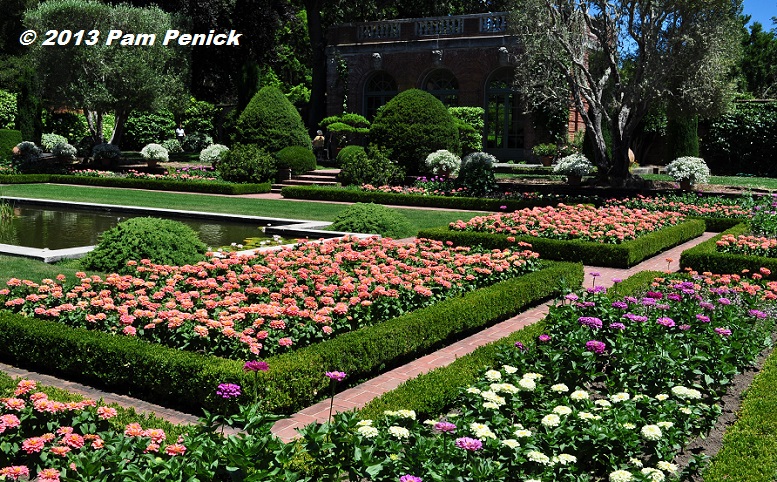 Looking to the right you see a brick conservatory with arched windows framed by clipped shrubs overlooking the formal pond.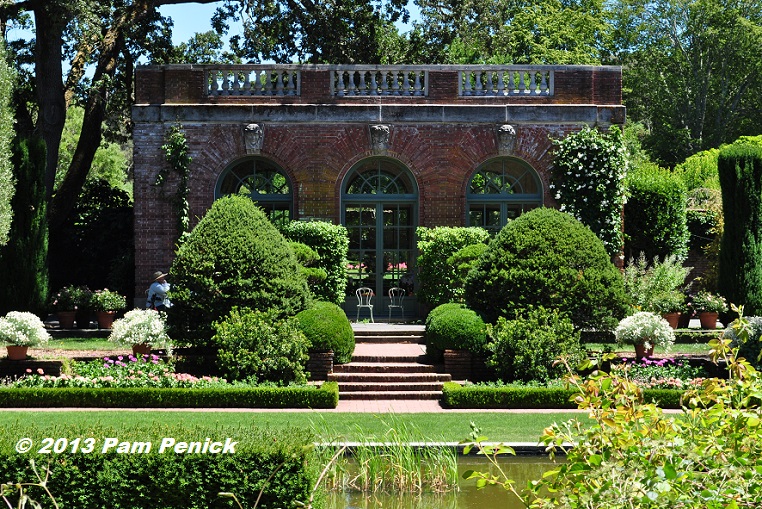 A closer look at this romantic, vine-swathed structure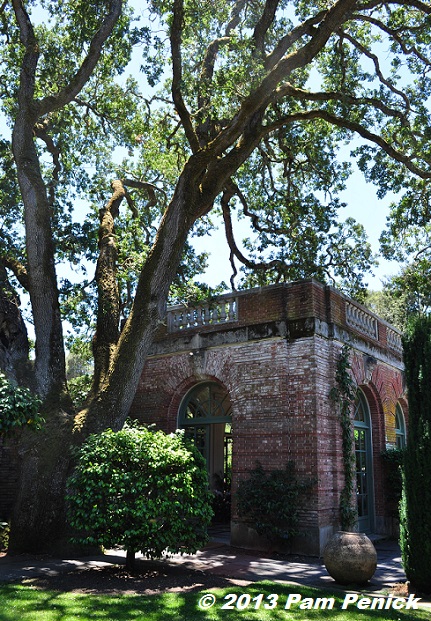 Approaching from the left I admired the old brick and tall tree arching protectively over the roof.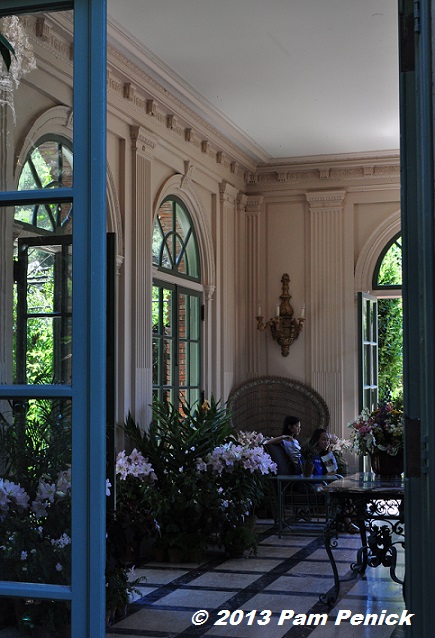 A quick peek inside reveals an elegant place to sit and enjoy the view.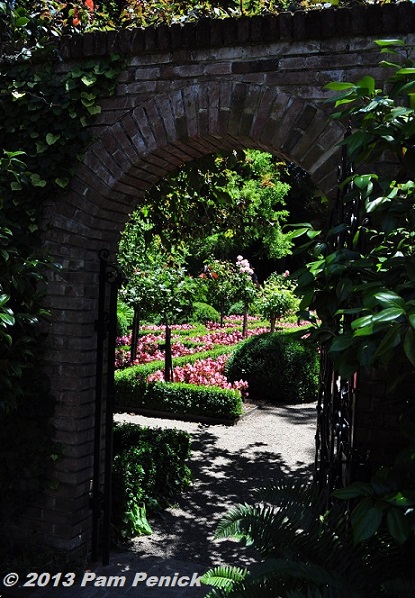 Another of those enticing doorways — from shade into sun and a blaze of pink begonias.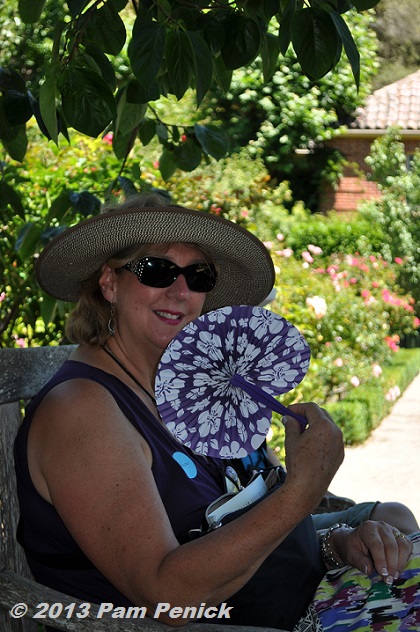 Feeling rather sweaty at this point, I decided to park myself under a shade tree and guzzle a bottle of water. I found a group of blogging friends doing just that and joined them. Here's the lovely Layanee staying cool with fan and hat.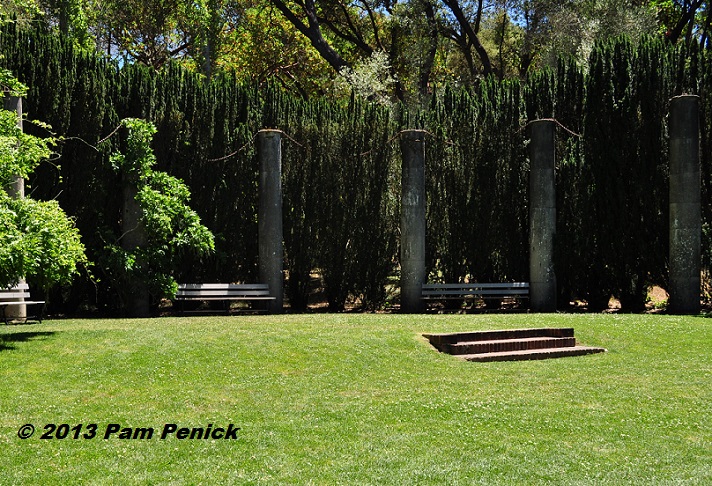 After a while we moved on, exploring all the way up a slight slope to the top of the garden, where a dramatic, semicircular colonnade of stone pillars and vertical trees marked the end of the garden.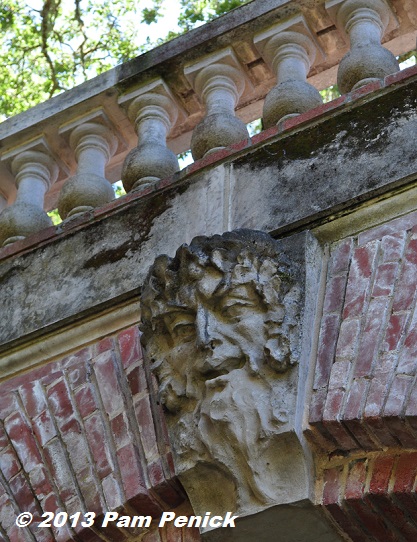 While the others headed to the main house for a tour and cool respite, I decided to poke around the rest of the garden, not wanting to miss anything.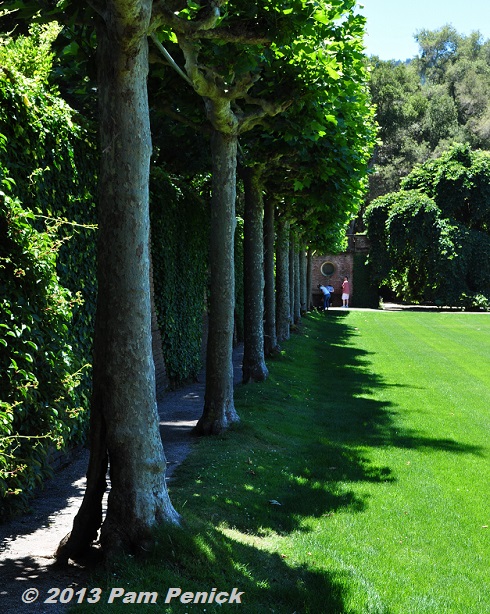 I admired a perfect line of trees marching along a vine-covered wall.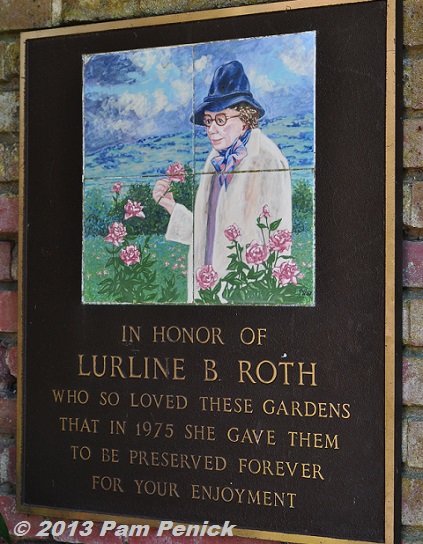 I stopped to read a plaque honoring Lurline B. Roth, the second owner of Filoli and the one who secured its preservation.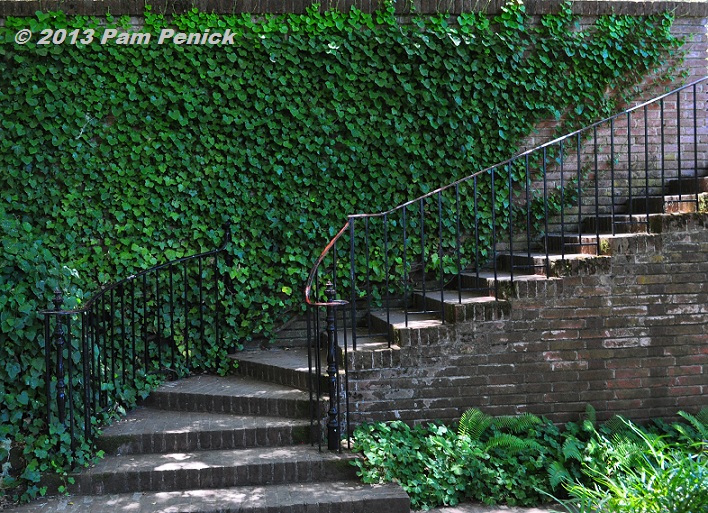 At the far end of the garden I found a woodland garden extending up a hillside. None of my photos of it came out. However, I enjoyed not just the shade but the prehistoric-looking tree ferns growing there. A tall wall enclosed one side of the woodland garden, and when I climbed the stair I discovered a rooftop patio with dozens of tables and chairs. No cafe, sadly. All was quiet, waiting for the next garden banquet fundraiser, I expect.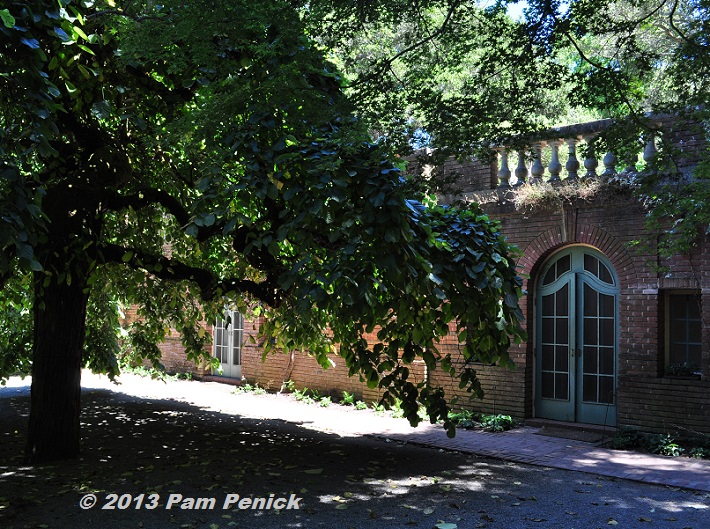 I had this part of the garden, distant from the house, all to myself. It was serene and shady.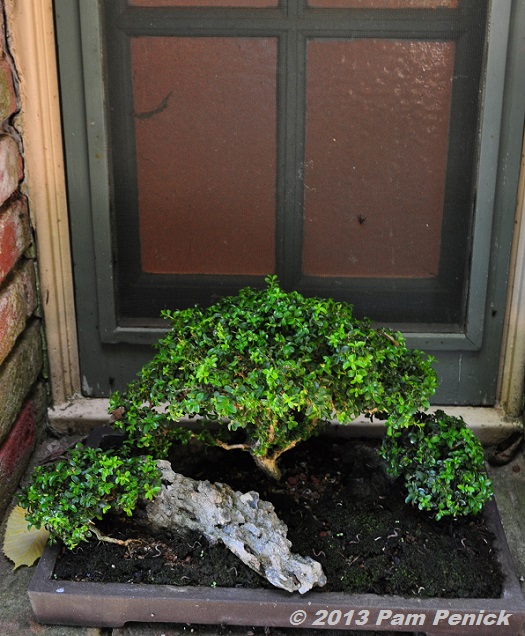 Shallow trays of bonsai had been placed on windowsills, to charming effect.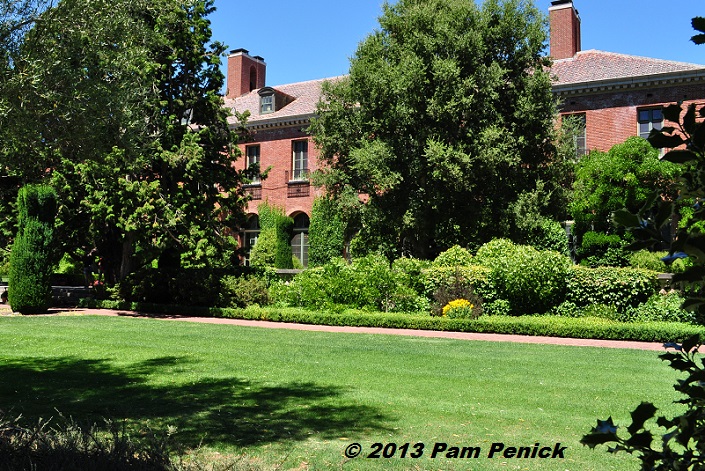 A last glimpse of the estate house, which I did not tour, having run short on time exploring the gardens. While formal estates with clipped hedges and bedding annuals are not my favorite type of garden, there's still much to enjoy, like old walls with arched doorways and precisely framed focal points. I'd love to see Filoli again, in another season — glorious spring, perhaps — and unwrap this present again.
Up next: The welcoming and uniquely personal garden of designer, author, and blogger Rebecca Sweet. For a look back at the sun-drenched display gardens of Sunset Publishing Corp.'s headquarters, click here.
All material © 2006-2013 by Pam Penick for Digging. Unauthorized reproduction prohibited.