July 22nd, 2013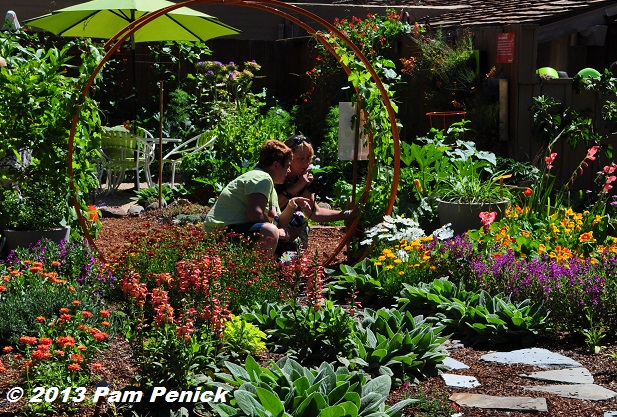 Our 2nd stop on the 2nd day of the San Francisco Garden Bloggers Fling was the low-slung headquarters of Sunset Publishing Corp. in Menlo Park, where we toured Sunset's display gardens.
While central Texas is just east of the western U.S. region covered by Sunset magazine, the monthly publication is widely available on newsstands here, and I pick up a copy from time to time to admire the stylish gardens it features. So I was interested to see what the gardens at its headquarters would be like. I was not disappointed. A 3,000-square-foot test area with edible beds, colorful seating areas, and trial plants from their Western Garden Collection greets you.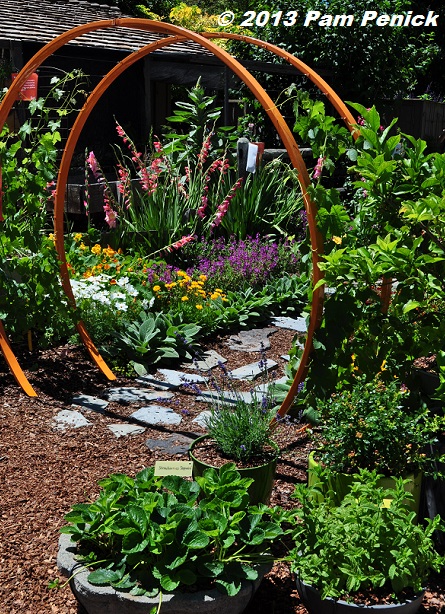 I loved this orange, metal arbor — a contemporary moon gate! — from TerraTrellis, which serves as entry to a colorful flower garden. But at $840, this garden structure is, ahem, just beyond my reach.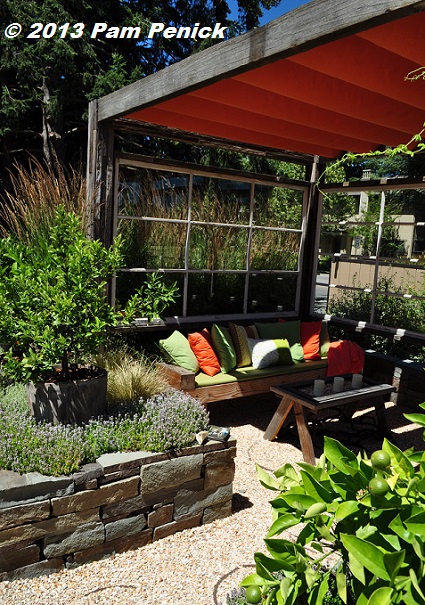 This wooden arbor with an orange fabric shade, recycled windows, and comfortable, cushioned benches is also fabulous, and I like how the arbor is partially enclosed by a low stone wall that supports a raised bed.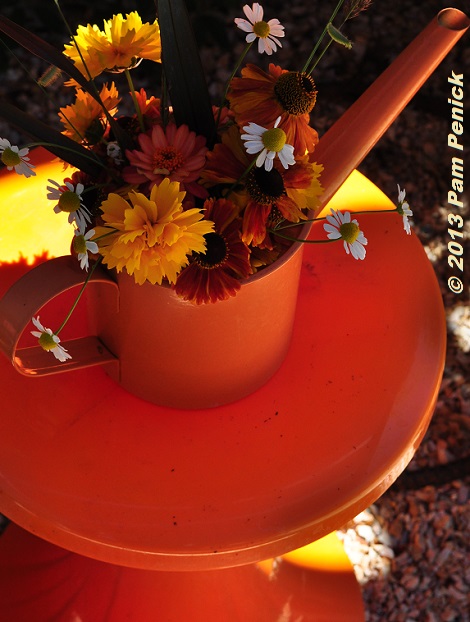 Under the arbor, a charming, orange-flowered bouquet in an orange watering can on an orange side table — orange, it seems, is the hot garden color these days.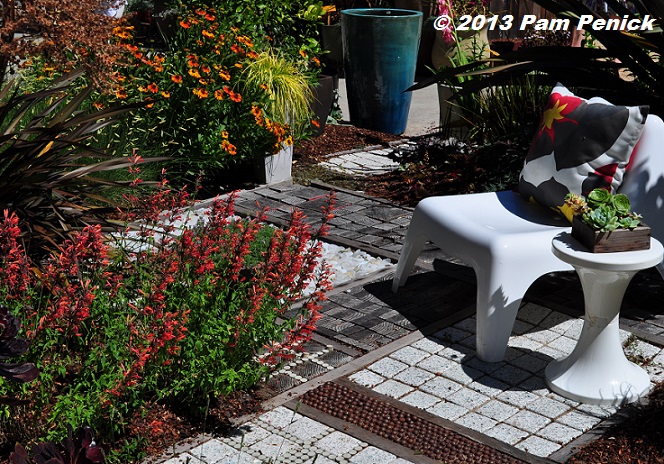 Around the corner, a sunny, patchwork patio constructed of various materials provides space for a mod, white plastic chair and table surrounded by red- and orange-flowering perennials and bronze phormium. While I like the zigzag design of the patio, I'm not a fan of the mixed materials in this case; they make the small space seem even smaller, and the white glares in the sunlight.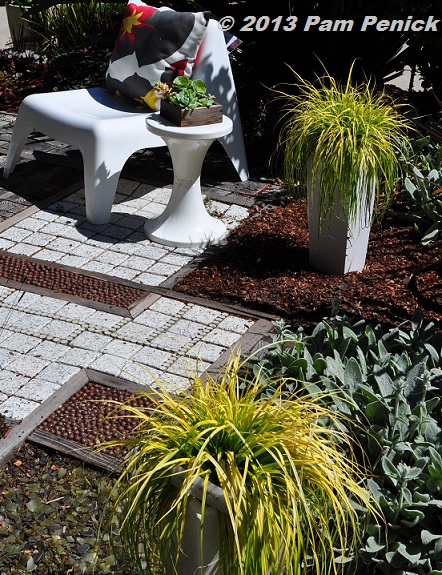 I do like those potted carex though.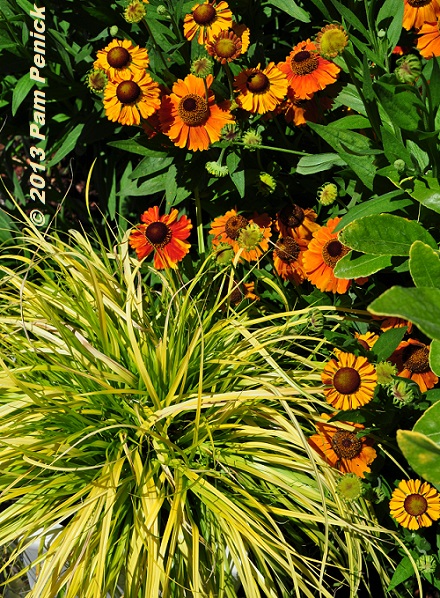 Its sunny foliage looks great paired with orange helenium…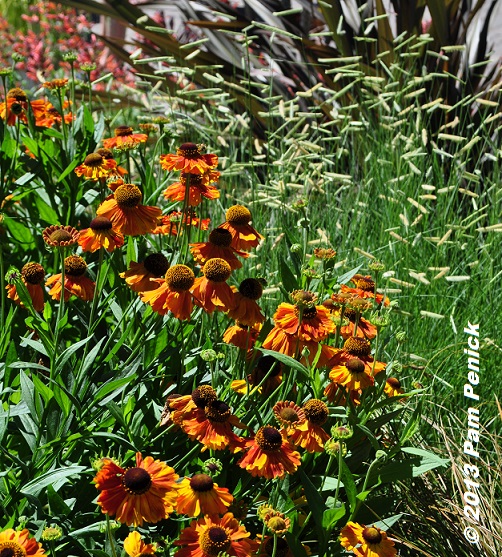 …which looks fine paired with 'Blonde Ambition' grama.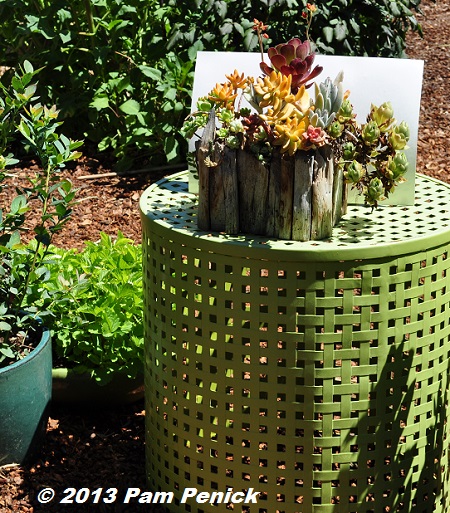 I lusted after this pistachio-colored, woven-metal side table.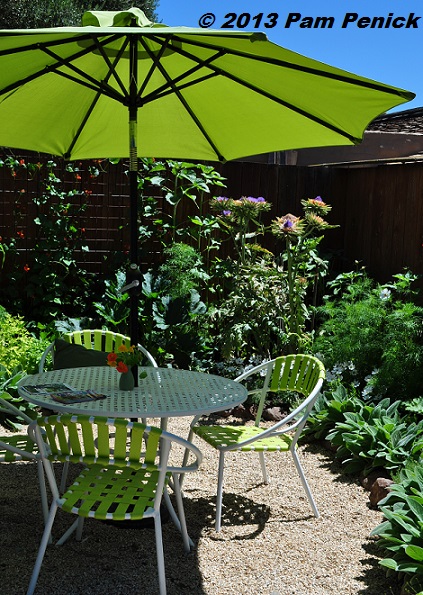 It matches this green patio set and umbrella.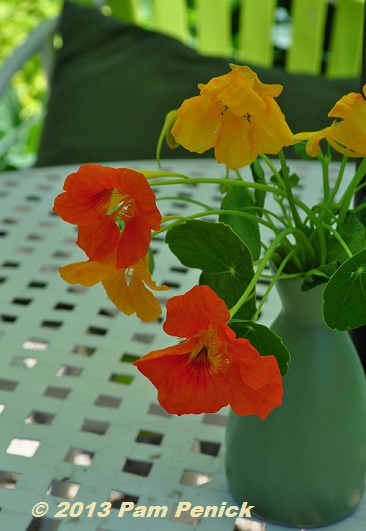 A sweet bouquet of nasturtiums, a little wilted in the unseasonable heat that San Francisco was experiencing while we were there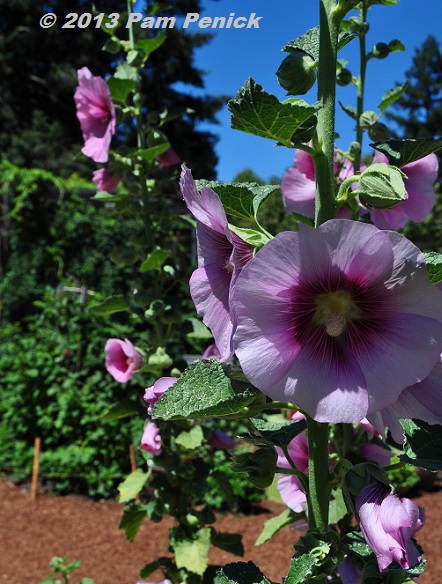 Hollyhocks and blue sky — a gorgeous combo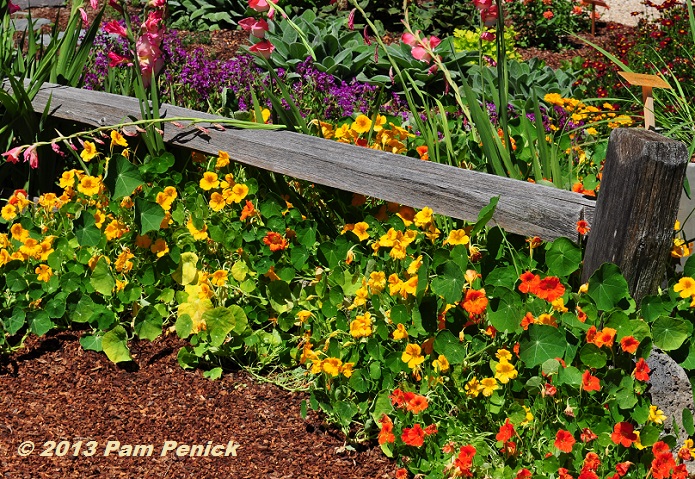 And who could resist colorful nasturtiums tumbling along a low, split-rail fence? Not me.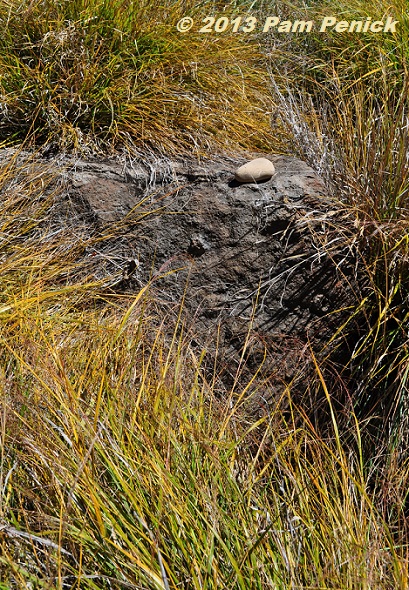 Following a path around the corner of a building, you leave the test plot and enter a more-expansive display garden, with beds representing various regions of the U.S. West surrounding a central lawn studded with a few majestic live oaks. For the most part, these gardens are more rugged and drier, more shrubby and less colorful, than the intensively cultivated test plot. A small rock placed on a boulder caressed by golden grasses caught my eye.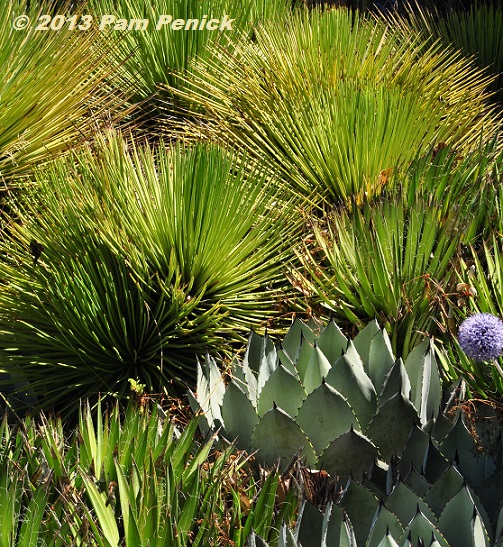 As did a swath of pincushiony Agave stricta in the desert garden.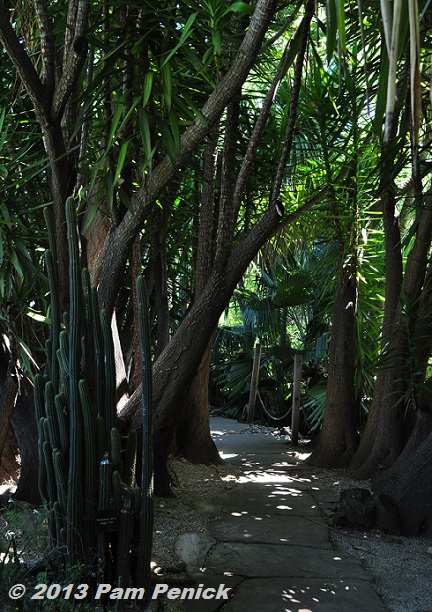 Appealingly shady on this hot day, a path running through a planting of tall cactus and tree yuccas — part of the Southwest Desert and Southern California section — beckoned for cool exploration.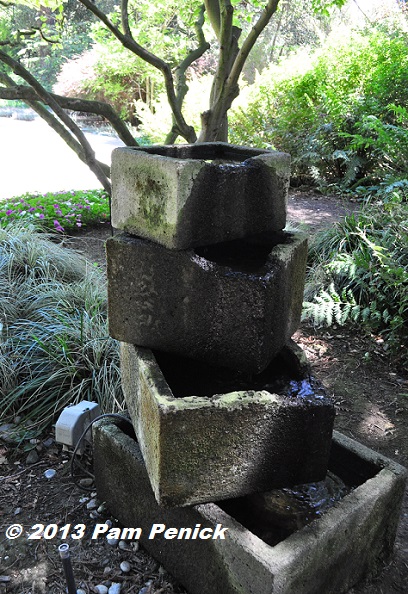 In the Northwest section, with Japanese maples, ferns, and other woodland plants, a trickling fountain constructed of stacked concrete troughs was attracting thirsty birds. I love the look of this fountain.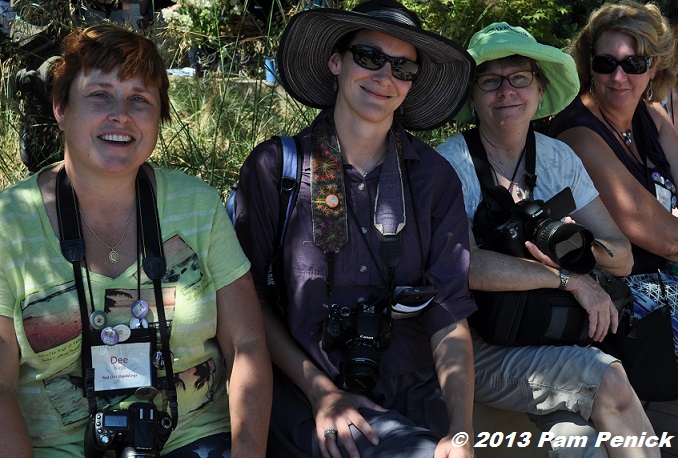 Circling back to the entry patio, I found several of my friends enjoying a shady rest: Dee of Red Dirt Ramblings in Oklahoma; Andrea (one of the Fling planners) of Grow Where You're Planted in College Station, Texas; Susan of The Bicycle Garden in Lubbock, Texas; and Layanee of Ledge and Gardens in Rhode Island. I feel so privileged to know these wonderful women and all the other garden bloggers I've met thanks to the annual Fling.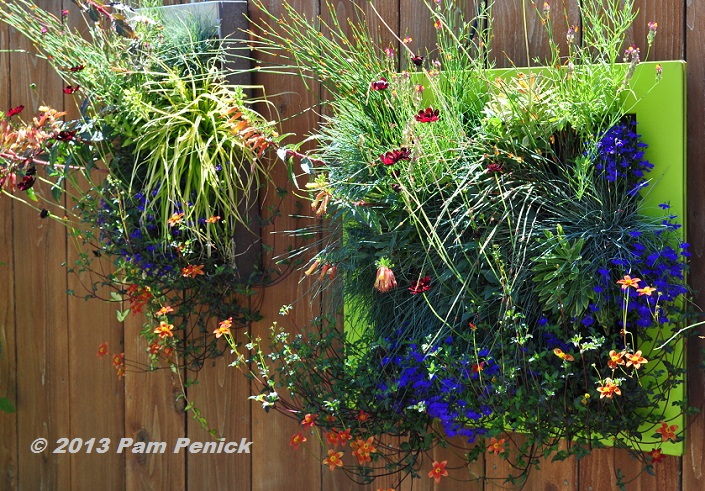 Just a couple more images from the test garden — vertical frames from Plantasy — to close…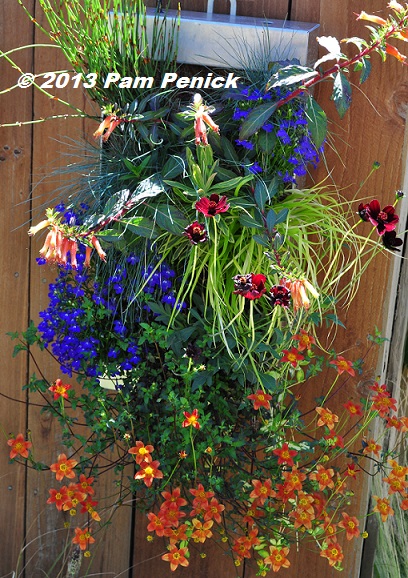 …and then it was time to jump back on the buses and head to grand Filoli.
Up next: The formal estate gardens of Filoli. For a look back at the photo workshop with Saxon Holt at San Francisco Botanical Garden, click here.
All material © 2006-2013 by Pam Penick for Digging. Unauthorized reproduction prohibited.
posted in
Agaves
,
Arbors
,
Botanic/Public Gardens
,
Bouquets
,
Cactus
,
Containers
,
Decor
,
Edibles
,
Fences
,
Fling San Francisco
,
Flowers
,
Fountains
,
Garden tours 2013
,
Grasses
,
Magazines
,
Paths
,
Patios & decks
,
Seating
,
Summer color
,
Travel
,
Trends
,
Walls
,
Water features