July 19th, 2013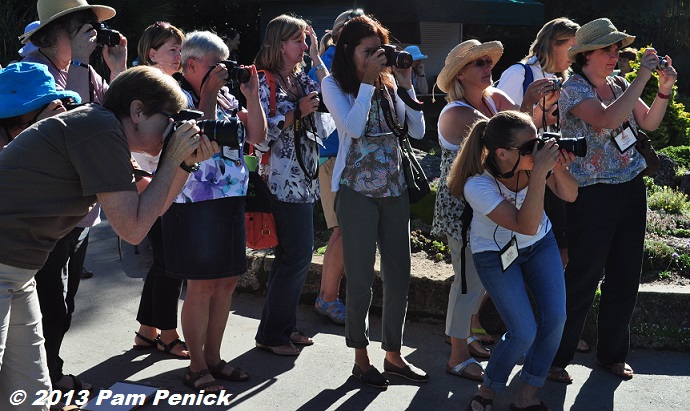 The 2nd day of the San Francisco Garden Bloggers Fling opened with an optional photography workshop with professional garden photographer Saxon Holt at San Francisco Botanical Garden. While participants arose early, we still did not arrive at the magical "golden hour" of sunrise, and by 8:30 a.m. a very un-San Francisco-like Death Star was already beating down with intensity.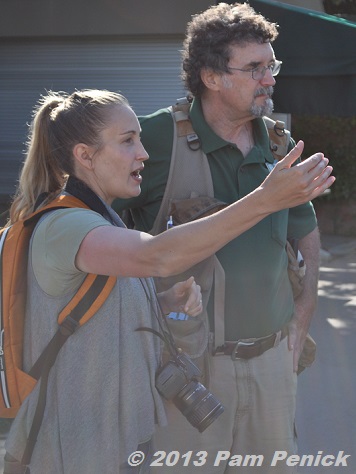 Despite the sun glare and the large number of bloggers who opted in on the workshop — a testament to Saxon's popularity and the desire of most garden bloggers to improve their photography skills — Saxon (pictured here with S.F. Fling organizer Kelly Kilpatrick) gamely led an exercise in teaching us to frame our subjects. Placing a large, rectangular frame in front of us, he asked us to approach it from varying angles and see how that changed the framing of the view.
Then he set us loose in the garden for about 45 minutes, challenging us to fill our frames as we shot the garden, leaving no wasted space along the edges of our images. Afterward he invited each of us to post one image from the exercise on his Facebook page for his critical evaluation.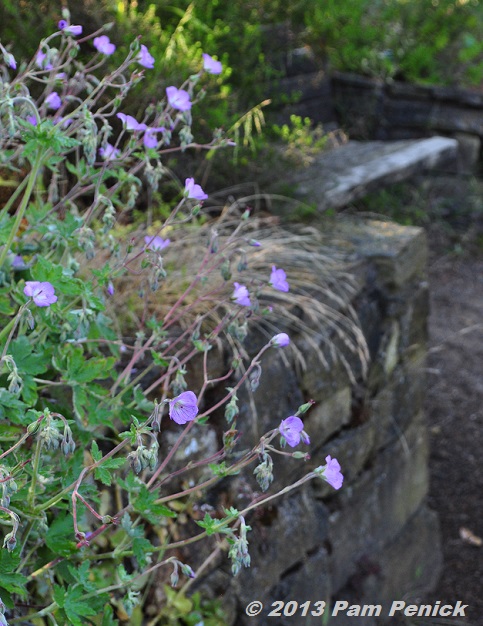 This is the image I chose to share: periwinkle geraniums spilling over a stone wall, with an inviting bench in the background. In his critique Saxon wrote, "I like the way you used the hardscape with diagonal lines to fill the frame and give some movement, but it feels a little empty on the right since it goes so out of focus. I wonder if you had moved to the left a bit and let the geraniums reach all the way across to the right side of the frame, you might have connected the parts of the photo."
Good point about the right side being so out of focus. I need to work on that since I really wanted the hidden bench to be a key part of this photo, rather than a tight shot of the geraniums. See what you can learn from criticism?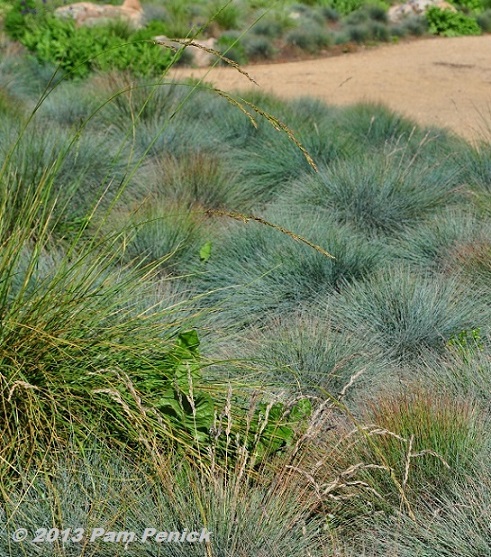 I'd nearly put this photo up instead: blue fescues and an angular, decomposed-granite path. What do you think? Would this have been a better choice for the "fill your frame" exercise?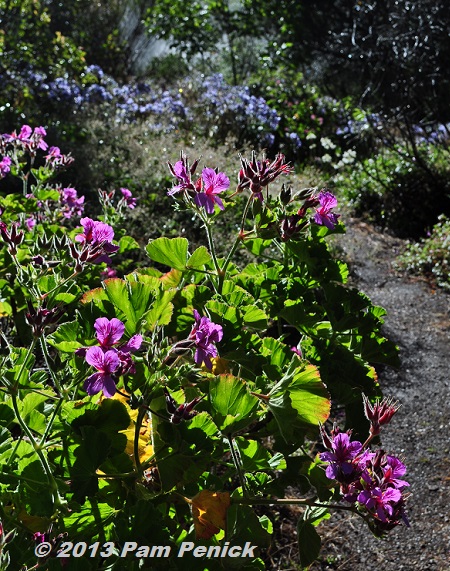 I also mulled over two more-traditional images: this one of sunlit flowers and a path curving behind, but I didn't like the harsh shadows…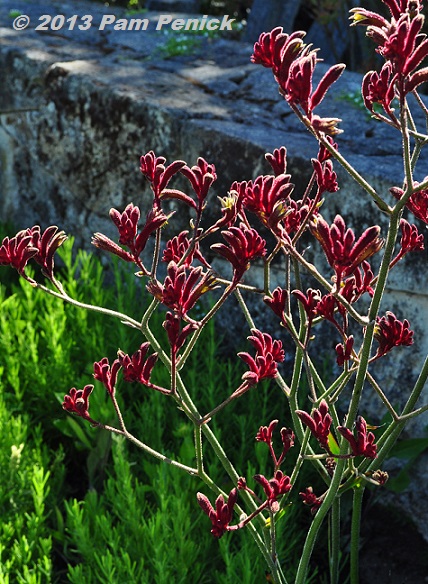 …and a close-in shot of kangeroo paws — pretty but nothing special.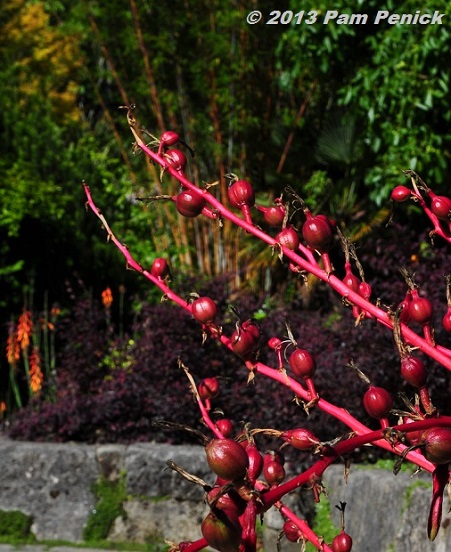 Other images from that morning, which I didn't consider for the exercise but still find worth posting, include a close-up of cherry-red Beschorneria seedpods against a backdrop of rich-colored bamboo culms, eggplant loropetalum, and orange torch lilies…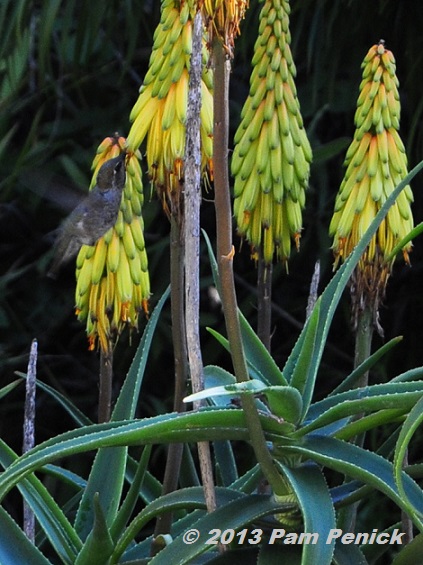 …a hummingbird sipping from an aloe blossom…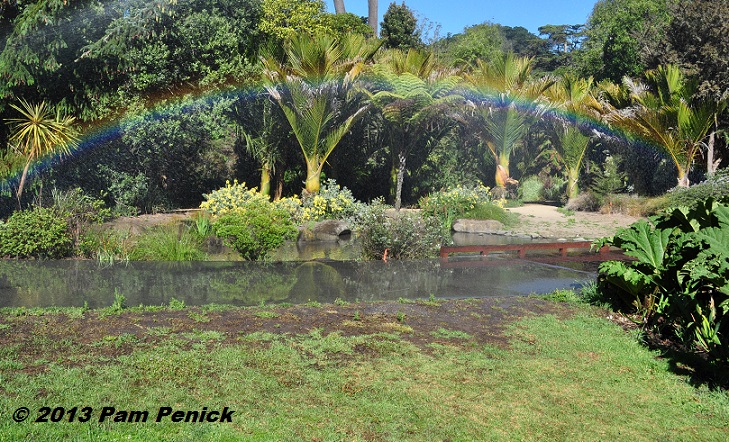 …and a rainbow arcing over a pond — the sprinklers were running during our visit, you see, and a rainbow greeted us unexpectedly.
Up next: The charming gardens at Sunset Publishing Co.'s headquarters. For a look back at the terraced, view-blessed Wave Garden, click here.
All material © 2006-2013 by Pam Penick for Digging. Unauthorized reproduction prohibited.