July 16th, 2013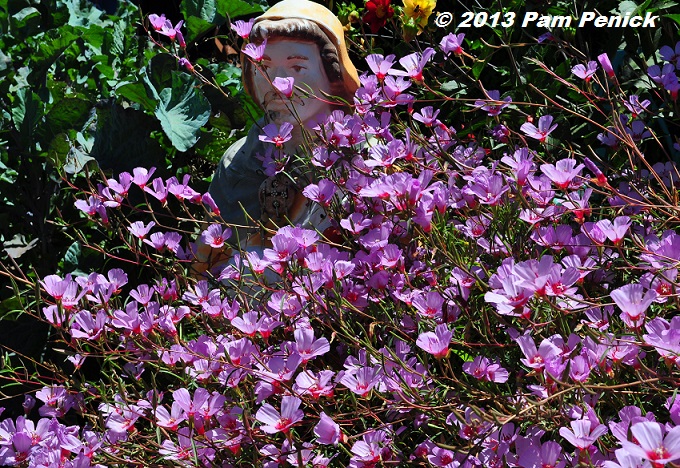 We stopped for shopping and lunch on the 1st day of the San Francisco Garden Bloggers Fling at Annie's Annuals & Perennials, a retail and mail-order nursery tucked behind high, wire-topped fences in a blighted neighborhood. "Plant heaven in the 'hood," adorable owner Annie cheerfully dubbed it during a brief talk while we ate our box lunches.
"Annie's is a 2.5 acre woman-owned and run nursery/laboratory/mad science experiment based in Richmond, CA (across the bay from San Francisco)! We grow over 2000 varieties of plants every year," their website explains.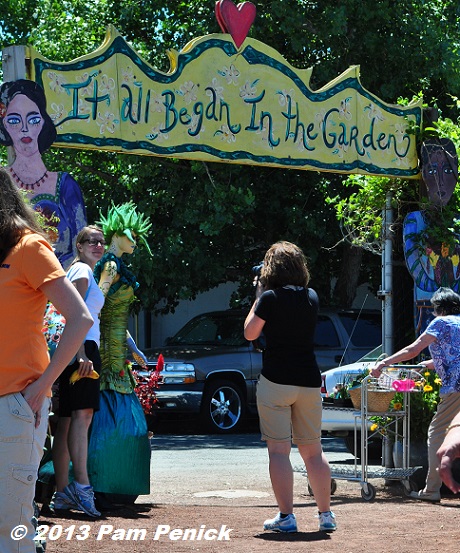 Entering the nursery is like being dropped into technicolor Oz after sepia-toned Kansas.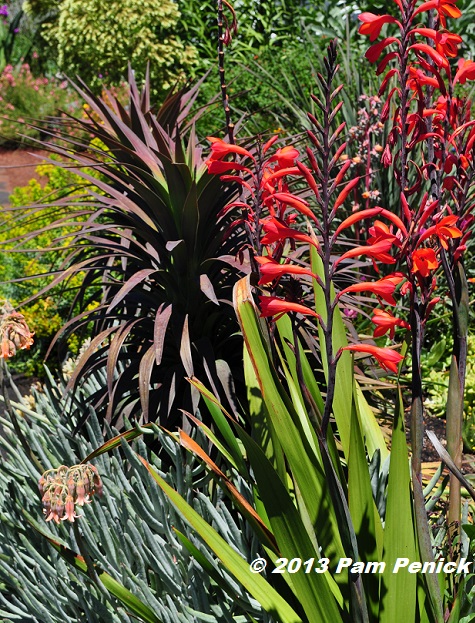 Floriferous and colorful foliage plants — potted as accents along nursery aisles and planted in display gardens by the entrance — dazzled and elicited excited "oohs" from our group.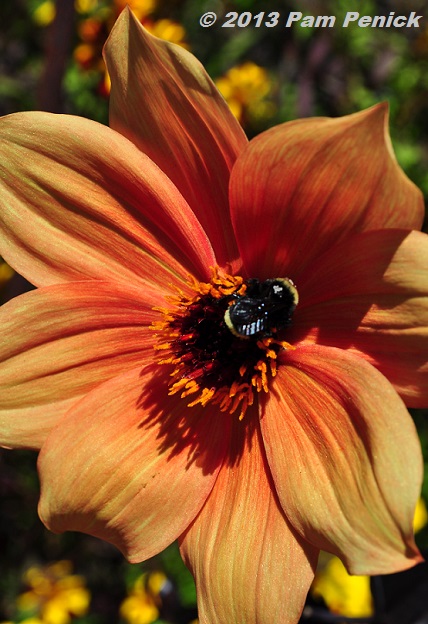 Bees buzzed, and so did I, trying to capture the exuberance with my camera.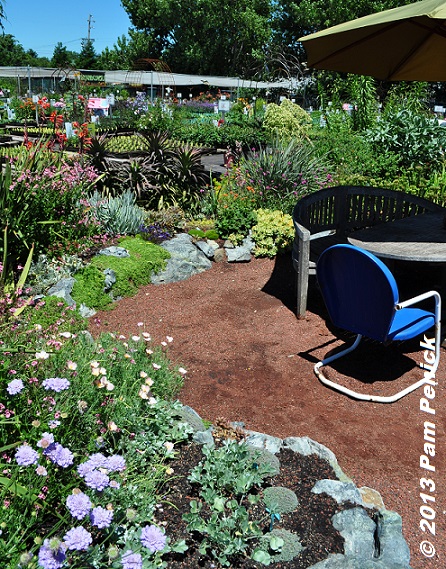 Curved beds raised about 10 inches with rock edging offer not only good drainage and soil but a sense of enclosure for seating areas — an idea to steal for our home gardens.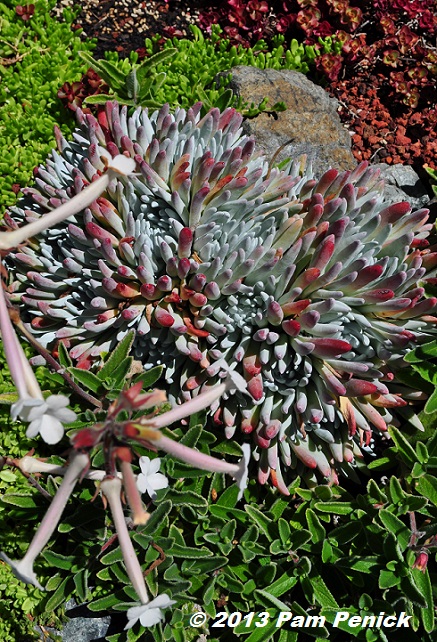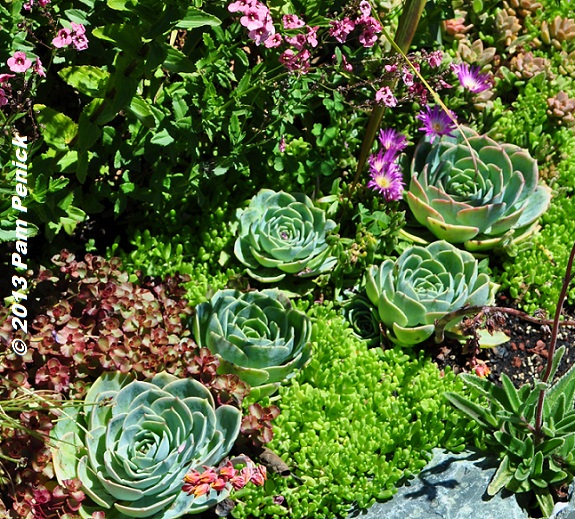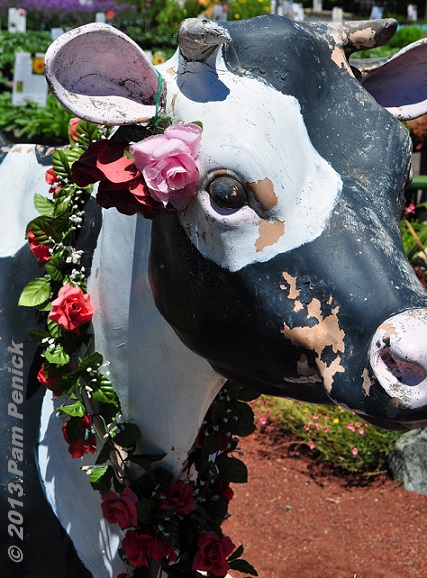 I spotted a painted cow wearing a lei and a flower at her ear…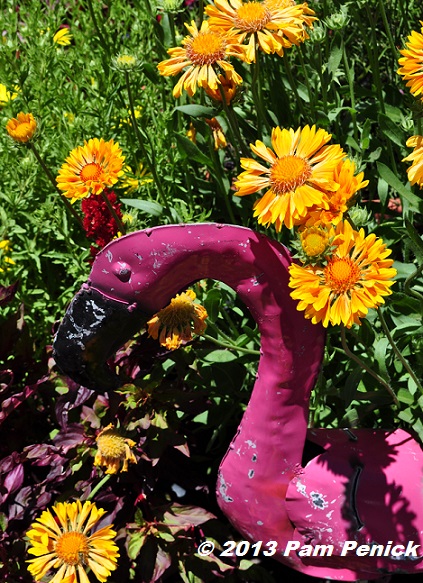 …and a flamingo lolling in a flowerbed.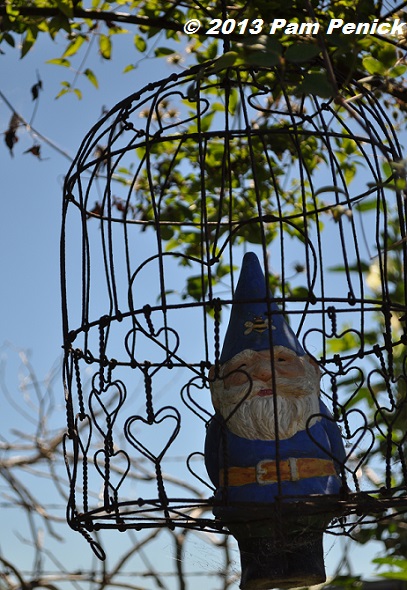 Quirky decor proliferates…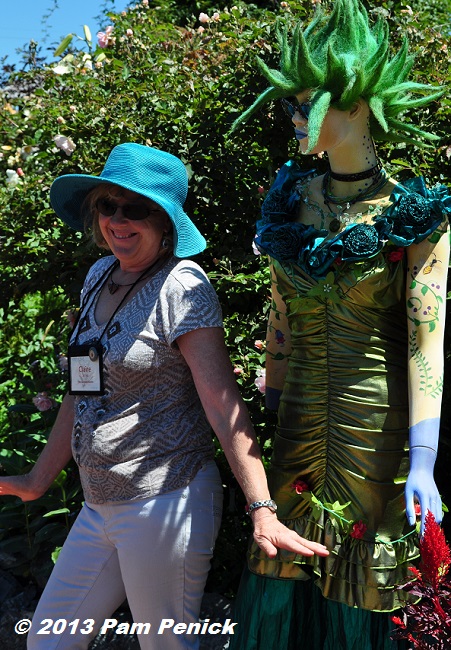 …and encourages play among visitors.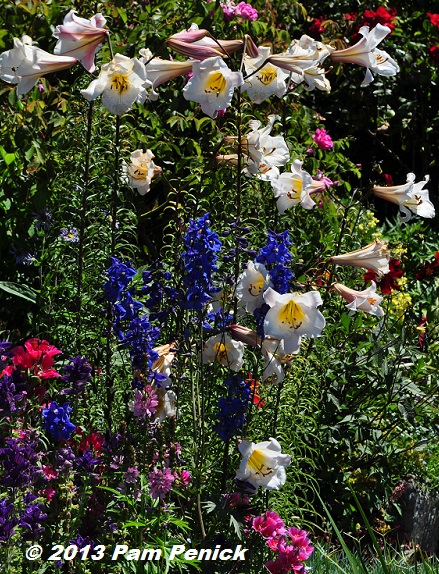 Many of the beds are planted with the flower-loving abandon of a cottage garden.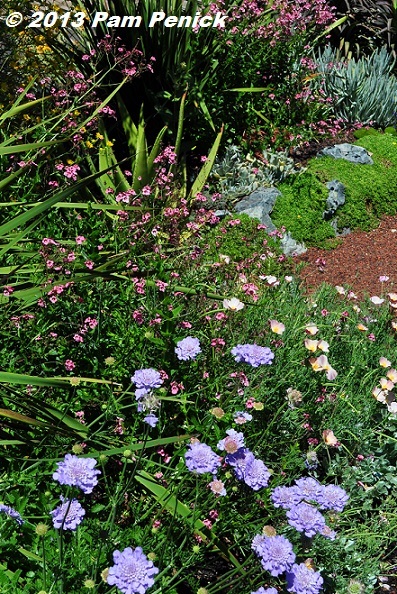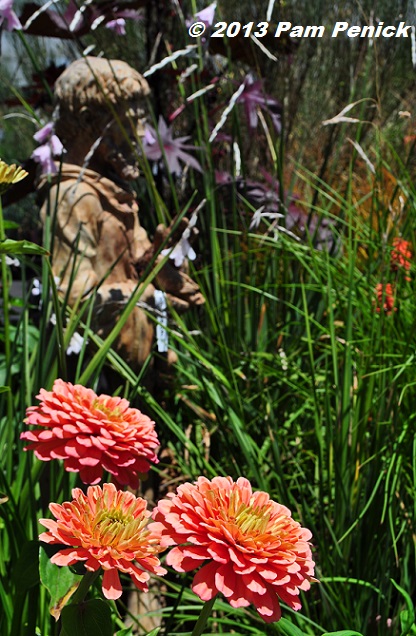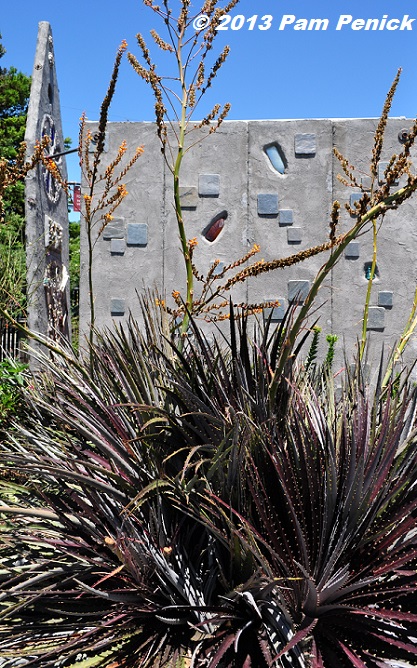 Spiky-plant lovers are not left out in the cold, however. This is, I believe, a dyckia in bloom. If so it's the biggest dyckia I've ever seen at 3-4 feet tall, with bloom spikes towering above my head. The "chapel" art installation in the background was for sale.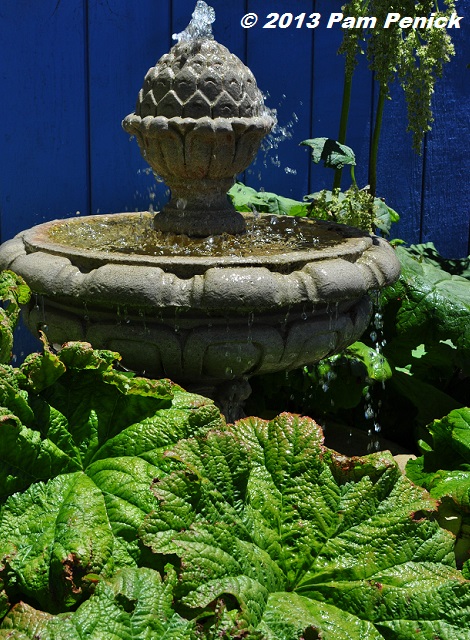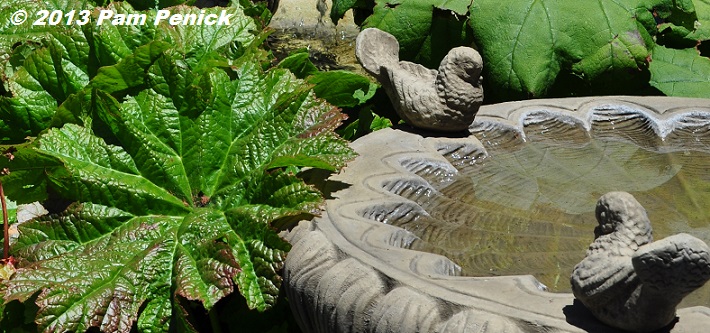 Foliage plants are loved here…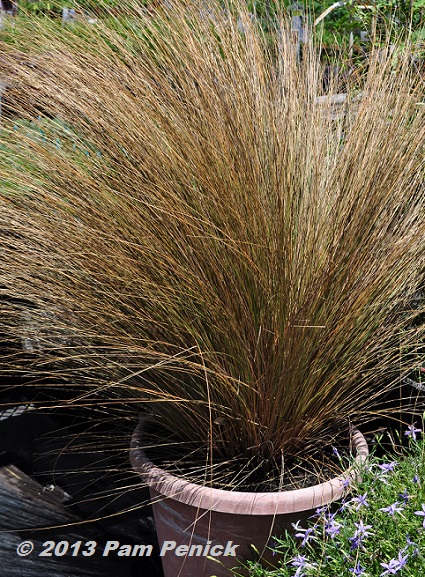 …as are ornamental grasses.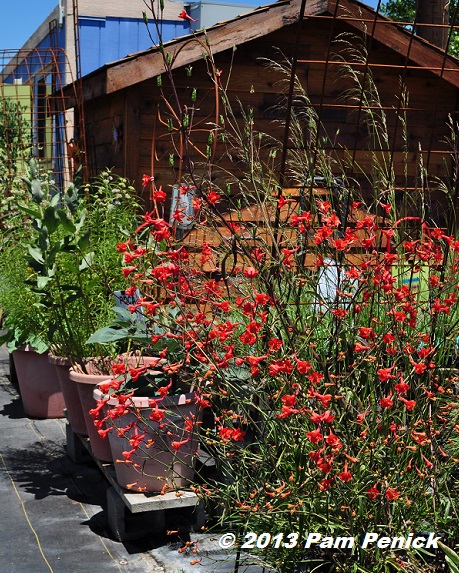 But cheerful flowering annuals and herbaceous perennials are the stars of the show.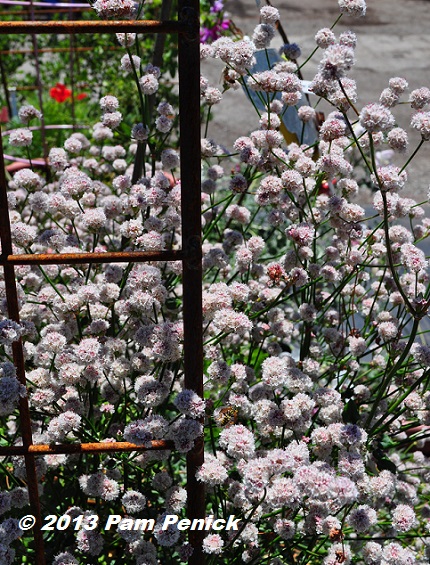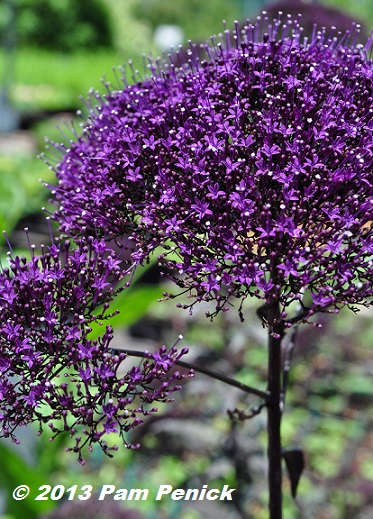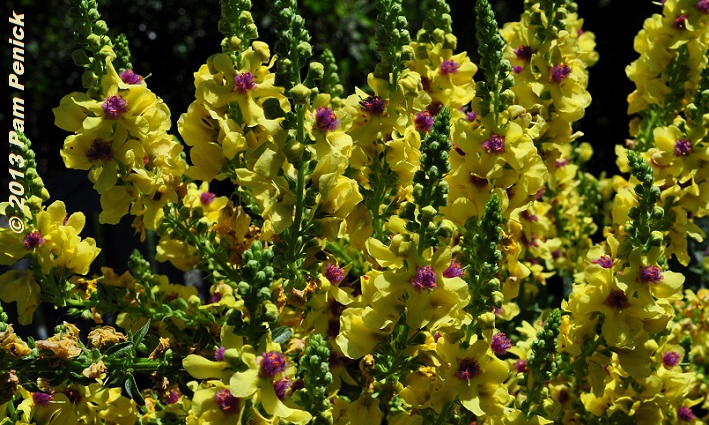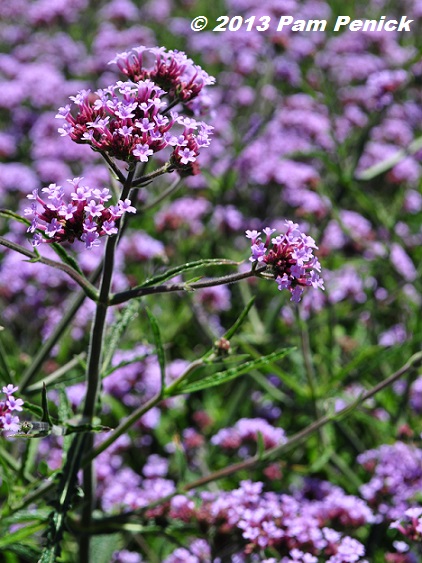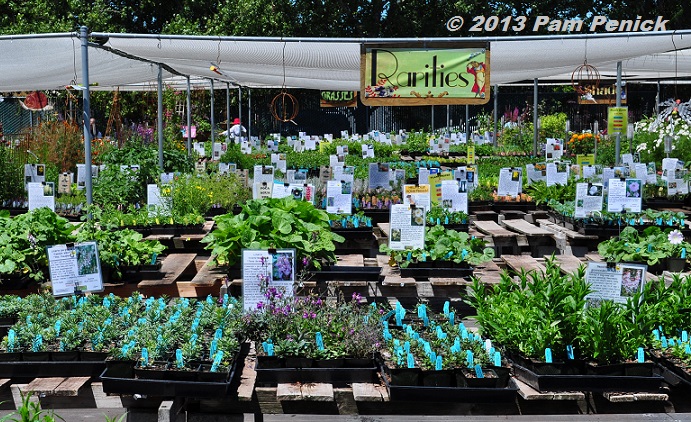 I rarely buy plants far from home, being cautious (from experience) about what will survive in my drought-prone, Death Star-baked garden. While I enjoy visiting distant nurseries, I tend to admire more than shop, except perhaps for some small item of garden decor that will easily fit in my luggage. So while other bloggers were filling their baskets with small, packable plants — I mean, who can resist a "Rarities" sign? — I contented myself with admiring and photographing. I did buy one little yucca with purplish leaves when I saw L.A. friend Denise of A Growing Obsession snapping one up. The power of peer pressure.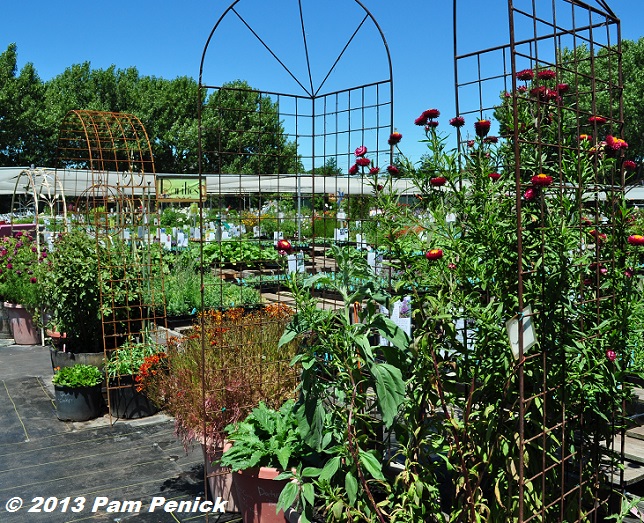 If you're in the right growing zone, however, this place must be heaven. Covering 2-1/2 acres, Annnie's grows most of its offerings from seed, without growth hormones, so you know the plants won't go into shock from exposure to the real world when you bring them home. Annie's prides itself on growing old-fashioned species, which tend to be taller and more fragrant than today's hybrids. On top of growing their own plants and operating a retail nursery seven days a week, Annie's also ships via mail order anywhere in the country.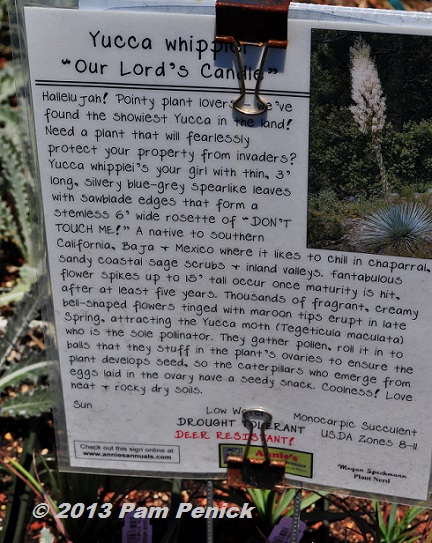 One thing I look for in a retail nursery is information-rich signage. Annie's has it. Check out the info for Yucca whipplei, a California native I bought from Santa Barbara Botanic Garden earlier this summer. It has everything you'd need to know about this plant, including a photo of it in bloom.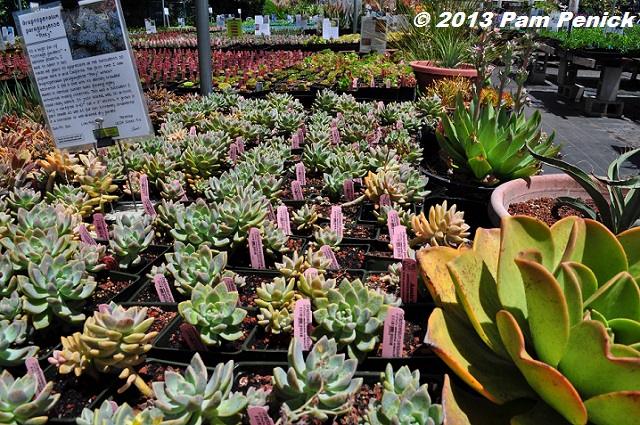 I could have spent more time here, poking through the succulents…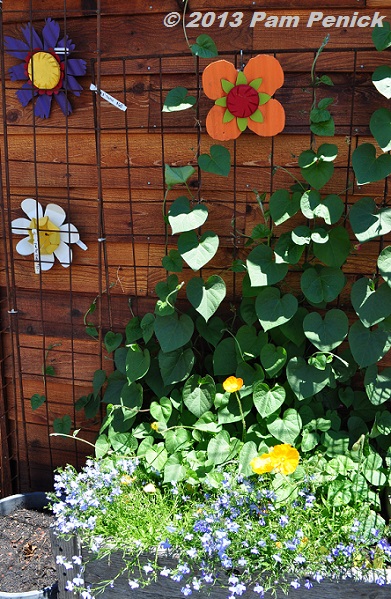 …and perusing the garden art. But soon it was time to reboard the buses and head to the next garden. Thanks, Annie's, for the warm welcome and beautiful displays!
Up next: The bay-hugging Wave Garden. For a look back at the Organic Mechanics courtyard garden, click here.
All material © 2006-2013 by Pam Penick for Digging. Unauthorized reproduction prohibited.
posted in
Annuals
,
Containers
,
Decor
,
Dyckias
,
Fling San Francisco
,
Flowers
,
Fountains
,
Garden art
,
Grasses
,
Nurseries & Shops
,
Seating
,
Travel
,
Trellis
,
Water features
,
Xeric plants
,
Yuccas