July 12th, 2013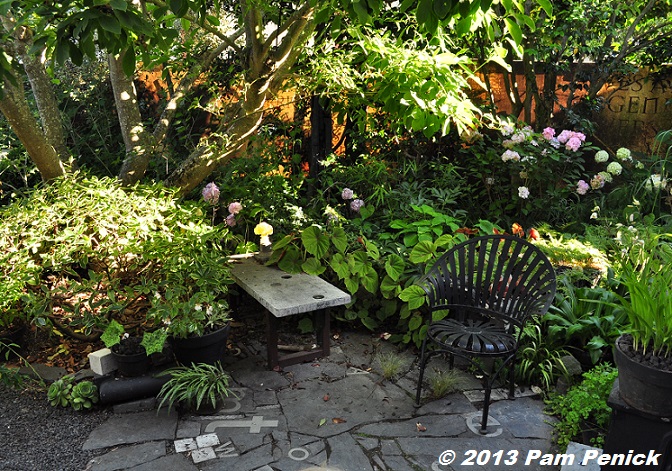 Early arrivals to San Francisco for the recent Garden Bloggers Fling were invited to a cocktail party at designer and artist Shirley Watts' home in Alameda. Shirley graciously opened her home and garden to about 50 complete strangers, and we eagerly trooped through her kitchen and into the back garden for refreshments and to get the first photos of the Fling. Down a few steps from the back door, this circular paved patio and shade garden full of hydrangeas greets you.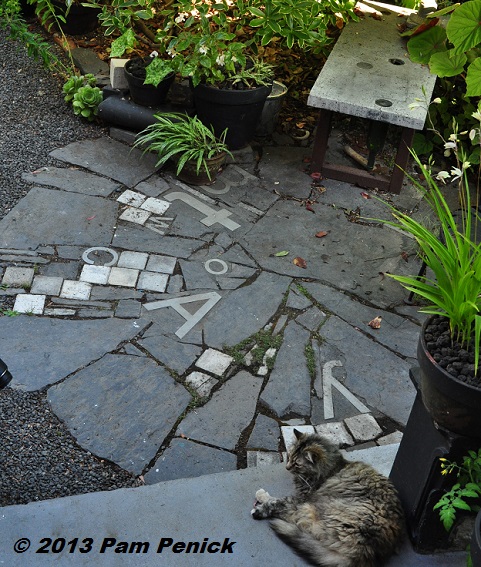 The intimate patio is an eye-catching focal point itself, with letters, square paving setts, and other found objects embedded amid the flagstones. This is the first hint of many letters and words that Shirley has sprinkled throughout her garden.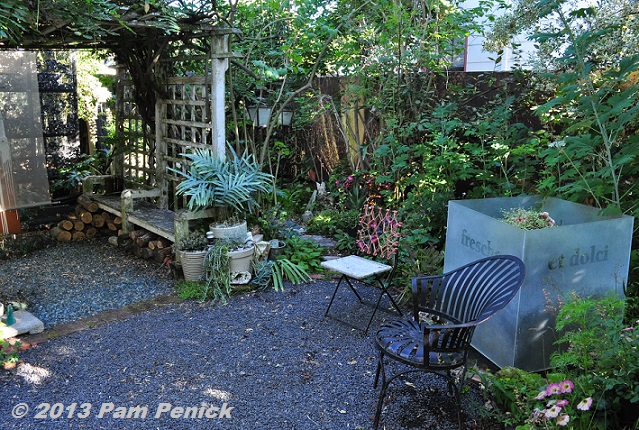 A dark-gray gravel path curves through the narrow garden to a shade pavilion in back. Facing wooden benches are backed by trellis and roofed with slats covered by a climbing vine. You can see a glimpse of a translucent scrim hanging at the back of the pavilion, which was covered with text; I was unable to get a good picture, unfortunately. At right you can see words on a translucent cube, open at the top, from which issued the sound of trickling water. Yes, that's actually a fountain. Shirley uses a lot of recycled objects in her garden, and I'm guessing both the scrim and the cube are repurposed materials.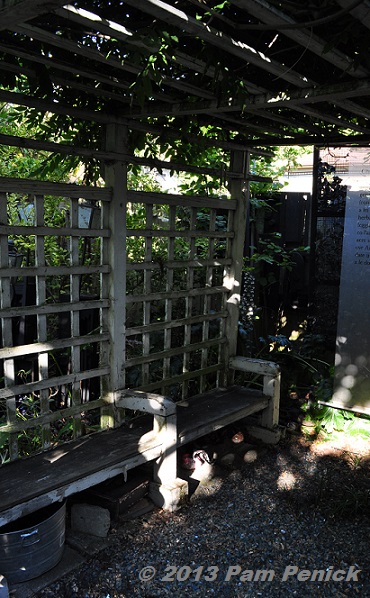 Inside the shade pavilion, facing benches offer a place for intimate conversation.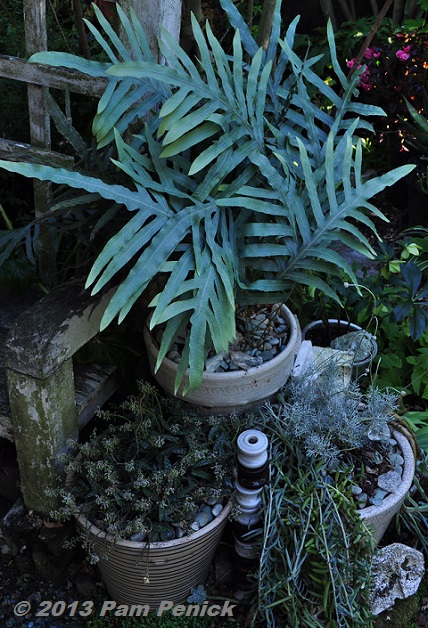 A silvery vignette of potted plants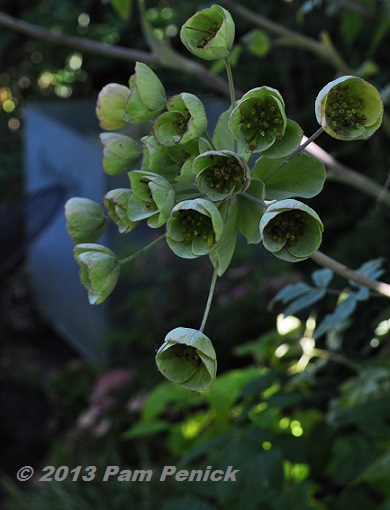 Euphorbia flower. Mathiasella bupleuroides 'Green Dream' — thanks to Helen for the ID!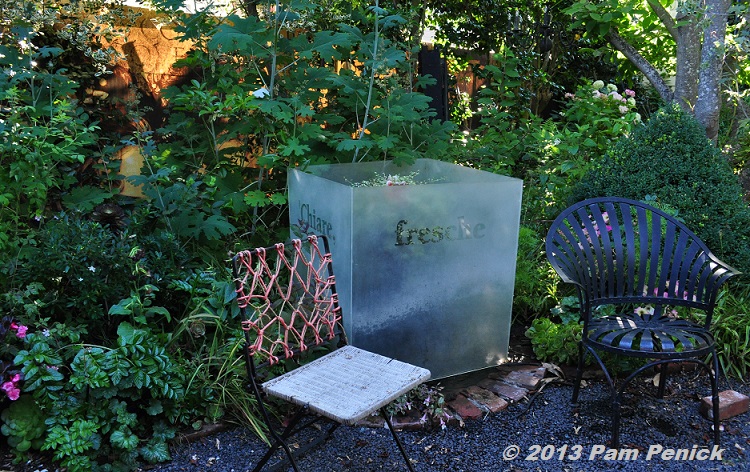 Here's another view of the translucent cube fountain, backed by a lush assortment of shade plants, accented by a single, tightly clipped boxwood on the right.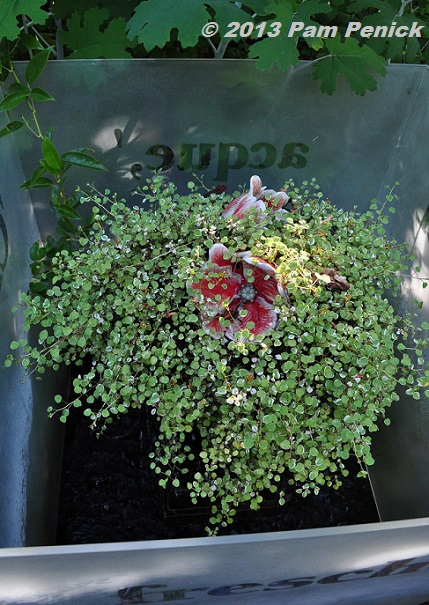 A peek inside reveals colorful, ceramic flowers set amid a froth of tiny leaves. I'm not entirely sure how Shirley created this effect, but the water seems to be funneled up to the potted plant, where it trickles over the edge to a pool of water below.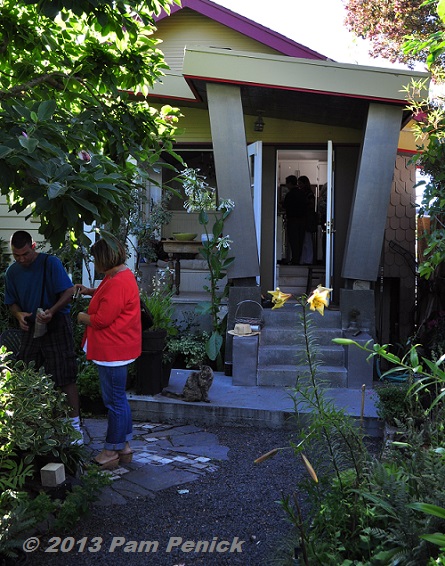 Coming back up the path, you see a fun, asymmetrical roof and chunky, leaning pillars at the back steps. David of The Desert Edge and Loree of Danger Garden are checking out something on the patio.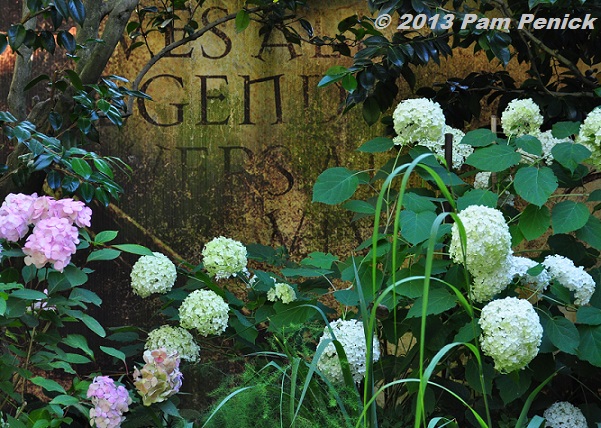 Yet more words in this literate garden. The entire side fence, which you get glimpses of through the shrubs and trees, looks like a stuccoed wall with text carved into it. That's just an illusion. As Shirley explained to me, the fence is draped in pieces of a castoff billboard promoting a movie starring Orlando Bloom. Orlando's handsome face even graces part of the fence.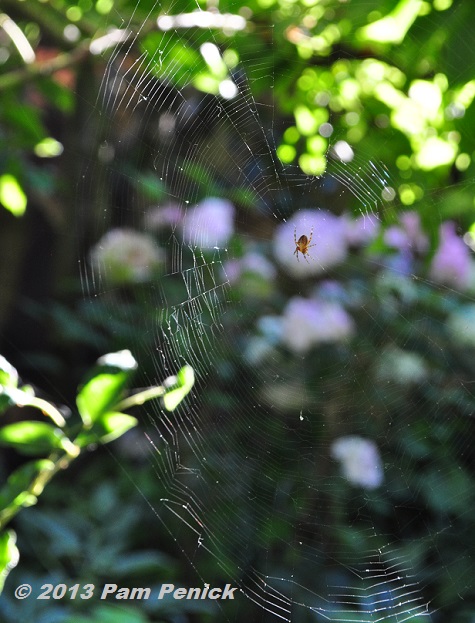 The late afternoon light was caught in this little spider's web.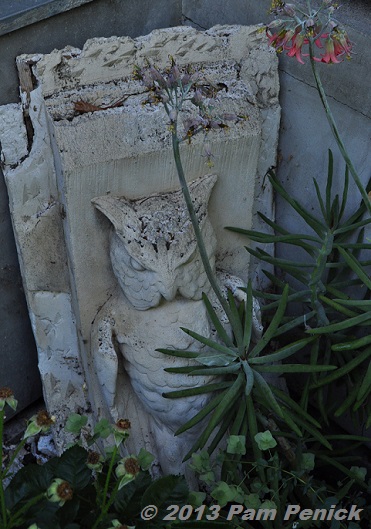 An architectural fragment with an owl adds a sense of history to the garden.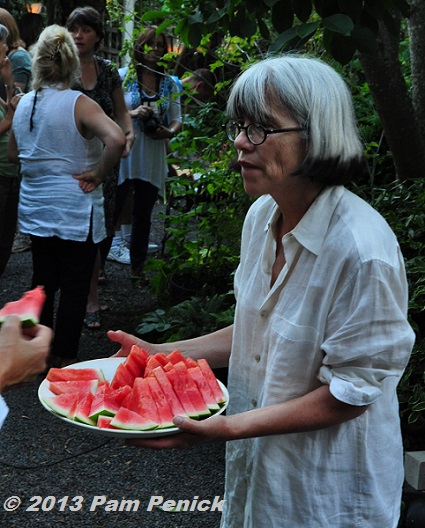 Here's Shirley, offering watermelon slices to her guests. I talked with her a little about an art project she's curating at UC Botanical Garden at Berkeley, entitled "Natural Discourse." She mentioned that she's been discussing the possibilities of a similar project at Peckerwood Garden in Hempstead, Texas — a little closer to home for me and something I'd love to see.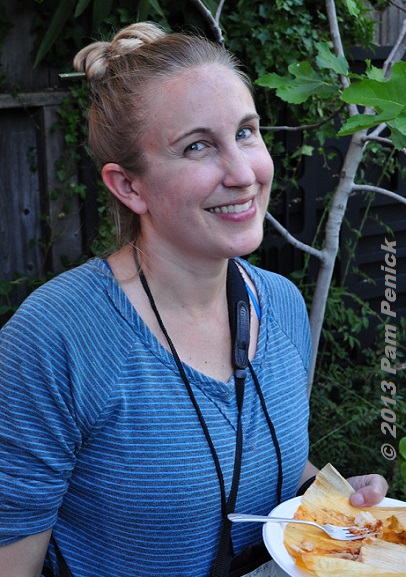 Here's Kelly Kilpatrick, head planner of the San Francisco Fling, looking relieved that events are finally underway after months of planning. Kelly and her team did a magnificent job of selecting gardens for the tours and making sure that everything ran smoothly for three days of shepherding two busloads of garden bloggers around — not an easy feat in a busy city with challenging terrain.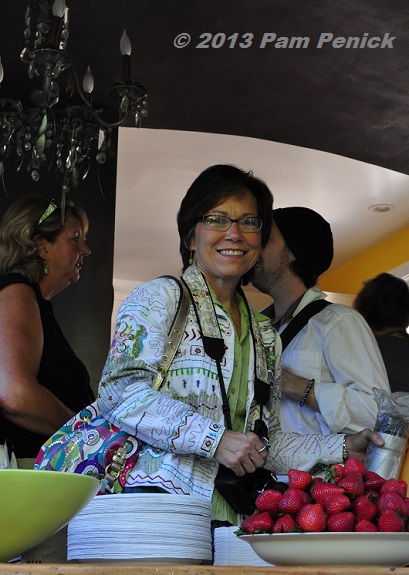 And glancing up through the open window I got a great smile from Kylee Baumle of Our Little Acre. That's my friend Layanee of Ledge and Gardens to the left.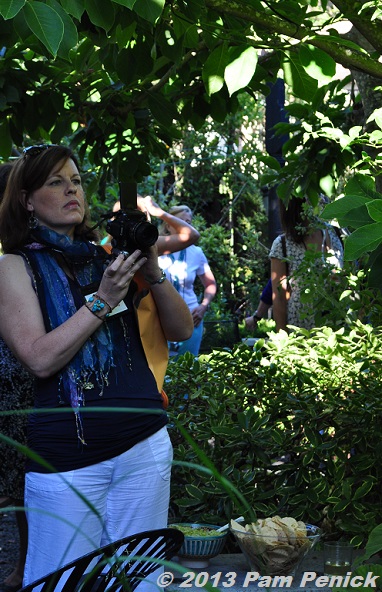 The elegant and witty Susan Morrison of Blue Planet Garden Blog and co-author of Garden Up! was here for her first Fling. Susan was a wonderful mentor to me during the process of writing my book.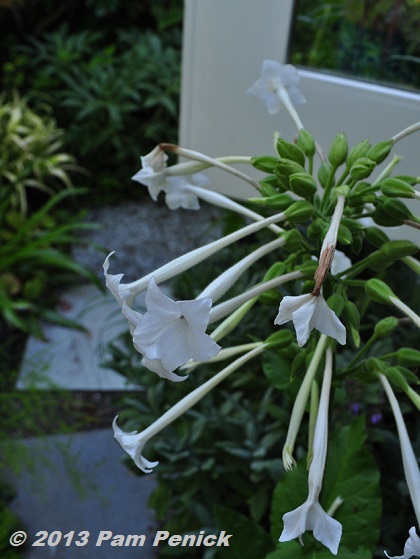 Shirley's garden was sweet-smelling with roses, lilies, and this nicotiana, strategically planted by the open window.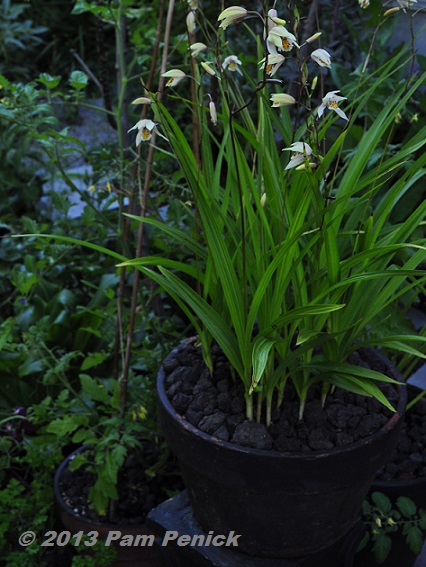 Dark pots topped with chunky, black rock set off Shirley's potted plants.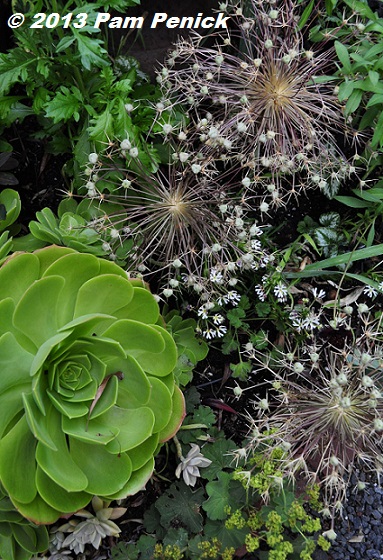 By the back steps, succulents grow amid leafy groundcovers. The beautiful allium seedheads, I noticed, had been cut from elsewhere in the garden and stuck into the ground as sparkler-like accents.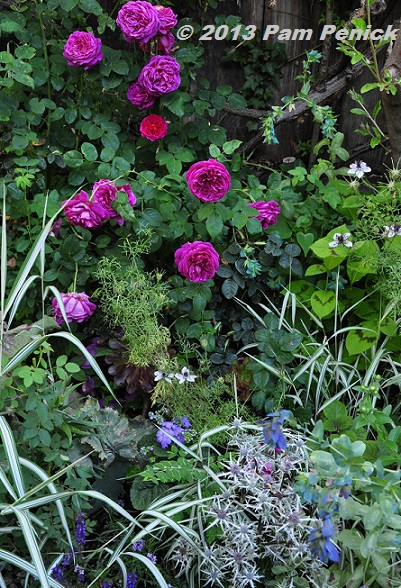 'Othello' roses glowed as the sun went down.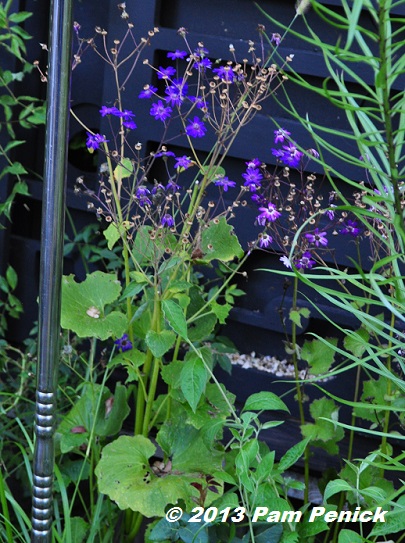 I think this blue fence is at the back of Shirley's garden. I like the way the purple flowers harmonize with it.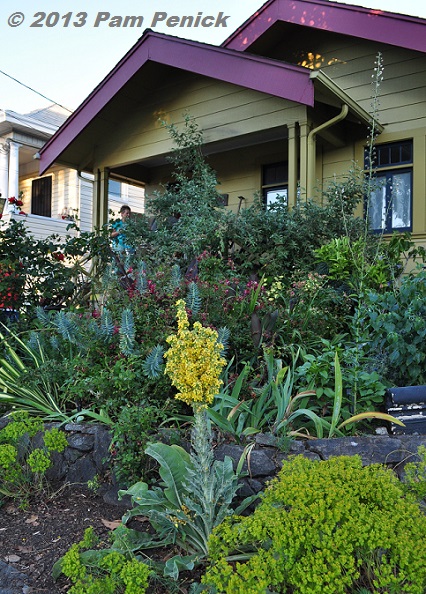 Shirley does have a front garden as well, with stone walls elevating the central portion of the garden, providing some screening from the street.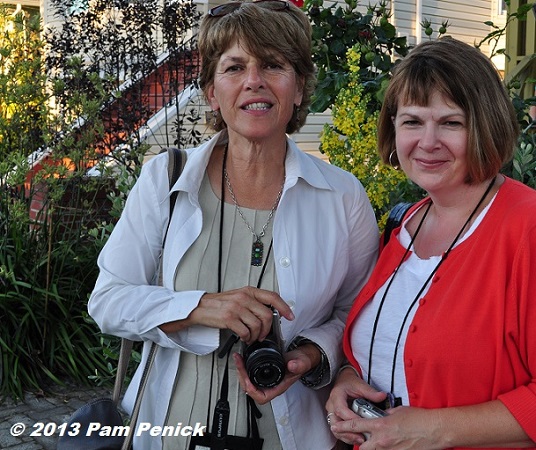 I ran into Denise and Loree out there, two of my favorite bloggers. First-Flinger Denise blogs at the beautifully written and gorgeously photographed A Growing Obsession; click the link for her eloquent description of Shirley's garden. Loree is the Danger Gardener, whose stunning garden I visited before the Seattle Fling two years ago.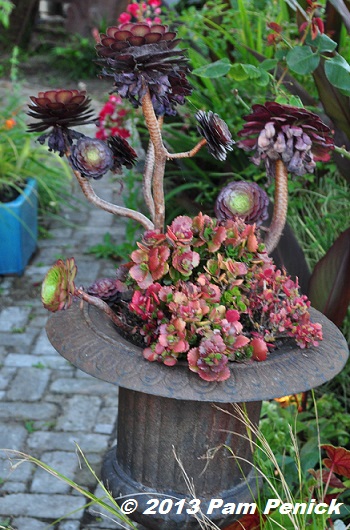 I didn't spend much time out front because the party was out back (and inside), but here's a small vignette: Aeonium in a Victorian urn.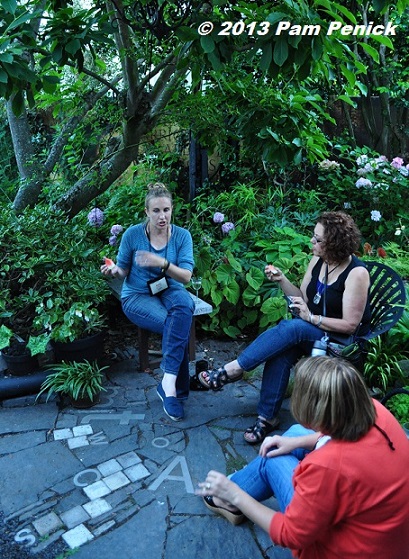 At this point I noticed that the sun was setting, and Shirley had promised that her lanterns would be lit at dusk. I hurried to the back garden again, where Kelly, Leslie, and Loree were hanging out on the patio.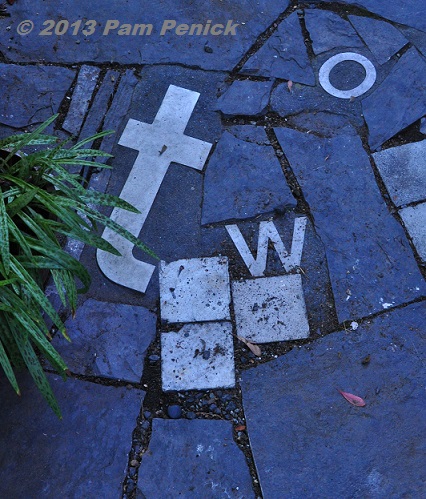 A closeup of the patio's letters…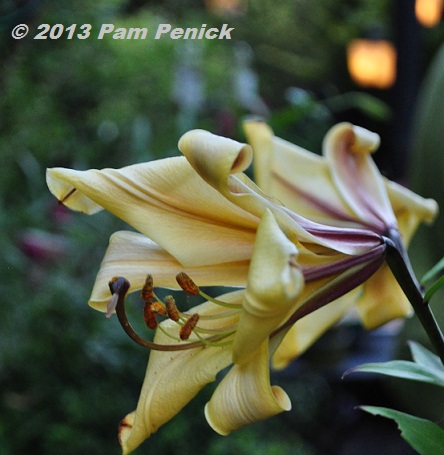 …and a scented lily. Wait, what's that glowing behind the lily?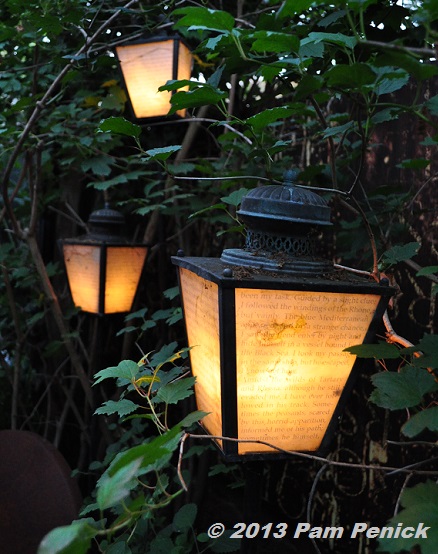 Shirley's lanterns, gleaming in the dusk amid the lush growth of her garden. Did you notice the text in the lantern glass?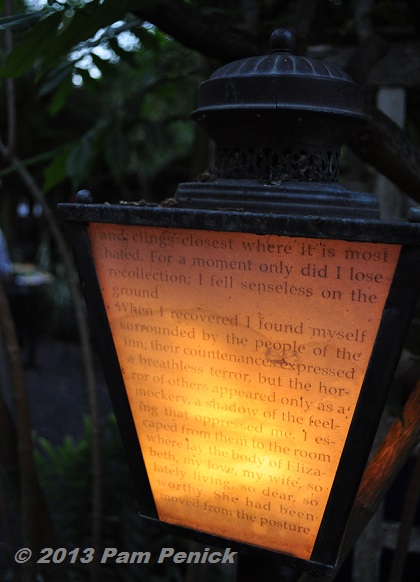 Shirley told us that the text is from Mary Shelley's classic novel Frankenstein! How clever is that? Like a moth, I found myself irresistibly drawn to them and walked around reading the lanterns.
My thanks to Shirley and her husband for opening their home and garden to us. What a great start to a weekend of San Francisco garden goodness!
Up next: Literally carved out of a hillside under a freeway, the garden of sculptor Matt Gil is an example of gardening tenacity. For a look back at my introductory post about the San Francisco Fling, including our group photo, click here.
All material © 2006-2013 by Pam Penick for Digging. Unauthorized reproduction prohibited.
posted in
Arbors
,
Bugs
,
Cats
,
Containers
,
Decor
,
Fences
,
Fling San Francisco
,
Fountains
,
Garden blogging
,
Garden structures
,
Garden tours 2013
,
Lighting
,
Paths
,
Patios & decks
,
Roses
,
Seating
,
Travel
,
Water features