July 2nd, 2013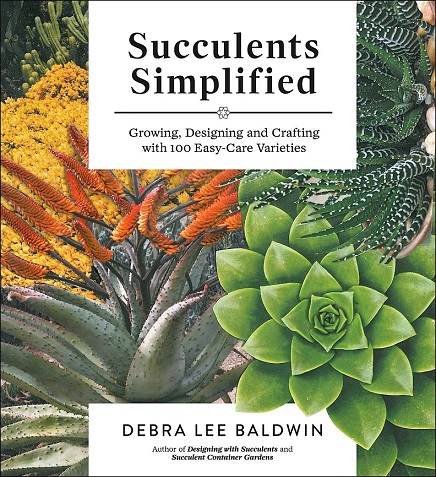 Succulents are a garden trend that shows no sign of slowing down. Easy to pot up for summer and tolerant of watering forgetfulness, they make the perfect seasonal accent even in freeze-prone climates. For those in mild-winter climates, a variety of succulents can be grown outside all year. In my own garden, I use succulents in nearly all the containers on my upper patio, which is sheltered from cold snaps and the Death Star by a live oak tree and proximity to the house.
Succulent expert, author, and Southern California gardener Debra Lee Baldwin has just released a new book that aims to make growing succulents even easier for the average gardener. Succulents Simplified: Growing, Designing, and Crafting with 100 Easy-Care Varieties is a photo-heavy primer on growing these fascinating plants.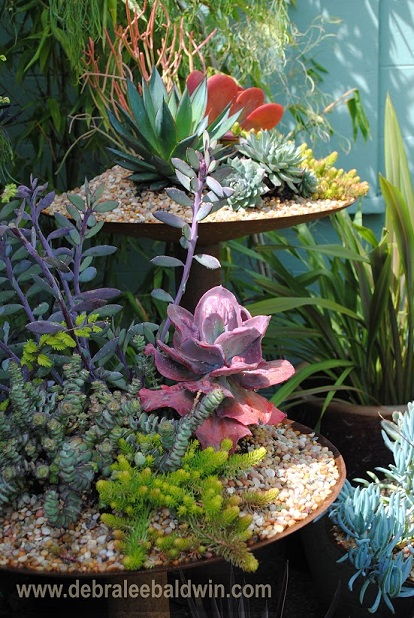 Purple-stemmed Senecio jacobsenii and other succulents grow in disks salvaged from a tractor plow. Pebbles conceal soil and root-balls. From Succulents Simplified.
Clearly written and illustrated, the book is divided into three parts. Part 1 first seeks to inspire with plenty of colorful photos. Next it buckles down with design suggestions, propagation tips, and pest and disease info. And finally it offers a wealth of design tips for making striking succulent gardens and containers.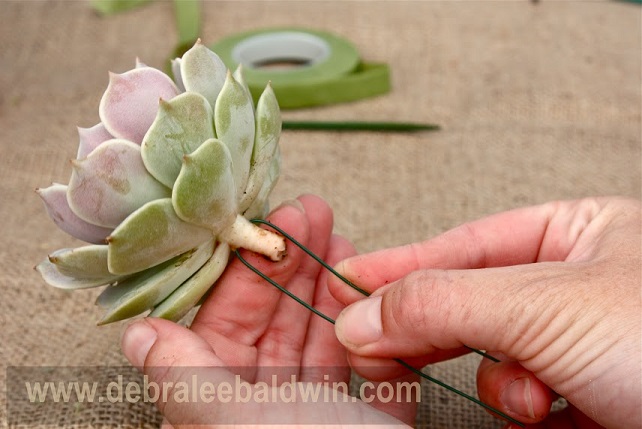 The wired stem of this Echeveria 'Lola' rosette will be wrapped with stretchy green florist's tape before being used in a bouquet. From Succulents Simplified.
Part 2 will make DIYers and crafters happy. Debra features eight projects that showcase succulents, like making "long-stemmed" echeverias suitable for gathering into…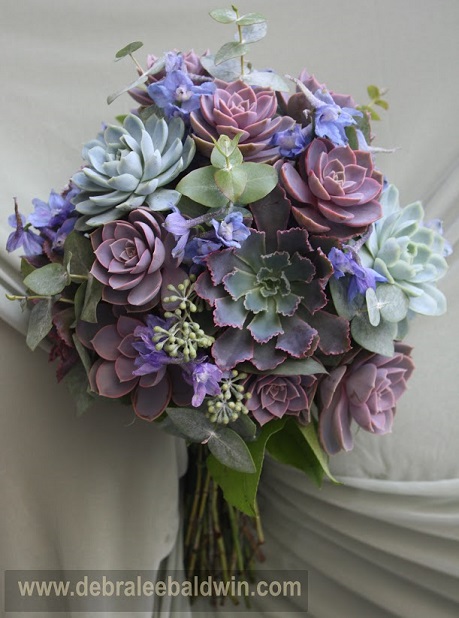 From Succulents Simplified.
…a creative bridal bouquet that won't wilt. Another benefit? You can plant the succulents in the garden after the ceremony.
Other projects include living pictures for your wall, a planted cake stand, succulent-topped pumpkins (my favorite), and even hair ornaments adorned with glued-on succulents. Whatever your interest, Debra has a garden craft to show off succulents in new and creative ways.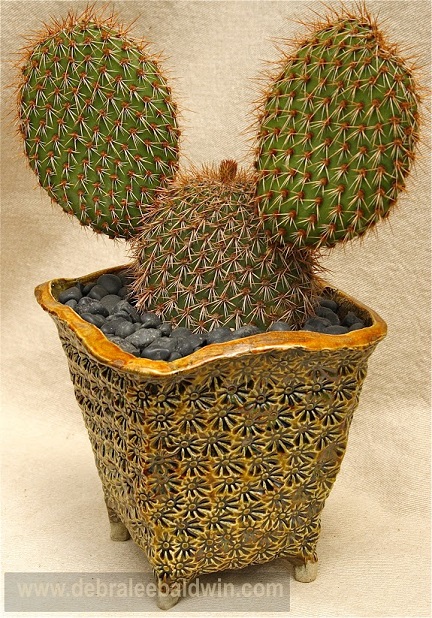 Opuntia pycnantha var. margaritana. The plant-pot combo perfectly exemplifies contrast, repetition, and sophisticated whimsy. From Succulents Simplified.
Part 3 contains a list of 100 succulents that Debra recommends for ease of care and general availability. Spiny-plant lovers will notice that cacti, agaves, yuccas, and hesperaloes are included in her list as well. Each listing consists of a color photo of the plant, its mature size, cold hardiness, and a detailed description. Some also include Debra's suggestions for how to use them in containers or in your garden.
If you love succulents, or if you're curious but feel uncertain about how to grow or design with them, you'll want to add this book to your library. Also check out Debra's other books about succulents (click for my reviews), Designing with Succulents and Succulent Container Gardens.
Disclosure: I consider Debra an online friend, and she provided a positive quote for my book, Lawn Gone! That said, I have been reviewing her books since before I knew her, and I believe she has a mastery of knowledge about succulents. Timber Press sent me a copy of Succulents Simplified for review. I reviewed it at my own discretion and without any compensation. This post, as with everything at Digging, is my own personal opinion.
All material © 2006-2013 by Pam Penick for Digging. Unauthorized reproduction prohibited.