March 13th, 2007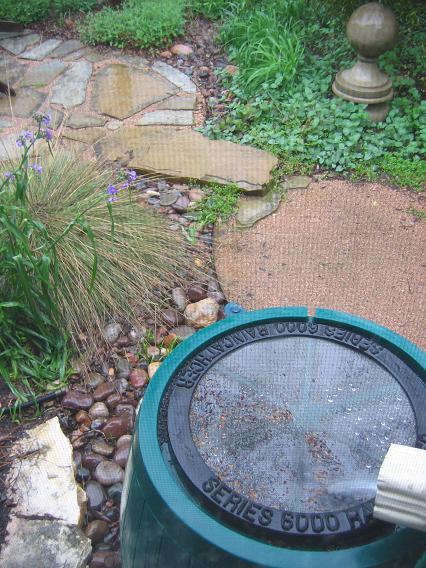 Water flowing from the gutter into a rain barrel. The overflow spills into the wet-weather stream (dry creek), laid with New Mexico river rock, and is funneled into the rain garden.
With all the talk about 10-year droughts at The Throbbing Thumb, Bill Lane's Victoria, Australia, blog, plus Austin's own 3-year drought, I've been thinking about adding more rain barrels around the house. I've already got two, but they don't hold much—one good rain fills them up in minutes. Ideally I'd install a huge cistern, though I'm not sure where I'd fit it.
At any rate, I do appreciate my rain-barrel system. Yesterday and today we've enjoyed temporary relief from the drought in the form of a few thunderstorms. My main rain barrel sits just off the back porch. I use the stored, chlorine-free water mainly to refill my container pond as it evaporates. During a good rainstorm, like today's, it's pleasant to sit on the porch and watch the overflow turn the dry creek into a small stream, delivering water to the garden under the cedar elm, which I like to call my rain garden.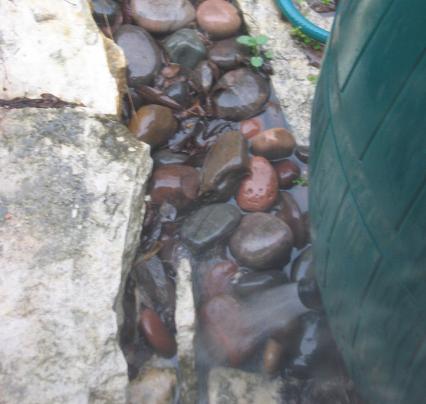 Once the rain barrel fills up, the excess water flows out of a valve at the bottom into the dry creek.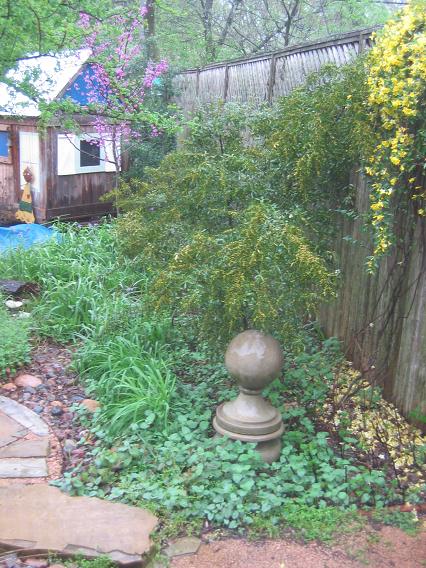 The dry creek winds under a limestone-slab bridge and terminates in the undergrowth of the cedar elm. All the plants in this garden appreciate extra water and thrive in slow-draining soil. What you see right now is a line of Southern wax myrtles along the fence, daylily and spiderwort foliage, the silvery green leaves of heartleaf skullcap, Carolina jessamine on the fence, and a Texas redbud at the back. Turk's cap will fill out the space in the warmer months.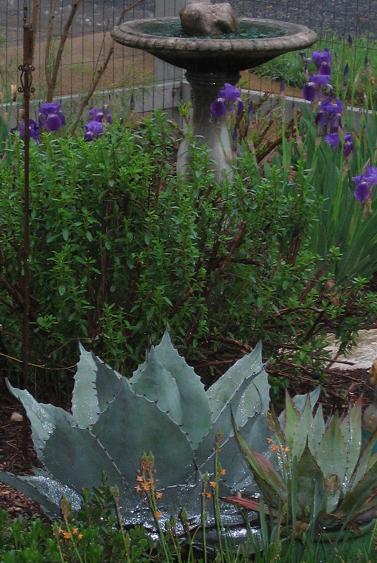 In the fast-draining front garden, a foreshortened glimpse through the rain shows the 'Amethyst' irises in full bloom, standing tall above the Mexican oregano and agaves. Even they who prefer dry feet must be loving the rain.