June 21st, 2013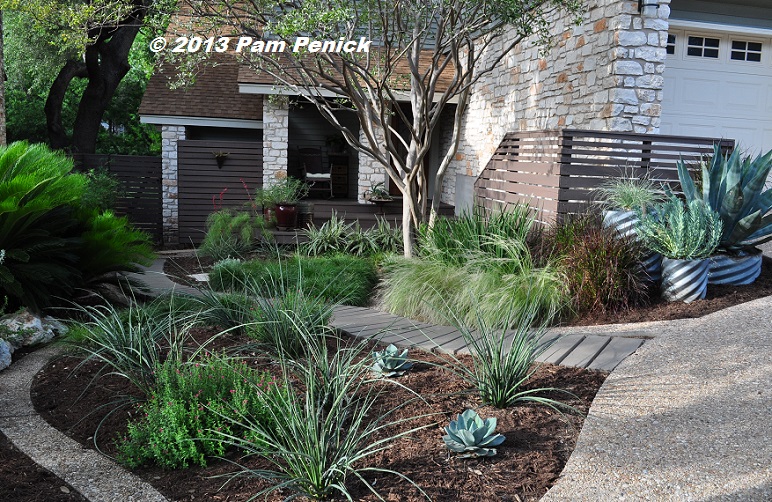 When Cyndi Kohfield and her husband bought their northwest Austin home in late 2010, they inherited a tidy front yard of lawn accented by swaths of Asian jasmine and a couple of large sago palms. As she noted in a before-and-after post on her garden blog, Growing Optimism, it was a "thirsty and tired" landscape, and she longed for something more interesting as well as drought tolerant. She also wanted to update an '80s turned-post stair railing and open up the awkwardly narrow front porch.
Although a novice gardener, she jumped into the redesign with both feet, ripping out the entire lawn and jasmine, outlining a new, curving boardwalk pathway through the center of the yard, and replanting with a drought-tolerant, deer-resistant, evergreen palette of Berkeley sedge, red yucca, Mexican feathergrass, skullcap, variegated dianella, bamboo muhly, and 'Featherleaf' bamboo, accented with agave and flowering lantana and salvia. Cyndi avoided the newbie mistake (or plant collector's choice) of planting one of this and one of that, opting instead for generous swaths of each species, giving her new garden a sense of cohesion and flow.
I had the pleasure of visiting Cyndi's garden recently and want to share her cool design and waterwise choices with you.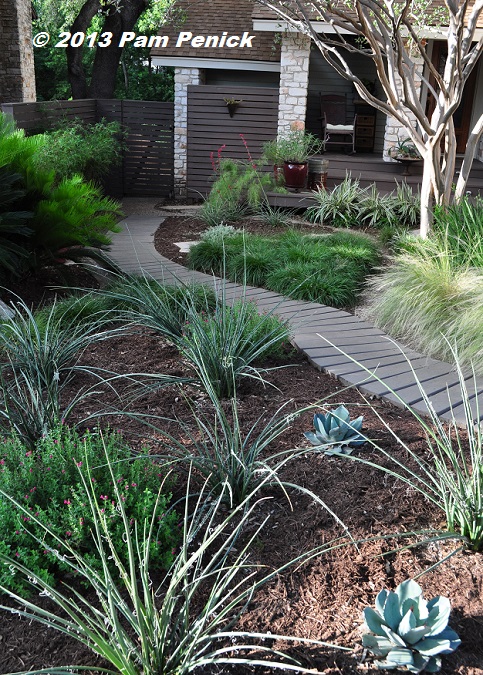 A beachy boardwalk path, stained a grayish brown along with a new horizontal-board fence, screen, and porch deck, winds through the garden from street to back fence.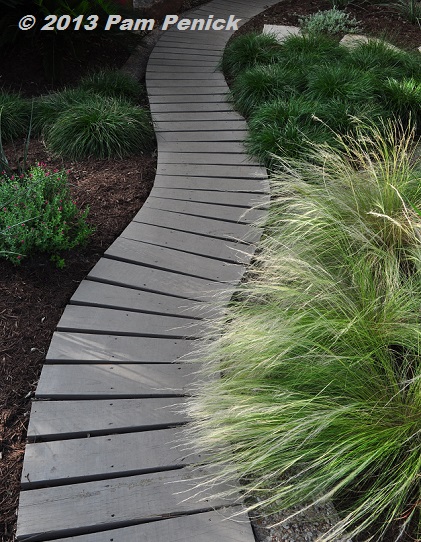 It's an unusual choice for a path, seeming to float through the grasses and adding pattern and strong lines to the garden.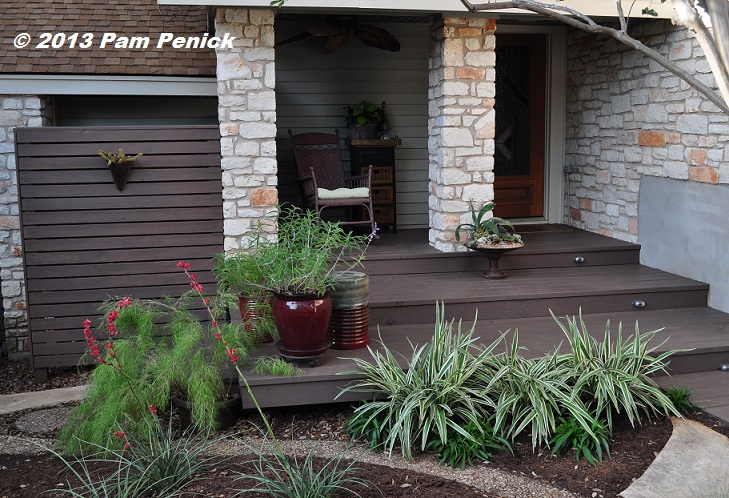 Here's the new porch deck, which leads to the front door. Click to see how the entry looked when Cyndi moved in. Cyndi removed the confining porch railing and had decking constructed to "float" over the concrete porch flooring and flow out into the garden via two shallow, deep steps. Now it provides a comfortable spot to sit or welcome guests, plus space for a few potted plants. Evergreen variegated dianella brightens the base of the steps.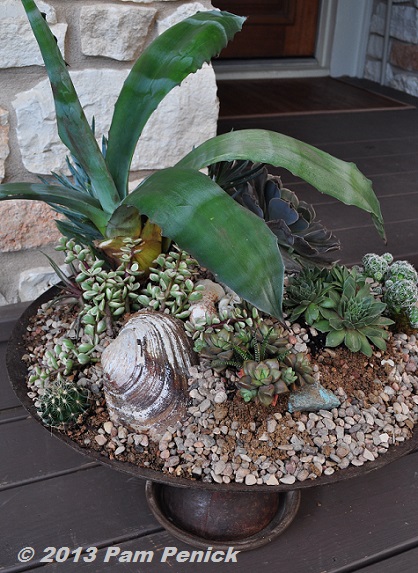 A metal dish on the front porch holds a collection of succulents and an agave, with a clam shell accent.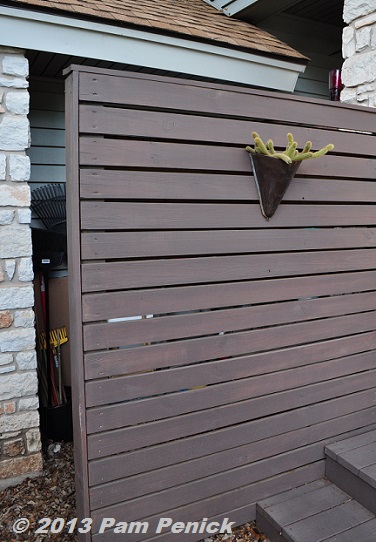 To the left of the porch, Cyndi had a horizontal board screen constructed in front of a blank wall to hide gardening equipment.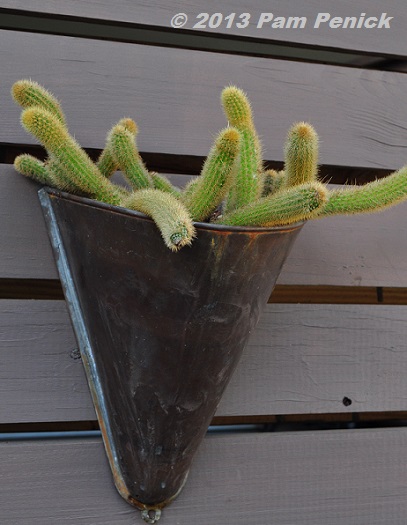 A triangular cone planter holds a questing, tentacle-like cactus.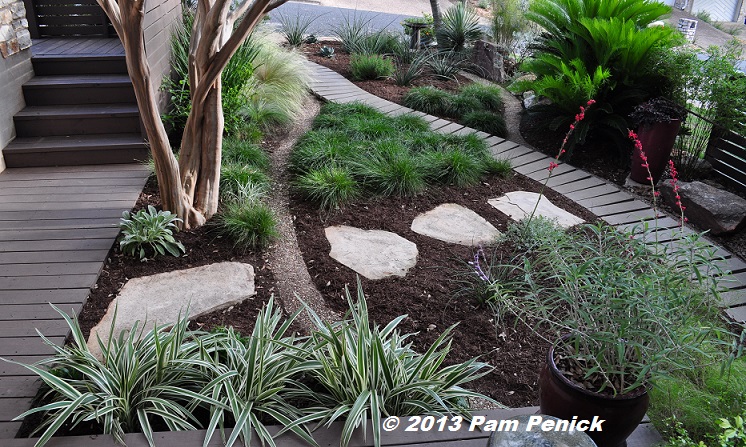 Looking back across the garden from the front porch, you can see what a narrow space this is. The diagonal boardwalk, however, visually widens it, as does the flagstone path, also laid on the diagonal, running to the front porch. To the left is another boardwalk and a stair that leads around the corner of the house and up to the driveway. The curving, pebbled-concrete line just in front of the porch is the edging from the original landscaping. Cyndi left it in place to use as access for weeding and pruning.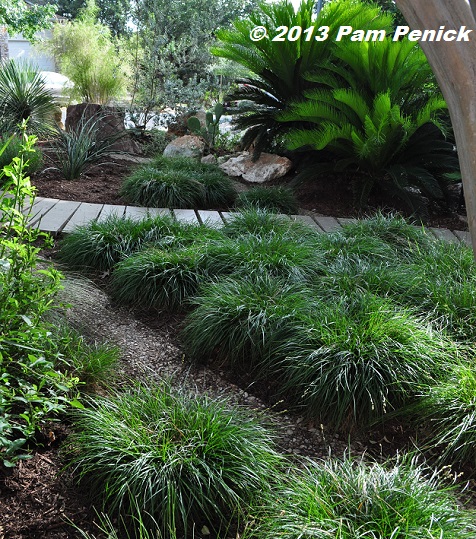 A closer look at the shiny, tufty Berkeley sedge. Cyndi found that different species are labeled as Berkeley sedge when she went shopping for it at local nurseries. After two separate purchases resulted in clearly different sedges, she did a bit of research online and learned that Carex tumulicola and Carex divulsa are often both labeled as Berkeley sedge, but she prefers the larger, tighter clumps of the C. divulsa. Looking at the entire swath, the difference between the two is not very noticeable, luckily, but Cyndi wishes it were all the divulsa.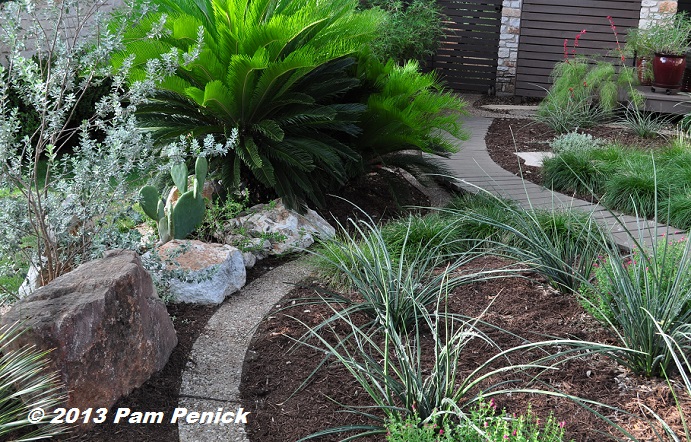 Looking at the garden from the front again, you see a screen of boulders and taller plants along the property line: cenizo, aka Texas sage (Leucophyllum frutescens), spineless prickly pear (Opuntia), and sago palm (Cycas revoluta).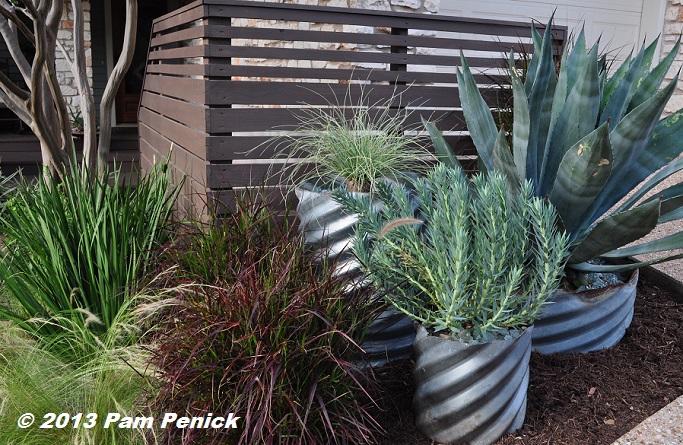 By the driveway, three culvert-pipe planters hold an assortment of evergreen, drought-tolerant specimens: butterfly agave (A. potatorum), gopher plant (Euphorbia rigida), and Mexican boulder (Calibanus hookeri), a plant I'd never encountered. Cyndi told me she found it at The Great Outdoors. A contemporary-style, horizontal stair rail, doubling as a backdrop for the planters, replaced the original, dated railing (click for a picture). For all the woodwork in her new garden, including the boardwalk, fencing, and decking, Cyndi hired Corey Ferguson of Blue Hammer.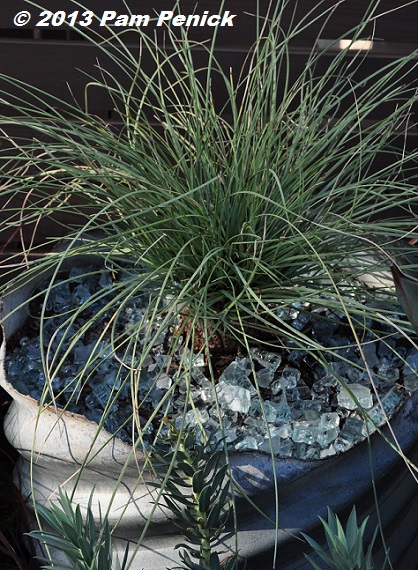 When I admired the chunky, icy-blue glass mulch around the plants in the culvert pipes, Cyndi told me how she got it. Outside a shop one day, someone carrying a glass-top table dropped it, and the tempered glass shattered into chunks. She scooped them up (with permission), brought them home, and topped her planters with them.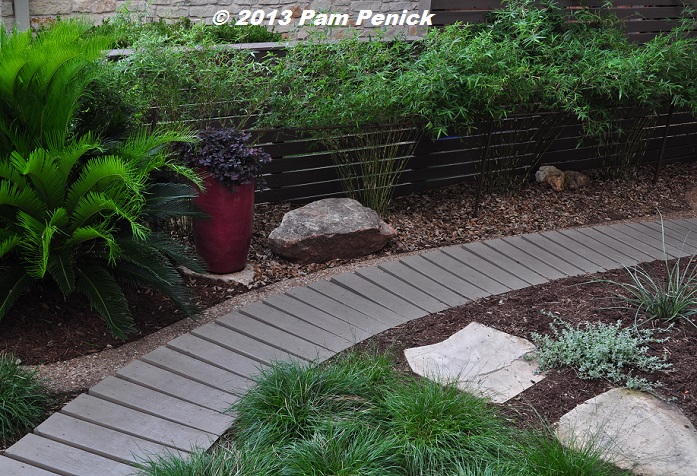 Another particularly nice feature of Cyndi's garden is the serene screen of Bambusa multiplex 'Featherleaf' along the left side, bright green against the dark fence.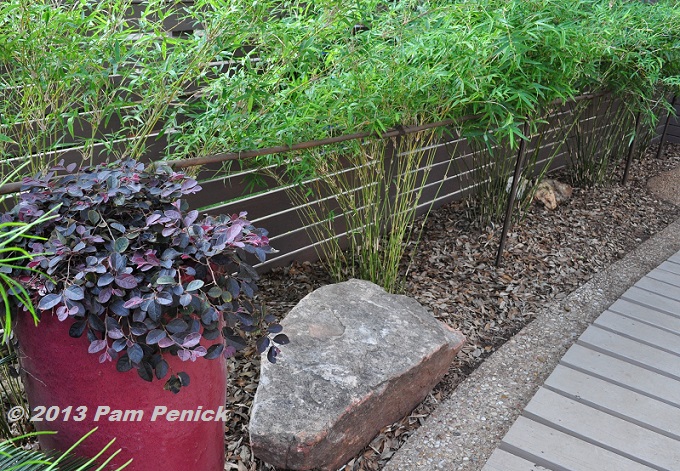 I like the way Cyndi has pruned it up and held it back with bamboo stakes and poles. That's a 'Purple Pixie' loropetalum charmingly color-matched with the red pot.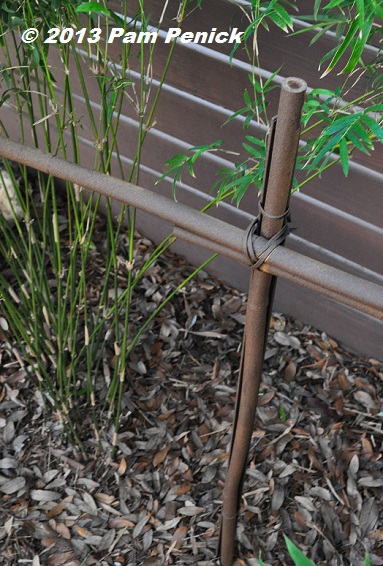 Cyndi recently posted about constructing her bamboo hold-back, with before-and-after pics. She hammered 4-foot metal sign stakes into the ground and disguised them with bamboo poles attached in front. Then she lashed long bamboo poles horizontally to the stakes using plastic zip ties, and spray painted everything dark gray.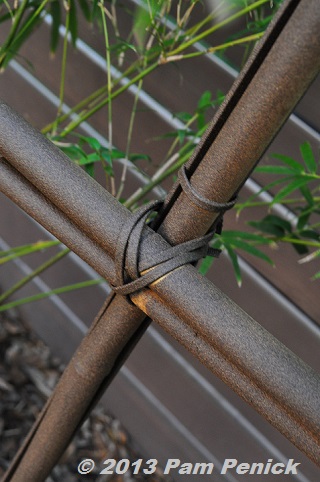 This gives the illusion that the plastic zip ties are actually made of leather or some other natural material, plus it helps the metal stakes disappear. Cyndi said her design was inspired by a bamboo hold-back I posted about last year, which is kind of funny because I intend to copy her design to hold back some bamboo muhly grass in my garden.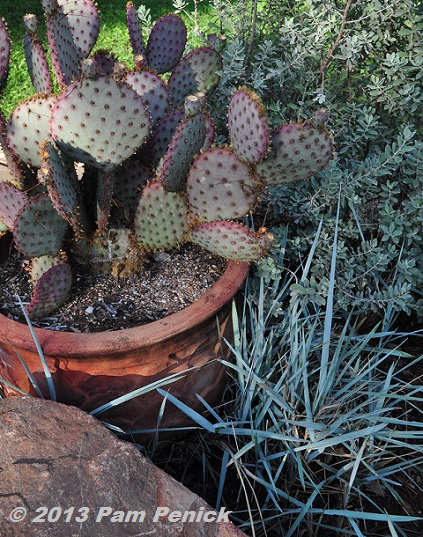 That's the great thing about reading garden blogs: good ideas are plentiful. I sure picked up some from Cyndi's garden, and I hope it inspires you too. Thanks, Cyndi, for sharing it with me!
_____________________
If you want more DIGGING, please "Like" my Facebook page to enjoy photos of beautiful gardens, get notifications of my blog posts, and just hang out with me and talk plants. I hope to see you there!
All material © 2006-2013 by Pam Penick for Digging. Unauthorized reproduction prohibited.
posted in
Agaves
,
Bamboo
,
Cactus
,
Containers
,
Design
,
Fences
,
Garden tours 2013
,
Grasses
,
Groundcovers
,
Lawn Gone!
,
Palms/Cycads
,
Paths
,
Patios & decks
,
Pruning
,
Succulents
,
Water-Saving Garden
,
Xeric plants
,
Yuccas