June 16th, 2013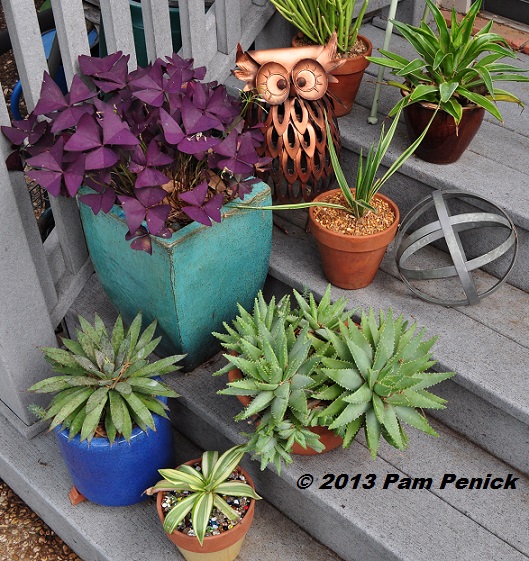 It's so simple, but I really enjoy this collection of potted plants on my back steps. I can see them from my bedroom and living room windows, and they're a focal point when sitting outside on the upper patio. I just chose single plants to pot up in a few colorful pots, balanced by several terracotta pots — and they're all attractive foliage plants that appreciate bright shade.
Purple oxalis (Oxalis triangularis) anchors the group in the tall turquoise pot. From the top step moving down, there's a 'Sticks on Fire' euphorbia, variegated Agave desmettiana, a stripey passalong yucca from Diana/Sharing Nature's Garden (possibly Yucca aloifolia variegata), Aloe brevifolia, Agave desmettiana 'Joe Hoak' (a passalong from Bob/Central Texas Gardening), and 'Bloodspot' mangave.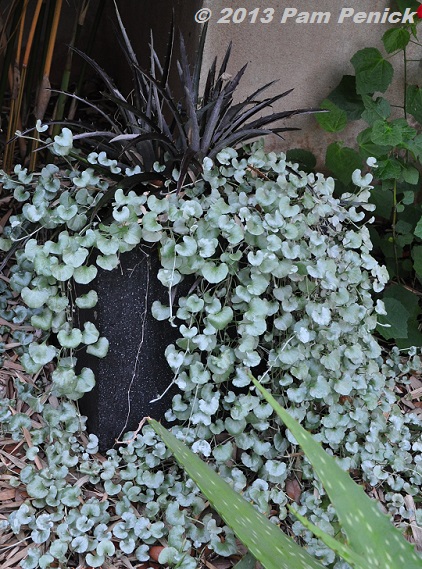 In a square terrazzo pot set in a planting bed, a nearly black 'Burgundy Ice' dyckia is brightened by a waterfall of silver ponyfoot (Dichondra argentea) spilling over the edge and rooting into the soil.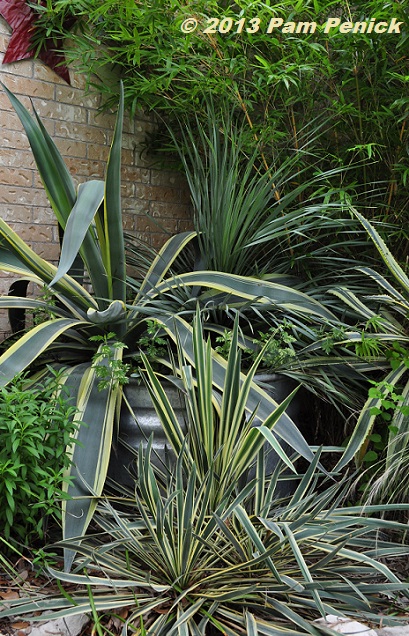 The silver is picked up nearby in the stock-tank planter that's home to an Agave weberi 'Arizona Star' and Yucca rostrata 'Sapphire Skies'. Behind those leans an 'Alphonse Karr' bamboo. Just visible at right is a variegated Agave americana in a pot. And in front of all is a rapidly growing clump of 'Bright Edge' yucca. Yep, this has become a spiky, variegated ghetto.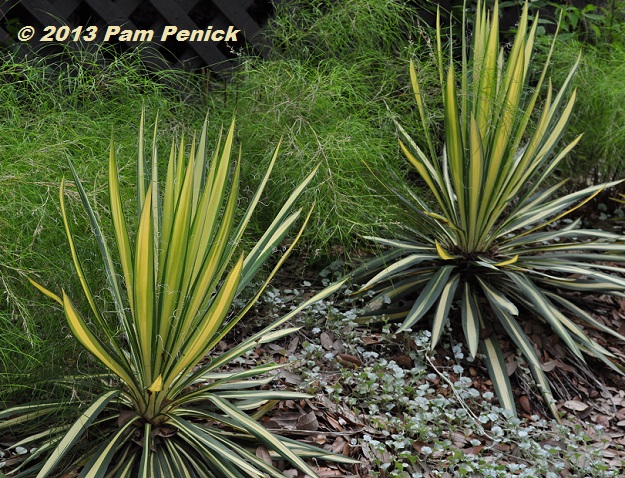 Another of my favorite yuccas is Y. filamentosa 'Color Guard', which looks great with anything and grows well in much colder climates than mine (up to zone 4, according to Plant Delights). Here it's softened with bamboo muhly grass (Muhlenbergia dumosa) and more silver ponyfoot.
Please join me in posting about your lovely leaves of June for Foliage Follow-Up, a way to remind ourselves of the importance of foliage in the garden on the day after Bloom Day. Leave your link to your Foliage Follow-Up post in a comment. I really appreciate it if you'll also include a link to this post in your own post (sharing link love!). If you can't post so soon after Bloom Day, no worries. Just leave your link when you get to it.
_____________________
By the way, if you follow me on Facebook (and if not, I hope you will), I have a new Facebook page for all my garden-related conversations called Pam Penick – Garden Chat & Author Page. Please "Like" my page to enjoy photos of beautiful gardens, get notifications of my blog posts and upcoming talks, and just hang out with me and talk plants! I hope to see you there!
Speaking of garden talks, I'll be in San Antonio on Monday at noon to give a free talk at the San Antonio Garden Center about losing the lawn and gaining a waterwise landscape or beautiful garden. Lawn Gone! book-signing afterward. Please join me! P.S. If that's during your work day, just bring a bag lunch and come on out.
Where: 3310 N. New Braunfels, San Antonio, TX (adjacent to the San Antonio Botanical Garden)
What: Essentials of Gardening class, hosted by the Gardening Volunteers of South Texas
All material © 2006-2013 by Pam Penick for Digging. Unauthorized reproduction prohibited.
posted in
2nd garden--2013
,
Agaves
,
Aloes
,
Bamboo
,
Containers
,
Decor
,
Dyckias
,
Foliage Follow-Up
,
Grasses
,
Groundcovers
,
Stock tanks
,
Succulents
,
Xeric plants
,
Yuccas