June 15th, 2013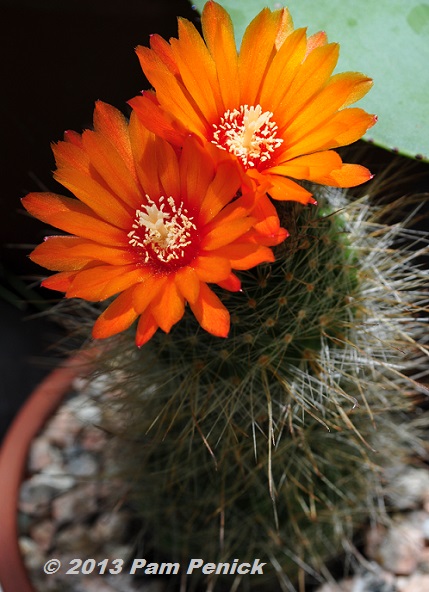 I'm discovering the joy of growing cactus, not just for the plants' unique shapes and light-catching spines, but for their stunning flowers as well. Their flowering may be brief — generally just a day or two, so you don't want to miss it — but what they lack in duration they make up for in beauty.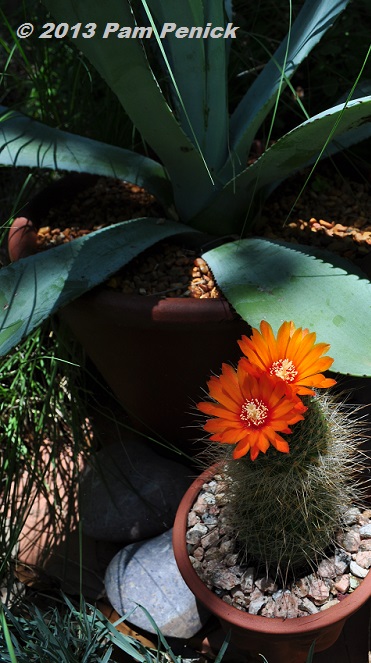 With oversized flowers, this cactus looks like it's wearing a hat worthy of a royal wedding.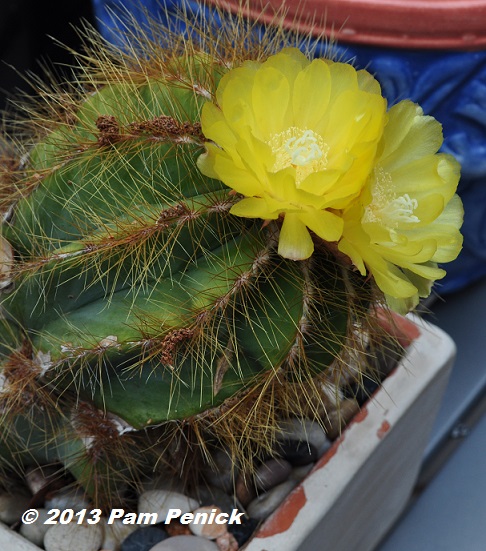 This week my misshapen little ball cactus bloomed too. Hey, do the flowers always match the coloring of the spines? I just noticed that.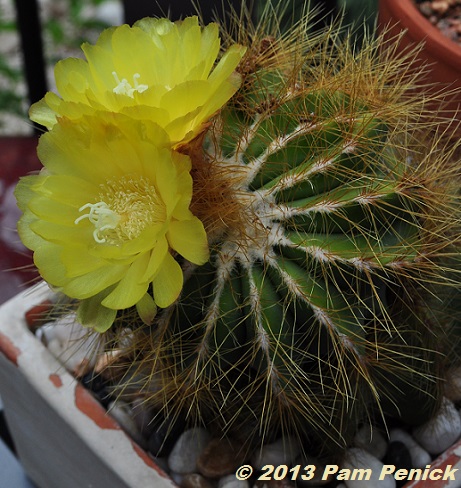 It always amazes me that such prickly, inhospitable plants can produce such stunning flowers.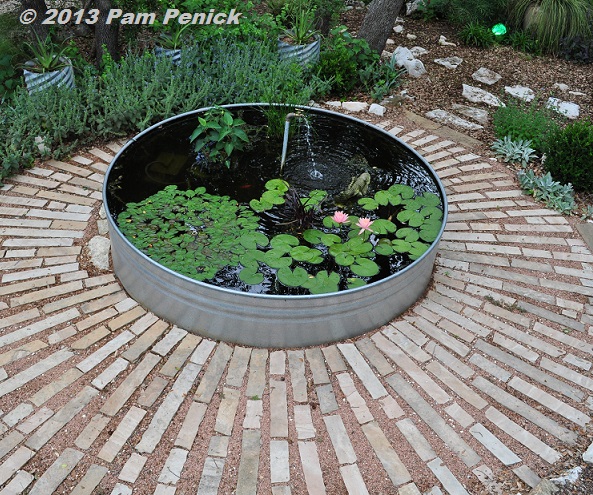 For Bloom Day, here are a couple of other scenes from my garden right now: 'Colorado' water lilies in bloom in the stock-tank pond…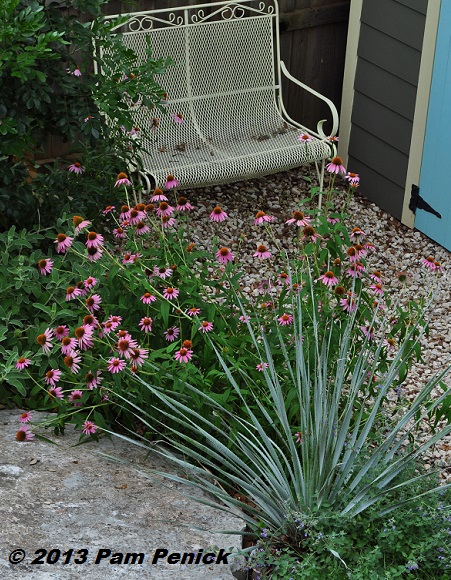 …and purple coneflowers in bloom wherever their seeds have taken root.
For more Bloom Day posts, visit meme hostess Carol at May Dreams Gardens. And remember, it's Foliage Follow-Up tomorrow!
_____________________
By the way, if you follow me on Facebook (and if not, I hope you will), I'm folding my two separate pages — Digging and Lawn Alternatives — into a new Facebook page called, ahem, Pam Penick. Please "Like" my page to enjoy photos of beautiful gardens and lawn alternatives, get notifications of my blog posts and upcoming talks, and just hang out with me and talk plants! I hope to see you there!
Speaking of garden talks, I'll be in San Antonio next Monday at noon to give a free talk at the San Antonio Garden Center about losing the lawn and gaining a waterwise landscape or beautiful garden. Lawn Gone! book-signing afterward. Please join me! P.S. If that's during your work day, just bring a bag lunch and come on out.
Where: 3310 N. New Braunfels, San Antonio, TX (adjacent to the San Antonio Botanical Garden)
What: Essentials of Gardening class, hosted by the Gardening Volunteers of South Texas
All material © 2006-2013 by Pam Penick for Digging. Unauthorized reproduction prohibited.
posted in
2nd garden--2013
,
Agaves
,
Bloom Day
,
Cactus
,
Containers
,
Flowers
,
Paths
,
Ponds
,
Seating
,
Stock tanks
,
Water features
,
Xeric plants