June 11th, 2013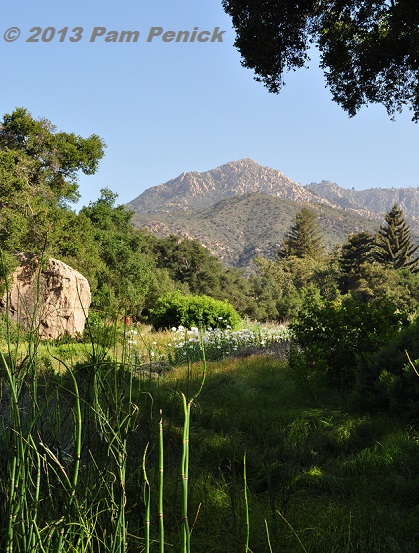 The day after arriving in Santa Barbara over Memorial Day weekend, my husband and I used our Wildflower Center membership for reciprocal free admission to the Santa Barbara Botanic Garden. Like the Wildflower Center, the SBBG is a natives-only garden — but here of course the plants are native to California.
What a culture shock from the extravagant exoticism of Lotusland, the first garden we visited in Santa Barbara. Arriving at the botanic garden right at opening on a quiet Sunday morning, we had the place to ourselves for a little while, despite the fact that the garden is tucked into a canyon overlooked on all sides by homes on surrounding ridgelines. The rugged, dusty trails, colorful wildflowers brightening tawny grasses, and spreading oaks reminded us of home. But the blue hills looming ahead, redwood trees, and house-sized boulders told us otherwise.
Soon Sunday morning walkers and their dogs (yes, leashed dogs are allowed in the garden, which surprised me) were hoofing their way along the trails too. We guessed that for homeowners in the surrounding neighborhood, the SBBG is like a neighborhood park, and I felt a little envious of them.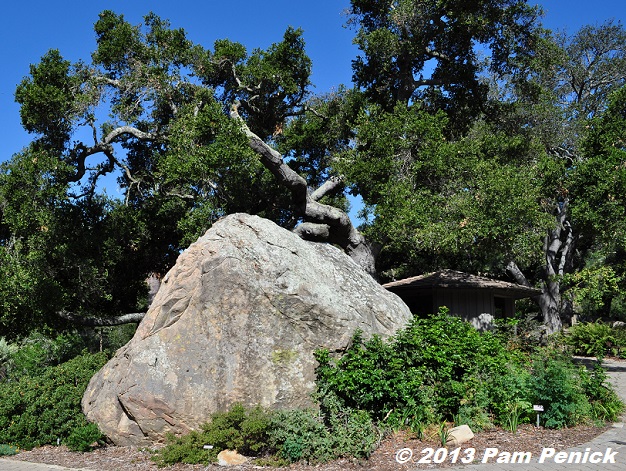 An enormous boulder greets you upon entry into the garden. Boulders of this size deserve to be named, and this one is called Blaksley Boulder in memory of the father of founder Anna Dorinda Blaksley Bliss. (Blaksley Bliss purchased the land for the garden in 1926 in partnership with Santa Barbara Museum of Natural History and Carnegie Institution, and the garden she founded was one of the first in the country to exclusively feature native plants.) Did this gigantic stone roll down from the surrounding hills, we wondered? The garden's website answered our question:
The Blaksley Boulder is just one of many huge boulders in the Garden. These boulders are composed of sandstone from the Santa Ynez Mountains. Many wonder how they got here. Amazingly, it seems that they floated here in prehistoric debris flows that likely occur every few thousand years. After torrential rains, and possibly earthquakes trigger massive landslides, the boulders float like corks on top of a high density mixture of water, fine sediment, and rocks. These catastrophic events are recorded in the exposed walls of the canyon where layers of rock and sediment can be seen piled 60 feet high.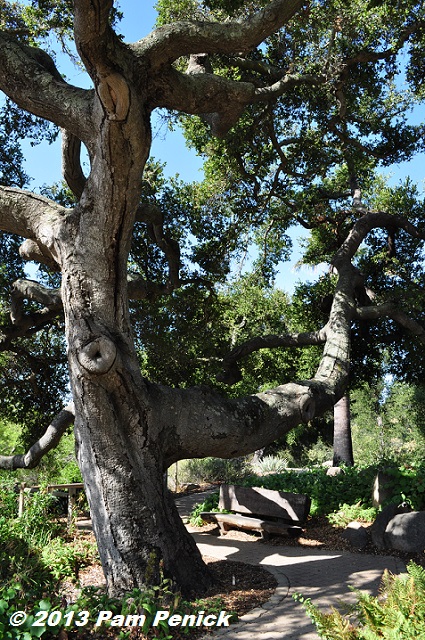 Behind Blaksley Boulder stands another impressive specimen, this massive oak tree. That first horizontal limb is as thick as a large live oak trunk here in Austin.

Nearby, a visitor kiosk is decorated with this lovely tiled picture of quail amid wildflowers, with the blue hills of the Santa Ynez Mountains in the distance. Quail, we soon learned, are the unofficial mascot of the garden, heavily represented among the art and souvenirs in the garden's gift shop.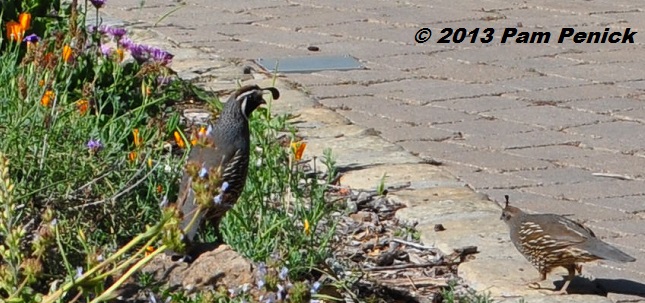 A few minutes later, we were charmed by the sight of a male and female quail darting along the wildflower trail. I looked hard for a line of following chicks but didn't see any.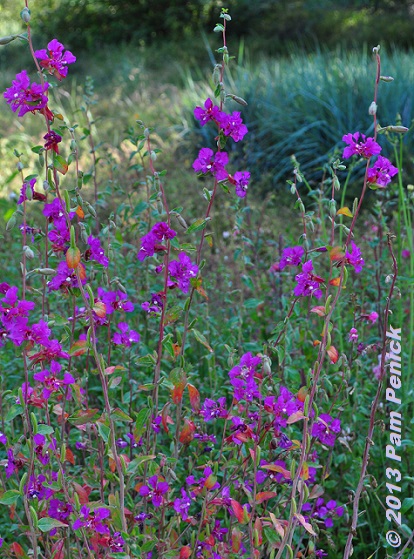 Ah, the wildflowers.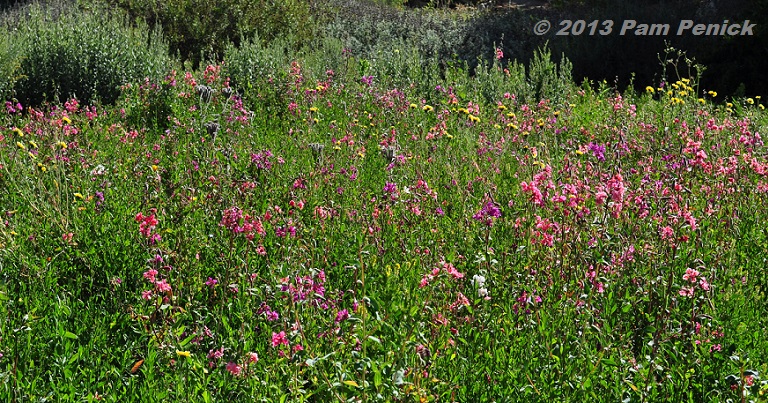 Blazing stands of hot pink and citrus orange mingled with cool swaths of white and lavender to create a colorful mosaic in the wildflower meadow.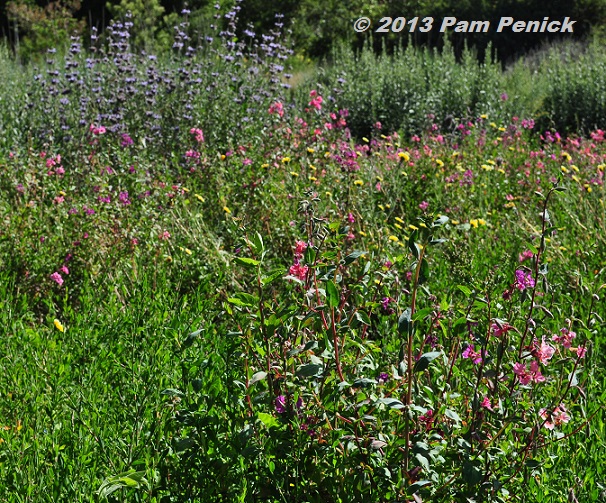 We were fortunate to catch the late show of the spring wildflowers that the garden is known for.

Mown grasses in the center of the meadow allow you to get a closer look at the wildflowers and bask in the overall scene: warm, scented air, golden grasses, sparkling wildflowers, and blue hills in the distance (see photo at top of post).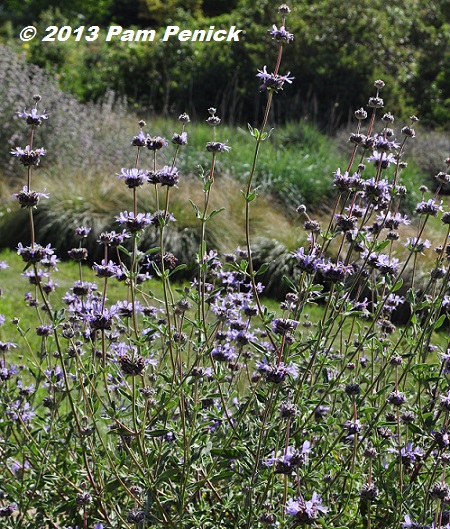 A backlit Salvia leucophylla captured my attention.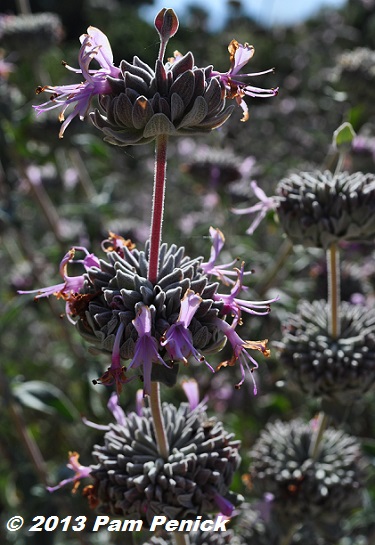 Tiers of silvery-gray pom-poms are studded with lavender flowers.

Inside the orange chalices of California poppies, a bee orgy was going on.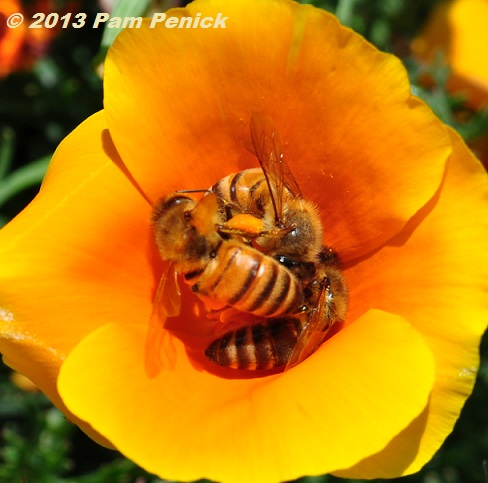 Look at those full pollen sacks, and they still wanted more, burrowing in a crazed circle for every grain of pollen. The bees, pollen, and poppies made one sunny, golden circle.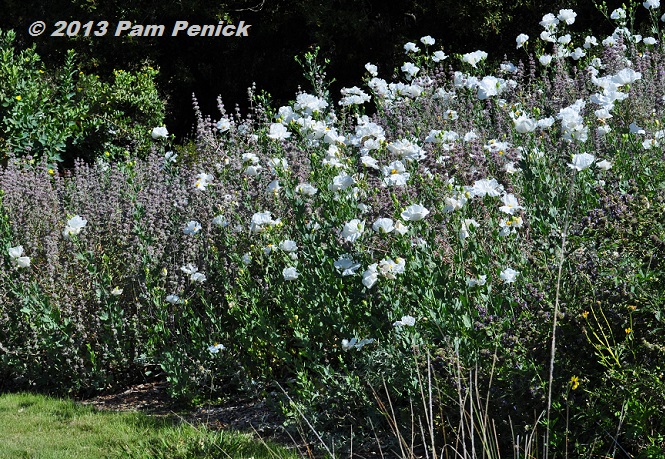 A deep buzzing told me the bees were loving these white poppies as well.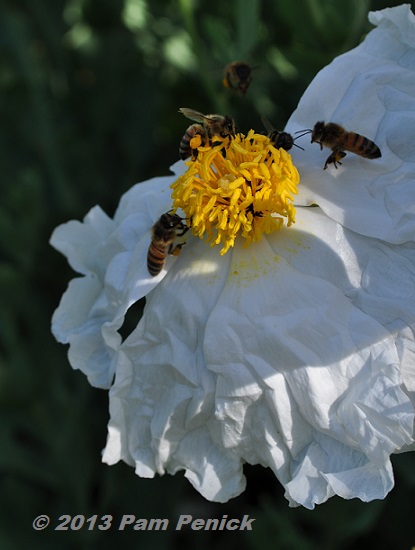 I first thought this eggs-sunny-side-up flower was the Texas native white prickly poppy (Argemone albiflora spp. texana). But the plant tag set me straight: hairy Matilija poppy (Romneya trichocalyx).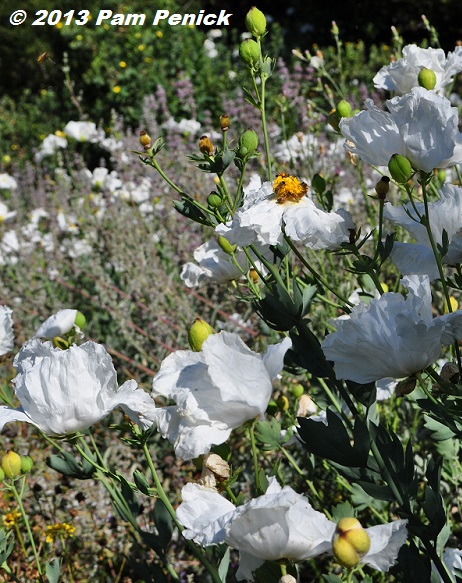 I was quite taken with their snowy, blowsy petals and golden centers.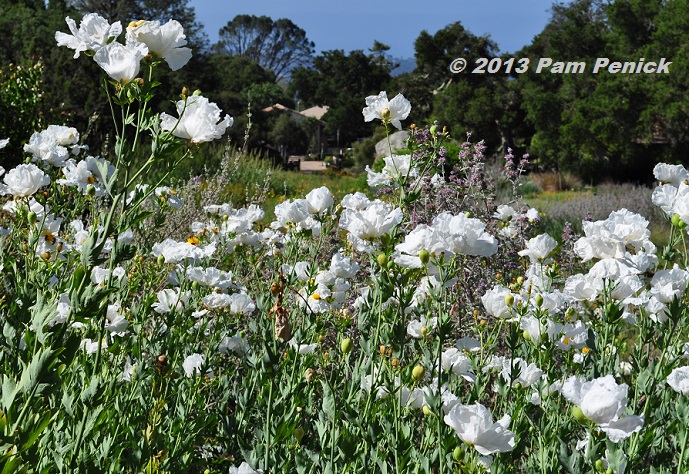 Like clean white sheets on the laundry line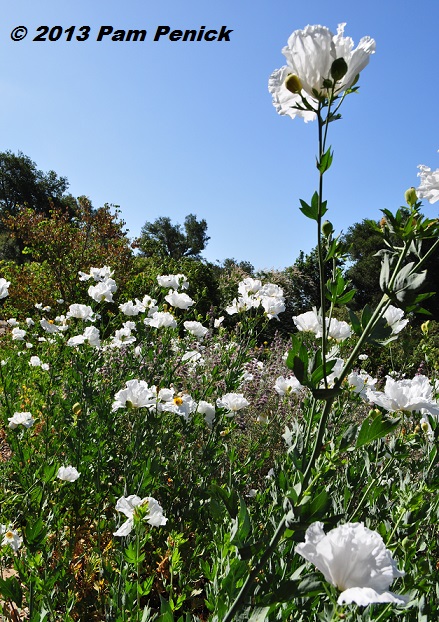 One more look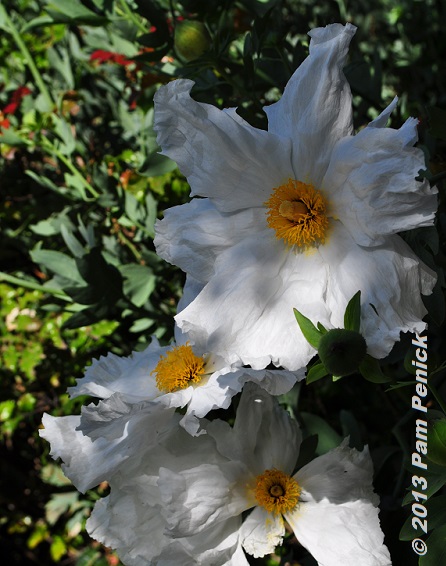 OK, one more. Done, I promise.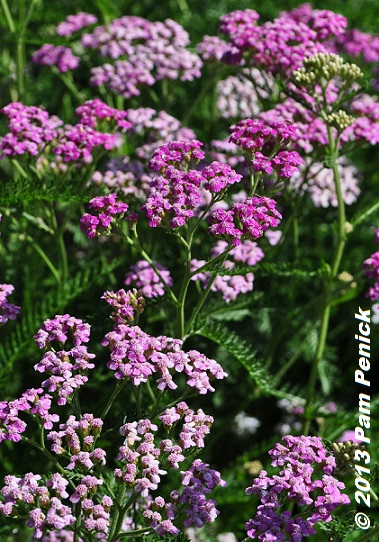 More wildflower beauty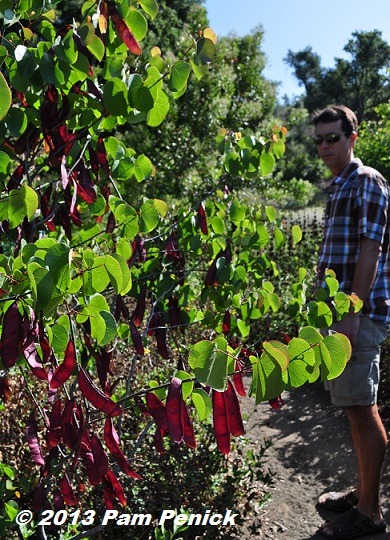 Wine-colored seedpods dangled from small redbud trees at the meadow's edge, making a pretty combination with sunlit green leaves.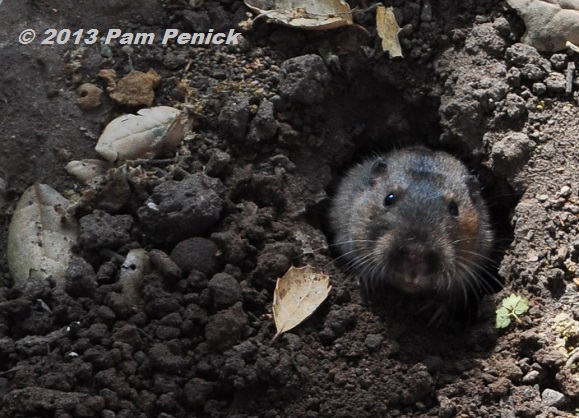 From the wildflower meadow we strolled into a forested section of the garden. This cheeky fellow — a vole, I believe — was popping in and out of a freshly dug hole in the earthen path. We found him cute, but I suspect he must be troublesome for the gardeners.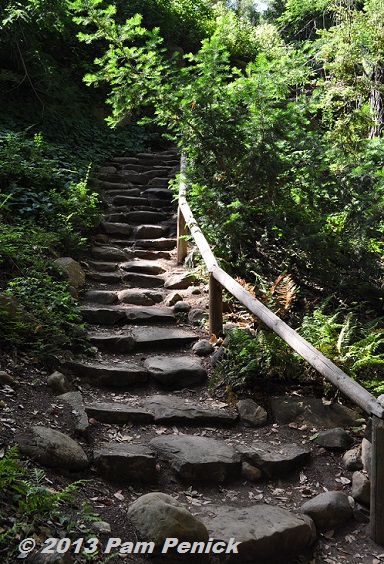 The enticing but puzzlingly named Indian Steps lead up to another trail. I've looked and looked online but can't find the origin of the stair's name. Does anyone know?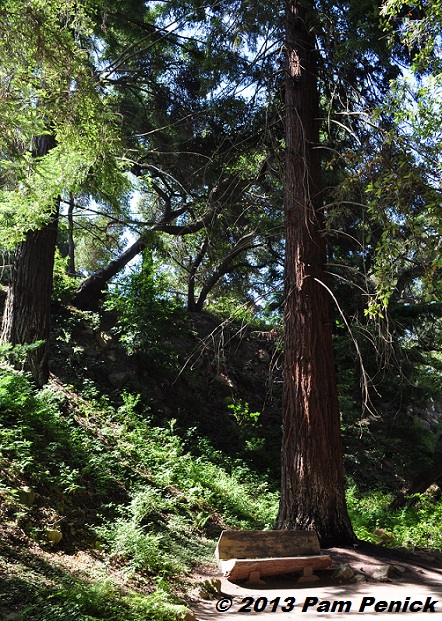 We continued along the lower path, which followed a rushing stream, and found ourselves in a shady grove of sky-high redwoods. This section of the garden was my favorite, as peaceful, beautiful, and moving as a cathedral.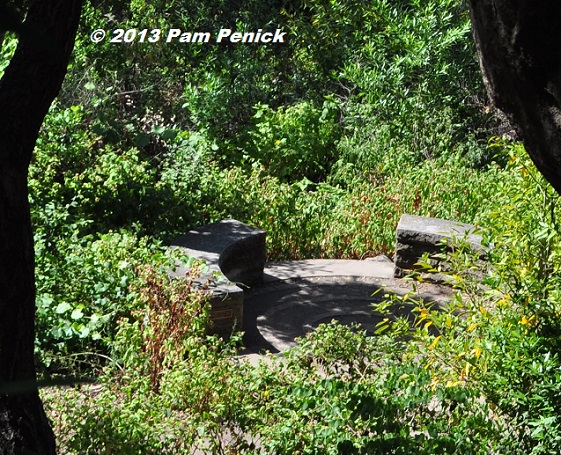 Since encountering my first at Chicago Botanic Garden, I always have my eye out for council rings. I like the concept: a semi-private, enclosed place to sit with a friend, enjoy the view, and perhaps speak from your heart.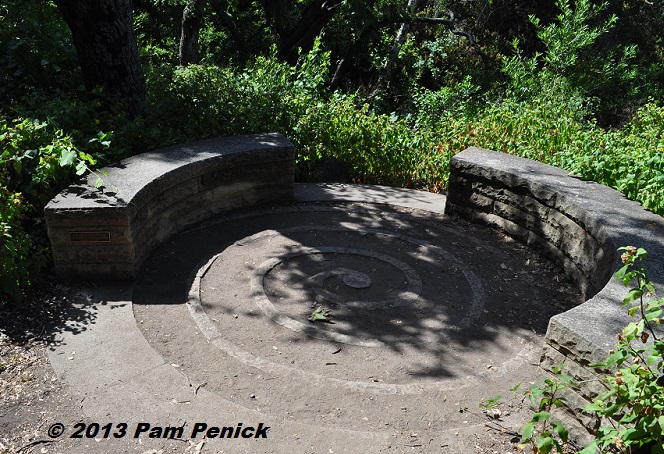 A closer look. This one has a spiraling stone-paver design in the center. A small council ring like this would work in any homeowner's garden, perhaps with a fire pit in the center.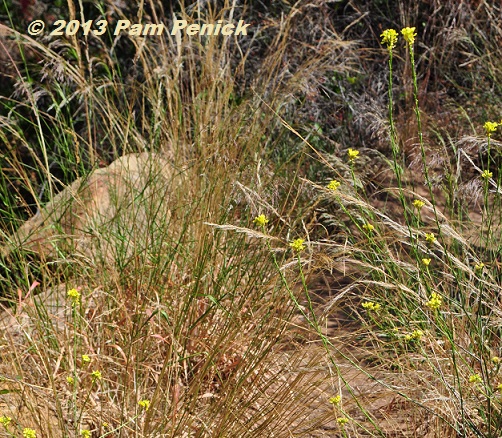 Golden grasses and wildflowers — reminds me of Austin.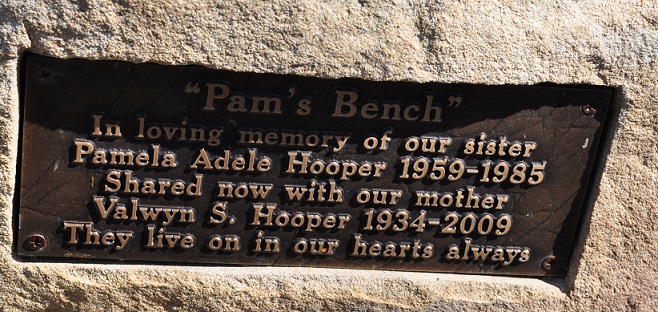 We climbed a trail up the canyon wall for a bit, following the Pritchett Trail, and found a drier, sunnier ecosystem up there as well as a stone bench dedicated to another Pam.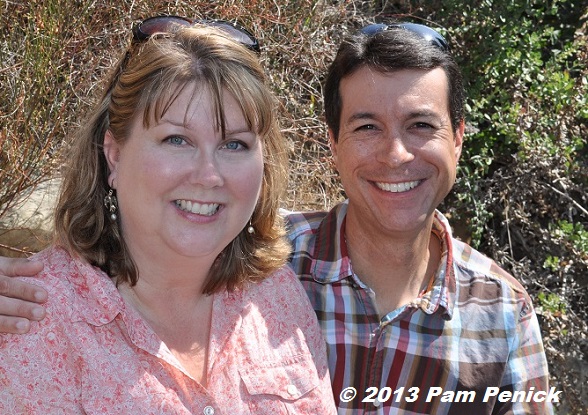 It seemed a perfect spot to rest, and when a passing couple offered to take our photo we said yes. It happened to be our 23rd anniversary that day.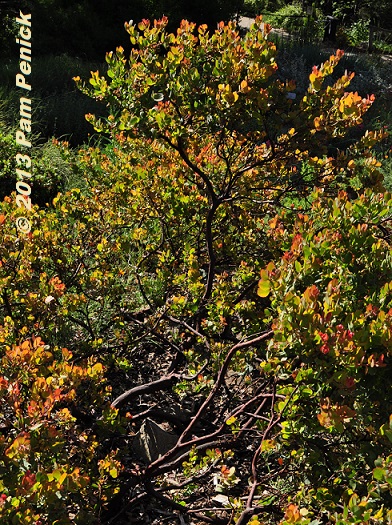 Back on the main trail we admired several manzanitas (Arctostaphylos), their twisting limbs holding up bouquets of green and reddish-gold leaves (new growth, I believe).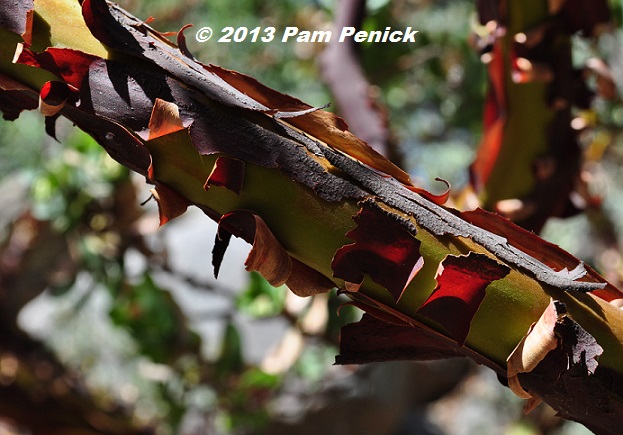 I understand they are stunning in bloom. But at this time of year their beauty lies in their cinnamon-colored bark that peels and flakes to reveal the green "skin" beneath.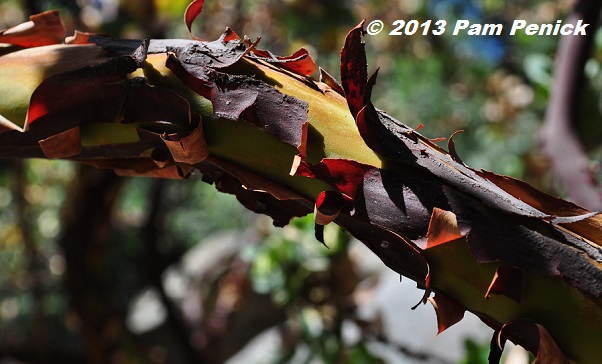 Another look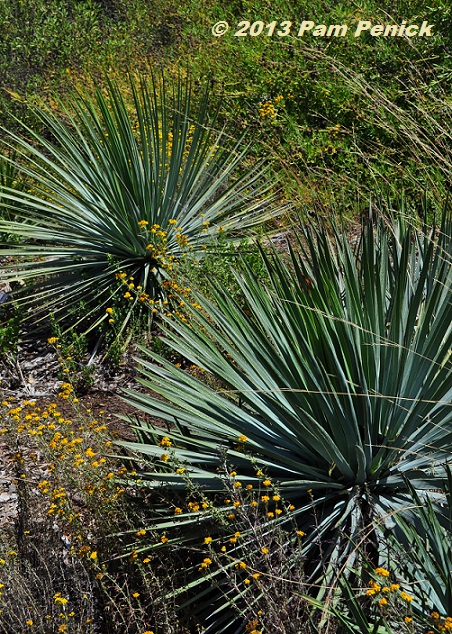 Back at the entry gate, we decided to walk across Mission Canyon Road and climb the Porter Trail, which, the garden map promised, offers views all the way to the Channel Islands just off the coast. Wow, the Santa Ynez Mountains on the north and the Pacific Ocean on the east — the SBBG has views like no other. Although the day was getting hot, we climbed the dusty trail, passing stands of pincushiony Our Lord's Candle (Yucca whipplei).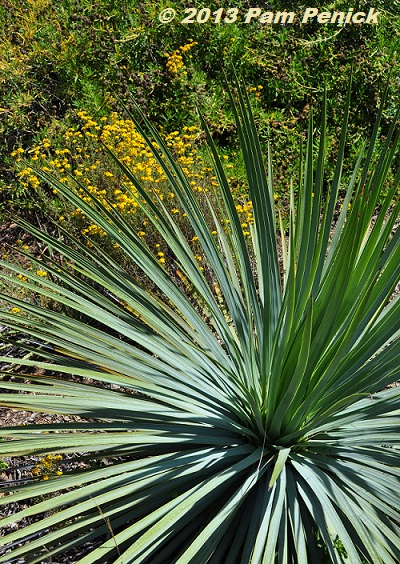 Spines don't put me off, as you know.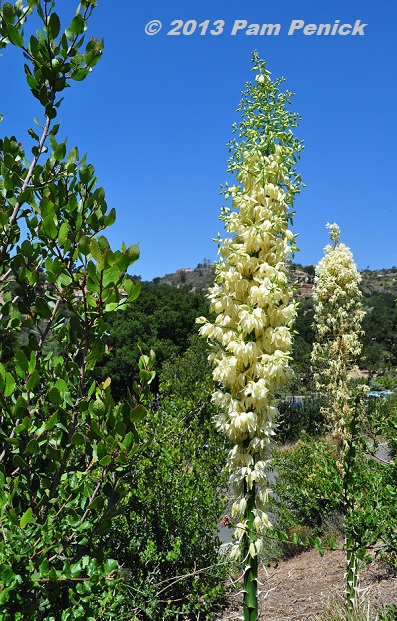 And once I saw a couple in bloom, I knew I'd be going back to the gift shop's nursery to buy a 4-inch baby whipplei to take home. (It's now on top of the retaining wall in my front garden.)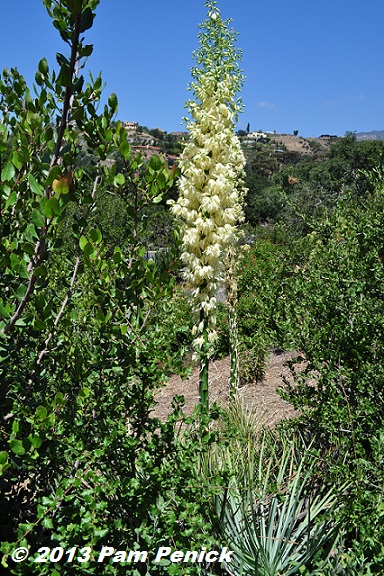 The view from the top (not pictured) was nice but not spectacular, the islands being too far off to see very clearly. But we enjoyed a glimmer of blue in the distance and a shady bench on which to rest.
Souvenir hunters and shoppers, the SBBG gift shop is fantastic, full of beautiful objects and art, many adorned with the signature quail. I was too busy looking to take any photos, sadly, but trust me when I say it's worth a stop. Also, the garden runs a nicely stocked nursery next to the gift shop, and you can buy many of the plants you admired in the garden. But check those growing zones if you live elsewhere. Those lucky Santa Barbara residents live in a charmed climate.
All material © 2006-2013 by Pam Penick for Digging. Unauthorized reproduction prohibited.
posted in
Bees
,
Birds
,
Botanic/Public Gardens
,
Council ring
,
Flowers
,
Garden art
,
Garden tours 2013
,
Grasses
,
Paths
,
Seating
,
Summer color
,
Travel
,
Trees
,
Wildflowers
,
Wildlife
,
Xeric plants
,
Yuccas