June 8th, 2013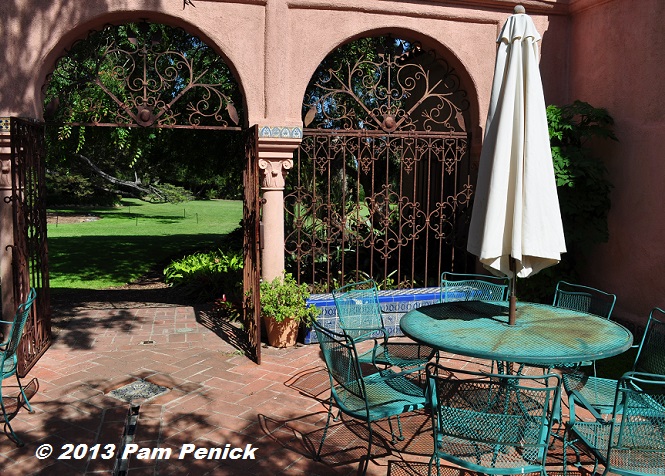 Around back of the main house at Santa Barbara's Lotusland, you find a Spanish-style courtyard with curlicue wrought-iron gates, pink stuccoed walls, and verdigris cafe seating.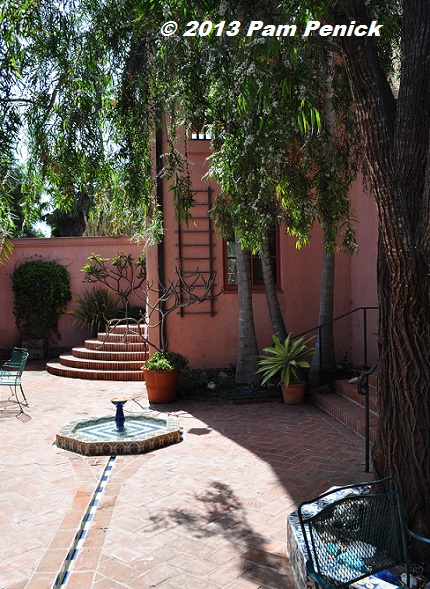 A Moorish tiled fountain and rill, on axis with the gate, make a cooling focal point.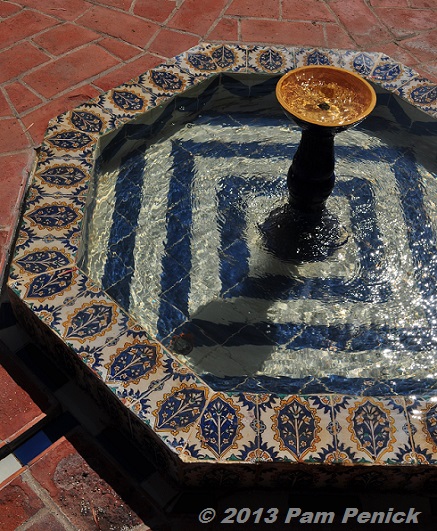 The tile work makes me want a Moorish fountain in my own garden.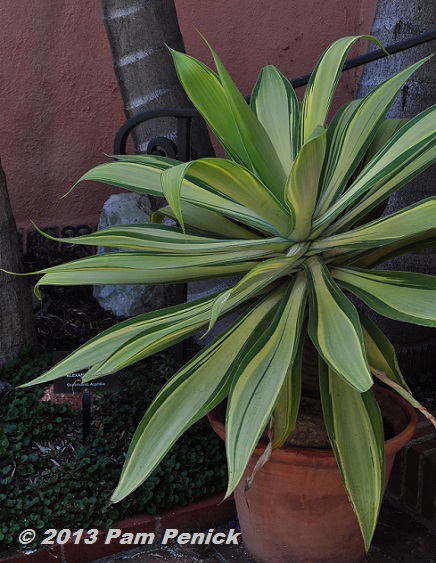 A solitary potted Agave attenuata 'Variegata' (I think) brightens a shady corner.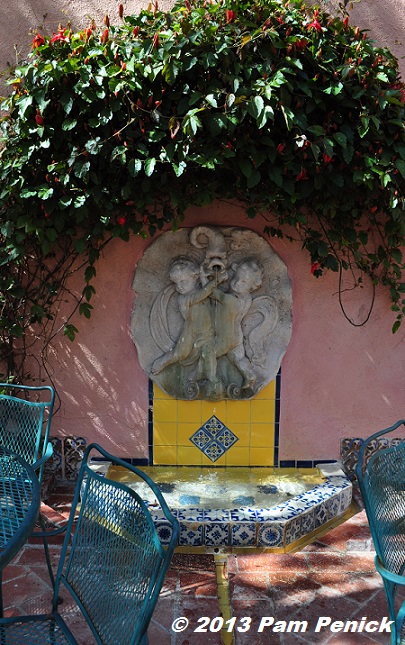 A wall fountain with cherubs spills into a tiled yellow-and-blue basin, with a flowering vine arching over the whole scene.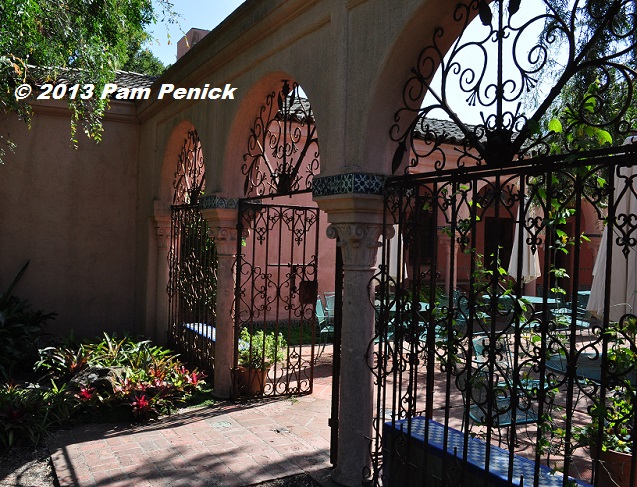 A parting glance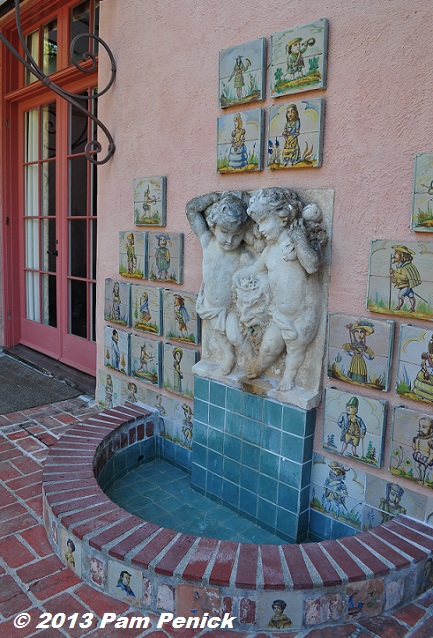 On the rear terrace of the house, another cherub wall fountain splashes into a basin tiled with what look like Dutch figures.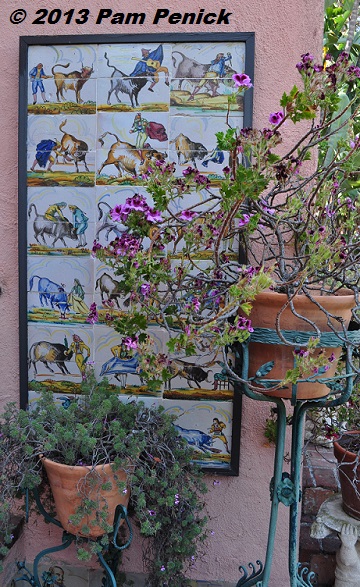 But most of the tile work on the terrace is of bull-fighting scenes. This grouping makes a sort of wall mural.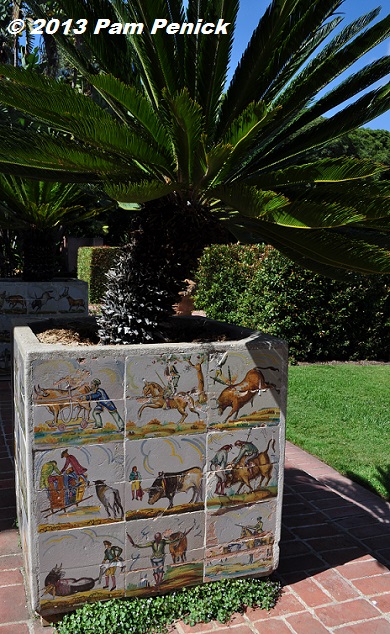 Several sago palm planters are adorned with more of the bull-fighting tiles.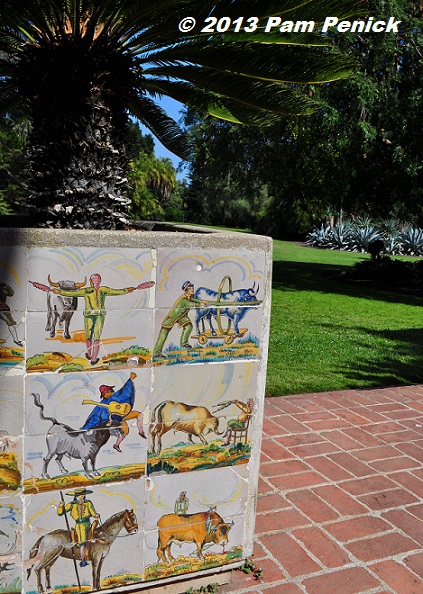 A closer look reveals a humorous element. A matador with a guitar slung across his chest is lifted on a bull's horns. Another pushes a bull on a rolling cart. Yet another bullfighter sits in a chair and seems to toy with a charging bull.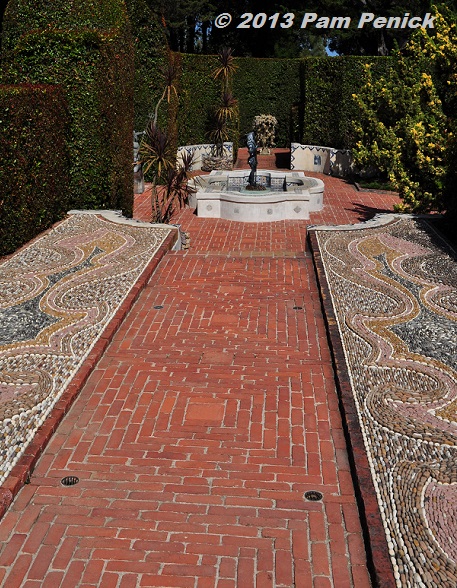 Stepping off the terrace into the parterre, you encounter long, patterned "rugs" of mosaic pebbles along each side of the brick path. They lead the eye to another Moorish fountain surrounded by dense hedges, terminating in a distant focal point of a succulent planter on a plinth.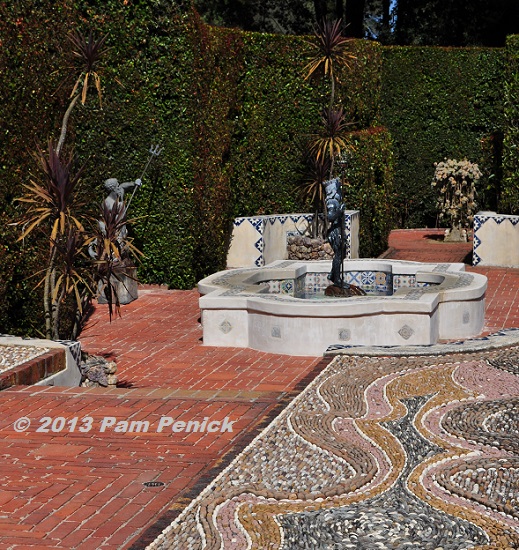 There's a lot going on here!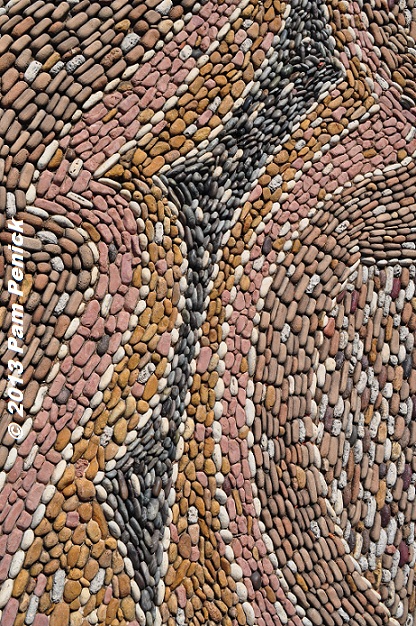 Earthy swirls and curves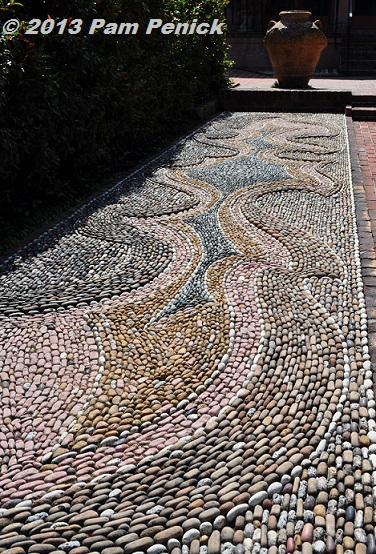 Looking back to admire the long view. Imagine how long it must have taken to lay out this design, and then do it again on the other side of the path.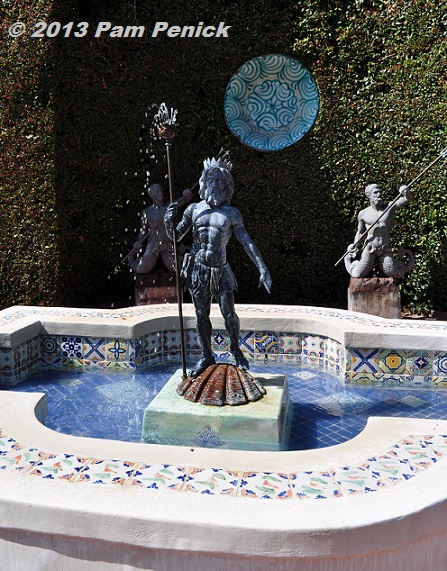 Neptune stands on a clamshell in the center of the fountain, with a couple of minions behind him.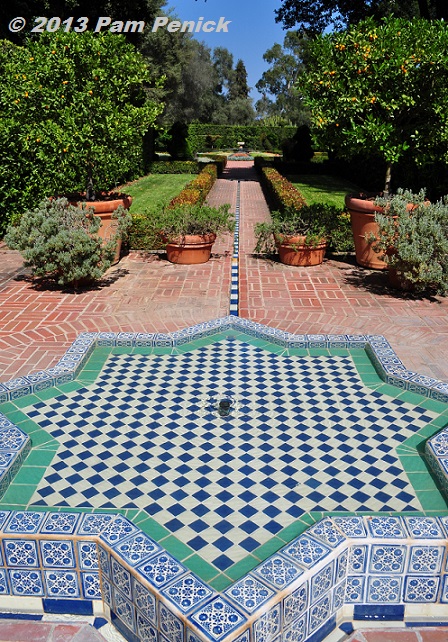 Exiting the hedged path, you come across another long vista, with this beautiful Moorish fountain and rill — my favorite of all the ones at the back of the house. The long view terminates in…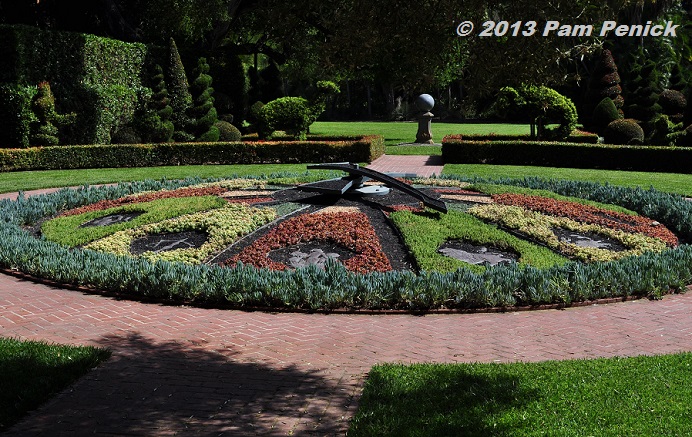 …a huge, bermed clock planted with low-growing succulents! This whimsical feature overlooks the Topiary Garden, just visible beyond. We didn't have time for more than a quick look at the shrubby zoo.

Nature displays her own sense of whimsy in Bird of Paradise, doesn't she?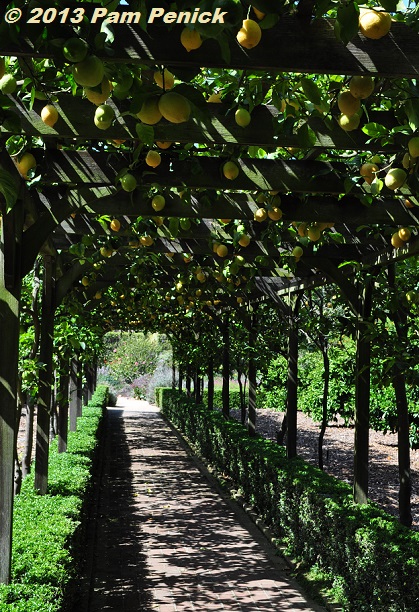 Off to the side, a long lemon arbor offers a tempting vista and a path toward an orchard and butterfly garden. Short on time, however, we turned our feet toward the sunlit cactus garden — and were rewarded with another otherworldly scene.
Next up: The Cactus Garden. For a look back at the Aloe pool, Blue Garden, and Bromeliad Garden, click here.
All material © 2006-2013 by Pam Penick for Digging. Unauthorized reproduction prohibited.
posted in
Agaves
,
Arbors
,
Botanic/Public Gardens
,
Containers
,
Edibles
,
Fountains
,
Garden art
,
Garden tours 2013
,
Gates
,
Paths
,
Patios & decks
,
Pruning
,
Rills
,
Seating
,
Succulents
,
Travel
,
Water features