June 6th, 2013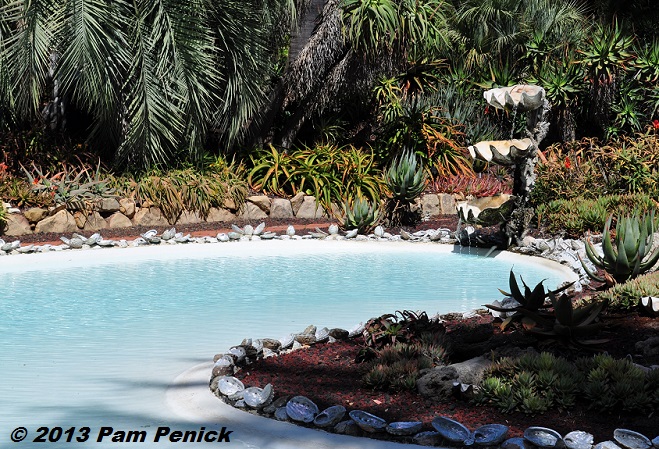 As we charged into Santa Barbara, California's Lotusland, knowing we had a limited amount of time and wouldn't be able to see everything, my first must-see areas were the oft-photographed Aloe Garden and the Blue Garden. Luckily both are fairly close to the visitor's center.
A kidney-shaped, ice-blue pool is the cool centerpiece of the hot-colored Aloe Garden. Having inherited the pool with the estate, Madame Ganna Walska painted the bottom white, lined the perimeter with pearlescent abalone shells, and installed two fountains made of giant clamshells. Starfish-shaped aloes stretch their arms across rocks around the pool, contributing to an under-the-sea ambiance.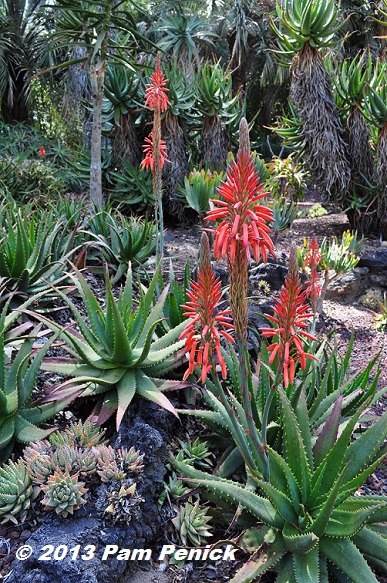 More than 170 kinds of aloes combine to create an aloe jungle, with torchlike flowers…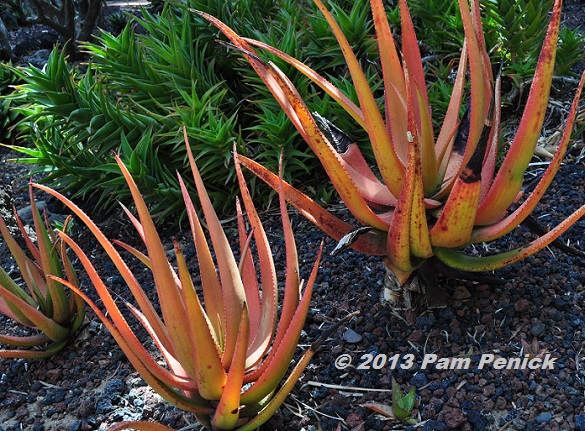 …and drought-stressed foliage in shades of orange and red.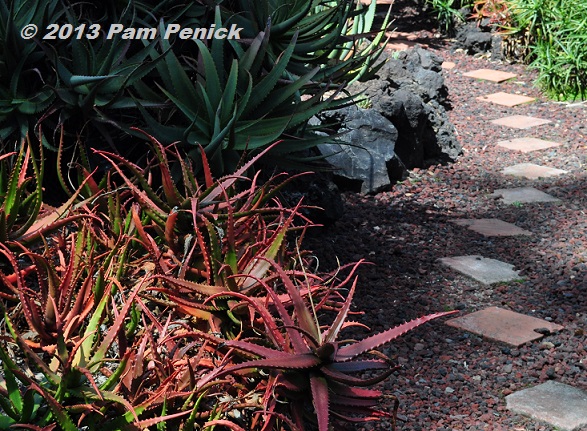 Reddish lava rock and red brick (next image) form the paths that run through the garden.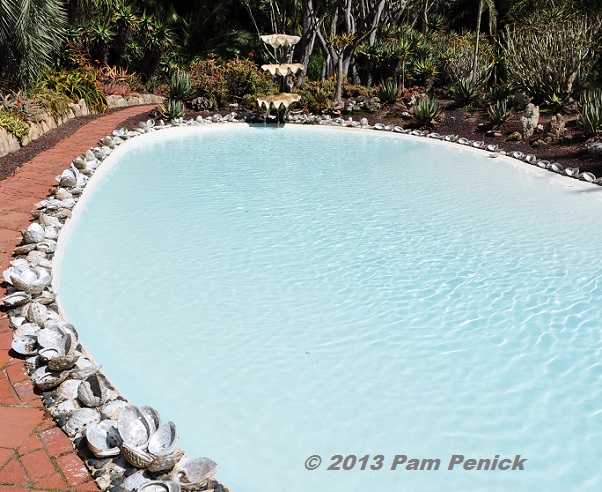 Those hot colors contrast so beautifully with the glacier-blue pool. It would be tempting to soak one's feet if it weren't for the barrier of abalone shells.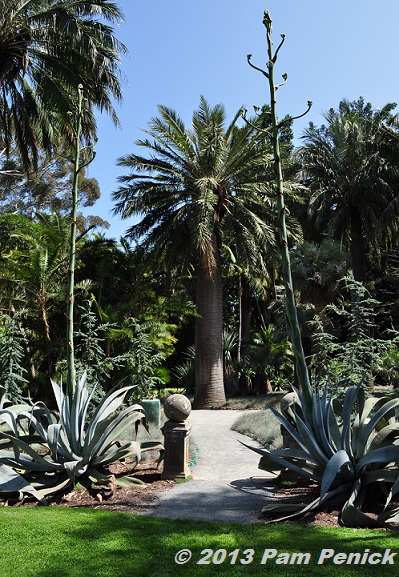 Across the main drive you come to the Blue Garden, which is perhaps the most recognizable of all Lotusland's gardens. It made the cover of Martha Stewart Living last year.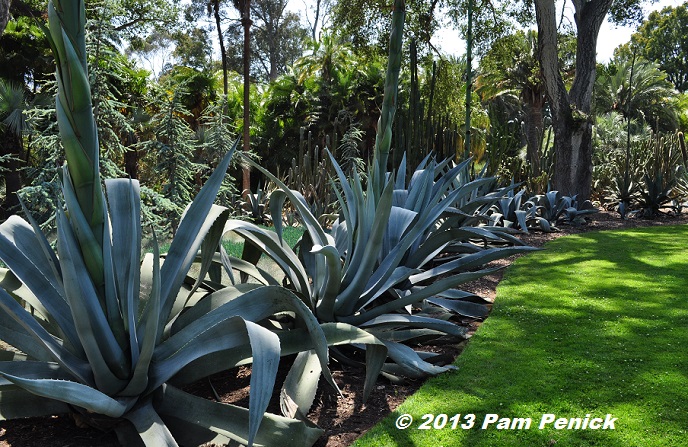 Kelly green lawn meets cool gray-green in a line of mature Agave franzosinii, many of which were in bloom during our visit. These will die, as agaves do after they bloom, and will be replaced, presumably, with smaller, younger specimens.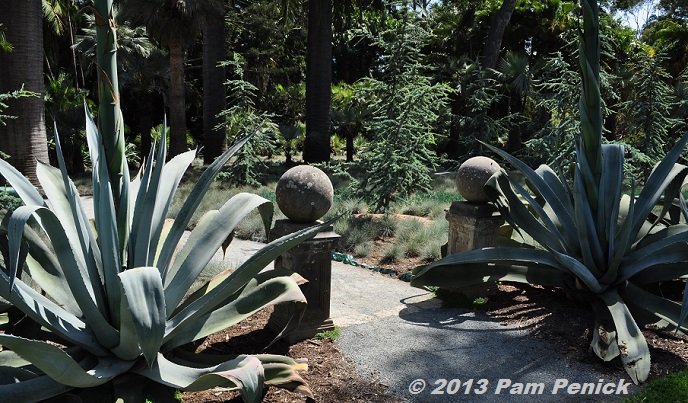 I'm glad I was there to see the giant franzosiniis, their sinewy arms creating a living wall alongside stone posts topped with spherical finials, which mark the entrance.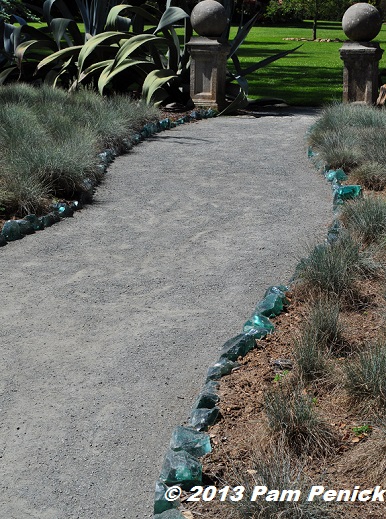 Step through the gateway and you enter an enchanted space, silent, magical, all color mysteriously toned down to blue-grays.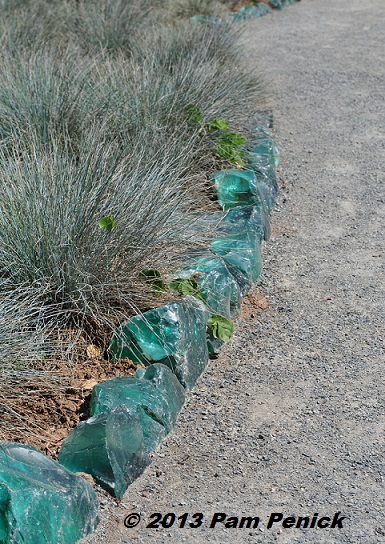 Gray gravel edged with blue slag glass — so gorgeous! — leads you into an alien landscape where warm tones have been leached away.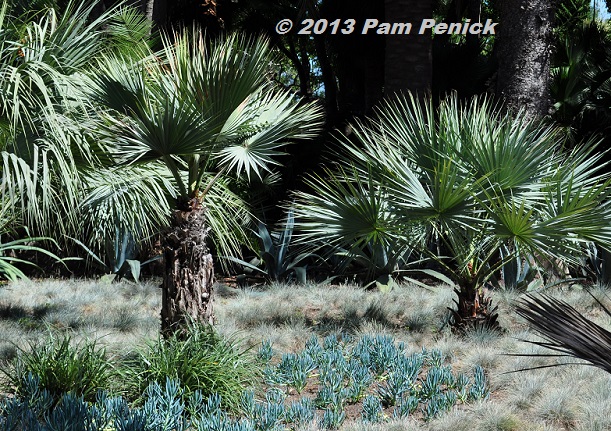 Blue-green palms lift their fringed fingers overhead. Tufts of blue fescue, intersected by ribbons and pools of the succulent blue chalk fingers, carpet the ground. Moody blue atlas cedars (not pictured here) stand in droopy clusters amid the palms.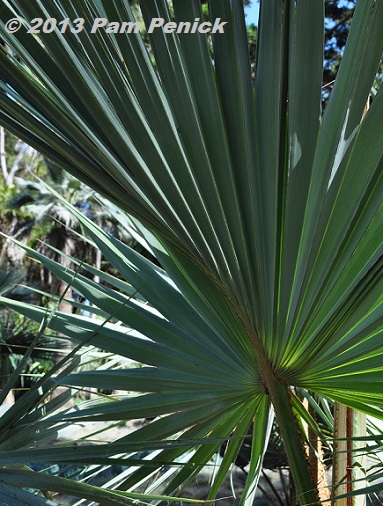 Fan dance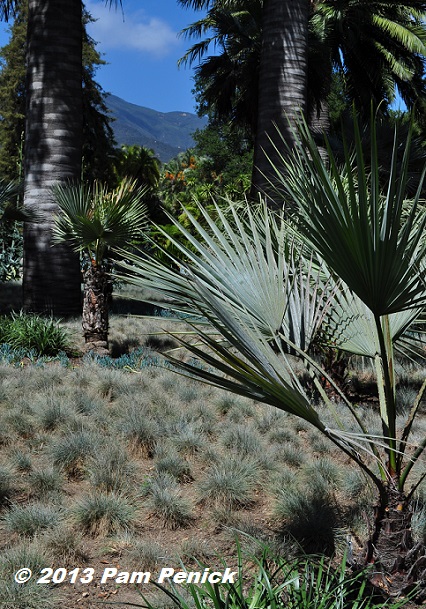 The blue sky and hills above Santa Barbara add to the color scheme.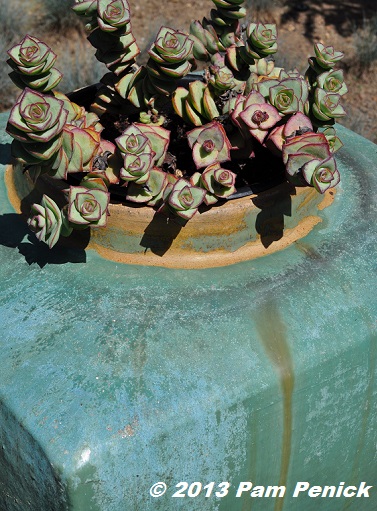 Up close, blue-green pots of succulents add the finishing touch.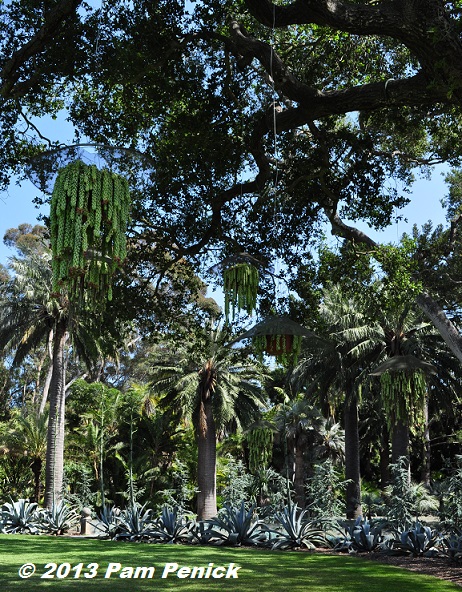 Exiting across the great lawn, a parting glance at the Blue Garden shows the "wall" of Agave franzosinii beneath towering palms. Look up into the live oaks immediately overhead, however, and you see what looks like jellyfish flying through the trees.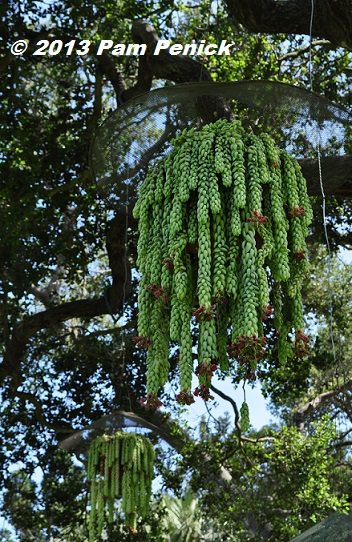 Planters of donkey's tail (Sedum morganianum) are suspended from branches, topped with clear plastic domes (to keep squirrels off? to keep the plants free of tree debris?) that resemble flying saucers.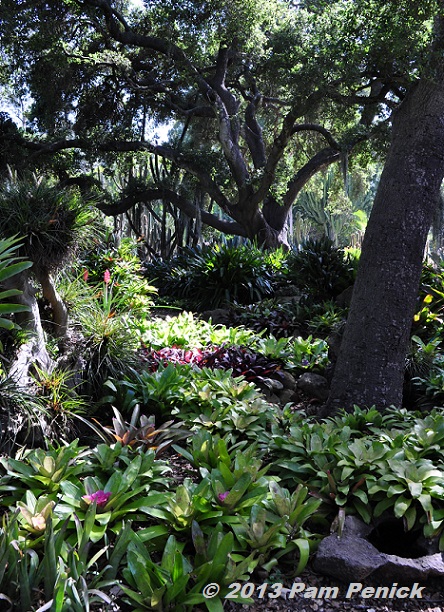 You've entered the shady, moist Bromeliad Garden, a ground-carpeting understory of fibrous leaves with cup-shaped centers that hold water, many with glossy, burgundy leaves or fuchsia blooms.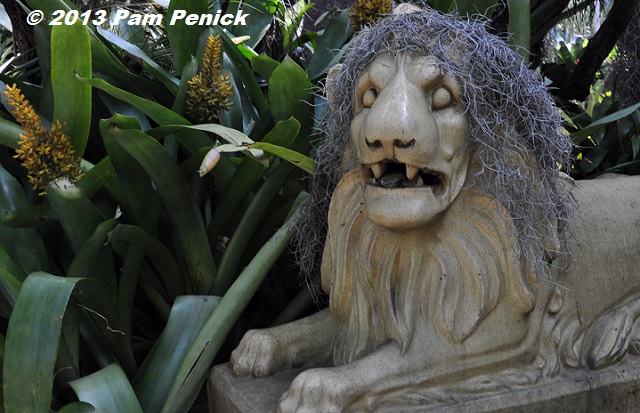 Little surprises await here too, as elsewhere in the garden, like this stone lion with a playful mane of Spanish moss draped across his head.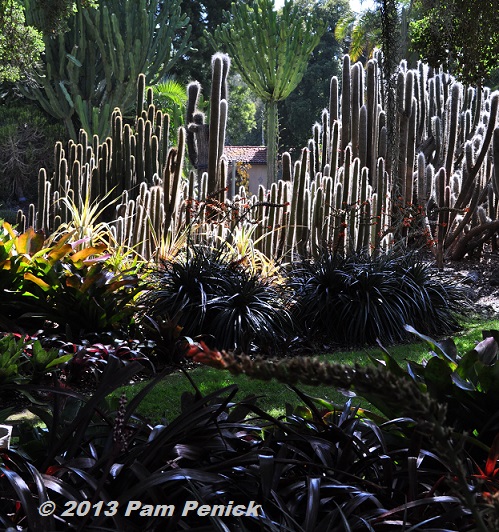 A long view reveals a fantastic contrast between low-growing, strappy bromeliads and the cylindrical, spiny towers of cactus in the distance.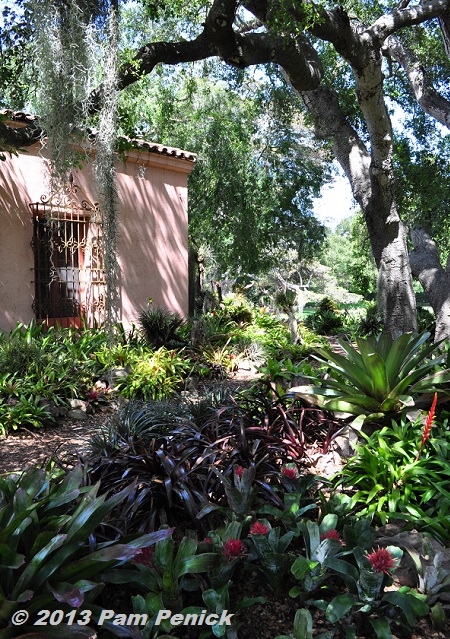 Spanish moss drips from the trees, as if we're in the Deep South. If I didn't know better, I'd have sworn I was in Florida at Naples Botanical Garden.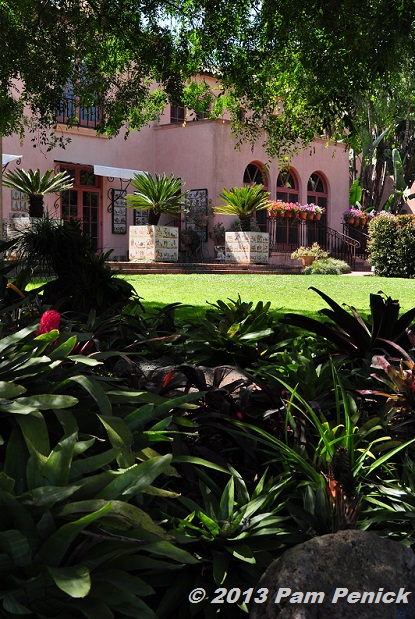 But we're still at Lotusland, at the rear of the main house. The back terrace beckons with tiled planters of huge sago palms.
Next up: The rear terrace, parterre, and lemon arbor. For a look back at the House Garden with cactus and euphorbia, click here.
All material © 2006-2013 by Pam Penick for Digging. Unauthorized reproduction prohibited.
posted in
Agaves
,
Aloes
,
Botanic/Public Gardens
,
Cactus
,
Color
,
Containers
,
Garden tours 2013
,
Grasses
,
Groundcovers
,
Palms/Cycads
,
Paths
,
Sculpture
,
Succulents
,
Travel
,
Trees
,
Tropicals
,
Water features
,
Xeric plants