June 5th, 2013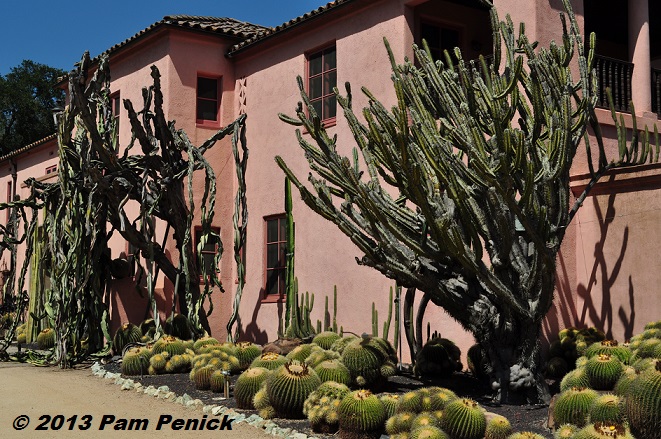 It might easily have been all Italian cypress, boxwood, and roses. But Lotusland's Madame Ganna Walska, self-proclaimed "enemy of the ordinary," didn't settle for the expected. One of the first changes she made upon taking up residence in 1941 at the Santa Barbara, CA, estate was to rip out the existing foundation plants and replace them with an otherworldly garden of cactus and euphorbia. Who could possibly envision this for their front entry? I'll tell you who. Someone who delighted in surprise and drama, and who had a deep appreciation for the weirdly wonderful.
Do you?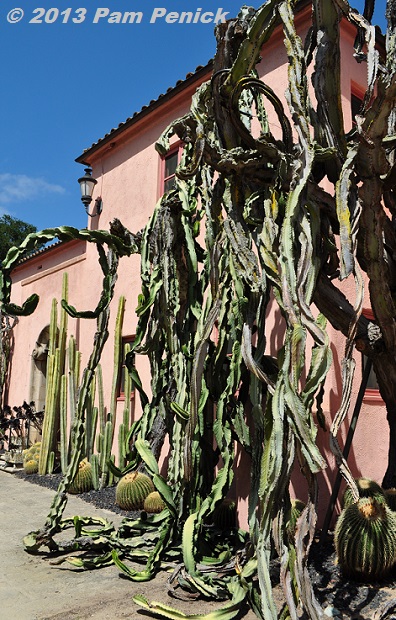 Weeping Euphorbia ingens droops like melted wax on a guttered candle.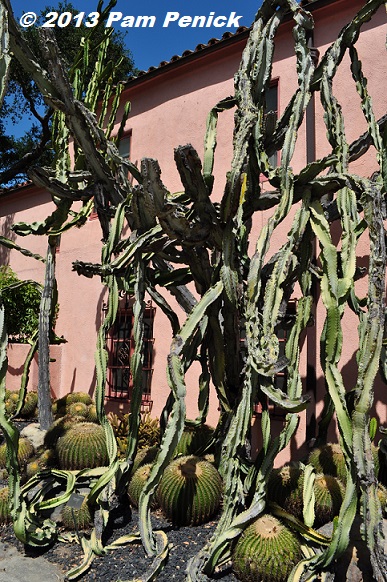 I could never describe their effect better than Gerhard Bock at Bamboo, Succulents & More, who visited in April and wrote:
"I remember these weeping Euphorbia ingens from the very first photo of Lotusland I ever saw, but the dramatic effect of their monstrous presence is even more pronounced when you stand in front of them. These aren't ornamental plants designed to beautify your garden; they are extraterrestrial life forms come to Earth to keep an eye on us."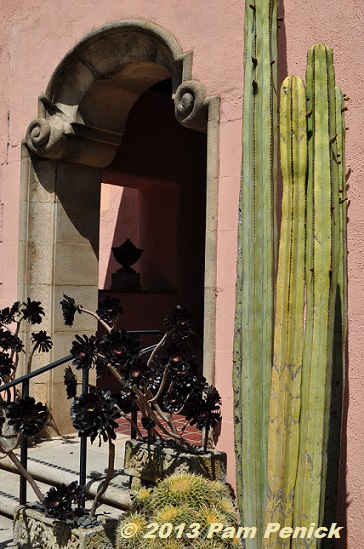 I love the soft, chalky colors of house and plants in this doorway vignette. I didn't get IDs for most of the plants I saw. I think this is a euphorbia too, though at first I mistook it for a fencepost cactus. It really is amazing how similar euphorbias and cacti can look, although their origins are half a world apart, cacti being native to the New World, euphorbias to the Old.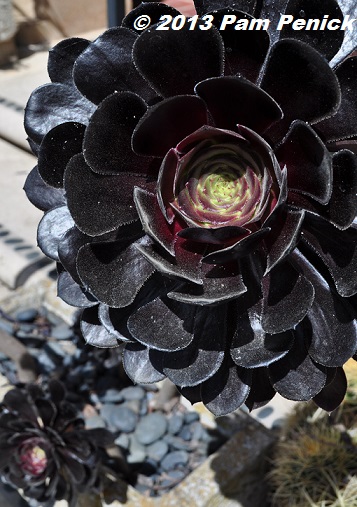 Those soft colors are accented with the black-maroon drama of Aeonium 'Zwartkop'.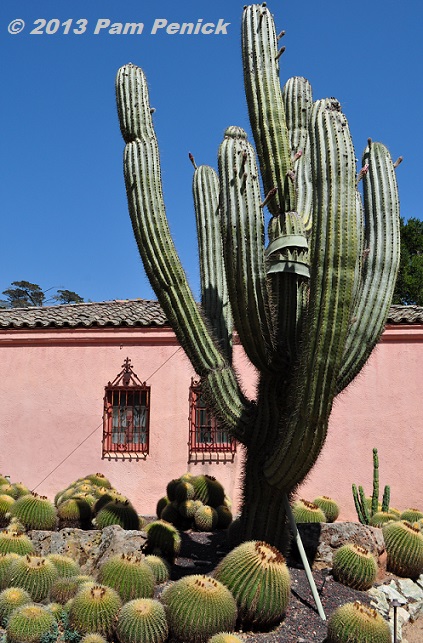 Argentine saguaro (I think) towers over a mass of golden barrel cactus — like a quilting bee's worth of pincushions strewn across the ground.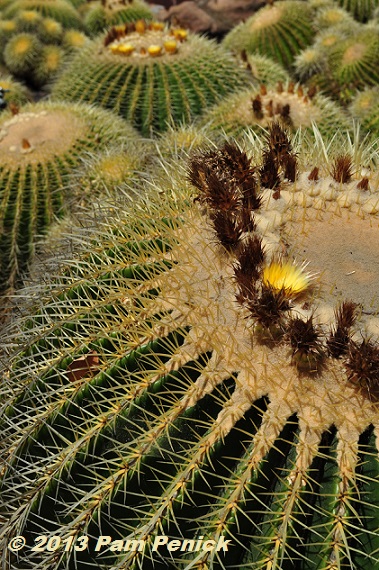 I find golden barrels irresistible for their beach ball shape and lemon-lime coloring. Seeing so many planted together — hundreds, I expect — was awe inspiring.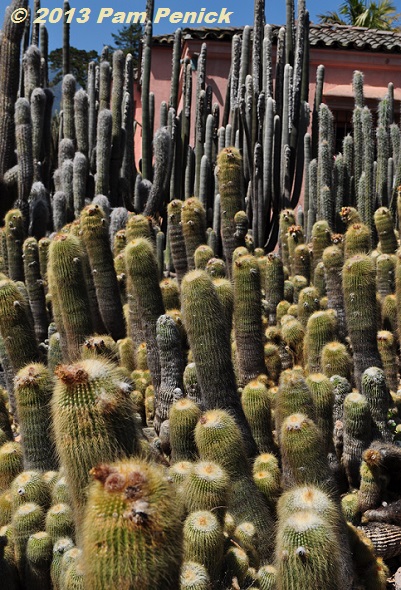 No lawn here! Walska went for a spiny swath of columnar cactus instead. Don't the smaller ones in front remind you of sock puppets?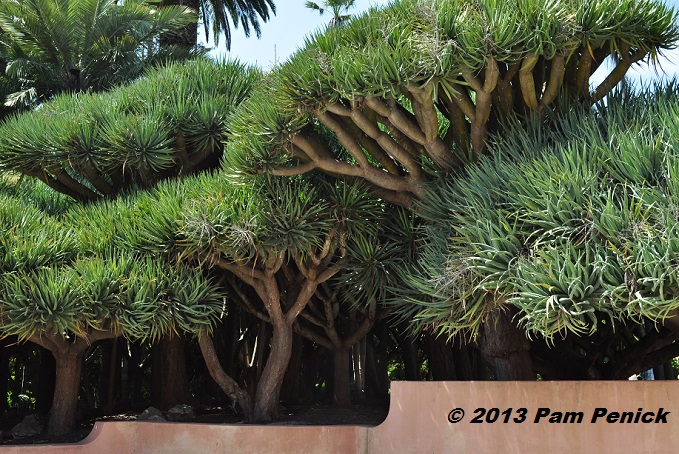 Directly across from the house, a strange, spiny forest towers overhead and offers a deeply shaded, fairy-tale like hideaway beneath its canopy.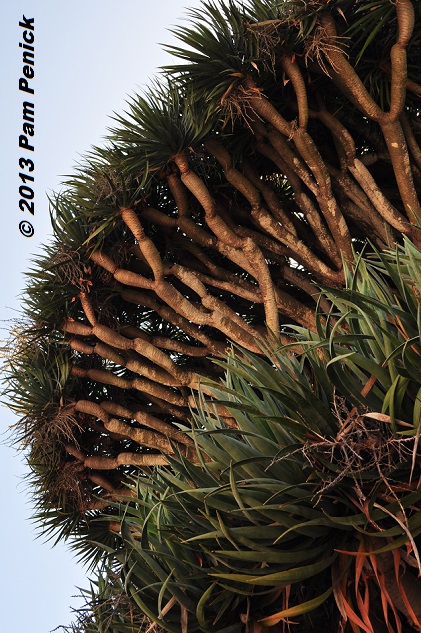 These are dragon trees, Dracaena draco, a relative of the common houseplant grown to prehistoric size under the Santa Barbara sun.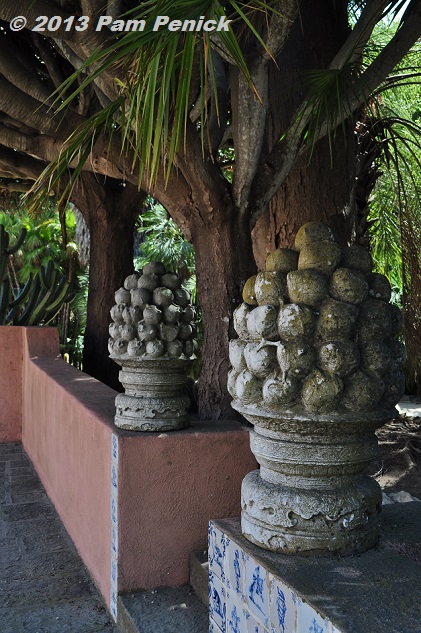 These handsome finials invite you to explore the Dracaena underworld…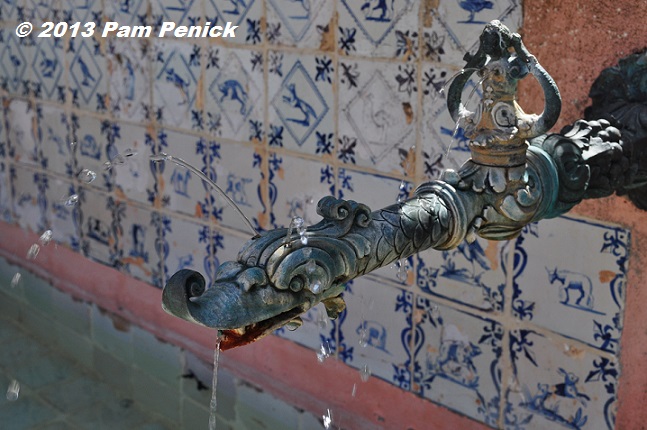 …although the tiled wall's detailing, including this fanciful dragon fountain, tempted us to stay in the sunlight.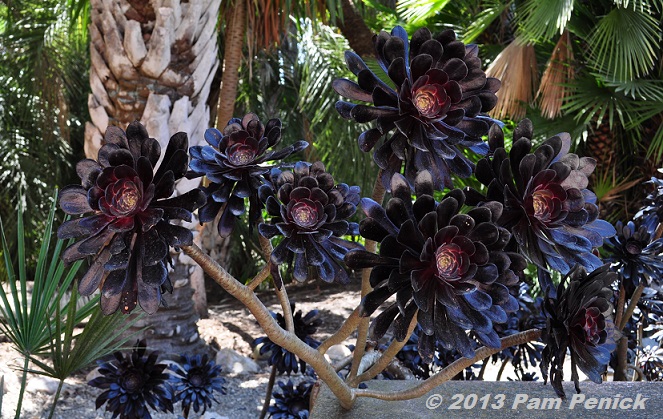 Another aeonium sprawls atop the wall.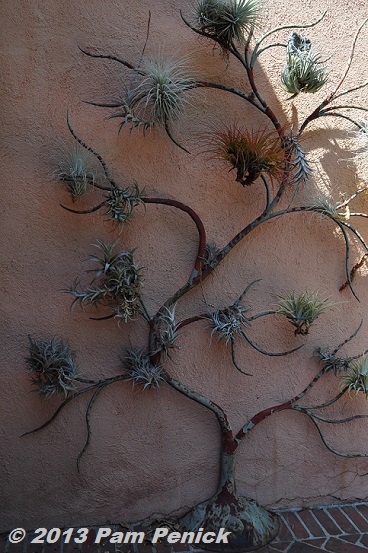 Equally dramatic was this copper tillandsia "tree" along the side of the house.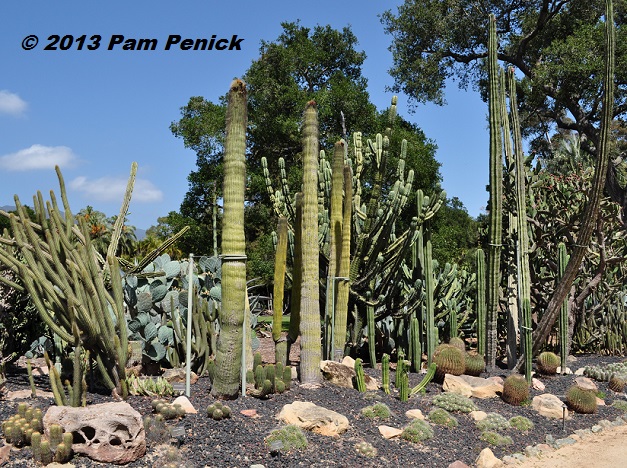 I've gone backwards in my post, starting with the drama of the house rather than with the approach drive, which is equally amazing, not just for the massing of unusual plants but for the cleverness of the overall planting scheme: one side of the driveway is planted with cacti, native to the Americas; the other side is planted with lookalike succulent euphorbias, native to Old World locales like Madagascar and South Africa. Pictured here is the cactus side of the drive.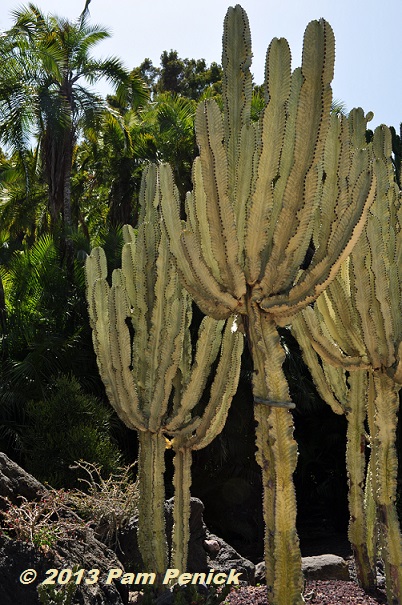 And this is the euphorbia side. Evolving separately half a world apart, cactus and euphorbias developed similarly to adapt to extreme heat and aridity: tall, columnar forms that reduce horizontal exposure to the sun; small leaves, if any, that slow water loss; spines for defense against browsing animals; and water-retaining bodies.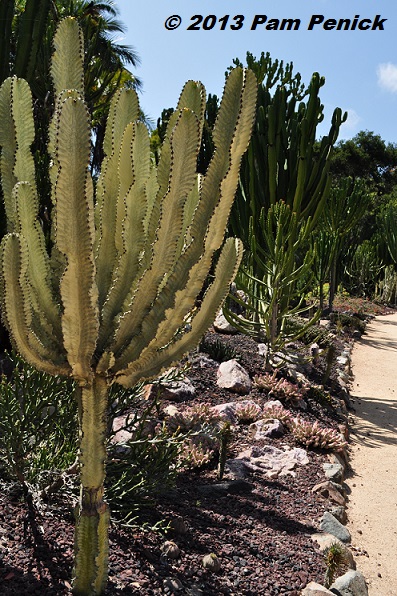 It's a perfect example of convergent evolution. As you approach the house, you're walking the dividing line between New World and Old World, with plants on either side that are long-distant cousins.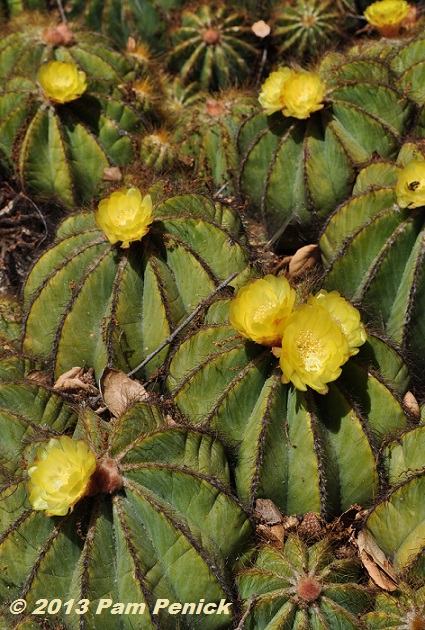 These somewhat resemble golden barrel cactus, but I think they may be a type of euphorbia. Beautiful, aren't they? (If anyone knows these plants well enough to supply an ID, please feel free.) Update: Thanks to Jenny Stocker for the ID — balloon cactus, Notocactus magnificus — and for pointing out that euphorbias tend not to have dramatic blooms like this, but cacti do.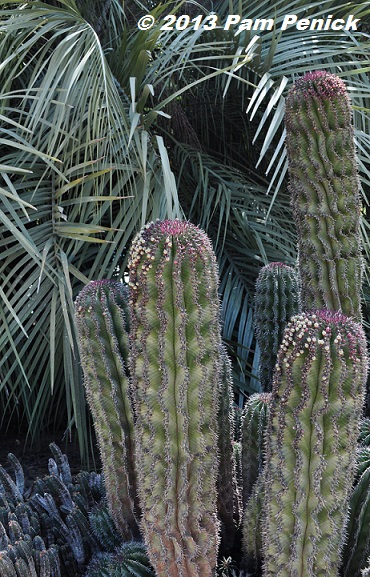 I love the textures and contrasting forms in this vignette, plus that rosy cap on the columns (again, cactus or euphorbia?).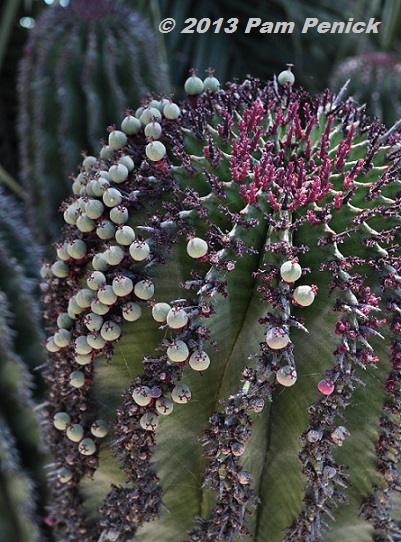 A closer look — fascinating.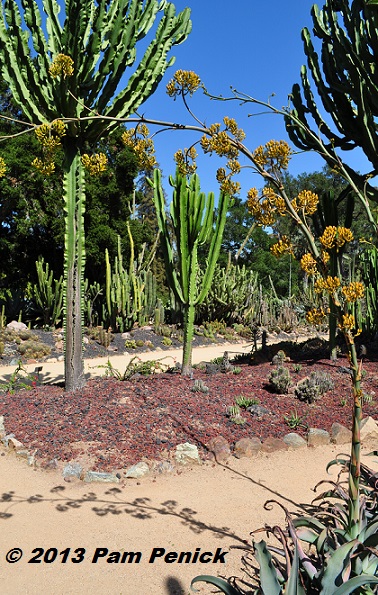 I believe this is Agave gypsophila in flower, its bloom spike arching over the path that leads (behind us) down to the famous abalone-edged pool.
Next up: The aloe pool, Blue Garden, and Bromeliad Garden. For a look back at my introductory post about the Theatre Garden, lotus pond, and Japanese Garden, click here.
All material © 2006-2013 by Pam Penick for Digging. Unauthorized reproduction prohibited.
posted in
Botanic/Public Gardens
,
Cactus
,
Containers
,
Doors
,
Fountains
,
Garden tours 2013
,
Succulents
,
Travel
,
Trees
,
Walls
,
Water features
,
Xeric plants